Abstract
Communities across the Pacific are being challenged by the impacts of climate change. Attaining food and nutrition security goals is also a priority for the region, particularly in relation to improving dietary quality and reducing the incidence of non-communicable diseases. Addressing these challenges requires context-specific research that incorporates a realistic understanding of the links between drivers of change, food systems, and how these influence diets and health. Using a case study approach, this study explores links between climate hazards, food systems, and diets in remote coastal villages of Fiji. Livelihood transitions and climate hazards explain why households have become less reliant on local fisheries and agriculture for their dietary needs. Most households are routinely consuming only locally sourced food items from four food groups, meaning dietary diversity is low. In addition, diets are shifting and now include significant quantities of energy-dense processed (imported) foods with lower nutritional value. The study highlights the importance of increasing availability of fruits and vegetables, mainly through local production, and diversifying sustainable sources of animal protein as strategies to increase diet quality. These communities are already implementing strategies to adapt to climate change, yet this study underscores the need to link climate adaptation with changes to food systems and diets, in ways that allow livelihoods to be sustained and the quality of life of rural dwellers to improve.
Access options
Buy single article
Instant access to the full article PDF.
USD 39.95
Price excludes VAT (USA)
Tax calculation will be finalised during checkout.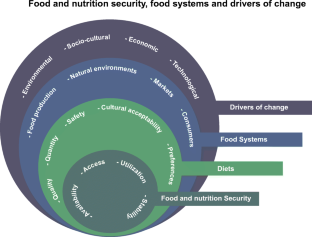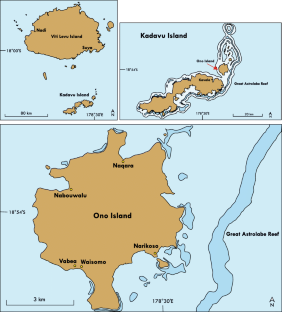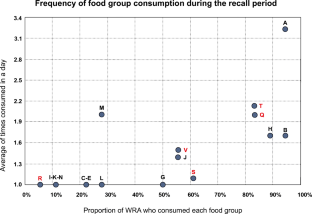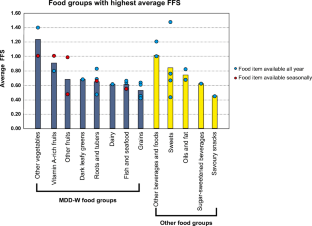 References
Afshin A, Sur PJ, Fay KA, Cornaby L, Ferrara G, Salama JS, Mullany EC, Abate KH, Abbafati C, Abebe Z et al. (2019) Health effects of dietary risks in 195 countries, 1990–2017: A systematic analysis for the Global Burden of Disease Study 2017. Lancet 393:1958–1972. https://doi.org/10.1016/S0140-6736(19)30041-8

Allen MG (2015) Framing food security in the Pacific Islands: empirical evidence from an island in the Western Pacific. Reg Environ Chang 15:1341–1353. https://doi.org/10.1007/s10113-014-0734-5

Australian Bureau of Meteorology (2019) Pacific climate change site data http://www.bom.gov.au/climate/pccsp/. Accessed April 2019

Ayenew H, Biadigilign S, Schickramm L, Abate-Kassa G, Sauer J (2018) Production diversification, dietary diversity and consumption seasonality: panel data evidence from Nigeria. BMC Public Health:18. https://doi.org/10.1186/s12889-018-5887-6

Barnett J, Mcmichael C (2018) The effects of climate change on the geography and timing of human mobility. Popul Environ 39:339–356. https://doi.org/10.1007/s11111-018-0295-5

Bell JD, Ganachaud A, Gehrke PC, Griffith SP, Hobday AJ, Hoegh-Guldberg O, Johnson JE, Borgne RL, Lehodey P, M. Lough J et al. (2013) Mixed responses of tropical Pacific fisheries and aquaculture to climate change. Nat Clim Chang 3:591. https://doi.org/10.1038/nclimate1838

Bell JD, Allain V, Allison EH, Andréfouët S, Andrew NL, Batty MJ, Blanc M, Dambacher JM, Hampton J, Hanich Q et al. (2015) Diversifying the use of tuna to improve food security and public health in Pacific Island countries and territories. Mar Policy 51:584–591. https://doi.org/10.1016/j.marpol.2014.10.005

Bell JD, Kronen M, Vunisea A, Nash WJ, Keeble G, Demmke A, Pontifex S, Andréfouët, S (2009) Planning the use of fish for food security in the Pacific. Mar Policy 33:64–76. https://doi.org/10.1016/j.marpol.2008.04.002

Bell JD, Sharp MK, Havice E, Batty M, Charlton KE, Russell J, Adams W, Azmi K, Romeo A, Wabnitz CCC et al. (2019) Realising the food security benefits of canned fish for Pacific Island countries. Mar Policy 100:183–191. https://doi.org/10.1016/j.marpol.2018.10.034

Charlton KE, Russell J, Gorman E, Hanich Q, Delisle A, Campbell B, Bell J (2016) Fish, food security and health in Pacific Island countries and territories: a systematic literature review. BMC Public Health 16:285. https://doi.org/10.1186/s12889-016-2953-9

Conijn JG, Bindraban PS, Schröder JJ, Jongschaap REE (2018) Can our global food system meet food demand within planetary boundaries? Agric Ecosyst Environ 251:244–256. https://doi.org/10.1016/j.agee.2017.06.001

FAO, FHI (2016) Minimum dietary diversity for women: a guide for measurement. Food and Agriculture Organization of the United Nations, Rome

FAO, SPC (2018) Pacific strategic plan for agricultural and fisheries statistics: strengthening the evidence base for achievement of the sustainable development goals. Food and Agriculture Organization of the United Nations and Pacific Community, Bangkok

Fiji Bureau of Statistics (2018) Fiji population and housing census 2017. Suva, Fiji

Gibson RS (2005) Principles of nutritional assessment, Second edn. Oxford University Press, USA, New York. https://doi.org/10.1111/j.1747-0080.2006.00083.x

Green M (2016) Contested territory. Nat Clim Chang 6:817–820. https://doi.org/10.1038/nclimate3112

Headey DD, Alderman HH (2019) The relative caloric prices of healthy and unhealthy foods differ systematically across income levels and continents. J Nutr. https://doi.org/10.1093/jn/nxz158

HLPE (2017) Nutrition and food systems. High Level Panel of Experts on Food Security and Nutrition of the Committee on World Food Security, Rome

Horsey B, Swanepoel L, Underhill S, Aliakbari J, Burkhart S (2019) Dietary diversity of an adult Solomon Islands population. Nutrients 11:1622. https://doi.org/10.3390/nu11071622

Jones AD (2017) Critical review of the emerging research evidence on agricultural biodiversity, diet diversity, and nutritional status in low- and middle-income countries. Nutr Rev 75:769–782. https://doi.org/10.1093/nutrit/nux040

Jones C, Schwarz AM, Sulu R, Tikai P (2014) Foods and diets of communities involved in inland aquaculture in Malaita Province. Solomon Islands. CGIAR Research Program on Aquatic Agricultural Systems, Penang

Koppmair S, Kassie M, Qaim M (2017) Farm production, market access and dietary diversity in Malawi. Public Health Nutr 20:325–335. https://doi.org/10.1017/S1368980016002135

Leroy JL, Ruel M, Frongillo EA, Harris J, Ballard TJ (2015) Measuring the food access dimension of food security: a critical review and mapping of indicators. Food Nutr Bull 36:167–195. https://doi.org/10.1177/0379572115587274

Martin-Prével Y, Allemand P, Wiesmann D, Arimond M, Ballard T, Deitchler M, Dop MC, Kennedy G, Lee WTK, Moursi M (2015) Moving forward on choosing a standard operational indicator of women's dietary diversity. Food and Agricultural Organization of the United Nations (FAO), Rome, Italy

Mason-D'Croz D, Bogard JR, Sulser TB, Cenacchi N, Dunston S, Herrero M, Wiebe K (2019) Gaps between fruit and vegetable production, demand, and recommended consumption at global and national levels: an integrated modelling study. Lancet Planet Health 3:e318–e329. https://doi.org/10.1016/S2542-5196(19)30095-6

McCubbin S, Pearce T, Ford J, Smit B (2017) Social-ecological change and implications for food security in Funafuti, Tuvalu. Ecol Soc 22. https://doi.org/10.5751/ES-09129-220153

McIver L, Bowen K, Hanna E, Iddings S (2017) A 'Healthy Islands' framework for climate change in the Pacific. Health Promot Int 32:549–557. https://doi.org/10.1093/heapro/dav094

Myers SS, Smith MR, Guth S, Golden CD, Vatila B, Mueller ND, Dangour AD, Huybers P (2017) Climate change and global food systems: potential impacts on food security and undernutrition. In: Fielding JE (ed) Annual review of public health, Vol 38, Annual Review of Public Health. Palo Alto, pp 259–277. doi:https://doi.org/10.1146/annurev-publhealth-031816-044356

Nurse LA, McLean RF, Agard J, Briguglio LP, Duvat-Magnan V, Pelesikoti N, Tompkins E, Webb A (2014) Small islands. In: climate change 2014: impacts, adaptation, and vulnerability. Part B: Regional Aspects. Contribution of Working Group II to the Fifth Assessment Report of the Intergovernmental Panel on Climate Change. Cambridge University Press, Cambridge, United Kingdom and New York, USA

Piggott-McKellar A, McNamara K, Nunn P, Sekinini S (2019) Moving people in a changing climate: lessons from two case studies in Fiji. Soc Sci 8:133. https://doi.org/10.3390/socsci8050133

Popkin BM (2014) Nutrition, agriculture and the global food system in low and middle income countries. Food Policy 47:91–96. https://doi.org/10.1016/j.foodpo1.2014.05.001

Robinson S-A (2015) Climate change adaptation trends in small island developing states. Mitig Adapt Strateg Glob Chang 22:669–691. https://doi.org/10.1007/s11027-015-9693-5

Snowdon W, Raj A, Reeve E, Guerrero RLT, Fesaitu J, Cateine K, Guignet C (2013) Processed foods available in the Pacific Islands. Glob Health 9:53. https://doi.org/10.1186/1744-8603-9-53

Sofer M (2007) Yaqona and the Fijian periphery revisited Asia Pacific. Viewpoint 48:234–249. https://doi.org/10.1111/j.1467-8373.2007.00342.x

Springmann M, Mason-D'Croz D, Robinson S, Garnett T, Godfray HCJ, Gollin D, Rayner M, Ballon P, Scarborough P (2016) Global and regional health effects of future food production under climate change: a modelling study. Lancet 387:1937–1946. https://doi.org/10.1016/S0140-6736(15)01156-3

Swinburn BA, Kraak VI, Allender S, Atkins VJ, Baker PI, Bogard JR, Brinsden H, Calvillo A, De Schutter O, Devarajan R et al. (2019) The global syndemic of obesity, undernutrition, and climate change: The Lancet Commission report. Lancet 393:791–846. https://doi.org/10.1016/S0140-6736(18)32822-8

Taylor M, McGregor A, Dawson B (2016) Vulnerability of Pacific Island agriculture and forestry to climate change. SPC, Singapore

Tuitama LT, Young-soo S, Clark H, Tukuitonga C, Beaglehole R (2014) Acting on the Pacific crisis in non-communicable diseases. The Lancet 384:1823–1824 doi:https://doi.org/10.1016/S0140-6736(14)61824-9

WHO (2018) Global Health Estimates 2016: Disease burden by cause, age, sex, by country and by region, 2000–2016. Wold Health Organization (WHO). https://www.who.int/healthinfo/global_burden_disease/estimates/en/index1.html. Accessed 3rd of March 2018

Willett W, Rockström J, Loken B, Springmann M, Lang T, Vermeulen S, Garnett T, Tilman D, Declerck F, Wood A et al. (2019) Food in the Anthropocene: the EAT–Lancet Commission on healthy diets from sustainable food systems. Lancet 393:447–492. https://doi.org/10.1016/S0140-6736(18)31788-4
Acknowledgments
We would like to thank the communities of Ono Island for their support and involvement in this study. DMH is supported by an Australian Government Research Training Program Scholarship and a Commonwealth Scientific and Industrial Research Organisation (CSIRO) Postgraduate Scholarship.
Additional information
Communicated by Tony Weir
Publisher's note
Springer Nature remains neutral with regard to jurisdictional claims in published maps and institutional affiliations.
Electronic supplementary material
About this article
Cite this article
Medina Hidalgo, D., Witten, I., Nunn, P.D. et al. Sustaining healthy diets in times of change: linking climate hazards, food systems and nutrition security in rural communities of the Fiji Islands. Reg Environ Change 20, 73 (2020). https://doi.org/10.1007/s10113-020-01653-2
Received:

Accepted:

Published:

DOI: https://doi.org/10.1007/s10113-020-01653-2
Keywords
Food security

Food systems

Climate change

Adaptation

Pacific

Nutrition