Abstract
This article examines responses by four remote communities in Fiji to the extensive damage caused by Tropical Cyclone Winston (TCW) of 2016, differences among these communities, and factors that make a particular community more disaster-resilient than others. In Fiji, traditional knowledge of climate and disaster mitigation has been known to contribute to better disaster management resilience by communities. TCW of 2016 is one of the strongest cyclones that have struck the islands of Fiji, and many of its remote communities were severely damaged. Responses to the damage caused by TCW varied from community to community, and resilience was shown to depend on the availability of traditional knowledge of climate and disaster mitigation as well as the effective mobilization of social capital exhibited in the long-standing tradition in Fijian villages of mutual help within the community. Our findings suggest that communities without such resources are often left out in recovery processes and may be in particular need of support.
Access options
Buy single article
Instant access to the full article PDF.
USD 39.95
Price excludes VAT (USA)
Tax calculation will be finalised during checkout.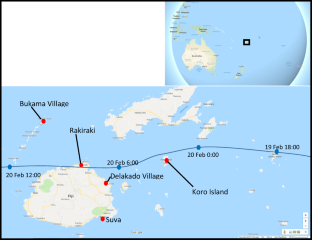 Notes
The 2017 census did not collect data broken down to ethnic groups.

Vanua is an indigenous Fijian word often translated as "land," but it encompasses the entire indigenous socio-cultural systems embedded in land.

Sevusevu refers to the presentation of yaqona root (Piper methysticum, used to prepare a ceremonial beverage) in a ceremony of introduction or greeting by a visitor.

In Fiji, the expression "grog doped" denotes that a person is under the influence of traditional drink called kava, which has sedating effects.
References
Aalbersberg WGL, Lovelace CEA, Madhoji K, Parkinson SV (1988) Davuke, the traditional Fijian method of pit preservation of staple carbohydrate foods. Ecol Food Nutr 21(3):173–180. https://doi.org/10.1080/03670244.1988.9991030

Adger WN (2006) Vulnerability. Glob Environ Chang 16:268–281. https://doi.org/10.1016/j.gloenvcha.2006.02.006

Adger WN, Hughes TP, Folke C, Carpenter SR, Rockstrom J (2005) Social-ecological resilience to coastal disasters. Science 309:1036–1039. https://doi.org/10.1126/science.1112122

Aldrich DP (2011) The externalities of strong social capital: post-tsunami recovery in Southeast India. J Civ Soc 7(1):81–99. https://doi.org/10.1080/17448689.2011.553441

Aldrich DP, Meyer MA (2015) Social capital and community resilience. Am Behav Sci 59(2):254–269. https://doi.org/10.1177/0002764214550299

Barnett J, Waters E (2016) Rethinking the vulnerability of Small Island States: climate change and development in the Pacific Islands. In: Grugel J, Hammett D (eds) The Palgrave handbook of international development. Palgrave Macmillan, London, pp 731–748

Besnier N (2016) Humour and humility: narratives of modernity on Nukulaelae Atoll. Etnofoor 28(1):75–95

Boillat S, Berkes F (2013) Perception and interpretation of climate change among Quechua farmers of Bolivia: indigenous knowledge as a resource for adaptive capacity. Ecol Soc 18(4):21. https://doi.org/10.5751/ES-05894-180421

Bolatagici L (2016a) 6000 require psychosocial support, The Fiji Times 23 April:3

Bolatagici L (2016b) Villagers depend on government rations, The Fiji Times 2 may:14

Bolatagici L (2016c) Villager pleads for trauma counselling, the Fiji times 3 may:6

Bolatagici L (2016d) Scars of devastation still visible. The Fiji times, 28 may: 50

Bolatagici L (2016e) 'Help for Homes' commended, the Fiji times 28 may:52

Brookfield M (1977) Hurricane Val and its aftermath: report on an inquiry among the people of Lakeba in 1976. In: McLean R, Bayliss-Smith TP, Brookfield M, Campbell J (eds) The hurricane hazard: natural disaster and small populations. Population and Environment Project in the Eastern Islands of Fiji, man and the biosphere Programme project 7: ecology and rational use of island ecosystem. ANU development studies Centre, Canberra

Bryant-Tokalau J, Campell J (2014) Coping with floods in urban Fiji: responses and resilience of the poor. In: Sakai M, Jurriëns E, Zhang J, Thornton A (eds) Disaster relief in the Asia Pacific. Routledge, London and New York, pp 132–146

Campbell JR (2006) Traditional disaster reduction in Pacific Island communities, GNS Science Report 2006:038. Institute of Geological and Nuclear Sciences, Lower Hutt

Chambers L, Lui S, Plotz R, Hiriasia D, Malsale P, Pulehetoa-Mitiepo R, Natapei M, Sanau N, Waiwai M, Tahani L, Willy A, Finaulahi S, Loloa F, Fa'anunu O (2019) Traditional or contemporary weather and climate forecasts: reaching Pacific communities. Reg Environ Chang 19:1521–1528. https://doi.org/10.1007/s10113-019-01487-7

Chamlee-Wright E, Storr VH (2011) Social capital as collective narratives and post-disaster community recovery. Sociol Rev 59(2):266–282. https://doi.org/10.1111/j.1467-954X.2011.02008.x

Chaudhary F (2016) Canefarmer's family rebuilds home, the Fiji times 26 April:5

Cutter SL, Ash KD, Emrich CT (2014) The geographies of community disaster resilience. Glob Environ Chang 29:65–77. https://doi.org/10.1016/j.gloenvcha.2014.08.005

Elliott JR, Haney TJ, Sams-Abiodun P (2010) Limits to social capital: comparing network assistance in two New Orleans neighborhoods devastated by Hurricane Katrina. Sociol Q 51:624–648. https://doi.org/10.1111/j.1533-8525.2010.01186.x

Engle NL (2011) Adaptive capacity and its assessment. Glob Environ Chang 21:647–656. https://doi.org/10.1016/j.gloenvcha.2011.01.019

Folke C (2006) Resilience: the emergence of a perspective for social–ecological systems analyses. Glob Environ Chang 16:253–267. https://doi.org/10.1016/j.gloenvcha.2006.04.002

Gómez-Baggethun E, Reyes-García V, Olsson P, Montes C (2012) Traditional ecological knowledge and community resilience to environmental extremes: a case study in Doñana, SW Spain. Glob Environ Chang 22:640–650. https://doi.org/10.1016/j.gloenvcha.2012.02.005

Gopal A (2017) Moving on after Winston. The Fiji times 20 February:17

Government of Fiji (2016) Post-disaster needs assessment: tropical cyclone Winston, February 20, 2016. Government of Fiji, Suva

Halapua S (2008) Talanoa Process: The Case of Fiji. http://unpan1.un.org/intradoc/groups/public/documents/un/unpan022610.pdf. Accessed 16 August 2018

Hay, JE (2011) Pacific adaptation to climate change: past approaches and considerations for the future. Discussion paper for Australia's Department of Climate Change and Energy Efficiency. January 2011. https://www.environment.gov.au/system/files/resources/7ff288bf-a88f-4b85-9960-996e5ae4f8eb/files/cardno-past-approaches-and-considerations-future.pdf. Accessed 1 August 2019

Hay J, Mimura N (2010) The changing nature of extreme weather and climate events: risks to sustainable development. Geomatics, Natural Hazards and Risk 1(1):3–18. https://doi.org/10.1080/19475701003643433

Hiwasaki L, Luna E, Syamsidik SR (2014) Process for integrating local and indigenous knowledge with science for hydro-meteorological disaster risk reduction and climate change adaptation in coastal and small island communities. Int J Disaster Risk Reduction 10:15–27. https://doi.org/10.1016/j.ijdrr.2014.07.007

Holmes O (2016) Cyclone Winston: tens of thousands homeless in Fiji a week after storm. The Guardian. https://www.theguardian.com/world/2016/feb/29/cyclone-winston-forces-thousands-fijians-out-of-homes. Accessed 25 February 2018

Imperiale AJ, Vanclay F (2016) Experiencing local community resilience in action: learning from post-disaster communities. J Rural Stud 47:204–219. https://doi.org/10.1016/j.jrurstud.2016.08.002

Intergovernmental Panel on Climate Change (2012) Managing the risks of extreme events and disasters to advance climate change adaptation. Cambridge University Press, Cambridge

Janif SZ, Nunn PD, Geraghty P, Aalbersberg W, Thomas FR, Camailakeba M (2016) Value of traditional oral narratives in building climate-change resilience: insights from rural communities in Fiji. Ecol Soc 21(2):7. https://doi.org/10.5751/ES-08100-210207

Johnston I (2014) Disaster management and climate change adaptation: a remote island perspective. Disaster Prev Manag 23(2):123–137. https://doi.org/10.1108/DPM-06-2013-0096

Johnston I (2015) Traditional warning signs of cyclones on remote islands in Fiji and Tonga. Environ Hazards 14(3):210–223. https://doi.org/10.1080/17477891.2015.1046156

Koroi R (2016) Still waiting, The Fiji Times, 3 August, pp1–2

Lata S, Nunn P (2012) Misperceptions of climate-change risk as barriers to climate-change adaptation: a case study from the Rewa Delta, Fiji. Clim Chang 110(1–2):169–186. https://doi.org/10.1007/s10584-011-0062-4

Lauer M (2012) Oral traditions or situated practices? Understanding how indigenous communities respond to environmental disasters. Hum Organ 71(2):176–187. https://doi.org/10.17730/humo.71.2.j0w0101277ww6084

Leclerc C, Mwongera C, Camberlin P, Boyard-Micheau J (2013) Indigenous past climate knowledge as cultural built-in object and its accuracy. Ecol Soc 18(4):22. https://doi.org/10.5751/ES-05896-180422

Mansur A, Doyle J, Ivaschenko O (2017) Social protection and humanitarian assistance nexus for disaster response: lessons learnt from Fiji's tropical cyclone Winston. Social protection and labour discussion paper NO.1701. World Bank

Martins D (2016) 21 dead after cat 5 cyclone Winston's hit on Fiji. The Weather Network. https://www.theweathernetwork.com/news/articles/tropical-cyclone-winston-intensifies-as-it-approaches-fiji-/63931. Accessed 25 February 2018

Maru YT, Smith MS, Sparrow A, Pinho PF, Dube OP (2014) A linked vulnerability and resilience framework for adaptation pathways in remote disadvantaged communities. Glob Environ Chang 28:337–350. https://doi.org/10.1016/j.gloenvcha.2013.12.007

McMillen H, Ticktin T, Springer HK (2017) The future is behind us: traditional ecological knowledge and resilience over time on Hawai'i Island. Reg Environ Chang 17(2):579–592. https://doi.org/10.1007/s10113-016-1032-1

McNaught R, Warrick O, Cooper A (2014) Communicating climate change for adaptation in rural communities: a Pacific study. Reg Environ Chang 14(4):1491–1503. https://doi.org/10.1007/s10113-014-0592-1

Minamoto Y (2010) Social capital and livelihood recovery: post-tsunami Sri Lanka as a case. Disaster Prev Manag 19(5):548–564. https://doi.org/10.1108/09653561011091887

Movono A, Becken S (2018) Solesolevaki as social capital: a tale of a village, two tribes, and a resort in Fiji. Asia Pacific J Tour Res 2(23):146–157. https://doi.org/10.1080/10941665.2017.1410194

Mudunavonu P (2016) Villagers unite and rebuild, the Fiji times 2 April:1

Murphy B (2007) Locating social capital in resilient community-level emergency management. Nat Hazards 41:297–315. https://doi.org/10.1007/s11069-006-9037-6

Nakawaga Y, Shaw R (2004) Social capital: a missing link to disaster recovery. Int J Mass Emerg Disasters 22(1):5–34

Norris FH, Stevens SP, Pfefferbaum B, Wyche KF, Pfefferbaum RL (2008) Community resilience as a metaphor, theory, set of capacities, and strategy for disaster readiness. Am J Community Psychol 41:127–150. https://doi.org/10.1007/s10464-007-9156-6

Pacific Climate Change Science Program (2011) Current and future climate of the Fiji Islands. Pacific Climate Change Science Program

Parke A (2014) Fijian society: the islands of Fiji (general). In: Spriggs M, Scarr D (eds) Degei's Descendants. ANU Press, Canberra, pp 1–17

Parsons M, Brown C, Nalau J, Fisher K (2018) Assessing adaptive capacity and adaptation: insights from Samoan tourism operators. Clim Dev 10(7):644–663. https://doi.org/10.1080/17565529.2017.1410082

Petzold J (2016) Limitations and opportunities of social capital for adaptation to climate change: a case study on the Isles of Scilly. Geogr J 182(2):123–134. https://doi.org/10.1111/geoj.12154

Qounadovu S (2016) Villagers search for better life, opportunities, the Fiji times 26 October:1

Qounadovu S, Naleba M (2016) Food runs low, the Fiji times 20 October:1

Ravuvu AD (1983) Vaka iTaukei: the Fijian way of life. Institute of Pacific Studies, University of the South Pacific, Suva

Rawalai L (2018) Classes under sheds: villagers pitch in to build makeshift classrooms. The Fiji Times 22 January:1–3

Schwarz A-M, Béné C, Bennett G, Boso D, Hilly Z, Paul C, Posala R, Sibiti S, Andrew N (2011) Vulnerability and resilience of remote rural communities to shocks and global changes: empirical analysis from Solomon Islands. Glob Environ Chang 21:1128–1140. https://doi.org/10.1016/j.gloenvcha.2011.04.011

Silaitoga S (2016) NGO assists schools, the Fiji times 24 April:5

Susu A (2016) $23m cash aid, The Fiji Times 5 November:1–3

Takasaki Y (2011) Targeting cyclone relief within the village: kinship, sharing, and capture. Econ Dev Cult Chang 59(2):387–416. https://doi.org/10.1086/657126

Walshe RA, Nunn PD (2012) Integration of indigenous knowledge and disaster risk reduction: a case study from Baie Martelli, Pentecost Island, Vanuatu. Int J Disaster Risk Sci 3(4):185–194. https://doi.org/10.1007/s13753-012-0019-x

Warrick O, Aalbersberg W, Dumaru P, McNaught R, Teperman K (2017) The 'Pacific Adaptive Capacity Analysis Framework': guiding the assessment of adaptive capacity in Pacific island communities. Reg Environ Chang 17:1039–1051. https://doi.org/10.1007/s10113-016-1036-x

Yeo SW, Blong RJ (2010) Fiji's worst natural disaster: the 1931 hurricane and flood. Disasters. 34(3):657–683

Yila O, Weber E, Neef A (2014) The role of social capital in post-flood response and recovery among downstream communities of the Ba River, Western Viti Levu, Fiji Islands. In: Neef A, Shaw R (ed) Risks and conflicts: local responses to natural disasters, Emerald Group publishing, pp 79–107

Zahnow R, Wickes R, Taylor M, Corcoran J (2019) Community social capital and individual functioning in the postdisaster context. Disasters. 43(2):261–288. https://doi.org/10.1111/disa.12317
Acknowledgments
We sincerely thank the interviewees from the four study sites, as well as Jovesa Tagivakatini and Raveena Goundar for their contribution as research assistants.
Funding
This project was funded by The University of the South Pacific.
Additional information
Communicated by Tony Weir
Publisher's note
Springer Nature remains neutral with regard to jurisdictional claims in published maps and institutional affiliations.
Electronic supplementary material
About this article
Cite this article
Nakamura, N., Kanemasu, Y. Traditional knowledge, social capital, and community response to a disaster: resilience of remote communities in Fiji after a severe climatic event. Reg Environ Change 20, 23 (2020). https://doi.org/10.1007/s10113-020-01613-w
Received:

Accepted:

Published:

DOI: https://doi.org/10.1007/s10113-020-01613-w
Keywords
Community resilience

Disaster

Cyclone

Traditional knowledge

Social capital

Fiji