Abstract
With climate change, coastal areas are faced with unprecedented sea level rise and flooding, raising questions as to how societies will choose to adapt. One option is to strengthen existing sea walls to maintain current land uses; however, scientists, policy-makers and conservationists increasingly see the benefits of managed realignment, which is a nature-based coastal adaptation that involves the conversion of reclaimed farmland back to wetlands, allowing periodic local flooding in designated areas to reduce the risk of flooding downstream. We interviewed 16 local organisations, landowners and farmers and held workshops with 109 citizens living the Inner Forth estuary in eastern Scotland, to examine how managed realignment is supported by stakeholder attitudes and their engagement. Most of the farmers we interviewed prefer strengthened sea walls, to maintain their livelihoods and agricultural heritage. Citizens and local organisations were mainly supportive of managed realignment, because it provided wildlife and flood regulation benefits. However, we identified several barriers that could present obstacles to implementing managed realignment, for example, uncertainty whether it would support their principles of economic and rational decision-making. Our findings suggest that the local capacity to cope with rising sea levels is limited by lack of engagement with all relevant stakeholder groups, the limited scope of existing stakeholder partnerships and poor short-term funding prospects of landscape partnerships that would facilitate collaboration and discussion. We suggest that including citizens, landowners, farmers and industries would strengthen existing stakeholder deliberation and collaboration, and support the Inner Forth's transition towards a more sustainable future shoreline.
This is a preview of subscription content, log in to check access.
Access options
Buy single article
Instant access to the full article PDF.
US$ 39.95
Price includes VAT for USA
Subscribe to journal
Immediate online access to all issues from 2019. Subscription will auto renew annually.
US$ 99
This is the net price. Taxes to be calculated in checkout.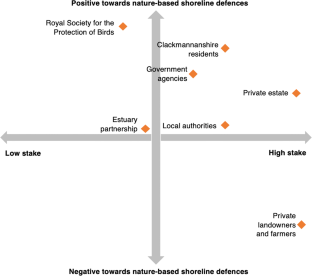 References
Abel N, Gorddard R, Harman B, Leitch A, Langridge J, Ryan A, Heyenga S (2011) Sea level rise, coastal development and planned retreat: analytical framework, governance principles and an Australian case study. Environ Sci Pol 14:279–288. https://doi.org/10.1016/j.envsci.2010.12.002

Adam P (2002) Saltmarshes in a time of change. Environ Conserv 29:39–61. https://doi.org/10.1017/S0376892902000048

Agardy T, Alder J, Dayton P, Curran S, Kitchingman A, Wilson M, Catenazzi (2005) Coastal systems. In: Millennium ecosystem assessment. ecosystems and human well-being: current state and trends assessment. World Resources Institute, Washington DC, p 37

Akompab DA, Bi P, Williams S, Saniotis A, Walker I, Augoustinos M (2013) Engaging stakeholders in an adaptation process: governance and institutional arrangements in heat-health policy development in Adelaide, Australia. Mitig Adapt Strateg Glob Chang 18:1001–1018. https://doi.org/10.1007/s11027-012-9404-4

Ambros P (2016) Bridging to the common ground, adapting to climate change through sustainable estuarine land use: a study of the Inner Forth. Master Thesis Lund University Centre for Sustainability Science, Scotland

Anguelovski I, Carmin J (2011) Something borrowed, everything new: innovation and institutionalization in urban climate governance. Curr Opin Environ Sustain 3:169–175. https://doi.org/10.1016/j.cosust.2010.12.017

Aronson J, Clewell AF, Blignaut JN, Milton SJ (2006) Ecological restoration: a new frontier for nature conservation and economics. J Nat Conserv 14:135–139. https://doi.org/10.1016/j.jnc.2006.05.005

Aradóttir Á, Petursdottir T, Halldorsson G, Svavarsdóttir K, Arnalds O (2013) Drivers of ecological restoration: Lessons from a century of restoration in Iceland. Ecol Soc 18:33. https://doi.org/10.5751/ES-05946-180433

Aylett A (2010) Conflict, collaboration and climate change: participatory democracy and urban environmental struggles in Durban, South Africa. Int J Urban Reg Res 34:478–495. https://doi.org/10.1111/j.1468-2427.2010.00964.x

Babbie ER (2013) The practice of social research. Wadsworth Cengage Learning, Belmont, California

Boyes SJ, Elliott M (2014) Marine legislation – the ultimate 'horrendogram': international law, European directives & national implementation. Marine Poll Bull 86:39–47. https://doi.org/10.1016/j.marpolbul.2014.06.055

Boyes SJ, Elliott M (2015) The excessive complexity of national marine governance systems – has this decreased in England since the introduction of the Marine and Coastal Access Act 2009? Mar Policy 51:57–65. https://doi.org/10.1016/j.marpol.2014.07.019

Chmura GL, Anisfeld SC, Cahoon DR, Lynch JC (2003) Global carbon sequestration in tidal, saline wetland soils. Glob Biogeochem Cycles 17. https://doi.org/10.1029/2002GB001917

City of Edinburgh Council (2016) Local flood risk management plan. http://www.edinburgh.gov.uk/downloads/file/7455/draft_local_flood_risk_management_plan. Accessed 23 Jan 2018

Clewell AF, Aronson J (2006) Motivations for the restoration of ecosystems. Cons Biol 20:420–428. https://doi.org/10.1111/j.1523-1739.2006.00340.x

ClimateXChange (2016) Flooding and infrastructure. ClimateXChange secretariat. http://www.climatexchange.org.uk/adapting-to-climate-change/indicators-and-trends/flooding-and-infrastructure. Accessed 16 June 2017

Colclough S, Fonseca L, Astley T, Thomas K, Watts W (2005) Fish utilisation of managed realignments. Fish Manag Ecol 12:351–360. https://doi.org/10.1111/j.1365-2400.2005.00467.x

Davidson MD (2013) On the relation between ecosystem services, intrinsic value, existence value and economic valuation. Ecol Econ 95:171–177. https://doi.org/10.1016/j.ecolecon.2013.09.002

Dodman D, Mitlin D (2013) Challenges for community-based adaptation: discovering the potential for transformation. J Int Dev 25:640–659. https://doi.org/10.1002/jid.1772

Doody JP (2004) 'Coastal Squeeze': an historical perspective. J Coast Conserv 10:129–138. https://doi.org/10.1007/bf02818949

Doody JP (2013) Coastal squeeze and managed realignment in southeast England, does it tell us anything about the future? Ocean Coast Manag 79:34–41. https://doi.org/10.1016/j.ocecoaman.2012.05.008

Durham E, Baker H, Smith M, Moore E, Morgan V (2014) The BiodivERsA Stakeholder Engagement Handbook. BiodivERsA, Paris

Esteves LS, Thomas K (2014) Managed realignment in practice in the UK: results from two independent surveys. J Coast Res 70:407–413. https://doi.org/10.2112/SI70-069.1

European Commission (2013) Share of population in coastal regions living within 50km from the coastline by NUTS3 regions. Eurostat. http://ec.europa.eu/eurostat/statistics-explained/index.php/File:Share_of_population_in_coastal_regions_living_within_50km_from_the_coastline_by_NUTS3_regions.png#filehistory. Accessed 16 June 2017

Few R, Brown K, Tompkins EL (2007) Public participation and climate change adaptation: avoiding the illusion of inclusion. Clim Pol 7:46–59. https://doi.org/10.1080/14693062.2007.9685637

Foster NM, Hudson MD, Bray S, Nicholls RJ (2013) Intertidal mudflat and saltmarsh conservation and sustainable use in the UK: a review. J Environ Manag 126:96–104. https://doi.org/10.1016/j.jenvman.2013.04.015

Scottish Government (2014) Scottish planning policy. Scottish Government. http://www.gov.scot/Publications/2014/06/5823. Accessed 16 June 2017

Granderson AA (2014) Making sense of climate change risks and responses at the community level: a cultural-political lens. Clim Risk Manag 3:55–64. https://doi.org/10.1016/j.crm.2014.05.003

Hansen M, Ramasar V, Buchanan K (2014) Localising global environmental governance norms: implications for justice. In: Sowman M, Wynberg R (eds) Governance for justice and environmental sustainability: lessons across natural resource sectors in sub-Saharan Africa. Routledge. pp 43–62

Jones N, Clark J (2014) Social capital and the public acceptability of climate change adaptation policies: a case study in Romney Marsh, UK. Clim Chang 123:133–145. https://doi.org/10.1007/s10584-013-1049-0

Kenter JO (2014) Valuing the inner forth. Final report for the inner forth landscape initiative. http://innerforthlandscape.co.uk/files/KenterValuingtheInnerForth.pdf Accessed 28 Jan 2018

King SE, Lester JN (1995) The value of salt marsh as a sea defence. Mar Pollut Bull 30:180–189. https://doi.org/10.1016/0025-326X(94)00173-7

Koontz TM (2014) Social learning in collaborative watershed planning: the importance of process control and efficacy. J Environ Plan Manag 57:1572–1593. https://doi.org/10.1080/09640568.2013.820658

Ledoux L, Cornell S, O'Riordan T, Harvey R, Banyard L (2005) Towards sustainable flood and coastal management: identifying drivers of, and obstacles to, managed realignment. Land Use Policy 22:129–144. https://doi.org/10.1016/j.landusepol.2004.03.001

Lesnikowski AC, Ford JD, Berrang-Ford L, Barrera M, Heymann J (2015) How are we adapting to climate change? A global assessment. Mitig Adapt Strateg Glob Chang 20:277–293. https://doi.org/10.1007/s11027-013-9491-x

Liski AH, Koetse MJ, Metzger MJ (2019) Addressing awareness gaps in environmental valuation: choice experiments with citizens in the Inner Forth, Scotland. Reg Environ Change https://doi.org/10.1007/s10113-018-01458-4

Lowe JA, Howard TP, Pardaens A, Tinker J, Holt J, Wakelin S, Milne G, Leake J, Wolf J, Horsburgh K, Reeder T, Jenkins G, Ridley J, Dye S, Bradley S (2009) UK climate projections science report: marine and coastal projections. Met Office Hadley Centre. http://ukclimateprojections.metoffice.gov.uk/media.jsp?mediaid=87905&. Accessed 19 Aug 2017

Luisetti T, Turner RK, Bateman IJ, Morse-Jones S, Adams C, Fonseca L (2011) Coastal and marine ecosystem services valuation for policy and management: managed realignment case studies in England. Ocean Coast Manag 54:212–224. https://doi.org/10.1016/j.ocecoaman.2010.11.003

Macalister T (2016) Longannet power station closes ending coal power use in Scotland. The Guardian. https://www.theguardian.com/environment/2016/mar/24/longannet-power-station-closes-coal-power-scotland. Accessed 19 Aug 2017

MacDonald MA, de Ruyck C, Field RH, Bedford A and Bradbury RB (2017) Benefits of coastal managed realignment for society: evidence from ecosystem service assessments in two UK regions. Estuar Coast Shelf Sci. https://doi.org/10.1016/j.ecss.2017.09.007

Martín-López B, Gómez-Baggethun E, García-Llorente M, Montes C (2014) Trade-offs across value-domains in ecosystem services assessment. Ecol Indic 1:220–228. https://doi.org/10.1016/j.ecolind.2013.03.003

McGranahan G, Balk D, Anderson B (2007) The rising tide: assessing the risks of climate change and human settlements in low elevation coastal zones. Environ Urban 19:17–37. https://doi.org/10.1177/0956247807076960

Midgley S, McGlashan DJ (2004) Planning and management of a proposed managed realignment project: Bothkennar, Forth Estuary, Scotland. Mar Policy 28:429–435. https://doi.org/10.1016/j.marpol.2003.10.018

Möller I, Kudella M, Rupprecht F, Spencer T, Paul M, Van Wesenbeeck BK, Wolters G, Jensen K, Bouma TJ, Miranda-Lange M, Schimmels S (2014) Wave attenuation over coastal salt marshes under storm surge conditions. Nat Geosci 7:727–731. https://doi.org/10.1038/ngeo2251

Morelli F, Tryjanowski P, Benedetti Y (2016) Differences between niches of anthropocentric and biocentric conservationists: wearing old clothes to look modern? J Nat Conserv 34:101–106. https://doi.org/10.1016/j.jnc.2016.09.005

Morris RKA (2013) Managed realignment as a tool for compensatory habitat creation – a re-appraisal. Ocean Coast Manag 73:82–91. https://doi.org/10.1016/j.ocecoaman.2012.12.013

Myatt LB, Scrimshaw MD, Lester JN (2003) Public perceptions and attitudes towards an established managed realignment scheme: Orplands, Essex, UK. J Environ Manag 68:173–181. https://doi.org/10.1016/S0301-4797(03)00065

Myatt-Bell LB, Scrimshaw MD, Lester JN, Potts JS (2002) Public perception of managed realignment: Brancaster West Marsh, North Norfolk, UK. Mar Policy 26:45–57. https://doi.org/10.1016/S0308-597X(01)00033-1

North D (1990) Institutions, institutional change and economic performance. Cambridge University Press, Cambridge

Oxford English Dictionary Online (2017a) Norm, n.1. Oxford University Press. http://www.oed.com/view/Entry/128266. Accessed 21 June 2017

Oxford English Dictionary Online (2017b) Institution, n. Oxford University Press. http://www.oed.com/view/Entry/97110. Accessed 21 June 2017

Petts J (2007) Learning about learning: lessons from public engagement and deliberation on urban river restoration. Geogr J 173:300–311. https://doi.org/10.1111/j.1475-4959.2007.00254.x

Pirie D (2017) Taking stock - where we are now. Conference presentation at the sniffer flood risk management conference 2017. Sniffer. https://www.sniffer.org.uk/flood-risk-management-conference-2017. Accessed 16 June 2017

Rennie AF, Hansom JD (2011) Sea level trend reversal: land uplift outpaced by sea level rise on Scotland's coast. Geomorphology 125:193–202. https://doi.org/10.1016/j.geomorph.2010.09.015

Roca E, Villares M (2012) Public perceptions of managed realignment strategies: the case study of the Ebro Delta in the Mediterranean basin. Ocean Coast Manag 60:38–47. https://doi.org/10.1016/j.ocecoaman.2012.01.002

Roebeling PC, Costa L, Magalhães-Filho L, Tekken V (2013) Ecosystem service value losses from coastal erosion in Europe: historical trends and future projections. J Coast Conserv 17:389–395. https://doi.org/10.1007/s11852-013-0235-6

Rogers S, Kaiser M, Jennings S (1998) Ecosystem effects of demersal fishing: a European perspective. In: Dorsey EM, Pederson J (eds) Effects of fishing gear on the sea floor of New England. Conservation Law Foundation, Boston, pp 68–79

Scavia D, Field JC, Boesch DF, Buddemeier RW, Burkett V, Cayan DR, Fogarty M, Harwell MA, Howarth RW, Mason C, Reed DJ, Royer TC, Sallenger AH, Titus JG (2002) Climate change impacts on U. S. Coastal and marine ecosystems. Estuaries 25:149–164. https://doi.org/10.1007/BF02691304

Scottish Government (2016a) Draft Budget 2016. http://www.gov.scot/Publications/2015/12/9056/8. Accessed 11th October 2017

Scottish Government (2016b) Flood Risk Management (Scotland) Act 2009. Scottish Government. http://www.gov.scot/Topics/Environment/Water/Flooding/FRMAct. Accessed 16.06.2017

Scottish Natural Heritage (2011) Firth of Forth - site of special scientific interest: site management statement. Scottish Natural Heritage. http://gateway.snh.gov.uk/sitelink/siteinfo.jsp?pa_code=8163#links. Accessed 19 August 2017

Small C, Nicholls RJ (2003) A global analysis of human settlement in coastal zones. J Coast Res 19:584–599

Smout TC, Stewart M (2012) The Firth of Forth: An Environmental History. Birlinn, Edinburgh

Spalding MD, McIvor AL, Beck MW, Koch EW, Möller I, Reed DJ, Rubinoff P, Spencer T, Tolhurst TJ, Wamsley TV, Wesenbeeck BK (2014) Coastal ecosystems: a critical element of risk reduction. Conserv Lett 7:293–301. https://doi.org/10.1111/conl.12074

Spencer KL, Harvey GL (2012) Understanding system disturbance and ecosystem services in restored saltmarshes: integrating physical and biogeochemical processes. Estuar Coast Shelf Sci 106:23–32. https://doi.org/10.1016/j.ecss.2012.04.020

Tippett J, Searle B, Pahl-Wostl C, Rees Y (2005) Social learning in public participation in river basin management—early findings from HarmoniCOP European case studies. Environ Sci Pol 8:287–299. https://doi.org/10.1016/j.envsci.2005.03.003

Turner RK, Burgess D, Hadley D, Coombes E, Jackson N (2007) A cost-benefit appraisal of coastal managed realignment policy. Glob Environ Chang 17:397–407. https://doi.org/10.1016/j.gloenvcha.2007.05.006

Turner RK, Palmieri MG, Luisetti T (2016) Lessons from the construction of a climate change adaptation plan: a Broads wetland case study. Integr Environ Assess Manag 12:719–725. https://doi.org/10.1002/ieam.1774

UK Committee on Climate Change (2016) UK Climate Risk Assessment 2017. Committee on climate change. https://www.theccc.org.uk/uk-climate-change-risk-assessment-2017. Accessed 16 June 2017

Wamsler C (2017) Stakeholder involvement in strategic adaptation planning: Transdisciplinarity and co-production at stake? Environ Sci Pol 75:148–157. https://doi.org/10.1016/j.envsci.2017.03.016

Wamsler C, Brink E (2014) Interfacing citizens' and institutions' practice and responsibilities for climate change adaptation. Urban Climate 7:64–91. https://doi.org/10.1016/j.uclim.2013.10.009

Weesie PDM, Van Andel J (2008) An integrated framework for the instrumental valuation of nature. Restor Ecol 16:1–4. https://doi.org/10.1111/j.1526-100X.2007.00353.x

Wiering MA, Arts BJM (2006) Discursive shifts in Dutch River management: "deep" institutional change or adaptation strategy? Hydrobiol 565:327–338. https://doi.org/10.1007/s10750-005-5923-2

Williamson O (2000) The new institutional economics: taking stock, looking ahead. J Econ Lit 38:595–613. https://doi.org/10.1257/jel.38.3.595

Zhu X, Linham MM, Nicholls RJ (2010) Technologies for climate change adaptation-coastal erosion and flooding. Danmarks Tekniske Universitet, Risø Nationallaboratoriet for Bæredygtig Energ. http://www.tech-action.org/Publications/TNA-Guidebooks. Accessed 19 August 2017
Acknowledgements
Thank you to all the people living and working in the Inner Forth for their time and help with the interviews and workshops. Thank you to both David Anderson (Royal Society for the Protection of Birds) and Neville Makan (Scottish Natural Heritage) who have supported us in the Inner Forth. Thank you to the workshop facilitators Aster De Vries Lentsch, Isobel Jones, Jakob Assmann, Ben Garlick and Rachael Scrimgeour. Thank you also to the workshop transcribers Kathleen Allen and Isabel Hoffman.
Funding
The project was funded by the European Commission FP7 under Grant Agreement FP7-ENV-2012-308393-2 (OPERAs).
Ethics declarations
Conflict of interest
The authors declare that they have no conflict of interest.
Informed consent
We obtained informed consent from all research participants and adequately handled their confidentiality, in line with the School of Geosciences (University of Edinburgh) Research Ethics Procedure. For the citizen workshops, the research plan was reviewed and approved by the School of Geosciences Ethics Committee, and permission was obtained for photography and filming. Prior to the stakeholder interviews, participants provided consent to how the data would be used.
Additional information
Publisher's note
Springer Nature remains neutral with regard to jurisdictional claims in published maps and institutional affiliations.
About this article
Cite this article
Liski, A.H., Ambros, P., Metzger, M.J. et al. Governance and stakeholder perspectives of managed re-alignment: adapting to sea level rise in the Inner Forth estuary, Scotland. Reg Environ Change 19, 2231–2243 (2019). https://doi.org/10.1007/s10113-019-01505-8
Received:

Accepted:

Published:

Issue Date:
Keywords
Managed realignment

Climate change adaptation

Nature-based solutions

Wetland restoration

Participatory research

Coastal management