Abstract
In the Mediterranean region, the long-term provision of agro-ecosystem services is threatened by accelerating climate change, unsustainable farming practices, and other pressures. Alternative management practices such as conservation agriculture could be expected to ensure sustainability of ecosystem services from Mediterranean agro-ecosystems. Conservation agriculture is characterized by minimal soil disturbance, permanent soil cover, and diversification of crop species. We analyzed the impacts of several forms of alternative agricultural management practices (conservation tillage, cover cropping, mulching, manual weed management, organic fertilizer use, no-irrigation system) on multiple ecosystem services based on 155 published case studies (1994–2015). The effect size of various management options on four provisioning and four regulating ecosystem services were quantified. Impacts of conservation management options are not uniform. All regulating services were positively affected by the conservation management options except for the system without irrigation. In contrast, the provisioning services were inconsistently influenced by the conservation management options. For crop yield, environmentally sustainable soil management was beneficial, but organic fertilization (effect size = − 0.17), manual weed management (effect size = − 0.35), and no-irrigation system (effect size = − 0.5) led to lower crop yields. The impact on crop biomass was mainly negative but not significant. Water availability was especially important to enhance both provisioning and regulating services. Overall, alternative agriculture management practices led to more positive than negative effects on ecosystem services in the study region. Stimulating the application of conservation management practices is therefore an important policy option for decision-makers given the vulnerability of ecosystem services in the Mediterranean basin.
This is a preview of subscription content,
to check access.
Access this article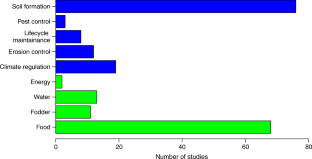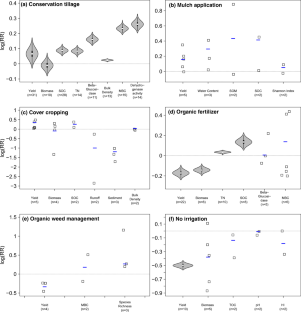 Similar content being viewed by others
References
Adams DC, Gurevitch J, Rosenberg MS (1997) Resampling tests for meta-analysis of ecological data, vol 78. https://esajournals.onlinelibrary.wiley.com/doi/abs/10.1890/0012-9658%281997%29078%5B1277%3ARTFMAO%5D2.0.CO%3B2

Adler D (2005) vioplot: Violin plot. http://wsopuppenkiste.wiso.uni-goettingen.de/~dadler. R Package version 0.2

Aguilera E, Lassaletta L, Gattinger A, Gimeno B (2013a) Managing soil carbon for climate change mitigation and adaptation in Mediterranean cropping systems: a meta-analysis, vol 168. https://doi.org/10.1016/j.agee.2013.02.003

Aguilera E, Lassaletta L, Sanz-Cobena A, Garnier J, Vallejo A (2013b) The potential of organic fertilizers and water management to reduce N2O emissions in Mediterranean climate cropping systems: a review, vol 164. https://doi.org/10.1016/j.agee.2012.09.006

Alvarez R, Steinbach H (2009) A review of the effects of tillage systems on some soil physical properties, water content, nitrate availability and crops yield in the Argentine Pampas. Soil Tillage Res 104:1–15. https://doi.org/10.1016/j.still.2009.02.005

Amossé C, Jeuffroy MH, Celette F, David C (2013) Relay-intercropped forage legumes help to control weeds in organic grain production. Eur J Agron 49:158–167. https://doi.org/10.1016/j.eja.2013.04.002

Amossé C, Jeuffroy MH, Mary B, David C (2014) Contribution of relay intercropping with legume cover crops on nitrogen dynamics in organic grain systems. Nutr Cycl Agroecosyst 98:1–14. https://doi.org/10.1007/s10705-013-9591-8

Andersen PS, Vejre H, Dalgaard T, Brandt J (2013) An indicator-based method for quantifying farm multifunctionality. Ecol Indic 25:166–179. https://doi.org/10.1016/j.ecolind.2012.09.025

Bajocco S, Angelis AD, Perini L, Ferrara A, Salvati L (2012) The impact of land use/land cover changes on land degradation dynamics: a Mediterranean case study. Environ Manag 49:980–989. https://doi.org/10.1007/s00267-012-9831-8

Balbi S, del Prado A, Gallejones P, Geevan CP, Pardo G, Pérez-Miñana E, Manrique R, Hernandez-Santiago C, Villa F (2015) Modeling trade-offs among ecosystem services in agricultural production systems. Environ Modell Softw 72:1–13. https://doi.org/10.1016/j.envsoft.2014.12.017

Baldock D, Caraveli H, Dwyer J, Einschütz S, Petersen JE, Sumpsi-Vinas J, Varela-Ortega C (2000) The environmental impacts of irrigation in theEuropean Union. A report to the Environment Directorate of the European Commission. The Institute for Europen Environmental Policy. London, UK

Bender SF, Wagg C, van der Heijden MG (2016) An underground revolution: biodiversity and soil ecological engineering for agricultural sustainability. Trends Ecol Evol 31:440–452. https://doi.org/10.1016/j.tree.2016.02.016

Bennett EM, Peterson GD, Gordon LJ (2009) Understanding relationships among multiple ecosystem services. Ecol Lett 12:1394–1404. https://doi.org/10.1111/j.1461-0248.2009.01387.x

Berry PM, Rounsevell MDA, Harrison PA, Audsley E (2006) Assessing the vulnerability of agricultural land use and species to climate change and the role of policy in facilitating adaptation. Environ Sci Policy 9:189–204. https://doi.org/10.1016/j.envsci.2005.11.004

Blair A, Ritz B, Wesseling C, Freeman LB (2015) Pesticides and human health. Occup Environ Med 72:81–82. https://doi.org/10.1136/oemed-2014-102454

Blanco-Canqui H, Lal R (2007) Soil structure and organic carbon relationships following 10 years of wheat straw management in no-till. Soil Tillage Res 95:240–254. https://doi.org/10.1016/j.still.2007.01.004

Borenstein M, Hedges LV, Higgins JPT, Rothstein HR (2009) Introduction to Meta-Analysis. Wiley, West Sussex. https://doi.org/10.1002/9780470743386

Borrelli P, Robinson DA, Fleischer LR, Lugato E, Ballabio C, Alewell C, Meusburger K, Modugno S, Schuütt B, Ferro V, Bagarello V, Oost KV, Montanarella L, Panagos P (2017) An assessment of the global impact of 21st century land use change on soil erosion. Nat Commun 8(1). https://doi.org/10.1038/s41467-017-02142-7

Bouarfa S, Marlet S, Douaoui A, Hartani T, Mekki I, Ghazouani W, Aissa IB, Vincent B, Hassani F, Kuper M (2009) Salinity patterns in irrigation systems, a threat to be demystified, a constraint to be managed: field evidence from Algeria and Tunisia. Irrig Drain 58:S273–S284. https://doi.org/10.1002/ird.524

Brandth B, Haugen MS (2011) Farm diversification into tourism - implications for social identity?. J Rural Stud 27:35–44. https://doi.org/10.1016/j.jrurstud.2010.09.002

Buchanan I, Liang H, Liu Z, Razaviarani V (2011) Pesticides and herbicides. Water Environ Res 83:1549–1597. https://doi.org/10.2175/106143011X13075599869858

Campigli E, Radicetti E, Brunetti P, Mancinelli R (2014) Do cover crop species and residue management play a leading role in pepper productivity?. Sci Horticult 166:97–104. https://doi.org/10.1016/j.scienta.2013.12.018

Canty A, Ripley BD (2017) boot: Bootstrap R (S-Plus) Functions. R package version 1.3-19

Collaboration for Environmental Evidence (2013) Guidelines for Systematic Review and Evidence Synthesis in Environmental Management. Version 4.2. Technical Report. Environmental Evidence. www.environmentalevidence.org/Documents/Guidelines/Guidelines4.2.pdf

Cox C, Surgan M (2006) Unidentified inert ingredients in pesticides: implications for human and environmental health. Environ Health Perspect 114:1803–1806. https://doi.org/10.1289/ehp.9374

Crabtree B (2010) Search for sustainability with no-till bill in dryland agriculture Technical Report. Agricultural Consulting, Australia

Curran M, Hellweg S, Beck J (2014) Is there any empirical support for biodiversity offset policy?. Ecol Appl 24:617–632. https://doi.org/10.1890/13-0243.1

Dale VH, Polasky S (2007) Measures of the effects of agricultural practices on ecosystem services. Ecol Econ 64:286–296. https://doi.org/10.1016/j.ecolecon.2007.05.009

Davison A, Hinkley D (1997) Bootstrap Methods and Their Application, Chapter 5. Cambridge University Press, Cambridge

de Groot RS, Alkemade R, Braat L, Hein L, Willemen L (2010) Challenges in integrating the concept of ecosystem services and values in landscape planning, management and decision making. Ecol Complex 7 (3):260–272. https://doi.org/10.1016/j.ecocom.2009.10.006

de Ponti T, Rijk B, van Ittersum MK (2012) The crop yield gap between organic and conventional agriculture. Agric Syst 108:1–9. https://doi.org/10.1016/j.agsy.2011.12.004

Debolini M, Marraccini E, Dubeuf JP, Geijzendorffer I, Guerra C, Simon M, Targetti S, Napoléone C (2018) Land and farming system dynamics and their drivers in the Mediterranean Basin. Land Policy 75:702–710. https://doi.org/10.1016/j.landusepol.2017.07.010

DeFelice MS, Carter PR, Mitchell SB (2006) Influence of tillage on corn and soybean yield in the United States and Canada. Crop Management 5(1). https://doi.org/10.1094/CM-2006-0626-01-RS

di Castri F, Mooney HA (1973) Mediterranean Type Ecosystems: Origin and Structure. Springer, Berlin

Diaz-Balteiro L, Alonso R, Martínez-Jaúregui M, Pardos M (2017) Selecting the best forest management alternative by aggregating ecosystem services indicators over time: a case study in central Spain. Ecol Indic 72:322–329. https://doi.org/10.1016/j.ecolind.2016.06.025

Dominati E, Patterson M, Mackay A (2010) A framework for classifying and quantifying the natural capital and ecosystem services of soils. Ecol Econ 69:1858–1868. https://doi.org/10.1016/j.ecolecon.2010.05.002

Efron B, Tibshirani R (1994) An introduction to the bootstrap. CRC Press, Boca Raton

Fader M, Shi S, von Bloh W, Bondeau A, Cramer W (2016) Mediterranean irrigation under climate change: more efficient irrigation needed to compensate for increases in irrigation water requirements. Hydrol Earth Syst Sci 20:953–973. https://doi.org/10.5194/hess-20-953-2016

Fageria NK, Baligar VC, Bailey BA (2005) Role of cover crops in improving soil and row crop productivity. Commun Soil Sci Plant Anal 36:2733–2757. https://doi.org/10.1080/00103620500303939

FAO (2008) Investing in Sustainable Agricultural Intensification The Role of Conservation Agriculture. A framework for action. Technical Report. Food and Agriculture Organization of the United Nations. Rome, Italy. http://www.fao.org/sustainable-food-value-chains/library/details/fr/c/266308

FAO (2015a) Mulching in Organic Agriculture. Technologies and practices for small agricultural producers. Food and Agriculture Organization of the United Nations. http://teca.fao.org

FAO (2015b) http://www.fao.org/ag/ca/1a.html. Accessed in Jul 2017

Foley JA, Ramankutty N, Brauman KA, Cassidy ES, Gerber JS, Johnston M, Mueller ND, O'Connell C, Ray DK, West PC, Balzer C, Bennett EM, Carpenter SR, Hill J, Monfreda C, Polasky S, Rockström J, Sheehan J, Siebert S, Tilman D, Zaks DPM (2011) Solutions for a cultivated planet. Nature 478:337–342. https://doi.org/10.1038/nature10452

Fra-Paleo U, Wong BL, Mulongoy KJ (2010) The dehesa/montado landscape. In: Bélair C, Ichikawa K (eds) Sustainable use of biological diversity in socio-ecological production landscapes. Background to the 'Satoyama Initiative for the benefit of biodiversity and human well-being. Secretariat of the Convention on Biological Diversity, Montreal, p 52

García-Orenes F, Cerdá A., Mataix-Solera J, Guerrero C, Bodí M, Arcenegui V, Zornoza R, Sempere J (2009) Effects of agricultural management on surface soil properties and soil-water losses in eastern Spain. Soil Tillage Res 106:117–123. https://doi.org/10.1016/j.still.2009.06.002

Geist HJ, Lambin EF (2004) Dynamic causal patterns of desertification. BioScience 54:817–829. https://academic.oup.com/bioscience/article/54/9/817/252974

Giller KE, Witter E, Corbeels M, Tittonell P (2009) Conservation agriculture and smallholder farming in Africa: the heretics' view. Field Crops Res 114:23–34. https://doi.org/10.1016/j.fcr.2009.06.017

Giorgi F (2006) Climate change hot-spots. Geophys Res Lett 33:L08707. https://doi.org/10.1029/2006GL025734

Gordon LJ, Finlayson CM, Falkenmark M (2010) Managing water in agriculture for food production and other ecosystem services. Agric Water Manag 97:512–519. https://doi.org/10.1016/j.agwat.2009.03.017

Grunewald K, Richter B, Meinel G, Herold H, Syrbe RU (2017) Proposal of indicators regarding the provision and accessibility of green spaces for assessing the ecosystem service "recreation in the city" in Germany. Int J Biodivers Sci Ecosyst Serv Manag 13:26–39. https://doi.org/10.1080/21513732.2017.1283361

Guiot J, Cramer W (2016) Climate change: the 2015 Paris Agreement thresholds and Mediterranean basin ecosystems. Science 354:465–468. https://doi.org/10.1126/science.aah5015

Hager A (2015) Weed management. In: Illinois Agronomy Handbook. 24th edn. University of Illinois at Urbana-Champaign. Cooperative Extension Service

Haines-Young R, Potschin M (2013) Common International Classification of Ecosystem Services (CICES): Consultation on Version 4. Technical Report. EEA Framework Contract No EEA/IEA/09/003

Hedges LV, Olkin I (1985) Statistical methods for Meta-analysis. Academic Press, San Diego

Hedges LV, Gurevitch J, Curtis PS (1999) The meta-analysis of response ratios in experimental ecology, vol 80. http://www.jstor.org/stable/177062

Higgins J, Thompson S, Deeks J, Altman D (2002) Statistical heterogeneity in systematic reviews of clinical trials: a critical appraisal of guidelines and practice. J Health Servi Res Policy 1:51–61. https://doi.org/10.1258/1355819021927674

Hill J, Stellmes M, Udelhoven T, Röder A, Sommer S (2008) Mediterranean desertification and land degradation mapping related land use change syndromes based on satellite observations. Glob Planet Chang 64:146–157. https://doi.org/10.1016/j.gloplacha.2008.10.005

Hobbs P, Sayre K, Gupta R (2008) The role of conservation agriculture in sustainable agriculture. Philos Trans Royal Soc B 363:543–555. https://doi.org/10.1098/rstb.2007.2169

Holman I, Brown C, Janes V, Sandars D (2017) Can we be certain about future land use change inEurope? A multi-scenario, integrated-assessment analysis. Agric Syst 151:126–135. https://doi.org/10.1016/j.agsy.2016.12.001

Holt AR, Alix A, Thompson A, Maltby L (2016) Food production, ecosystem services and biodiversity:we can't have it all everywhere. Sci Total Environ 157:1422–1429. https://doi.org/10.1016/j.scitotenv.2016.07.139

Howden SM, Soussana JF, Tubiello FN, Chhetri N, Dunlop M, Meinke H (2007) Adapting agriculture to climate change. Proc Natl Acad Sci USA 104:19691–19696. https://doi.org/10.1073/pnas.0701890104

Iglesias A, Garrote L, Flores F, Moneo M (2007) Challenges to manage the risk of water scarcity and climate change in the Mediterranean. Water Resour Manag 21:775–788. https://doi.org/10.1007/s11269-006-9111-6

Iglesias A, Mougou R, Moneo M, Quiroga S (2011) Towards adaptation of agriculture to climate change in the Mediterranean. Reg Environ Chang 11:159–166. https://doi.org/10.1007/s10113-010-0187-4

Iniesta-Arandia I, del Amo DG, García-Nieto AP, Piṅeiro C, Montes C, Martín-López B (2015) Factors influencing local ecological knowledge maintenance in Mediterranean watersheds: insights for environmental policies. Ambio 44:285–296. https://doi.org/10.1007/s13280-014-0556-1

Joffre R, Vacher J, de los Llanos C, Long G (1988) The dehesa: an agrosilvopastoral system of theMediterranean region with special reference to the Sierra Morena area of Spain. Agrofor Syst 6:71–96. https://doi.org/10.1007/BF02344747

Kasirajan S, Ngouajio M (2012) Polyethylene and biodegradable mulches for agricultural applications: a review. Agron Sustain Dev 32:501–529. https://doi.org/10.1007/s13593-011-0068-3

Kassam A, Friedrich T, Derpsch R, Lahmar R, Mrabet R, Basch G, González-Sánchez EJ, Serraj R (2012) Conservation agriculture in the dry Mediterranean climate. Field Crops Res 132:7–17. https://doi.org/10.1016/j.fcr.2012.02.023

Kroeger T, Casey F (2007) An assessment of market-based approaches to providing ecosystem services on agricultural lands. Ecol Eco 64:321–332. https://doi.org/10.1016/j.ecolecon.2007.07.021

Labarthe P (2009) Extension services and multifunctional agriculture. lessons learnt from the French and Dutch contexts and approaches. J Environ Manag 90:S193–S202. https://doi.org/10.1016/j.jenvman.2008.11.021

Langdale GW, Blevins RL, Karlen D, McCool DK, Nearing MA, Skidmore EL, Thomas AW, Tyler DD, Williams JR (1991) Cover crop effects on soil erosion by wind and water. In: Hargrove W (ed) Cover Crop for Clean Water. Soil and Water Conservation Society, Ankeny, pp 15–23

Lavorel S, Bayer A, Bondeau A, Lautenbach S, Ruiz-Frau A, Schulp N, Seppelt R, Verburg P, van Teeffelen A, Vannier C, Arneth A, Cramer W, Marba N (2017) Pathways to bridge the biophysical realism gap in ecosystem services mapping approaches. Ecol Indic 74:241–260. https://doi.org/10.1016/j.ecolind.2016.11.015

Lee H, Lautenbach S (2016) A quantitative review of relationships between ecosystem services. Ecol Indic 66:340–351. https://doi.org/10.1016/j.ecolind.2016.02.004

Lipsey MW, Wilson DB (1993) The efficacy of psychological, educational, and behavioral treatment: confirmation from meta-analysis. Amer Psychol 48:1181–1209. https://doi.org/10.1037/0003-066X.48.12.1181

López-Bellido L, Fuentes M, Castillo JE, López-Garrido FJ, Fernández EJ (1996) Long-term tillage, crop rotation, and nitrogen fertilizer effects on wheat yield under rainfed Mediterranean conditions. Agron J 88:783–791. https://doi.org/10.2134/agronj1996.00021962008800050016x

Maes J, Liquete C, Teller A, Erhard M, Paracchini ML, Barredo JI, Grizzetti B, Cardoso A, Somma F, Petersen JE, Meiner A, Gelabert ER, Zal N, Kristensen P, Bastrup-Birk A, Biala K, Piroddi C, Egoh B, Degeorges P, Fiorina C, Santos-Martín F, Naruṡeviċius V, Verboven J, Pereira HM, Bengtsson J, Gocheva K, Marta-Pedroso C, Snäll T, Estreguil C, San-Miguel-Ayanz J, Pérez-Soba M, Grêt-Regamey A, Lillebø AI, Malak DA, Condé S., Moen J, Czúcz B., Drakou EG, Zulian G, Lavalle C (2016) An indicator framework for assessing ecosystem services in support of the EU Biodiversity Strategy to 2020. Ecosyst Serv 17:14–23. https://doi.org/10.1016/j.ecoser.2015.10.023

Malek .̆ Z., Verburg P (2017) Mediterranean land systems: representing diversity and intensity of complex land systems in a dynamic regions. Landsc Urban Plan 165:102–116. https://doi.org/10.1016/j.landurbplan.2017.05.012

Martín-López B, Oteros-Rozas E, Cohen-Sacham E, Santos-Martín F, Nieto-Romero M, Carvalho-Santos C, González J, García-Llorente M, Keren K, Geijzendorffer I, Montes C, Cramer W, Haines-Young R, Fish R, Turner RK (2016) Ecosystem services supplied by mediterranean basin ecosystems. In: Potschin M (ed) Routledge Handbook of Ecosysem Services. Routledge, New York, pp 405–414

McLaughlin A, Mineau P (1995) The impact of agricultural practices on biodiversity. Agric Ecosyst Environ 55:201–212. https://doi.org/10.1016/0167-8809(95)00609-V

Moher D, Liberati A, Tetzlaff J, Altman DG, Group TP (2009) Preferred reporting items for systematic reviews and meta-analyses: the PRISMA statement. PLoS Med 6:e1000097. https://doi.org/10.1371/journal.pmed.1000097.g001

Mondelaers K, Aertsens J, Van Huylenbroeck G (2009) A meta-analysis of the differences in environmental impacts between organic and conventional farming. Br Food J 111:1098–1119. http://www.emeraldinsight.com/10.1108/00070700910992925

Montgomery DR (2007a) Dirt: The Erosion of Civilizations. University California Press, Berkeley

Montgomery DR (2007b) Soil erosion and agricultural sustainability. Proc Natl Acad Sci USA 104:13268–13272. https://doi.org/10.1073/pnas.0611508104

Nickerson NP, Black RJ, McCool SF (2001) Agritourism: motivations behind farm/ranch business diversification. J Travel Res 40:19–26. https://doi.org/10.1177/004728750104000104

Njeru EM, Avio L, Sbrana C, Turrini A, Bocci G, Bárberi P., Giovannetti M (2014) First evidence for a major cover crop effect on arbuscular mycorrhizal fungi and organic maize growth. Agron Sustain Dev 34:841–848. https://doi.org/10.1007/s13593-013-0197-y

Oehl F, Oberson A, Tagmann HU, Besson JM, Dubois D, Mäder P, Roth HR, Frossard E (2002) Phosphorus budget and phosphorus availability in soils under organic and conventional farming. Nutr Cycl Agroecosyst 62:25–35. https://doi.org/10.1023/A:1015195023724

Ogle SM, Swan A, Paustian K (2012) No-till management impacts on crop productivity, carbon input and soil carbon sequestration. Agric Ecosyst Environ 149:37–49. https://doi.org/10.1016/j.agee.2011.12.010

Palm C, Blanco-Canqui H, DeClerck F, Gatere L, Grace P (2014) Conservation agriculture and ecosystem services: an overview. Agric Ecosyst Environ 187:87–105. https://doi.org/10.1016/j.agee.2013.10.010

Pascual U, Palomo I, Adams WM, Chan KMA, Daw TM, Garmendia E, Gómez-Baggethun E, de Groot RS, Mace GM, Martín-López B (2017) Off-stage ecosystem service burdens: a blind spot for global sustainability. Environ Res Lett 12:075001. https://doi.org/10.1088/1748-9326/aa7392

Pereira LS (2004) Trends for irrigated agriculture in the Mediterranean region: coping with water scarcity. Eur Water 7(/8):47–64

Perez MR (1990) Development of Mediterranean agriculture: an ecological approach. Landsc Urban Plann 18:211–220. https://doi.org/10.1016/0169-2046(90)90007-O

Phillips RE, Blevins RL, Thomas GW, Frye WW, Phillips SH (1980) No-tillage agriculture. Science 208:1108–1113. https://doi.org/10.1126/science.208.4448.1108

Pilgrim ES, Macleod CJA, Blackwell MSA, Bol R, Hogan DV, Chadwick DR, Cardenas L, Misselbrook TH, Haygarth PM, Brazier RE, Hobbs P, Hodgson C, Jarvis S, Dungait J, Murray PJ, Firbank LG (2010) Interactions among agricultural production and other ecosystem services delivered from European temperate grassland systems. In: Sparks D (ed) Advances in Agronomy, vol 109. Elsevier, Burlington, pp 117–154. https://doi.org/10.1016/S0065-2113(10)09004-8

Pimentel D, Harvey C, Resosudarmo P, Sinclair K, Kurz D, McNair M, Crist S, Shpritz L, Fitton L, Saffouri R, Blair R (1995) Environmental and economic costs of soil erosion and conservation benefits. Science 267:1117–1123. http://www.jstor.org/stable/2886079

Poisot AS, Speedy A, Kueneman E (2004) Good Agricultural Practices - a working concept. Background paper for the FAO Internal Workshop on Good Agricultural Practices. Technical Report. Food and Agriculture Organization of the United Nations. Rome, Italy. http://www.fao.org/docrep/010/ag856e/ag856e00.htm

Pretty J (2008) Agricultural sustainability: concepts, principles and evidence. Philos Trans Royal Soc B 363:447–465. https://doi.org/10.1098/rstb.2007.2163

R Core Team (2016) R: A Language and Environment for Statistical Computing. R Foundation for Statistical Computing. Vienna, Austria. http://www.R-project.org/

Rasmussen K (1999) Impact of ploughless soil tillage on yield and soil quality: A Scandinavian review. Soil Tillage Res 53:3–14. https://doi.org/10.1016/S0167-1987(99)00072-0

Reeves D (1994) Cover crops and rotations. In: Hatfield J, Stewart B, Residue Crops (eds) Crops Residue Management. Advances in Soil Science. Lewis Publications, CRC Press, Boca Raton, pp 125–172

Renting H, Rossing W, Groot J, der Ploeg JV, Laurent C, Perraud D, Stobbelaar D, Ittersum MV (2009) Exploring multifunctional agriculture. A review of conceptual approaches and prospects for an integrative transitional framework. J Environ Manag 90:S112–S123. https://doi.org/10.1016/j.jenvman.2008.11.014

Rohatgi A (2017) WebPlotDigitizer 3.12. http://arohatgi.info/WebPlotDigitizer/. Accessed in June 2017

Roper MM, Ward P, Keulen A, Hill JR (2013) Under no-tillage and stubble retention, soil water content and crop growth are poorly related to soil water repellency. Soil Tillage Res 126:143–150. https://doi.org/10.1016/j.still.2012.09.006

Ruiz-Colmenero M, Bienes R, Eldridge D, Marques M (2013) Vegetation cover reduces erosion and enhances soil organic carbon in a vineyard in the central Spain. Catena, pp 153–160. https://doi.org/10.1016/j.catena.2012.11.007

Sandhu HS, Wratten SD, Cullen R (2010) Organic agriculture and ecosystem services. Environ Sci Policy 13:1–7. https://doi.org/10.1016/j.envsci.2009.11.002

Sanz-Cobena A, Lassaletta L, Aguilera E, del Prado A, Garnier J, Billen G, Iglesias A, Sánchez B, Guardia G, Abalos D, Plaza-Bonilla D, Puigdueta-Bartolomé I, Moral R, Galán E, Arriaga H, Merino P, Infante-Amate J, Meijide A, Pardo G, Álvaro Fuentes J, Gilsanz C, Báez D, Doltra J, González-Ubierna S, Cayuela M, Menéndez S, Díaz-Pinés E, Le-Noë J, Quemada M, Estellés F, Calvet S, van Grinsven H, Westhoek H, Sanz M, Gimeno B, Vallejo A, Smith P (2017) Strategies for greenhouse gas emissions mitigation in Mediterranean agriculture: A review. Agric Ecosyst Environ 238:5–24. https://doi.org/10.1016/j.agee.2016.09.038

Sartori L, Peruzzi P (1994) The evolution of no-tillage in Italy: a review of the scientific literature, Experience with the applicability of no-tillage crop production in the West-European countries. Technical Report. Wissenschaftlicher Fachverlag, Giessen

Seufert V, Ramankutty N (2017) Many shades of gray -the context-dependent performance of organic agriculture. Sci Adv 3:e1602638. https://doi.org/10.1126/sciadv.1602638

Sharpley R, Vass A (2006) Tourism, farming and diversification: an attitudinal study. Tour Manag 27:1040–1052. https://doi.org/10.1016/j.tourman.2005.10.025

Six J, Elliott E, Paustian K (2000) Soil macroaggregate turnover and microaggregate formation: a mechanism for C sequestration under no-tillage agriculture. Soil Biol Biochem 32:2099–2103. https://doi.org/10.1016/S0038-0717(00)00179-6

Slaughter D, Giles D, Downey D (2008) Autonomous robotic weed control systems: a review. Comput Electron Agric 61:63–78. https://doi.org/10.1016/j.compag.2007.05.008

Smith P, Haberl H, Popp A, Erb KH, Lauk C, Harper R, Tubiello FN, de Siqueira Pinto A, Jafari M, Sohi S, Masera O, Böttcher H, Berndes G, Bustamante M, Ahammad H, Clark H, Dong H, Elsiddig EA, Mbow C, Ravindranath NH, Rice CW, Abad CR, Romanovskaya A, Sperling F, Herrero M, House JI, Rose S (2013) How much land-based greenhouse gas mitigation can be achieved without compromising food security and environmental goals? Glob Chang Biol 19:2285–2302. https://doi.org/10.1111/gcb.12160

Stott D, Andrews S, Liebig M, Wienhold B, Karlen D (2009) Evaluation of β-glucosidase activity as a soil quality indicator for the soil management assessment framework. Soil Sci Soc Amer J 74:107–119. https://doi.org/10.2136/sssaj2009.0029

Thomas R (2008) Opportunities to reduce the vulnerability of dryland farmers in Central and West Asia and North Africa to climate change. Agric Ecosyst Environ 126:36–45

Torralba M, Fagerholm N, Burgess PJ, Moreno G, Plieninger T (2016) Do European agroforestry systems enhance biodiversity and ecosystem services? A meta-analysis. Agric Ecosyst Environ 230:150–161. https://doi.org/10.1016/j.agee.2016.06.002

Tuomisto H, Hodge I, Riordan P, Macdonald D (2012) Does organic farming reduce environmental impacts? -A meta-analysis of European research. J Environ Manag 112:309–320. https://doi.org/10.1016/j.jenvman.2012.08.018

Unger PW, Vigil MF (1998) Cover crop effects on soil water relationships. J Soil Water Conserv 53:200–207

Verhulst N, Govaerts B, Verachtert E, Castellanos-Navarrete A, Mezzalama M, Wall P, Deckers J, Sayre K (2010) Conservation agriculture, improving soil quality for sustainable production systems? In: Lal R, Stewart B (eds) Advances in Soil Science: Food Security and Soil Quality. USA, Boca Raton, pp 137– 208

Vetter D, Rücker G, Storch I (2013) Meta-analysis: a need for well-defined usage in ecology and conservation biology. Ecosphere 4:1–24. https://doi.org/10.1890/ES13-00062.1

Vita PD, Paolo ED, Fecondo G, Fonzo ND, Pisante M (2007) No-tillage and conventional tillage effects on durum wheat yield, grain quality and soil moisture content in southern Italy. Soil Tillage Res 92:69–78. https://doi.org/10.1016/j.still.2006.01.012

van Vliet J, de Groot HLF, Rietveld P, Verburg PH (2015) Manifestations and underlying drivers of agricultural land use change in Europe. Landsc Urban Plann 133:24–36. https://doi.org/10.1016/j.landurbplan.2014.09.001

Walker W (1989) Guidelines for designing and evaluating surface irrigation systems. FAO Irrigation and Drainage Paper 45. Food and Agriculture Organization of the United Nations. Rome. ISBN 92-5-102879-6.

Wimmer F, Audsley E, Malsy M, Savin C, Dunford R, Harrison PA, Schaldach R, Flörke M (2015) Modelling the effects of cross-sectoral water allocation schemes in Europe. Clim Chang 128:229–244. https://doi.org/10.1007/s10584-014-1161-9

Zalidis G, Stamatiadis S, Takavakoglou V, Eskridge K, Misopolinos N (2002) Impacts of agricultural practices on soil and water quality in the Mediterranean region and proposed assessment methodology. Agric Ecosyst Environ 88:137–146. https://doi.org/10.1016/S0167-8809(01)00249-3
Acknowledgments
We would like to thank Bumsuk Seo for his help with the analysis. We acknowledge the support of the German Academic Exchange Service (DAAD) in the form of an International Travel Grant which enabled H.L. to attend the Ecosystem Services Partnership 2018.
Funding
This project was funded by the EU FP-7 project OPERAs (grant number 308393). APGN, AB, WC and IRG contribute to the Labex OT-Med (no. ANR-11-LABEX-0061) funded by the French government through the A*MIDEX project (no. ANR-11-IDEX-0001-02).
Additional information
Publisher's Note
Springer Nature remains neutral with regard to jurisdictional claims in published maps and institutional affiliations.
Electronic supplementary material
About this article
Cite this article
Lee, H., Lautenbach, S., Nieto, A.P.G. et al. The impact of conservation farming practices on Mediterranean agro-ecosystem services provisioning—a meta-analysis. Reg Environ Change 19, 2187–2202 (2019). https://doi.org/10.1007/s10113-018-1447-y
Received:

Accepted:

Published:

Issue Date:

DOI: https://doi.org/10.1007/s10113-018-1447-y
Keywords