Abstract
Over the past 50 years, Costa Rica has experienced extensive landscape changes. It is, therefore, important to understand the historical changes that have occurred and how the forests will change in the future, which provides the objective of this study. To determine the historical deforestation trends and link them to the different biogeophysical and socioeconomic variables, forest maps from 1960 to 2013 were used in the Dinamica Environment for Geoprocessing Objects (Dinamica EGO) to create deforestation models for Costa Rica. The base model was built and analyzed for changes in landscape metrics such as patch size and distance between 1960 and 2013. After validation of the model's ability to replicate patterns, the landscape change was then projected to 2069. The historical model validated at 85% accuracy within 600 m for both the 2005–2013 and 1997–2005 iterations. All national future projections exhibited an increase in forest area, including the most extreme deforestation scenarios. Future projections are increasingly important given changes in the global socio-political structure, climatic change, and the ever-increasing globalization of capitalistic endeavors. The trajectory of the forest in Costa Rica can also serve as a way to track both these global pressures on the natural landscape, and as a proxy for how to manage deforestation in other similar political and geographic areas of the tropics.
Access options
Buy single article
Instant access to the full article PDF.
US$ 39.95
Tax calculation will be finalised during checkout.
Subscribe to journal
Immediate online access to all issues from 2019. Subscription will auto renew annually.
US$ 79
Tax calculation will be finalised during checkout.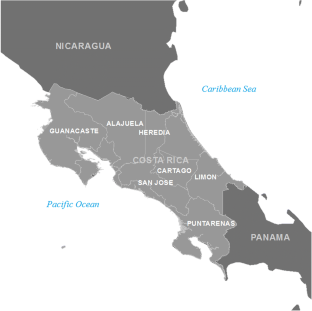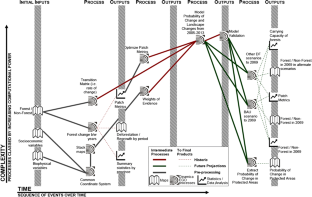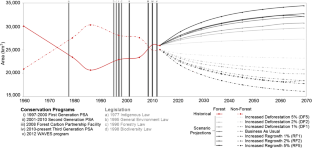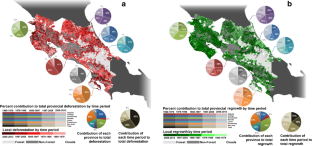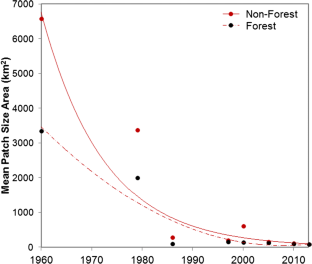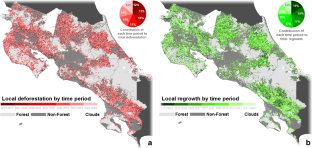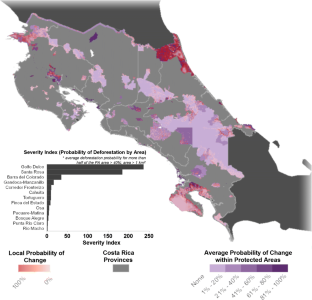 References
Andam KS, Ferraro PJ, Pfaff A, Sanchez-Azofeifa GA, Robalino JA (2008) Measuring the effectiveness of protected area networks in reducing deforestation. Proc Natl Acad Sci 105(42):16089–16094. https://doi.org/10.1073/pnas.0800437105

Barber CP, Cochrane MA, Souza C Jr, Verissimo A (2012) Dynamic performance assessment of protected areas. Biol Conserv 149:6–14. https://doi.org/10.1016/j.biocon.2011.08.024

Bender H (2012) Reshaping environments: an interdisciplinary approach to sustainability in a complex world. Cambridge University Press, New York ISBN: 978-1-107-68866-7

Berberoglu S, Akin A, Clarke KC (2016) Cellular automata modelling approaches to forecast urban growth for Adana, Turkey: a comparative approach. Landsc Urban Plan 153:11–27. https://doi.org/10.1016/j.jhydrol.2017.03.026

Blum N (2008) Environmental education in Costa Rica: building a framework for sustainable development? Int J Educ Dev 28:348–358. https://doi.org/10.1016/j.ijedudev.2007.05.008

Cadman T, Maraseni T, Ma HO, Lopez-Casero F (2017) Five years of REDD+ governance: the use of market mechanisms as a response to anthropogenic climate change. Forest Policy Econ 79:8–16. https://doi.org/10.1016/j.forpol.2016.03.008

Castillo A, Quesada M, Rodriguez F, Anaya FFC, Galicia C, Monge F, Barbosa RS, Zhouri A, Calvo-Alvarado J, Sanchez-Azofeifa A (2013) Tropical dry forests in Latin America: analyzing the history of land use and present socio-ecological struggles. In: Sanchez-Azofeifa A, Powers JS, Fernandes GW, Quesada M (eds) Tropical dry forests in the Americas. CRC Press, Boca Raton ISBN: 9781466512016

Corbera E, Estrada M, May P, Navarro G, Pacheco P (2011) Rights to land, forests and carbon in REDD+: insights from Mexico, Brazil and Costa Rica. Forest 2(1):301–342

De Sy V, Herold M, Achard F, Beuchle R, Clevers GPW, Lindquist E, Verchot L (2015) Land use patterns and related carbon losses following deforestation in South America. Environ Res Lett 10:124004. https://doi.org/10.1088/1748-9326/10/12/124004

Duveneck MJ, Scheller RM (2016) Measuring and managing resistance and resilience under climate change in northern Great Lake forests (USA). Landsc Ecol 31(3):669–686

Ellis EA, Porter-Bolland L (2008) Is community-based forest management more effective than protected areas/ a comparison of land use/land cover change in two neighbouring study areas of the Central Yucatan Peninsula, Mexico. For Ecol Manag 256:1971–1983. https://doi.org/10.1016/j.foreco.2008.07.036

Enquist CAF (2002) Predicted regional impacts of climate change on the geographical distribution and diversity of tropical forests in Costa Rica. J Biogeogr 29:519–534. https://doi.org/10.1046/j.1365-2699.2002.00695.x

Ferraro PJ, Lawlor K, Mullan KL, Pattanayak SK (2012) Forest figures: ecosystem services valuation and policy evaluation in developing countries. Rev Environ Econ Policy 6(1):20–44

Ferreira M, Ferriera L, Miziara F, Soares-Filho B (2012) Modeling landscape dynamics in the central Brazilian savanna biome: future scenarios and perspectives for conservation. J Land Use Sci:1–19. https://doi.org/10.1111/j.1466-8238.2006.00287.x

Fischer J, Lindenmayer DB (2007) Landscape modification and habitat fragmentation: a synthesis. Glob Ecol Biogeogr 16:265–280. https://doi.org/10.1111/j.1466-8238.2007.00287.x

Gasparri NI, Waroux YP (2015) The coupling of South American soybean and cattle production frontiers: new challenges for conservation policy and land change science. Conserv Lett 8(4):290–298. https://doi.org/10.1111/conl.12121

Global Environment Facility (2007) GEF country portfolio evaluation: Costa Rica (1992-2005). Signposts brief. World Bank, Washington, DC.

Holdridge LR (1967) Life zone ecology. Tropical Science Center, San Jose Record Number: 19670604180

Ibraham M, Abarca S, Flores OS (2000) Geographical synthesis of data on Costa Rica pastures and their potential for improvement. In: Quantifying sustainable development: the future of tropical economics, pp 423–446.

Jones G, Spadafora A (2017) Creating ecotourism in Costa Rica, 1970-2000. Enterp Soc 18(1):146–183. https://doi.org/10.1017/eso.2016.50

Joppa L, Pfaff A (2010) Reassessing the forest impacts of protection: the challenges of nonrandom location and a corrective method. Ann N Y Acad Sci 1185:135–149. https://doi.org/10.1111/j.1749-6632.2009.05162.x

Kleinn C, Ramirez C, Chaves G, Lobo S (2001) Pilot forest inventory in Costa Rica for the Global Forest Survey Initiative of FAO FRA. Report of FAO FRA, pp 1–46. Retrieved from: http://www.fao.org/forestry/15543-0194951258eb2f005a62668ebc1b7553d.pdf

Kuenzer C, Ottinger M, Wang C, Zhang J (2014) Earth observation satellite sensors for biodiversity monitoring: potentials and bottlenecks. Int J Remote Sens 35(17):6599–6647. https://doi.org/10.1080/01431161.2014.964349

Lambin EF, Meyfroidt P, Rueda X, Blackman A, Borner J, Cerutti PO, Dietsch T, Jungmann L, Lamarque P, Lister J, Walker NF, Wunder S (2014) Effectiveness and synergies of policy instruments for land use governance in tropical regions. Glob Environ Chang 28:129–140. https://doi.org/10.1016/j.gloenvcha.2014.06.007

Laurance WF (2008) Theory meets reality: how habitat fragmentation research has transcended island biogeography theory. Biol Conserv 141:1731–1744. https://doi.org/10.1016/j.biocon.2008.05.011

Laurance WF, Sayer J, Cassman KG (2014) Agricultural expansion and its impacts on tropical nature. Trends Ecol Evol 29(2):107–116. https://doi.org/10.1016/j.tree.2013.12.001

Le Coq JF, Froger G, Pesche D, Legrand T, Saenz F (2015) Understanding the governance of the Payment for Environmental Services Programme in Costa Rica: a policy process perspective. Ecosyst Serv 16:252–265. https://doi.org/10.1016/j.ecoser.2015.10.003

Leite CC, Costa MH, Soares-Filho BS, Hissa LBV (2012) Historical land use change and associated carbon emissions in Brazil from 1940-1995. Glob Biogeochem Cycles 26:GB2011. https://doi.org/10.1029/2011GB004133

Lewis SL, Edwards DP, Galbraith D (2015) Increasing human dominance of tropical forests. Science 349(6250):827–832. https://doi.org/10.1126/science.aaa9932

Lopez ML (2003) Policy for sustainable low-volume rural roads in Costa Rica. In: Transportation Research Record 1819, vol 1819. Transportation Research Board National Research Council, Washington, pp 1–8

Lopez-Carr DL, Burgdorfer J (2013) Deforestation drivers: population, migration, and tropical land use. Environment 55(1):3–11. https://doi.org/10.1080/00139157.2013.748385

Maeda EE, Clark BJF, Pellikka P, Siljander M (2010) Modelling agricultural expansion in Kenya's Eastern Arc Mountains biodiversity hotspot. Agric Syst 103:609–620. https://doi.org/10.1016/j.agsy.2010.07.004

Magnago LFS, Rocha MF, Meyer L, Martins SV, Meira-Neto JAA (2015) Microclimatic conditions at forest edges have significant impacts on vegetation structure in large Atlantic forest fragments. Biodivers Conserv 24(9):2305–2318. https://doi.org/10.1007/s10531-015-0961-1

Mancosu N, Snuder RL, Kyriakakis G, Spano D (2015) Water scarcity and future challenges for food production. Water 7:975–992. https://doi.org/10.3390/w7030975

Mas JF, Kolb M, Paegelow M, Olmedo MTC, Houet T (2014) Inductive pattern-based land use/cover change models: a comparison of four software packages. Environ Model Softw 51:94–111. https://doi.org/10.1016/j.envsoft.2013.09.010

Mbatu RS (2016) REDD+ research: reviewing the literature, limitations, and way forward. Forest Policy Econ 73:140–152. https://doi.org/10.1016/j.forpol.2016.09.010

McDade LA (1994) La Selva: ecology and natural history of a neotropical rain forest. University of Chicago Press, Chicago

National Biodiversity Institute (2014) Biodiversity. Retrieved from http://www.inbio.ac.cr/en/12-inbio/conservacion.html

Nunes F, Soares-Filho BS, Giudice R, Rodrigues H, Bowman M, Silvestrini R, Mendoza E (2012) Economic benefits of forest conservation: assessing the potential rents from Brazil nut concessions in Madre de Dios, Peru, to channel REDD+ investments. Environ Conserv 39(2):132–143. https://doi.org/10.1017/S0376892911000671

Pfaff A, Robalino J, Sanchez-Azofeifa GA, Andam KS, Ferraro PJ (2009) Park location affects forest protection: land characteristics cause differences in park impacts across Costa Rica. BE J Econ Anal Poli 9(2):1–26

Pfaff A, Robalino J, Lima E, Sandoval C, Herrera LD (2014) Governance, location and avoided deforestation from protected areas: greater restrictions can have lower impact, due to differences in location. World Dev 55:7–20. https://doi.org/10.1016/j.worlddev.2013.01.011

Pfaff A, Santiago-Avila F, Joppa L (2017) Evolving protected-area impacts in Mexico: political shifts as suggested by impact evaluations. Forests 8(17). https://doi.org/10.3390/f8010017

Porter-Bolland L, Ellis EA, Guariguata MR, Ruiz-Mallen I, Negrete-Yankelevich S, Reyes-Garcia V (2012) Community managed forests and forest protected areas: an assessment of their conservation effectiveness across the tropics. For Ecol Manag 268:6–17. https://doi.org/10.1016/j.foreco.2011.05.034

Powell GVN, Palminteri S, Carlson B, Boz MA (2002) Successes and failing of the Monteverde Reserve Complex and Costa Rica's system of national protected areas. In: Terborgh J (ed) Making parks work: strategies for preserving tropical nature. Island Press, Washington DC ISBN: 9781559639057

REDD Costa Rica (2018) Reduction of Emissions from Deforestation and Forest Degradation. Retrieved from: http://www.reddcr.go.cr/en

Ribeiro MC, Metzger JP, Martensen AC, Ponzoni FJ, Hirota MM (2009) The Brazilian Atlantic Forest: how much is left, and how is the remaining forest distributed? Implications for conservation. Biol Conserv 142:1141–1153. https://doi.org/10.1016/j.biocon.2009.02.021

Robalino J, Pfaff A, Villalibos L (2017) Heterogeneous local spillovers from protected areas in Costa Rica. J Assoc Environ Resour Econ 4(3):795–820. https://doi.org/10.1086/692089

Rosa IMD, Ahmend SEA, Ewers RM (2014) The transparency, reliability, and utility of tropical rainforest land-use and land-cover change models. Glob Chang Biol 20:1707–1722. https://doi.org/10.1111/gcb.12523

Sanchez-Azofeifa GA (2000) Land use and cover change in Costa Rica: a geographic perspective. In: Hall C (ed) Quantifying sustainable development: the future of tropical economics. Academic Press, San Diego, pp 473–499

Sanchez-Azofeifa GA (2015) Analysis of forest cover in Costa Rica between 1960 and 2013. Ambientico 253:4–11 ISSN: 1409-214X

Sanchez-Azofeifa GA, Harriss RC, Skole DL (2001) Deforestation in Costa Rica: a quantitative analysis using remote sensing imagery. Biotropica 33(3):378–384. https://doi.org/10.1111/j.1744-7429.2001.tb00192.x

Sanchez-Azofeifa GA, Daily GC, Pfaff AS, Busch C (2003) Integrity and isolation of Costa Rica's national parks and biological reserves: examining the dynamics of land-cover change. Biol Conserv 109(1):123–135

Sanchez-Azofeifa GA, Pfaff A, Robalino J (2007) Costa Rica's payment for environmental services program: intention, implementation, and impact. Conserv Biol 21(5):1165–1173. https://doi.org/10.1111/j.1523-1739.2007-00751.x

Soares-Filho B, Rodrigues H, Costa W (2009) Modeling environmental dynamics with Dinamica EGO. Centro de Sensoriamento Remoto/Universidade Federal de Minas Gerais. Belo Horizonte, Brazil ISBN: 978-85-910119-0-2

Soares-Filho B, Rajao R, Macedo M, Carneiro A, Costs W, Coe M, Rodrigues H, Alencar A (2014) Cracking Brazil's forest code. Science 344:363–364. https://doi.org/10.1126/science.1246663

Stan K, Sanchez-Azofeifa A, Espirito-Santo M, Portillo-Quintero C (2015) Simulating deforestation in Minas Gerais, Brazil, under changing government policies and socioeconomic conditions. PLoS One 10(9):e0137911. https://doi.org/10.1371/journal.pone.0137911

Stansifer CL, Elbow GS, Karnes TL, Parker FD (2017) Costa Rica. Encyclopedia britannica. Retrieved from: https://www.britannica.com/place/Costa-Rica

Verburg PH, Crossman N, Ellis E, Heinmann A, Hostert P, Mertz O, ... Lin YP (2015) Global Land Programme: science plan and implementation strategy 2016-2021, pp 1–49. https://glp.earth/sites/default/files/uploads/glpscienceplan_25_10_16.pdf

Wolfram S (1983) Statistical mechanics of cellular automata. Rev Mod Phys 55(3):601–644. https://doi.org/10.1103/RevModPhys.55.601

World Bank Development Data Group (2017) Costa Rica. Retrieved from https://data.worldbank.org/country/costa-rica

Zahawi RA, Duran G, Kormann U (2015) Sixty-seven years of land-use change in southern Costa Rica. PLoS One 10(11):e1043554. https://doi.org/10.1371/journal.pone.0143554
Funding
Funding for this project was provided by NSERC CGS-D and Alberta Innovates GSS. We thank the support provided by the University of Alberta, the Natural Sciences and Engineering Research Council of Canada (NSERC-Discovery), and the Inter-American Institute (CRN3 025).
About this article
Cite this article
Stan, K., Sanchez-Azofeifa, A. Deforestation and secondary growth in Costa Rica along the path of development. Reg Environ Change 19, 587–597 (2019). https://doi.org/10.1007/s10113-018-1432-5
Received:

Accepted:

Published:

Issue Date:
Keywords
Land cover change

Environmental modeling

Dinamica EGO

Deforestation trends

Environmental legislation