Governing water in federal river basins
Managing freshwater resources across political borders presents a fundamental challenge for regional environmental governance. The misalignment between river basin boundaries and political borders contributes to intense disputes over water resource allocation between neighbouring jurisdictions. In federal political systems, disputes over water may be exploited by politicians to secure electoral gains or pursue constitutional changes. In devolved or decentralised political systems, water often is a source of dispute, and water politics can become a reflection of the wider political dynamics (Moore 2018). Rapid social, economic and environmental change presents 'stress tests' in such settings, illustrating how politics, institutions and governance matter. This special issue examines water governance across political borders in federal countries.
Democratisation after the Second World War spread federal political systems to almost all democracies with large populations and extensive territory. Federal political systems distribute authority between national and subnational governments. Water governance in federations involves important roles for both national governments and subnational jurisdictions,1 often granting considerable autonomy to the latter (Moore 2018). At the same time, political jurisdictions are connected by the water cycle, particularly in shared river basins, which means that riparian states are affected by actions upstream and downstream. Disputes and coordination challenges between states are analogous to those confronted by sovereign countries who share a river basin or aquifer. Unlike international river basins, however, federations share a unifying political identity, an overarching set of rules (e.g. constitution), binding legal mechanisms, enforcement capacity, and, often, conflict resolution mechanisms to address disputes between states.
Despite the importance of water governance in the world's 25 federations, the topic has received limited attention before the past 10 years. The oldest federations, such as Australia and the USA, have been studied extensively. However, the relationship between water and federalism has only recently attracted broader interest. Briscoe (2014) highlighted the importance of federalism in water politics and governance and the need to account for (1) politics at all levels, (2) the influence of history and path dependency, (3) the role of both informal and formal rules and practices and (4) context-specificity of policy lessons and transfer. A series of additional studies have advanced our understanding of horizontal (state-to-state) and vertical (state-federal) interactions within river basins in federal political systems, illustrating how different jurisdictions behave opportunistically and depend on political and institutioanl safeguards to foster cooperation and resolve disputes (Garrick et al. 2016).
Recent research has developed a global and comparative perspective on water governance in federations, identifying 'federal rivers' as a distinct type of transboundary river basin. Federal river basins include 'major river basins' within or shared by a country with a federal political system (Garrick et al.
2013
). Intergovernmental politics and coordination challenges are a defining and common feature of such river basins (Garrick and De Stefano
2016
). At the same time, this category of river basin is diverse and varies in terms of their hydrological, economic and institutional attributes. Federal rivers can involve different levels of institutional fragmentation, including interstate river basins shared by multiple states within a single country, large river basins falling completely within a single state (intrastate) or basins that span both state and international borders (Fig. 
1
).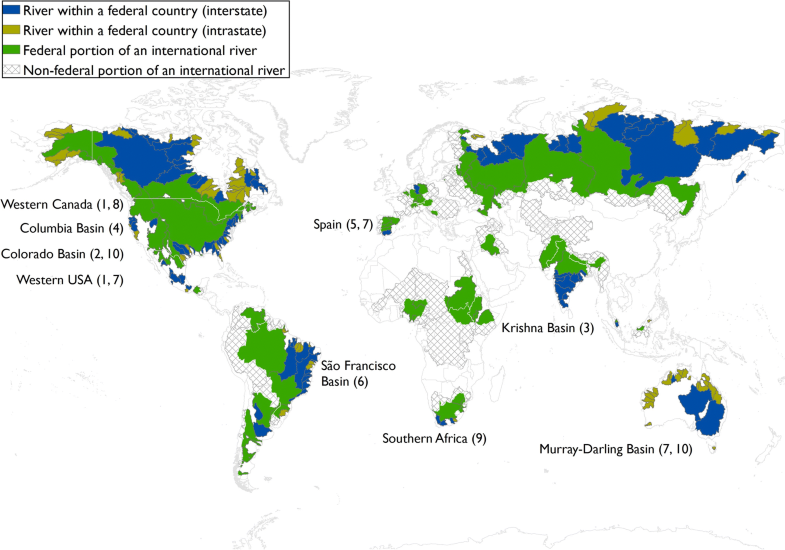 Previous work focused on systematic analysis of federal rivers, by mapping the world's large rivers within or shared by federations (Garrick et al. 2013), and developing an interdisciplinary framework to assess and compare the evolution and performance of different institutional and governance approaches (Garrick and De Stefano 2016). With this special issue, we strive to move a step further by examining the unique challenges associated with water governance in federations and comparing different political dynamics and institutional responses.
Contributions to the special issue analyse distinct water management challenges through the lenses of federalism and multi-level water governance. The cases cover all six inhabited continents (Africa, Asia, Australia, Europe, North and South America) and a broad array of scales, from the river basin to entire countries and comparative studies (see Table
1
and Fig. 
1
). The level of decentralisation varies from the case of a highly decentralised political setting in Canada to the constitutionally unitary country in South Africa or a country like Spain defined by some as a 'quasi-federal' political system.
Table 1
Main characteristics of the contributions to this special issue
#

Contribution

Geographical focus

Approach

Main issues

1

Benson (2018)

Western USA and Western Canada

Comparative

(between two federal countries)

Revision of reservoir operation rules

2

Berggren (2018)

Colorado basin (USA)

Decision analysis and regression modelling

Basin-wide planning decisions

3

Chokkakula (2018)

Krishna river basin (India)

Historical and policy analysis

Conflict resolution mechanisms, nexus between politics and water policy

4

Cosens et al. (2018)

Columbia basin (Canada and USA)

Legal analysis

Recognition and reconciliation of First Nations and Indigenous Peoples in basin governance

5

De Stefano and Hernandez-Mora (2018)

Spain

Comparative (within country)

Mechanisms for multi-level cooperation, drivers of conflict and cooperation

6

Empinotti et al. (2018)

São Francisco water transfer (Brazil)

Political ecology analysis

Approval and construction of water infrastructure

7

Garrick et al. (2018)

Australia, Spain and Western USA

Comparative

institutional analysis

Water markets

8

Heinmiller (2018)

Alberta and Saskatchewan provinces (Canada)

Comparative

(provinces within a federal river)

Water allocation rules

9

Muller (2018)

South Africa and Southern African countries

Comparative

Water resources planning, infrastructure development, systems management under drought

10

Wheeler et al. (2018)

Colorado (USA) and Murray Darling (Australia)

Comparative (between two federal rivers)

Development and use of water management models
Despite differences in methodological approaches and geographic scope, the case studies share common features in their analysis. All the papers focus on institutional mechanisms, governance arrangements and policy tools that are in place to manage decision-making processes in a context of distributed authority and institutional overlaps. Some articles analyse water governance arrangements through comparison, examining multiple countries or river basins in order to detect common trends and lessons learned from different settings (Benson 2018; De Stefano and Hernandez-Mora 2018; Garrick et al. 2018; Heinmiller 2018; Muller 2018; Wheeler et al. 2018). Several papers emphasise the importance of observing institutional arrangements over time (Chokkakula 2018; De Stefano and Hernandez-Mora 2018; Empinotti et al. 2018; Garrick et al. 2018), as decentralisation and intergovernmental relationships are constantly evolving to adapt to changing societies and power dynamics.
Notes
Acknowledgements
The authors thank the following organisations and funders for supporting an authors' workshop in June 2016 at the University of Colorado-Boulder: Social Sciences and Humanities Research Council of Canada (Grant 611-2015-0464), Forum of Federations, Universidad Complutense de Madrid, McMaster University and the Getches-Wilkinson Centre for Natural Resources Energy and the Environment of the University Colorado Law School.
Copyright information
© Springer-Verlag GmbH Germany, part of Springer Nature 2018