Abstract
Whereas the effects of climate change on the potential range shifts of amphibians have been modeled at various scales, exploring the future impacts of land-use changes has rarely been considered. We modeled the potential distribution of Bombina variegata, Hyla arborea, Hyla meridionalis, and Triturus cristatus using ecological niche modeling, in the French administrative region Nouvelle-Aquitaine. The species are all at range margin in the study area which makes them interesting model species to study range shifts because of their potential local adaptations to their marginal habitat. We used Dyna-CLUE modeling framework to produce land-use change scenarios and combined them with RCP 2.6 and RCP 8.5 climate change scenarios to predict their impact on local amphibian distributions. B. variegata, H. arborea, and T. cristatus were predicted to shift eastward and northward. H. meridionalis was predicted to increase its probability of presence in the study area. The effect of climate determined the general pattern of distribution and was modulated depending on the scenarios of land-use change.
This is a preview of subscription content, log in to check access.
Access options
Buy single article
Instant access to the full article PDF.
US$ 39.95
Price includes VAT for USA
Subscribe to journal
Immediate online access to all issues from 2019. Subscription will auto renew annually.
US$ 99
This is the net price. Taxes to be calculated in checkout.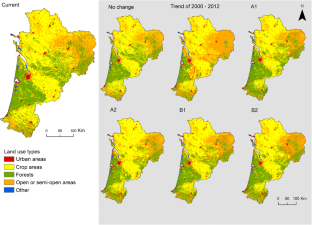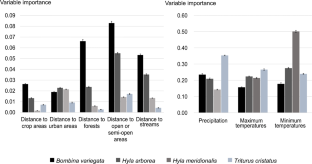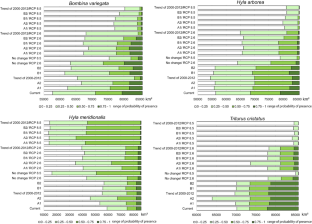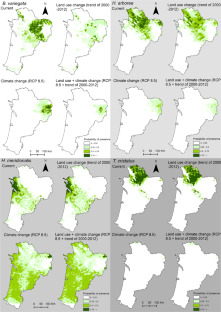 References
Aguirre-Gutiérrez J, Kissling WD, Biesmeijer JC, Wallis De Vries MF, Reemer M, Carvalheiro LG (2017) Historical changes in the importance of climate and land use as determinants of Dutch pollinator distributions. J Biogeogr 44:696–707. https://doi.org/10.1111/jbi.12937

Allouche O, Tsoar A, Kadmon R (2006) Assessing the accuracy of species distribution models: prevalence, kappa and the true skill statistic (TSS). J Appl Ecol 43:1223–1232. https://doi.org/10.1111/j.1365-2664.2006.01214.x

Anderson RP, Raza A (2010) The effect of the extent of the study region on GIS models of species geographic distributions and estimates of niche evolution: preliminary tests with montane rodents (genus Nephelomys) in Venezuela. J Biogeogr 37:1378–1393. https://doi.org/10.1111/j.1365-2699.2010.02290.x

Anputhas M, Janmaat JA, Nichol CF, Wei X (2016) Modelling spatial association in pattern based land use simulation models. J Environ Manag 181:465–476. https://doi.org/10.1016/j.jenvman.2016.06.034

Araújo MB, Thuiller W, Pearson RG (2006) Climate warming and the decline of amphibians and reptiles in Europe. J Biogeogr 33:1712–1728. https://doi.org/10.1111/j.1365-2699.2006.01482.x

Araújo MB, Aldagador D, Cabeza M, Nogués-Bravo D, Thuiller W (2011) Climate change threatens European conservation areas. Ecol Lett 14:484–492. https://doi.org/10.1111/j.1461-0248.2011.01610.x

Arntzen JW, Abrahams C, Meilink WRM, Iosif R, Zuiderwijk A (2017) Amphibian decline, pond loss and reduced population connectivity under agricultural intensification over a 38 year period. Biodivers Conserv 26:1411–1430. https://doi.org/10.1007/s10531-017-1307-y

Barbet-Massin M, Jiguet F, Albert CH, Thuiller W (2012) Selecting pseudo-absences for species distribution models: how, where and how many? Methods Ecol Evol 3:327–338. https://doi.org/10.1111/j.2041-210X.2011.00172.x

Barbosa AM, Real R, Vargas JM (2010) Use of coarse-resolution models of species' distributions to guide local conservation inferences. Conserv Biol 24:1378–1387. https://doi.org/10.1111/j.1523-1739.2010.01517.x

Berroneau M (2014) Atlas des Amphibiens et Reptiles d'Aquitaine. Ed Association Cistude Nature, Le Haillan

Bertrand R, Riofrio-Dillon G, Lenoir J, Drapier J, de Ruffray P, Gegout JC, Loreau M (2016) Ecological constraints increase the climatic debt in forests. Nat Commun 7:12643. https://doi.org/10.1038/ncomms12643

Bonino MF, Moreno Azócar DL, Schulte JA, Cruz FB (2015) Climate change and lizards: changing species' geographic ranges in Patagonia. Reg Environ Chang 15:1121–1132. https://doi.org/10.1007/s10113-014-0693-x

Booth TH, Henry AN, John RB, Hutchinson MF (2014) BIOCLIM: the first species distribution modelling package, its early applications and relevance to most current MaxEnt studies. Divers Distrib 20:1–9. https://doi.org/10.1111/ddi.12144

Braunisch V, Bollmann K, Graf RF, Hirzel AH (2008) Living on the edge—modelling habitat suitability for species at the edge of their fundamental niche. Ecol Model 214:153–167. https://doi.org/10.1016/j.ecolmodel.2008.02.001

Cayuela H, Lambrey J, Vacher JP, Miaud C (2015) Highlighting the effects of land-use change on a threatened amphibian in a human-dominated landscape. Popul Ecol 57:433–443. https://doi.org/10.1007/s10144-015-0483-4

Cruz MJ, Robert EMR, Costa T, Avelar D, Rebelo R, Pulquério M (2016) Assessing biodiversity vulnerability to climate change: testing different methodologies for Portuguese herpetofauna. Reg Environ Chang 16:1293–1304. https://doi.org/10.1007/s10113-015-0858-2

Cushman SA (2006) Effects of habitat loss and fragmentation on amphibians: a review and prospectus. Biol Conserv 128:231–240. https://doi.org/10.1016/j.biocon.2005.09.031

de Pous P, Montori A, Amat F, Sanuy D (2016) Range contraction and loss of genetic variation of the Pyrenean endemic newt Calotriton asper due to climate change. Reg Environ Chang 16:995–1009. https://doi.org/10.1007/s10113-015-0804-3

Dolgener N, Freudenberger L, Schneeweiss N, Ibisch PL, Tiedemann R (2013) Projecting current and potential future distribution of the fire-bellied toad Bombina bombina under climate change in North-Eastern Germany. Reg Environ Chang 14:1063–1072. https://doi.org/10.1007/s10113-013-0468-9

Early R, Sax DF (2011) Analysis of climate paths reveals potential limitations on species range shifts. Ecol Lett 14:1125–1133. https://doi.org/10.1111/j.1461-0248.2011.01681.x

Fahrig L (2003) Effects of habitat fragmentation on biodiversity. Annu Rev Ecol Evol Syst 34:487–515. https://doi.org/10.1146/annurev.ecolsys.34.011802.132419

Fjeldsa J, Tushabe H (2005) Complementarity of species distributions as a tool for prioritising conservation actions in Africa: testing the efficiency of using coarse-scale distribution data. In: African Biodiversity. Springer, Boston, MA, pp 1–24

Gago-Silva A, Ray N, Lehmann A (2017) Spatial dynamic modelling of future scenarios of land use change in Vaud and Valais, western Switzerland. Int J Geo-Information 6:115. https://doi.org/10.3390/ijgi6040115

Gonçalves J, Honrado JP, Vicente JR, Civantos E (2016) A model-based framework for assessing the vulnerability of low dispersal vertebrates to landscape fragmentation under environmental change. Ecol Complex 28:174–186. https://doi.org/10.1016/j.ecocom.2016.05.003

Guisan A, Graham CH, Elith J, Huettmann F, Distri NS (2007) Sensitivity of predictive species distribution models to change in grain size. Divers Distrib 13:332–340. https://doi.org/10.1111/j.1472-4642.2007.00342.x

Hanley JA, McNeil BJ (1982) The meaning and use of the area under a receiver operating characteristic (ROC) curve. Radiology 143:29–36. https://doi.org/10.1148/radiology.143.1.7063747

Haylock MR, Hofstra N, Klein Tank AMG, Klok EJ, Jones PD, New M (2008) A European daily high-resolution gridded data set of surface temperature and precipitation for 1950–2006. J Geophys Res Atmos 113:D20. https://doi.org/10.1029/2008JD010201

Hernandez PA, Graham CH, Master LL, Albert DL (2006) The effect of sample size and species characteristics on performance of different species distribution modeling methods. Ecography 29:773–785. https://doi.org/10.1111/j.0906-7590.2006.04700.x

Hof C, Araujo MB, Jetz W, Rahbek C (2011) Additive threats from pathogens, climate and land-use change for global amphibian diversity. Nature 480:516–519. https://doi.org/10.1038/nature10650

Iosif R, Papes M, Samoila C, Cogalniceanu D (2014) Climate-induced shifts in the niche similarity of two related spadefoot toads (genus Pelobates). Org Divers Evol 14:397–408. https://doi.org/10.1007/s13127-014-0181-7

IPCC (2013) Climate Change 2013: the Physical Science Basis. Contribution of Working Group I to the Fifth Assessment Report of the Intergovernmental Panel on Climate Change. Cambridge University Press, Cambridge

Isselin-Nondedeu F, Trochet A, Joubin T, Picard D, Etienne R, Le Chevalier H, Legrand D, Ribéron A (2017) Spatial genetic strucutre of Lissotriton helveticus L. following the restoration of a forest ponds network. Conserv Genet 18:853–866. https://doi.org/10.1007/s10592-017-0932-z

Keppel G, Anderson S, Williams C, Kleindorfer S, O'Connell C (2017) Microhabitats and canopy cover moderate high summer temperatures in a fragmented Mediterranean landscape. PLoS One 12:18. https://doi.org/10.1371/journal.pone.0183106

Lenoir J, Svenning JC (2015) Climate-related range shifts—a global multidimensional synthesis and new research directions. Ecography 38:15–28. https://doi.org/10.1111/ecog.00967

Marshall L, Biesmeijer JC, Rasmont P, Vereecken NJ, Dvorak L, Fitzpatrick U, Francis F, Neumayer J, Odegaard F, Paukkunen JPT, Pawlikowski T, Reemer M, Roberts SPM, Straka J, Vray S, Dendoncker N (2017) The interplay of climate and land use change affects the distribution of EU bumblebees. Glob Chang Biol 23:1354–1013. https://doi.org/10.1111/gcb.13867

Mestre F, Risk BB, Mira A, Beja P, Pita R (2017) A metapopulation approach to predict species range shifts under different climate change and landscape connectivity scenarios. Ecol Model 359:406–414. https://doi.org/10.1016/j.ecolmodel.2017.06.013

Miro A, O'Brien D, Hall J, Jehle R (2017) Habitat requirements and conservation needs of peripheral populations: the case of the great crested newt (Triturus cristatus) in the Scottish Highlands. Hydrobiologia 792:169–181. https://doi.org/10.1007/s10750-016-3053-7

Mushet DM, Neau JL, Euliss NH (2014) Modeling effects of conservation grassland losses on amphibian habitat. Biol Conserv 174:93–100. https://doi.org/10.1016/j.biocon.2014.04.001

Nakicenovic N, Alcamo J, Grubler A, Riahi K, Roehrl R, Rogner HH, Victor N (2000) Special Report on Emissions Scenarios (SRES), A Special Report of Working Group III of the Intergovernmental Panel on Climate Change. Cambridge University Press. https://www.ipcc.ch/pdf/special-reports/emissions_scenarios.pdf. Accessed 9 November 2017

Nowakowski AJ, Watling JI, Whitfield SM, Todd BD, Kurz DJ, Donnelly MA (2017) Tropical amphibians in shifting thermal landscapes under land-use and climate change. Conserv Biol 31:96–105. https://doi.org/10.1111/cobi.12769

Ochoa-Ochoa LM, Rodriguez P, Mora F, Flores-Villela O, Whittaker RJ (2012) Climate change and amphibian diversity patterns in Mexico. Biol Conserv 150:94–102. https://doi.org/10.1016/j.biocon.2012.03.010

Oldenborgh GJV, Reyes FJD, Drijfhout SS, Hawkins E (2013) Reliability of regional climate model trends. Environ Res Lett 8:014055. https://doi.org/10.1088/1748-9326/8/1/014055/meta

R Core Team (2014) R: a language and environment for statistical computing. R Foundation for Statistical Computing, Vienna http://www.R-project.org/. Accessed 8 September 2017

Root TL, Price JT, Hall KR, Schneider SH, Rosenzweig C, Pounds JA (2003) Fingerprints of global warming on wild animals and plants. Nature 421:57–60. https://doi.org/10.1038/nature01333

Scheffers BR, Edwards DP, Diesmos A, Williams SE, Evans TA (2014) Microhabitats reduce animal's exposure to climate extremes. Glob Change Biol 20:495–503. https://doi.org/10.1111/gcb.12439

Sears MW, Raskin E, Angilletta JMJ (2011) The world is not flat: defining relevant thermal landscapes in the context of climate change. Integr Comp Biol 51:666–675. https://doi.org/10.1093/icb/icr111

Seo C, Thorne JH, Hannah L, Thuiller W (2009) Scale effects in species distribution models: implications for conservation planning under climate change. Biol Lett 5:39–43. https://doi.org/10.1098/rsbl.2008.0476

Sillero N (2010) Modelling suitable areas for Hyla meridionalis under current and future hypothetical expansion scenarios. Amphibia-Reptilia 31:37–50. https://doi.org/10.1163/156853810790457948

Sillero N (2011) What does ecological modelling model? A proposed classification of ecological niche models based on their underlying methods. Ecol Model 222:1343–1346. https://doi.org/10.1016/j.ecolmodel.2011.01.018

Sirami C, Caplat P, Popy S, Clamens A, Arlettaz R, Jiguet F, Brotons L, Martin JL (2017) Impacts of global change on species distributions: obstacles and solutions to integrate climate and land use. Glob Ecol Biogeogr 26:385–394. https://doi.org/10.1111/geb.12555

Sohl TL (2014) The relative impacts of climate and land-use change on conterminous United States bird species from 2001 to 2075. PLoS One 9:e112251. https://doi.org/10.1371/journal.pone.0112251

Stanton JC, Pearson RG, Horning N, Ersts P, Akcakaya HR (2012) Combining static and dynamic variables in species distribution models under climate change. Methods Ecol Evol 3:349–357. https://doi.org/10.1111/j.2041-210X.2011.00157.x

Stockwell DRB, Peterson AT (2002) Effects of sample size on accuracy of species distribution models. Ecol Model 148:1–13. https://doi.org/10.1016/s0304-3800(01)00388-x

Stürck J, Levers C, Zanden vEH, Schulp CJE, Verkerk PJ, Kuemmerle T, Helming J, Lotze-Campen H, Tabeau A, Popp A, Schrammeijer E, Verburg PH (2015) Simulating and delineating future land change trajectories across Europe. Reg Environ Change 18:733–749. https://doi.org/10.1007/s10113-015-0876-0

Tabor K, Williams JW (2010) Globally downscaled climate projections for assessing the conservation impacts of climate change. Ecol Appl 20:554–565. https://doi.org/10.1890/09-0173.1

Thirion JM, Evrard P (2012) Guide des Reptiles et Amphibiens de France. Editions Belin, Paris

Thomas CD (2010) Climate, climate change and range boundaries. Divers Distrib 16:488–495. https://doi.org/10.1111/j.1472-4642.2010.00642.x

Thuiller W, Araújo MB, Lavorel S (2004) Do we need land-cover data to model species distributions in Europe? J Biogeogr 31:353–361. https://doi.org/10.1046/j.0305-0270.2003.00991.x

Thuiller W, Georges D, Engler R, Georges MD, Thuiller CW (2012) Package 'biomod2'. https://cran.r-project.org/web/packages/biomod2/biomod2.pdf. Accessed 9 September 2012

Titeux N, Henle K, Mihoub JB, Regos A, Geijzendorffer IR, Cramer W, Verburg PH, Brotons L (2016) Biodiversity scenarios neglect future land-use changes. Glob Change Biol 22:2505–2515. https://doi.org/10.1111/gcb.13272

Toranza C, Maneyro R (2013) Potential effects of climate change on the distribution of an endangered species: Melanophryniscus montevidensis (Anura: Bufonidae). Phyllomedusa 12:97–106. https://doi.org/10.11606/issn.2316-9079.v12i2p97-106

Trivedi MR, Berry PM, Morecroft MD, Dawson TP (2008) Spatial scale affects bioclimate model projections of climate change impacts on mountain plants. Glob Change Biol 14:1089–1103. https://doi.org/10.1111/j.1365-2486.2008.01553.x

Trochet A, Dechartre J, Chevalier HL, Baillat B, Calvez O, Blanchet S, Ribéron A (2016) Effects of habitat and fragmented-landscape parameters on amphibian distribution at a large spatial scale. Herpetol J 26:73–84

Vale CG, Tarroso P, Brito JC (2014) Predicting species distribution at range margins: testing the effects of study area extent, resolution and threshold selection in the Sahara-Sahel transition zone. Divers Distrib 20:20–33. https://doi.org/10.1111/ddi.12115

Van Buskirk J (2012) Permeability of the landscape matrix between amphibian breeding sites. Ecol Evol 12:3160–3167. https://doi.org/10.1002/ece3.424

Verburg PH, Overmars KP (2009) Combining top-down and bottom-up dynamics in land use modeling: exploring the future of abandoned farmlands in Europe with the Dyna-CLUE model. Landsc Ecol 24:1167–1181. https://doi.org/10.1007/s10980-009-9355-7

Verburg PH, Soepboer W, Veldkamp A, Limpiada R, Espaldon V, Mastura SS (2002) Modeling the spatial dynamics of regional land use: the CLUE-S model. Environ Manag 30:391–405. https://doi.org/10.1007/s00267-002-2630-x

Wiens JA, Bachelet D (2010) Matching the multiple scales of conservation with the multiple scales of climate change. Conserv Biol 24:51–62. https://doi.org/10.1111/j.1523-1739.2009.01409.x

Ye X, Yu X, Yu C, Tayibazhaer A, Xu F, Skidmore AK, Wang T (2018) Impacts of future climate and land cover changes on threatened mammals in the semi-arid Chinese Altai Mountains. Sci Total Environ 612:775–787. https://doi.org/10.1016/j.scitotenv.2017.08.191
Acknowledgments
We thank Vienne Nature (Miguel Gailledrat), Deux-Sèvres Nature Environnement (Alexandre Boissinot and Florian Doré), Nature Environnement 17 (Olivier Roques), the Ligue de Protection des Oiseaux de Charente-Maritime (Eric Brugel), Charente Nature (Matthieu Dorfiac), the Groupe Mammalogique et Herpétologique du Limousin (Gaëlle Caublot), and Cistude Nature (Matthieu Berroneau, via their program "Sentinelles du climat" coordinated by Fanny Mallard) for their contributions to our work. We thank Julian Reynolds for assistance with the English. We thank the anonymous reviewers and the Editor for their comments and improvements on the manuscript.
Funding
The study was supported by the Association Nationale de la Recherche et de la Technologie, the Agence de l'eau Loire Bretagne, and the Communauté d'agglomération de Grand Châtellerault. RB's work was supported by the TULIP Laboratory of Excellence (ANR-10-LABX-41).
Ethics declarations
Conflict of interest
The authors declare that they have no conflict of interest.
Electronic supplementary material
About this article
Cite this article
Préau, C., Isselin-Nondedeu, F., Sellier, Y. et al. Predicting suitable habitats of four range margin amphibians under climate and land-use changes in southwestern France. Reg Environ Change 19, 27–38 (2019). https://doi.org/10.1007/s10113-018-1381-z
Received:

Accepted:

Published:

Issue Date:
Keywords
Ecological niche modeling

Global change

Landscape change

Range margin amphibians