Abstract
Land use affects diversity in human-dominated landscape mosaics. Thus, bird species richness may be affected by the balance between agriculture and rural abandonment in long-term human-dominated landscapes. We explored whether land abandonment is related to species richness and abundance of birds in a rural area of SW Europe. We conducted avian point count surveys and landscape characterization using GIS in 234 (3 ha) plots around 39 small, rural villages. These villages traditionally subsist on agricultural practices and currently exhibit different levels of land abandonment across a total of 150,000 ha in Galicia, Spain. We recorded 1548 bird individuals belonging to 56 species. Both bird species richness and abundance were higher in areas where proportionally more surface is dedicated to agriculture than when successional bushlands dominate the area. The effect of abandonment on species richness was buffered by altitude. At sites of higher elevation, abandonment did not have a negative effect on richness. Our results indicate that a conservation approach that favors traditional practices, such as subsistence agriculture, should be taken to avoid land abandonment and help maintain avian diversity linked to human systems. This approach would also conserve traditional human livelihoods.
This is a preview of subscription content, log in to check access.
Access options
Buy single article
Instant access to the full article PDF.
US$ 39.95
Price includes VAT for USA
Subscribe to journal
Immediate online access to all issues from 2019. Subscription will auto renew annually.
US$ 99
This is the net price. Taxes to be calculated in checkout.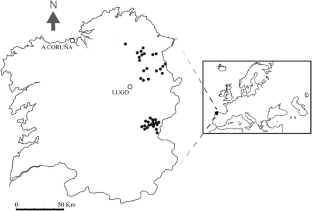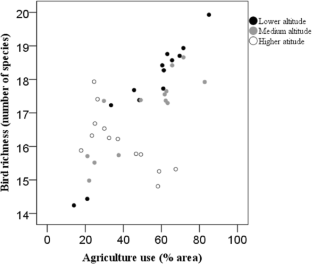 References
Anselin L, Syabri I, Kho Y (2006) GeoDa: an introduction to spatial data analysis. Geogr Anal 38(1):5–22. https://doi.org/10.1111/j.0016-7363.2005.00671.x

Baselga A, Bonthoux S, Balent G (2015) Temporal beta diversity of bird assemblages in agricultural landscapes: land cover change vs. stochastic processes. PLoS One 10(5):e0127913. https://doi.org/10.1371/journal.pone.0127913

Bielsa I, Pons X, Bunce B (2005) Agricultural abandonment in the North Eastern Iberian Peninsula: the use of basic landscape metrics to support planning. J Environ Plan Manag 48:85–102. https://doi.org/10.1080/0964056042000308166

Blair RB (1996) Land use and avian species diversity along an urban gradient. Ecol Appl 6:506–519. https://doi.org/10.2307/2269387

Blair RB, Launer AE (1997) Butterfly diversity and human land use: species assemblages along an urban gradient. Biol Conserv 80:113–125. https://doi.org/10.1016/S0006-3207(96)00056-0

Corbelle-Rico E, Crecente-Maseda R, Santé-Riveira I (2012) Multi-scale assessment and spatial modelling of agricultural land abandonment in a European peripheral region: Galicia Spain, 1956-2004. Land Use Policy 293:493–501. https://doi.org/10.1016/j.landusepol.2011.08.008

Dyulgerova S, Gramatikov M, Pedashenko H, Vassilev K, Kati V, Nikolov SC (2015) Farmland birds and agricultural land abandonment: evidences from Bulgaria. Acta Zool Bulg 672:223–234

Escandell V (2016) Programa sacre. In: SEO/BirdLife Programas de seguimiento y grupos de trabajo de SEO/BirdLife 2015. SEO/BirdLife, Madrid, pp 4–13

Farina A (1997) Landscape structure and breeding bird distribution in a sub-Mediterranean agro-ecosystem. Landsc Ecol 12:365–378. https://doi.org/10.1023/A:1007934518160

Fonderflick J, Besnard A, Martin JL (2013) Species traits and the response of open-habitat species to forest edge in landscape mosaics. Oikos 122(1):42–51. https://doi.org/10.1111/j.1600-0706.2012.20308.x

Gil-Tena AS, Brotons L, Saura S (2009) Mediterranean forest dynamics and forest bird distribution changes in the late 20th century. Glob Chang Biol 15(2):474–485. https://doi.org/10.1111/j.1365-2486.2008.01730.x

Guilherme JL, Pereira HM (2013) Adaptation of bird communities to farmland abandonment in a mountain landscape. PLoS One 8(9):e73619. https://doi.org/10.1371/journal.pone.0073619

Guitián L (2002) La destrucción histórica del bosque en Galicia. Semata Ciencias Sociais e Humanidades 13:105–166

Hortal J, Carrascal LM, Triantis KA, Thébault E, Meiri S, Sfenthourakis S (2013) Species richness can decrease with altitude but not with habitat diversity. Proc Natl Acad Sci U S A 110(24):E2149–E2150. https://doi.org/10.1073/pnas.1301663110

Jetz W, Wilcove DS, Dobson AP (2007) Projected impacts of climate and land-use change on the global diversity of birds. PLoS Biol 5(6):e157. https://doi.org/10.1371/journal.pbio.0050157

Macdonald D, Crabtree JR, Weisinger G, Dax T, Stamou N, Fleury P, Gutierrez Lazpita J, Gibon A (2000) Agricultural abandonment in mountain areas of Europe: environmental consequences and policy response. J Environ Manag 59:47–69 https://doi.org/10.1006/jema.1999.0335

Martínez E, Rös M, Bonilla MA, Dirzo A (2015) Habitat heterogeneity affects plant and arthropod species diversity and turnover in traditional cornfields. PLoS One 10(7):e0128950 https://doi.org/10.1371/journal.pone.0128950

Mikulić K, Radović A, Kati V, Jelaska S, Tepić N (2014) Effects of land abandonment on bird communities of smallholder farming landscapes in post-war Croatia: implications for conservation policies. Community Ecol 15:169–179 https://doi.org/10.1556/ComEc.15.2014.2.5

Moreira F, Rego FC, Ferreira PG (2001) Temporal (1958–1995) pattern of change in a cultural landscape of northwestern Portugal: implications for fire occurrence. Landsc Ecol 16(6):557–567 https://doi.org/10.1023/A:1013130528470

Nikolov SC (2010) Effects of land abandonment and changing habitat structure on avian assemblages in upland pastures of Bulgaria. Bird Conserv Int 20:200–213 https://doi.org/10.1017/S0959270909990244

PECBMS (2016) State of Europe's common birds, 2013. CSO/RSPB, Prague

Penas XM, Pedreira C, Silvar C (2004) Guía das aves de Galicia. Baía Edicións, A Coruña

Plieninger T, Hui C, Gaertner M, Huntsinger L (2014) The impact of land abandonment on species richness and abundance in the Mediterranean Basin: a meta-analysis. PLoS One 9(5):e98355

Preiss E, Martin JL, Debussche M (1997) Rural depopulation and recent landscape changes in a Mediterranean region: consequences to the breeding avifauna. Landsc Ecol 12:51–61 https://doi.org/10.1007/BF02698207

Queiroz C, Beilin R, Folke C, Lindborg R (2014) Farmland abandonment: threat or opportunity for biodiversity conservation? A global review. Front Ecol Environ 12(5):288–296 https://doi.org/10.1890/120348

Radović A, Nikolov SC, Tepić N, Mikulić K, Budinski I, Jelaska SD (2013) The influence of land abandonment on farmland bird communities: a case study in the alluvial lowlands of continental Croatia. Folia Zool 62:269–281 https://doi.org/10.25225/fozo.v62.i4.a4.2013

Ramil-Rego P, Muñoz Sobrino C, Rodríguez Guitián MA, y Gómez Orellana L (1998) Differences in the vegetation landscape of the North Iberian Peninsula during the last 16.000 years. Plant Ecol 138:41–62 https://doi.org/10.1023/A:1009736432739

Rangel TFLVB, Diniz-Filho JAF, Bini LM (2010) SAM: a comprehensive application for spatial analysis in macroecology. Ecography 33:46–50 https://doi.org/10.1111/j.1600-0587.2009.06299.x

Regos A, Domínguez J, Gil-Tena A, Brotons L, Ninyerola M, Pons X (2016) Rural abandoned landscapes and bird assemblages: winners and losers in the rewilding of a marginal mountain area (NW Spain). Reg Environ Chang 16(1):199–211 https://doi.org/10.1007/s10113-014-0740-7

Rodriguez-Pose A (2000) Economic convergence and regional development strategies in Spain: the case of Galicia and Navarre. EIB Papers 5(1):88–115

Sanderson FJ, Kucharz M, Jobda M, Donald PF (2013) Impacts of agricultural intensification and abandonment on farmland birds in Poland following EU accession. Agric Ecosyst Environ 168:16–24 https://doi.org/10.1016/j.agee.2013.01.015

Sirami C, Brotons L, Burfield I, Fonderflick J, Martin JL (2008) Is land abandonment having an impact on biodiversity? A meta-analytical approach to bird distribution changes in the north-western Mediterranean. Biol Conserv 141:450–459 https://doi.org/10.1016/j.biocon.2007.10.015

Suárez-Seoane S, Osborne PE, Baudry J (2002) Responses of birds of different biogeographic origins and habitat requirements to agricultural land abandonment in northern Spain. Biol Conserv 105:333–344 https://doi.org/10.1016/S0006-3207(01)00213-0

Tapia L, Regos A, Gil-Carrera A, Domínguez J (2017) Unravelling the response of diurnal raptors to land use change in a highly dynamic landscape in northwestern Spain: an approach based on satellite earth observation data. Eur J Wildl Res 63(2):40 https://doi.org/10.1007/s10344-017-1097-2

Voříšek P, Jiguet F, van Strien A, Škorpilová J, Klvaňová A, Gregory RD (2010) Trends in abundance and biomass of widespread European farmland birds: how much have we lost? BOU Proceedings - Lowland Farmland Birds III. University of Leicester. https://www.bou.org.uk/bouproc-net/lfb3/vorisek-etal.pdf

Wretenberg J, Lindström Å, Svensson S, Pärt T (2007) Linking agricultural policies to population trends of Swedish farmland birds in different agricultural regions. J Appl Ecol 44(5):933–941 https://doi.org/10.1111/j.1365-2664.2007.01349.x

Xunta de Galicia (2012) Programa de Desarrollo Rural de Galicia 2007–2013. Xunta de Galicia, Santiago de Compostela

Zakkak S, Kakalis E, Radović A, Halley JM, Kati V (2014) The impact of forest encroachment after agricultural land abandonment on passerine bird communities: the case of Greece. J Nat Conserv 22:157–165 https://doi.org/10.1016/j.jnc.2013.11.001
Acknowledgements
We thank Eduardo Yoldi and Bea Barbería for performing the GIS image analyses for the landscape characteristics. Asier R. Larrinaga collaborated with some statistical aspects of the work. Thanks to Jean Yves Barnagaud and Lauren Gillespie for helpful comments on the manuscript.
Electronic supplementary material
About this article
Cite this article
Salaverri, L., Guitián, J., Munilla, I. et al. Bird richness decreases with the abandonment of agriculture in a rural region of SW Europe. Reg Environ Change 19, 245–250 (2019). https://doi.org/10.1007/s10113-018-1375-x
Received:

Accepted:

Published:

Issue Date:
Keywords
Agriculture abandonment

Altitude

Bird species richness

Bird abundance

Coupled human and natural systems

Galicia

Subsistence agriculture