Abstract
This article explores the emergence of formal and informal bridging organizations to facilitate solutions to water conflict at the scale of the water resource. This new approach to governance is of particular importance on rivers within or shared by countries in which water management is fragmented among national and sub-national levels of government as well as among governmental sectors. This article focuses on the Columbia River Basin, in the United States and Canada. Review of the Columbia River Treaty governing shared management of the river has opened a public dialogue on river governance. Treaty review coincides with change in both the biophysical setting and the values and capacity of basin residents. Climate change is altering the timing of flow relied on by the management of developed river infrastructure and the annual runs of the basins' salmonid species. River development increased economic development in the basin, but at the cost of ecosystem function. Assertion of legal rights by indigenous communities has brought an alternative world view to the review—one that seeks to maintain the benefits of river development while reconciling that development with ecosystem function. This article identifies the governance mechanisms needed to achieve reconciliation and describes their emergence in the Columbia River Basin through an analytical framework focused on local capacity building and network formation across jurisdictions, sectors, and scales of governance. Both countries fragment water management authority among jurisdictions and sectors, but bridging organizations have emerged to link interests and government at the watershed and basin scale. Emergence of new governance is facilitated by increases in local, regional, and indigenous governance capacity. This networked governance emerging at the biophysical scale while embedded in and linked to a hierarchy of formal international, national, state, and local government is characterized as the ecology of governance.
This is a preview of subscription content, log in to check access.
Access options
Buy single article
Instant access to the full article PDF.
US$ 39.95
Price includes VAT for USA
Subscribe to journal
Immediate online access to all issues from 2019. Subscription will auto renew annually.
US$ 99
This is the net price. Taxes to be calculated in checkout.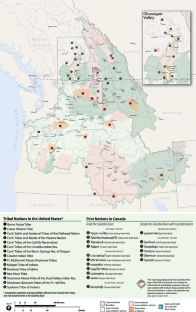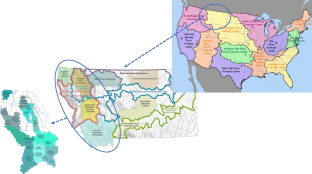 References
Abatzoglou J, Rupp DE, Mote PW (2014) Understanding seasonal climate variability and change in the Pacific Northwest of the United States. J Clim 27:2125–2142. https://doi.org/10.1175/JCLI-D-13-00218.1

ASCE, American Society of Civil Engineers (2017) Infrastructure report card. Available at: https://www.infrastructurereportcard.org/

AWRA, American Water Resources Association (2016) Ensuring sustainable funding for water-resource infrastructure. Policy statement. Available at: http://www.awra.org/policy/policy-statements-infrastructure.html

Bankes N, Cosens B (2012) The future of the Columbia River Treaty, research project for the program on water issues, Munk School of Global Affairs, University of Toronto, available at http://munkschool.utoronto.ca/research/the-future-of-the-columbia-river-treaty/

Bankes N, Cosens B (2014) Protocols for adaptive water governance: the future of the Columbia River Treaty, October 21, 2014, research project for the program on water issues, Munk School of Global Affairs, University of Toronto. http://powi.ca/wp-content/uploads/2014/10/Protocols-for-Adaptive-Water-Governance-Final-October-14-2014.pdf

Barnosky AD, Hadly EA, Gonzalez P, Head J, Polly PD, Lawing AM, Eronen JT, Ackerly DD, Alex K, Biber E, Blois J, Brashares J, Ceballos G, Davis E, Dietl GP, Dirzo R, Doremus H, Fortelius M, Greene HW, Hellmann J, Hickler T, Jackson ST, Kemp M, Koch PL, Kremen C, Lindsey EL, Looy C, Marshall CR, Mendenhall C, Mulch A, Mychajliw AM, Nowak C, Ramakrishnan U, Schnitzler J, Shrestha KD, Solari K, Stegner L, Stegner MA, Stenseth NC, Wake MH, Zhang Z (2017) Merging paleobiology with conservation biology to guide the future of terrestrial ecosystems. Science 355:594. https://doi.org/10.1126/science.aah4787

Barton J, Ketchum K (2012) Columbia River treaty: managing for uncertainty. In: Cosens B (ed) The Columbia River treaty revisited: transboundary river governance in the face of uncertainty. Oregon State University Press, Corvallis

Benson MH, Craig RK (2017) The end of sustainability: resilience and the future of environmental governance in the Anthropocene. University of Kansas Press, Lawrence

Bingham LB (2009) Collaborative governance: emerging practices and the incomplete legal framework for public and stakeholder voice. J Disput Resolut 2(2):1–58

Bingham LB (2010) The next generation of administrative law: building the legal infrastructure for collaborative governance. Wisconsin Law Rev 2:297–356

Blackfoot Challenge. (n.d.) http://www.blackfootchallenge.org/

Bottom DL, Jones KK, Simenstad CA, Smith CL e (2008) Special issue on pathways to resilient salmon ecosystems. Ecol Soc 14(1):34. https://doi.org/10.5751/ES-02734-140105

BPA (2013) Bonneville Power Administration Fact Sheets https://www.bpa.gov/news/pubs/FactSheets/fs-201305-BPAs-Fish-and-Wildlife-Program-the-Northwest-working-together.pdf

BPA (n.d.) Bonneville Power Administration, About Us https://www.bpa.gov/news/AboutUs/Pages/default.aspx

British Columbia (2013) Columbia River Treaty review: B.C. decision. http://blog.gov.bc.ca/columbiarivertreaty/files/2012/03/BC_Decision_on_Columbia_River_Treaty.pdf

British Columbia. (n.d.) Columbia River Treaty review. http://blog.gov.bc.ca/columbiarivertreaty/

Brooks KB (2006) Public power, private dams: the hell's canyon high dam controversy. University of Washington Press

Brunner RD, Colburn CH, Cromley CM, Klein RA, Olson EA (eds) (2005) Adaptive governance: integrating science, policy, and decision making. Columbia University Press

Carlsson L, Sandstrom A (2008) Network governance of the commons. Int J Commons 2(1):33–54

CBT (n.d.) Columbia Basin Trust. About Us. https://ourtrust.org/about/our-story/

Cecchini-Beaver M (2013) Transboundary Columbia River operational alternative analysis in a collaborative framework. M.S. Thesis University of Idaho Water Resources Program, available from co-author Cosens

Chaffin BC, Gunderson LH (2016) Emergence, institutionalization and renewal: rhythms of adaptive governance in complex social-ecological systems. J Environ Manag 165:81–87. https://doi.org/10.1016/j.jenvman.2015.09.003

Chaffin BC, Gosnell H, Cosens B (2014) A decade of adaptive governance scholarship: synthesis and future directions. Ecol Soc 19(3):56. https://doi.org/10.5751/ES-06824-190356

Columbia Basin Tribes (2010) Common views on the future of the Columbia River Treaty. http://www.usea.org/sites/default/files/event-/Common%20Views%20statement%20NQ.pdf

Columbia River Inter-Tribal Fish Commission. (n.d.) http://www.critfc.org/

Columbia River Treaty (Treaty) (1964) Treaty between the United States of America and Canada relating to cooperative development of the water resources of the Columbia River Basin, U.S.-Can., Jan 17, 1961, 152 UST 1555

Cosens B (ed) (2012a) The Columbia River Treaty revisited: transboundary river governance in the face of uncertainty. Oregon State University Press, Corvallis

Cosens B (2012b) Changes in empowerment: rising voices in Columbia basin resource management. In: Cosens B (ed) The Columbia River Treaty revisited: transboundary river governance in the face of uncertainty. Oregon State University Press, Corvallis

Cosens B (2012c) Resilience and law as a theoretical backdrop for natural resource management: flood management in the Columbia River Basin. Environ Law 42:241–264

Cosens B (2016) The Columbia River Treaty: an opportunity for modernization of basin governance. Colorado Nat Resour Energy Environ Law Rev 27(1): 1–19, available at http://www.colorado.edu/law/sites/default/files/CNREELR-V27-I1-Cosens%20Final_0.pdf

Cosens B, Fremier A (2014) Assessing system resilience and ecosystem services in large river basins: a case study of the Columbia River Basin. Nat Resour Environ Law Ed Idaho Law Rev 51:91–125

Cosens B, Stow C (2014) Resilience and water governance: addressing fragmentation and uncertainty in water allocation and water quality law. In: Garmestani A, Allen C (eds) Social-ecological resilience and law. Columbia University Press

Cosens BA, Williams MK (2012) Resilience and water governance: adaptive governance in the Columbia River Basin. Ecol Soc 17(4):3. https://doi.org/10.5751/ES-04986-170403

Cosens B, Gunderson L, Chaffin B (2014) The adaptive water governance project: assessing law, resilience and governance in regional socio-ecological water systems facing a changing climate. Nat Resour Environ Law Ed Idaho Law Rev 51(1):1–27

Cosens B, Fremier A, Bankes N, Abatzoglou J (2016) The Columbia River Treaty and the dynamics of transboundary water negotiations in a changing environment: how might climate change alter the game? In: Miller K, Hamlet A, Kenny D, Redmond K (eds) Chapter 10 in Water policy and planning in a variable and changing climate. CRC Press

Cosens BA, Craig RK, Hirsch S, Arnold C, Benson MH, DeCaro DA, Garmestani AS, Gosnell H, Ruhl J, Schlager E (2017) The role of law in adaptive governance. Ecol Soc 22(1):30. https://doi.org/10.5751/ES-08731-220130

Cosens B, Gunderson L, Chaffin B (2018) Introduction to the special feature practicing panarchy: assessing legal flexibility, ecological resilience and adaptive governance in regional water systems experiencing rapid environmental change. Ecol Soc 23(1):4. https://doi.org/10.5751/ES-09524-230104

Craig RK, Garmestani AS, Allen CR, Arnold CA, Birgé H, DeCaro DA, Fremier AK, Gosnell H, Schlager E (2017) Balancing stability and flexibility in adaptive governance: an analysis of tools available in U.S. environmental law. Ecol Soc 22(2):3. https://doi.org/10.5751/ES-08983-220203

Delmas MA, Young OR (eds) (2009) Governance for the environment: new perspectives. Cambridge University Press

Dietz T, Ostrom E, Stern PC (2003) The struggle to govern the commons. Science 302:1907–1912. https://doi.org/10.1126/science.1091015

Emerson K, Nabatchi T, Balogh S (2011) An integrative framework for collaborative governance. J Public Adm Res Theory 22(1):1–29. https://doi.org/10.1093/jopart/mur011

Folke C (2006) Resilience: the emergence of a perspective for social–ecological systems analyses. Glob Environ Chang 16:253–267. https://doi.org/10.1016/j.gloenvcha.2006.04.002

Folke C, Hahn T, Olsson P, Norberg J (2005) Adaptive governance of social-ecological systems. Ann Rev Environ Resour 30:441–473. https://doi.org/10.1146/annurev.energy.30.050504.144511

Goble DD (1999) Salmon in the Columbia Basin: from abundance to extinction. In: Goble DD, Hirt PW (eds) Northwest lands, northwest peoples: readings in environmental history. University of Washington Press

Gunderson L, Holling CS (eds) (2002) Panarchy: understanding transformations in human and natural systems. Island Press, Washington D.C

Gunderson LH, Light SS (2006) Adaptive management and adaptive governance in the everglades ecosystem. Policy Sci 39:323–334. https://doi.org/10.1007/s11077-006-9027-2

Hamlet AF (2003) The role of transboundary agreements in the Columbia River basin: an integrated assessment in the context of historic development, climate, and evolving water policy. In: Diaz HF, Morehouse BJ (eds) Climate and water: transboundary challenges in the Americas. Kluwer, Dordrecht

Hamlet AF, Mote PW, Clark MP, Lettenmaier DP (2007) 20th century trends in runoff, evapotranspiration, and soil moisture in the Western U.S. J Clim 20:1468–1486. https://doi.org/10.1175/JCLI4051.1

Harrison, J. (2008) Northwest Power and Conservation Council, Fish passage at dams. http://www.nwcouncil.org/history/fishpassage

Hatchery Scientific Review Group (2009) Columbia River System—wide report. http://hatcheryreform.us/reports/columbia-river/system-wide-report/

Hatchery Scientific Review Group (2014) On the science of hatcheries: an updated perspective on the role of hatcheries in salmon and steelhead management in the Pacific Northwest. https://wdfw.wa.gov/about/advisory/crag/documents/hsrg_science_hatcheries_june_2014.pdf

Healey MC (2009) Resilient salmon, resilient fisheries for British Columbia, Canada. Ecol Soc 14(1):2. https://doi.org/10.5751/ES-02619-140102

Hines DM (1999) The maiden and salmon. In: Tales of the Nez Perce. Ye Galleon Press, Fairfield

Hirt PW (2008) Developing a plentiful resource: transboundary rivers in the Pacific Northwest. In: Whiteley JM, Ingram H, Perry R (eds) Water, place, and equity. MIT Press, Cambridge, pp 147–188

Holling CS (1973) Resilience and stability of ecological systems. Annu Rev Ecol Syst 4:1–24. https://doi.org/10.1146/annurev.es.04.110173.000245

Huitema D, Mostert E, Egas W, Moellenkamp S, Pahl-Wostl C, Yalcin R (2009) Adaptive water governance: assessing the institutional prescriptions of adaptive (co) management from a governance perspective and defining a research agenda. Ecology and Society 14(1): 26. URL: http://www.ecologyandsociety.org/vol14/iss1/art26/

International Rivers (2007) Damming statistics https://www.internationalrivers.org/damming-statistics

Johnson P (2016) A comprehensive integrated water resource assessment of potential changes to Columbia River basin flood risk management policy. M.S. Thesis. University of Idaho Water Resources Program, available from co-author Cosens Josephy, A. (1965) The Nez Perce Indians and the Opening of the Northwest. Yale, New Haven, Connecticut, USA

Karkkainen BC (2004) "New governance" in legal thought and in the world: some splitting as antidote to overzealous lumping. Minnesota Law Rev 89:471–497

Kemmis D, McKinney M (2011) Collaboration and the ecology of democracy. Kettering Foundation, Dayton

Landeen D, Pinkham A (2008) Salmon and his people: fish and fishing in Nez Perce culture. Confluence Press, Lewiston

LeBaron M (2002) Bridging troubled waters: conflict resolution from the heart. Jossey-Bass, San Francisco

Lehner B, Reidy Liermann C, Revenga C, Vörösmart C, Fekete B, Crouzet P, Döll P, Endejan M, Frenken K, Magome J, Nilsson C, Robertson JC, Rodel R, Sindorf N, Wisser D (2011) High-resolution mapping of the world's reservoirs and dams for sustainable river-flow management. Front Ecol Environ 9:494–502. https://doi.org/10.1890/100125

Leong KM, Emmerson DP, Byron R (2011) The new governance: implications for collaborative conservation and adaptive management in Department of the Interior agencies. Hum Dimens Wildl 16(4):236–243. https://doi.org/10.1080/10871209.2011.585436

Luce CH, Holden ZA (2009) Declining annual streamflow distributions in the Pacific Northwest United States, 1948–2006. Geophys Res Lett 36:1–6. https://doi.org/10.1029/2009GL039407

Martin D (2007) The religious and the secular: pressure points and alignments (Keynote address, Forum 2000 Conference: Freedom and Responsibility, Prague: 8 October 2007)

McKinney M, Baker L, Buvel AM, Fischer A, Foster D, Paulu C (2010) Managing transboundary natural resources: an assessment of the need to revise and update the Columbia River Treaty. West-Northw J Environ Law Policy 16(2):307–350

Montana Watershed Coordination Council (n.d.) http://mtwatersheds.org/app/watershed-map/

Mote P, Hamlet A, Clark MP, Lettenmaier DP (2005) Declining mountain snowpack in Western North America. Bull Am Meteorol Soc 86:39–49. https://doi.org/10.1175/BAMS-86-1-39

Mouat M (2012) The Columbia exchange: a Canadian perspective on the negotiation of the Columbia River Treaty. In: Cosens B (ed) The Columbia River treaty revisited: transboundary river governance in the face of uncertainty. Oregon State University Press, Corvallis

Moyle PB (2013) Novel aquatic ecosystems: the new reality for streams in California and other Mediterranean climate regions. River Res Appl 30:1335–1344. https://doi.org/10.1002/rra.2709

Nambisan S (2008) Transforming government through collaborative innovation. Public Manager 37(3):36–41

National Civic League (NCL) (2013) Making public participation legal. [online] http://ncdd.org/rc/wp-content/uploads/MakingP2Legal.pdf

NWPCC (2016) Northwest Power and Conservation Council, February 10, 2016, Seventh Power Plan. https://www.nwcouncil.org/energy/powerplan/7/plan/

NWPCC (n.d.) Northwest Power and Conservation Council. URL: https://www.nwcouncil.org/

Ogren K (2015) Water governance process assessment: evaluating the link between decision making processes and outcomes in the Columbia River Basin. Oregon State University, unpublished PhD dissertation. https://ir.library.oregonstate.edu/xmlui/handle/1957/56887

Olsson L, Jerneck A, Thoren H, Persson J, O'Byrne D (2015) Why resilience is unappealing to social science: theoretical and empirical investigations of the scientific use of resilience. Sci Adv 2015:1–11. https://doi.org/10.1126/sciadv.1400217

Ostrom E (1990) Governing the commons: the evolution of Institutions for Collective Action. Cambridge University Press

Ostrom E (2005) Understanding institutional diversity. Princeton University Press, Princeton

Paisley RK, McKinney MJ, Stenovec MS (2015) A sacred responsibility: governing the use of water and related resources in the International Columbia Basin through the Prism of Tribes and First Nations. http://www.columbiarivergovernance.org/A_Shared_Responsibility_2015_FINAL.pdf

Peery C (2012) The effects of dams and flow management on Columbia River ecosystem processes. In: Cosens B (ed) The Columbia River Treaty revisited: transboundary river governance in the face of uncertainty. Oregon State University Press

Pelling M, High C, Dearing J, Smith D (2007) Shadow spaces for social learning: a relational understanding of adaptive capacity to climate change within organisations. Environ Plan A 40(4):867–884. https://doi.org/10.1068/a39148

Poff NL, Brown CM, Grantham TE, Matthews JH, Palmer MA, Spence CM, Wilby RL, Haasnoot M, Mendoza GF, Dominique KC, Baeza A (2016) Sustainable water management under future uncertainty with eco-engineering decision scaling. Nat Clim Change 6:25–34. https://doi.org/10.1038/NCLIMATE2765

Robison J, Cosens B, Jackson S, Leonard K, McCool D (2018) Indigenous water justice. Lewis and Clark Law Review 22. (forthcoming)

Rogers P, Hall A (2003) Effective water governance. Global Water Partnership Technical Committee (TEC) background paper 7. Global Water Partnership, Stockholm. http://www.gwp.org/Global/ToolBox/Publications/Background%20papers/07%20Effective%20Water%20Governance%20%282003%29%20English.pdf

Rosenzweig ML (2003) Win-win ecology: how the Earth's species can survive in the midst of human enterprise. Oxford University Press, Oxford

Ross H, Berkes F (2014) Research Approaches for understanding, enhancing, and monitoring community sesilience. Soc Nat Resour 27:787–804. https://doi.org/10.1080/08941920.2014.905668

Scarlett L, McKinney M (2016) Connecting people and places: the emerging role of network governance in large landscape conservation. Front Ecol Environ 14(3):116–125. https://doi.org/10.1002/fee.1247

Shurts J (2012) Rethinking the Columbia River Treaty. In: Cosens B (ed) The Columbia River Treaty revisited: transboundary river governance in the face of uncertainty. Oregon State University Press, Corvallis

Smith H (1993) Forgotten Truth: The common vision of the world's religions. Harper Collins Publishing, San Francisco

Steffen W, Crutzen PJ, McNeill JR (2007) The Anthropocene: are humans now overwhelming the great forces of nature? Ambio 36(8):614–621. https://doi.org/10.1579/0044-7447(2007)36[614:TAAHNO]2.0.CO;2

Steffen W, Persson Å, Deutsch L, Zalasiewicz J, Williams M, Richardson K, Crumley C, Crutzen P, Folke C, Gordon L, Molina M, Ramanathan V, Rockström J, Scheffer M, Schellnhuber HJ, Svedin U (2011) The anthropocene: from global change to planetary stewardship. Ambio 40:739–761. https://doi.org/10.1007/s13280-011-0185-x

Stewart IT, Cayan DR, Dettinger MD (2005) Changes toward earlier streamflow timing across Western North America. J. Climate 18:1136–1155. https://doi.org/10.1175/JCLI3321.1

Timboe I, Carter M (2015) Transboundary cooperation in the International Columbia River Basin: a preliminary assessment of existing arrangements and future prospects Available from co-author Dr. Matthew McKinney.

U.S. Entity (2013) Regional recommendation for the future of the Columbia River Treaty after 2024. http://www.crt2014-2024review.gov/Files/Regional%20Recommendation%20Final,%2013%20DEC%202013.pdf.

U.S. Entity (n.d.) Columbia River Treaty 2014/2024 Review. https://www.bpa.gov/projects/initiatives/pages/columbia-river-treaty.aspx

UCCRG (n.d.) Universities consortium on Columbia River Governance. URL: http://www.columbiarivergovernance.org/

UCUT (2005) In the field. http://www.ucut.org/in_the_field.ydev#news_paragraph6

UCUT (n.d.) Upper Columbia United Tribes. http://www.ucut.org/index.ydev

Vogel E (2012) Can an international treaty strengthen a region and further social and environmental inclusion? Lessons from the Columbia River Treaty. In: Cosens B (ed) The Columbia River Treaty revisited: transboundary river governance in the face of uncertainty. Oregon State University Press, Corvallis

Volkman JM, McConnaha WE (1993) Through a glass, darkly: Columbia River salmon, the Endangered Species Act, and adaptive management. Environ Law 23:1249–1272

Walker B, Salt D (2006) Resilience thinking: sustaining ecosystems and people in a changing world. Island Press, Washington D.C

Walker B, Holling CS, Carpenter SR, Kinzig A (2004) Resilience, adaptability and transformability in social–ecological systems. Ecol Soc 9(2):5 http://www.ecologyandsociety.org/vol9/iss2/art5/

Waples RS, Beechie T, Press GR (2009) Evolutionary history, habitat disturbance regimes, and anthropogenic changes: what do these mean for resilience of Pacific salmon populations? Ecology and Society 14(1): 3. [online] http://www.ecologyandsociety.org/vol14/iss1/art3/.

Weinman D (2014) Watershed Stewardship Groups in the Columbia Basin: final practicum report. University of Montana. Available from co-author Dr. Matthew McKinney.

Wheatley M, Frieze D (2009) Using emergence to take social innovations to scale. Kettering Rev 27:34–38

White R (1995) The organic machine: the remaking of the Columbia River. Hill and Wang, New York

Wolf A (2008) Healing the enlightenment rift: rationality, spirituality and shared waters. J Int Affairs 61(2):51–73
Acronyms
Acronyms
BPA:

Bonneville Power Administration

CBT:

Columbia Basin Trust

CRB:

Columbia River Basin

CRITFC:

Columbia River Inter-Tribal Fish Commission

NWPCC:

Northwest Power and Conservation Council

SESYNC:

National Socio-Environmental Synthesis Center

UCCRG:

Universities Consortium on Columbia River Governance

UCUT:

Upper Columbia United Tribes
About this article
Cite this article
Cosens, B., McKinney, M., Paisley, R. et al. Reconciliation of development and ecosystems: the ecology of governance in the International Columbia River Basin. Reg Environ Change 18, 1679–1692 (2018). https://doi.org/10.1007/s10113-018-1355-1
Received:

Accepted:

Published:

Issue Date:
Keywords
Water governance

New environmental governance

Networked governance

Panarchy

International rivers

Columbia River Basin