Abstract
The Telugu Ganga project in India supplies the Krishna river waters to meet drinking water needs of the Chennai city in the state of Tamil Nadu, a nonriparian state. This has happened through an unusual historic accord between the riparian states of Maharashtra, Karnataka, and Andhra Pradesh. The instance is often celebrated as the finest example of interstate river water cooperation in the history of independent India. This paper presents an alternative and a more complete and critical appraisal of interstate cooperation in the Telugu Ganga project focusing on transboundary political interactions to offer the following findings. One, the case of Telugu Ganga project showcases how and why cooperation and conflict coexist in transboundary water sharing. The celebrated interstate cooperation has turned into a source of conflicts eventually and is connected to the current shape and the state of the Krishna river water dispute. Two, it reveals a nexus of water provisioning politics and mainstream party politics in its making, and its subsequent contentious history. This nexus is a challenge to inter-basin transfer across territorial boundaries—an important drought coping mechanism. This challenge defines the character of politics of cooperation and conflict resolution in federal democracies, such as India. Three, India's interstate river water governance suffers from dormant policy space and absence of institutional models for interstate river cooperation. This makes it ill-equipped to address the adverse implications of politics or to channelize for progressive outcomes of cooperation. At a broader policy level, India has to reconsider its excessive reliance on dispute resolution, and shift its focus to enabling cooperation for a better governance of its interstate rivers.
This is a preview of subscription content, log in to check access.
Access options
Buy single article
Instant access to the full article PDF.
US$ 39.95
Price includes VAT for USA
Subscribe to journal
Immediate online access to all issues from 2019. Subscription will auto renew annually.
US$ 99
This is the net price. Taxes to be calculated in checkout.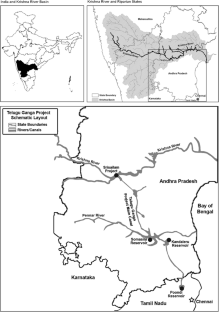 Notes
1.

2.

3.

To illustrate, the Ravi-Beas dispute has remained without closure for the past 30 years. The Cauvery dispute has taken 17 years to receive final award in 2007. It has remained unimplemented fully for the last 10 years, as it has run into legal wrangles.

4.

The seventh schedule under the article 246 in the constitution has three lists prescribing this division: Union List, Concurrent List and State List. The parliament has exclusive powers to make laws about subject matters in the Union List and the states have powers with respect to the matters in the State List. The Concurrent List includes subject matters where the centre can also make laws besides the states.

5.

Roughly translated as "holy waters from the Telugu speaking land." Telugu Ganga project thus invokes the Telugu speaking Andhra people's identity.

6.

Since 2014, Krishna has four riparian states. Andhra Pradesh state has been bifurcated into two states: Andhra Pradesh and Telangana.

7.

Presidencies are the provincial administrative divisions under the British rule.

8.

Prasada Rao, "Krishna Pact Augurs Well." The Times of India (1838–2004), May 2, 1983, 9. ProQuest Historical Newspapers.

9.

The Indian constitution provides for declaring a state of Emergency in the event of any external aggression or threat to internal security. Indira Gandhi had the Emergency declared citing (much contested) reasons of threat to internal security and bad economic conditions. During this period, the civil rights are suspended and Mrs. Gandhi was bestowed the authority to rule by decree.

10.

11.

"Waterless and desperate." The Times of India (1838–2004), March 19, 1983, 8. ProQuest Historical Newspapers.

12.

"Water trains cannot slake Madras." The Times of India (1838–2004), April 12, 1983, 1. ProQuest Historical Newspapers.

13.

Surplus waters are the waters in excess of the estimated yield of Krishna river at the 75% probability, allocated between the three states.

14.

The Supreme Court's engagement with the interstate water disputes - in spite of the bar on its jurisdiction - is a contested one. The Supreme Court has allowed suits when there are questions of law to be addressed, or when disputes arise out of already adjudicated disputes, or when enforceability of tribunal awards is involved (see Salve 2016). But others have accused this engagement as contravening the constitutional schema, and reducing the scope and spirit of Indian federalism (D'Souza 2009).
References
Agnew J (2011) Waterpower: politics and the geography of water provision. Ann Am Assoc Geogr 101:463–476. https://doi.org/10.1080/00045608.2011.560053

Alam UZ (2002) Questioning the water wars rationale: a case study of the Indus waters treaty. Geogr J 168:341–353. https://doi.org/10.1111/j.0016-7398.2002.00060.x

Basemap (no date) Basemap Under Telugu Ganga Project. Water Resources Department, Government of Andhra Pradesh. http://basemaps.in. Accessed 17 January 2017

Bednar J (2009) The robust federation: principles of design. Cambridge University Press, Cambridge

Chokkakula S (2017) Why do interstate water disputes emerge and recur? An anatomy of ambiguities, antagonisms and asymmetries. CESS Monograph 45. CESS, Hyderabad

Chokkakula S (2015) The political geographies of interstate water disputes in India. University of Washington, Dissertation

Chokkakula S (2014) Interstate water disputes: perils and prospects of democratisation. Econ Polit Wkly 49:75–81

CWC (Central Water Commission) (1995) Legal instruments on rivers in India. Agreements on interstate rivers. CWC, New Delhi, Volume III

CWDT (Cauvery Water Disputes Tribunal) (2007) The report of the Cauvery Water Disputes Tribunal with the decision. Government of India, New Delhi

Doabia, T S (2012) Report of the committee to study the activities that are required for optimal development of a river basin and changes required in existing River Boards Act, 1956 for achievement of the same. Ministry of Water Resources, New Delhi

DeStefano L, Duncan J, Dinar S, Stahl K, Strezepek K, Wolf AT (2012) Climate change and the institutional resilience of international river basins. J Peace Res 49:193–209. https://doi.org/10.1177/0022343311427416

DeStefano L, Edwards P, DeSilva L, Wolf AT (2010) Tracking cooperation and conflict in international basins: historic and recent trends. Water Policy 12:871–884. https://doi.org/10.2166/wp.2010.137

D'Souza R (2009) Nation vs peoples: interstate water disputes in India's Supreme Court. In: Iyer RR (ed) Water and the laws in India. Sage, New Delhi, pp 58–93

Garrick D, DeStefano L, Fung F, Pittock J, Schlager E, New M, Connell D (2013) Managing hydroclimatic risks in federal rivers: a diagnostic assessment. Phil Trans R Soc A 371:20120415. https://doi.org/10.1098/rsta.2012.0415

Giordano M, Wolf A (2003) Sharing waters: post-Rio international water management. Nat Resour Forum 27:163–171. https://doi.org/10.1111/1477-8947.00051

Giordano M, Giordano M, Wolf AT (2002) The geography of water conflict and cooperation: internal pressures and international manifestations. Geogr J 168:293–312. https://doi.org/10.1111/j.0016-7398.2002.00057.x

Gleditsch NP, Furlong K, Hegre H, Lacina B, Owen T (2006) Conflicts over shared rivers: resource scarcity or fuzzy boundaries? Polit Geogr 25:361–382. https://doi.org/10.1016/j.polgeo.2006.02.004

Gleick PH (1993) Water and conflict: fresh water resources and international security. Int Secur 18:79–112

Gopal B (1989) Dynamics of centre-state relations: experience of Andhra Pradesh since 1983. The Indian Journal of Political Science 50:357–375

Gupta SK, Deshpande RD (2004) Water for India in 2050: first-order assessment of available options. Curr Sci 86:1216–1224

India-WRIS (2012) River basin atlas of India. RRSC-West, NRSC, Jodhpur

Iyer RR (1994) Indian federalism and water resources. Int J Water Resour Dev 10:191–202

Iyer RR (2004) Punjab water imbroglio: background, implications and the way out. Econ Polit Wkly 39:3435–3438

Iyer RR (2007) Towards water wisdom: Limits, justice, harmony. Sage, New Delhi

KWDT-I (Krishna Water Disputes Tribunal - I) (1973) The report of the Krishna Water Disputes Tribunal with the decision. Government of India, New Delhi

KWDT-II (Krishna Water Disputes Tribunal-II) (2010) The report of the Krishna Water Disputes Tribunal with the decision. Government of India, New Delhi

Mirumachi N (2015) Transboundary water politics in the developing world. Routledge, Oxon

Mostert E (2003) Conflict and co-operation in international freshwater management: a global review. Int J River Basin Manag 1:267–278

Nariman FS (2009) Interstate water disputes: a nightmare! In: Iyer RR (ed) Water and the laws in India. Sage, New Delhi, pp 32–57

NCRWC (2002) Report of the National Commission to review the working of the constitution. Ministry of Law, New Delhi

Nikku BR (2004) Water rights, conflicts and collective action: case of the Telugu Ganga project, India. In The Tenth Biennial Conference of the International Association for the Study of Common Property Proceedings, The Instituto de Investigaciones Sociales, Universitad Nacional Autonoma de México

Padhiari HK, Ballabh V (2008) Inter-state water disputes and the governance challenge. In: Ballabh V (ed) Governance of water: institutional alternatives and political economy. Sage, New Delhi, pp 174–192

Prasad GK (1987) Politics in a non-congress (I) state: the case of Andhra Pradesh. The Indian J Political Sci 48:607–617

Richards A, Singh N (2002) Inter-state water disputes in India: institutions and policies. Int J Water Resour Dev 18:611–625

Rudolph LI, Rudolph SH (1987) In pursuit of Lakshmi: the political economy of the Indian state. University of Chicago Press, Chicago

Salman SMA, Uprety K (2002) Conflict and cooperation on South Asia's international rivers: a legal perspective. World Bank, Washington DC

Salve H (2016) Inter-state river water disputes. In: Choudhry S, Khosla M, Mehta PB (eds) The Oxford handbook of the Indian constitution. Oxford University Press, New Delhi, pp 502–520

Sampathkumar TJ (2005) Telugu Ganga project: an act of inter-state co-operation. The Indian J Polit Sci 66:851–872

Starr JR (1991) Water wars. Foreign Policy 82:17–36

Stinnett DM, Tir J (2009) The institutionalization of river treaties. Int Negot 14:229–251

Swain A (2001) Water wars: fact or fiction? Futures 33:769–781

Thatte CD (2007) Inter-basin water transfer for the augmentation of water resources in India: a review of needs, plans, status and prospects. Water Resour Dev 23:709–725

Tir J, Ackerman JT (2009) Politics of formalized river cooperation. J Peace Res 46:623–640

Toset HPW, Gleditsch NP, Hegre H (2000) Shared rivers and interstate conflict. Polit Geogr 19:971–996. https://doi.org/10.1016/S0962-6298(00)00038-X

Trottier J (2003) Water wars: the rise of a hegemonic concept. UNESCO-Green Cross International

Tummala KK (1986) Democracy triumphant in India: The case of Andhra Pradesh. Asian Surv 26:378–395

UN Convention (1997) United Nations Convention on the Law of the Non-navigational Uses of International Watercourses. International Water Law Project. https://www.internationalwaterlaw.org/documents/intldocs/watercourse_conv.html. Accessed 20 March 2018

Wolf AT (1998) Conflict and cooperation along international waterways. Water Policy 1251-1265

Wolf AT (1999a) Criteria for equitable allocations: the heart of international water conflict. Nat Resour Forum 23:3–30. https://doi.org/10.1111/j.1477-8947.1999.tb00235.x

Wolf AT (1999b) The transboundary freshwater dispute database project. Water Int 24:160–163. https://doi.org/10.1080/02508069908692153

Wolf AT (2007) Shared waters: conflict and cooperation. Annu Rev Environ Resour 32:241–269. https://doi.org/10.1146/annurev.energy.32.041006.101434

Wolf AT, Yofee SB, Giordano M (2003) International waters: identifying basins at risk. Water Policy 5:29–60

Zeitoun M, Mirumachi N (2008) Transboundary water interaction I: reconsidering conflict and cooperation. Int Environ Agreements: Polit Law Econ 8:297–316. https://doi.org/10.1007/s10784-008-9083-5
Acknowledgements
I am grateful to Dr. Lucia De Stefano for her detailed comments on earlier drafts. I also express my gratitude to two other anonymous reviewers. I thank Dhruv Arora and Ajay Kumar Katuri for their help with preparing the figure.
Funding
The research presented in the paper has been carried out for my doctoral dissertation, funded partially by a CRE (Committee for Research and Exploration) research grant no. 8831-10 of the National Geographic Society.
About this article
Cite this article
Chokkakula, S. Transboundary politics of cooperation: Telugu ganga project, India. Reg Environ Change 18, 1645–1654 (2018). https://doi.org/10.1007/s10113-018-1348-0
Received:

Accepted:

Published:

Issue Date:
Keywords
Interstate river water cooperation in India

Krishna river dispute

Telugu Ganga project

Transboundary river water conflicts

Federal river water governance