Abstract
Small island developing states (SIDS) face multiple threats from anthropogenic climate change, including potential changes in freshwater resource availability. Due to a mismatch in spatial scale between SIDS landforms and the horizontal resolution of global climate models (GCMs), SIDS are mostly unaccounted for in GCMs that are used to make future projections of global climate change and its regional impacts. Specific approaches are required to address this gap between broad-scale model projections and regional, policy-relevant outcomes. Here, we apply a recently developed methodology that circumvents the GCM limitation of coarse resolution in order to project future changes in aridity on small islands. These climate projections are combined with independent population projections associated with shared socioeconomic pathways (SSPs) to evaluate overall changes in freshwater stress in SIDS at warming levels of 1.5 and 2 °C above pre-industrial levels. While we find that future population growth will dominate changes in projected freshwater stress especially toward the end of the century, projected changes in aridity are found to compound freshwater stress for the vast majority of SIDS. For several SIDS, particularly across the Caribbean region, a substantial fraction (~ 25%) of the large overall freshwater stress projected under 2 °C at 2030 can be avoided by limiting global warming to 1.5 °C. Our findings add to a growing body of literature on the difference in climate impacts between 1.5 and 2 °C and underscore the need for regionally specific analysis.
Access options
Buy single article
Instant access to the full article PDF.
US$ 39.95
Tax calculation will be finalised during checkout.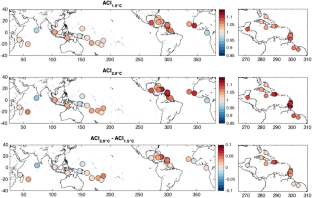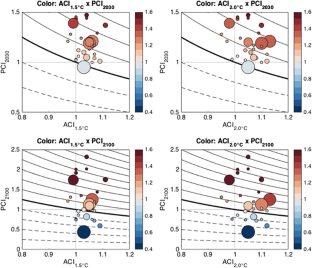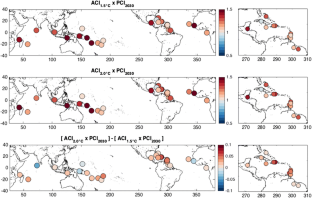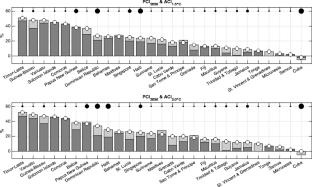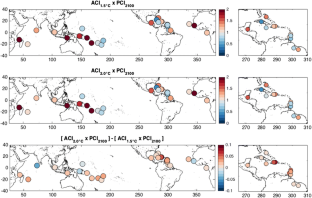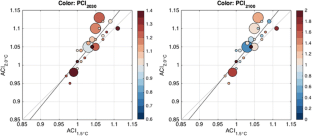 References
Ault T (2016) Water resources: island water stress. Nat Clim Chang 6:1062–1063. https://doi.org/10.1038/nclimate3171

Bi D, Dix M, Marsland S, O'Farrell S, Rashid H, Uotila P, Hirst A, Kowalczyk E, Golebiewski M, Sullivan A, Yan H, Hannah N, Franklin C, Sun Z, Vohralik P, Watterson I, Zhou X, Fiedler R, Collier M, Ma Y, Noonan J, Stevens L, Uhe P, Zhu H, Griffies S, Hill R, Harris C, Puri K (2013) The ACCESS coupled model: description, control climate and evaluation. Aust Met Oceanogr J 63:41–64. https://publications.csiro.au/rpr/pub?pid=csiro:EP125874.

Cheung WWL, Reygondeau G, Frölicher TL (2016) Large benefits to marine fisheries of meeting the 1.5°C global warming target. Science 354:1591–1594. https://doi.org/10.1126/science.aag2331

Coats S, Karnauskas KB (2017) Are simulated and observed 20th century tropical Pacific sea surface temperature trends significant relative to internal variability? Geophys Res Lett 44:9928–9937. https://doi.org/10.1002/2017GL074622

Collins WJ, Bellouin N, Doutriaux-Boucher M, Gedney N, Halloran P, Hinton T, Hughes J, Jones CD, Joshi M, Liddicoat S, Martin G, O'Connor F, Rae J, Senior C, Sitch S, Totterdell I, Wiltshire A, Woodward S (2011) Development and evaluation of an Earth-System model – HadGEM2. Geosci Model Dev 4:1051-1075. https://doi.org/10.5194/gmd-4-1051-2011

Donner LJ, Wyman BL, Hemler RS, Horowitz LW, Ming Y, Zhao M, Golaz J, Ginoux P, Lin S, Schwarzkopf MD, Austin J, Alaka G, Cooke WF, Delworth TL, Freidenreich SM, Gordon CT, Griffies SM, Held IM, Hurlin WJ, Klein SA, Knutson TR, Langenhorst AR, Lee H, Lin Y, Magi BI, Malyshev SL, Milly PC, Naik V, Nath MJ, Pincus R, Ploshay JJ, Ramaswamy V, Seman CJ, Shevliakova E, Sirutis JJ, Stern WF, Stouffer RJ, Wilson RJ, Winton M, Wittenberg AT, Zeng F (2011) The dynamical core, physical parameterizations, and basic simulation characteristics of the atmospheric component AM3 of the GFDL Global Coupled Model CM3. J Clim 24(13):3484–3519. https://doi.org/10.1175/2011JCLI3955.1

Dufresne J-L, Foujols M-A, Denvil S, Caubel A, Marti O, Aumont O, Balkanski Y, Bekki S, Bellenger H, Benshila R, Bony S, Bopp L, Braconnot P, Brockmann P, Cadule P, Cheruy F, Codron F, Cozic A, Cugnet D, de Noblet N, Duvel JP, Ethé C, Fairhead L, Fichefet T, Flavoni S, Friedlingstein P, Grandpeix JY, Guez L, Guilyardi E, Hauglustaine D, Hourdin F, Idelkadi A, Ghattas J, Joussaume S, Kageyama M, Krinner G, Labetoulle S, Lahellec A, Lefebvre MP, Lefevre F, Levy C, Li ZX, Lloyd J, Lott F, Madec G, Mancip M, Marchand M, Masson S, Meurdesoif Y, Mignot J, Musat I, Parouty S, Polcher J, Rio C, Schulz M, Swingedouw D, Szopa S, Talandier C, Terray P, Viovy N, Vuichard N (2013) Climate change projections using the IPSL-CM5 Earth System Model: from CMIP3 to CMIP5. Clim Dyn 40: 2123–2165. https://doi.org/10.1007/s00382-012-1636-1

Holding S, Allen DM, Foster S, Hsieh A, Larocque I, Klassen J, Van Pelt SC (2016) Groundwater vulnerability on small islands. Nat Clim Chang 6:1100–1103. https://doi.org/10.1038/nclimate3128

Hartmann DL, Klein Tank AMG, Rusticucci M, Alexander LV, Brönnimann S, Charabi Y, Dentener FJ, Dlugokencky EJ, Easterling DR, Kaplan A, Soden BJ, Thorne PW, Wild M, Zhai PM (2013) Observations: atmosphere and surface. In: Stocker TF, Qin D, Plattner GK, Tignor M, Allen SK, Boschung J, Nauels A, Xia Y, Bex V, Midgley PM (eds) Climate Change 2013: The Physical Science Basis. Contribution of Working Group I to the Fifth Assessment Report of the Intergovernmental Panel on Climate Change. Cambridge University Press, Cambridge, pp 159–254

Hurrell JW, Holland MM, Gent PR, Ghan S, Kay JE, Kushner PJ, Lamarque J, Large WG, Lawrence D, Lindsay K, Lipscomb WH, Long MC, Mahowald N, Marsh DR, Neale RB, Rasch P, Vavrus S, Vertenstein M, Bader D, Collins WD, Hack JJ, Kiehl J, Marshall S (2013) The community earth system model: a framework for collaborative research. Bull Amer Meteor Soc 94:1339–1360. https://doi.org/10.1175/BAMS-D-12-00121.1

James R, Washington R, Schleussner CF, Rogelj J, Conway D (2017) Characterizing half-a-degree difference: a review of methods for identifying regional climate responses to global warming targets. Wiley Interdiscip Rev Clim Chang 8:e457. https://doi.org/10.1002/wcc.457

Karnauskas KB, Donnelly JP, Anchukaitis KJ (2016) Future freshwater stress for island populations. Nat Clim Chang 6:720–725. https://doi.org/10.1038/nclimate2987

Kc S, Lutz W (2017) The human core of the shared socioeconomic pathways: population scenarios by age, sex and level of education for all countries to 2100. Glob Environ Chang 42:181–192. https://doi.org/10.1016/j.gloenvcha.2014.06.004

Lissner TK, Schleussner CF, Serdeczny O, Baarsch F, Schaeffer M, Hare B (2017) Piecing together the adaptation puzzle for small island states, In: Leal Filho, W (ed.) Climate change adaptation in pacific countries: fostering resilience and improving the quality of life 325–337 Springer. https://doi.org/10.1007/978-3-319-50094-2_20

Martin GM, Bellouin N, Collins WJ, Culverwell ID, Halloran PR, Hardiman SC, Hinton TJ, Jones CD, McDonald RE, McLaren AJ, O'Connor FM, Roberts MJ, Rodriguez JM, Woodward S, Best MJ, Brooks ME, Brown AR, Butchart N, Dearden C, Derbyshire SH, Dharssi I, Doutriaux-Boucher M, Edwards JM, Falloon PD, Gedney N, Gray LJ, Hewitt HT, Hobson M, Huddleston MR, Hughes J, Ineson S, Ingram WJ, James PM, Johns TC, Johnson CE, Jones A, Jones CP, Joshi MM, Keen AB, Liddicoat S, Lock AP, Maidens AV, Manners JC, Milton SF, Rae JGL, Ridley JK, Sellar A, Senior CA, Totterdell IJ, Verhoef A, Vidale PL, Wiltshire A (2011) The HadGEM2 family of met office unified model climate configurations. Geosci Model Dev 4:723–757. https://doi.org/10.5194/gmd-4-723-2011.

Nurse LA, McLean RF, Agard J, Briguglio LP, Duvat-Magnan V, Pelesikoti N, Tompkins E, Webb A (2014) Small islands. In: Barros VR, Field CB, Dokken DJ, Mastrandrea MD, Mach KJ, Bilir TE, Chatterjee M, Ebi KL, Estrada YO, Genova RC, Girma B, Kissel ES, Levy AN, MacCracken S, Mastrandrea PR, White LL (eds) Climate change 2014: impacts, Adaptation, and Vulnerability. Part B: regional aspects. Contribution of Working Group II to the Fifth Assessment Report of the Intergovernmental Panel on Climate Change. Cambridge University Press, Cambridge, pp 1613–1654

Pendergrass AG, Lehner F, Sanderson BM, Xu Y (2015) Does extreme precipitation intensity depend on the emissions scenario? Geophys Res Lett 42:8767–8774. https://doi.org/10.1002/2015GL065854

Rotstayn LD, Jeffrey SJ, Collier MA, Dravitzki SM, Hirst AC, Syktus JI, Wong KK (2012) Aerosol- and greenhouse gas-induced changes in summer rainfall and circulation in the Australasian region: a study using single-forcing climate simulations. Atmos Chem Phys 12:6377–6404. https://doi.org/10.5194/acp-12-6377-2012

Schewe J, Heinke J, Gerten D, Haddeland I, Arnell NW, Clark DB, Dankers R, Eisner S, Fekete BM, Colón-González FJ, Gosling SN, Kim H, Liu X, Masaki Y, Portmann FT, Satoh Y, Stacke T, Tang Q, Wada Y, Wisser D, Albrecht T, Frieler K, Piontek F, Warszawski L, Kabat P (2014) Multimodel assessment of water scarcity under climate change. Proc Natl Acad Sci U S A 111:3245–3250. https://doi.org/10.1073/pnas.1222460110

Schleussner CF, Rogelj J, Schaeffer M, Lissner T, Licker R, Fischer EM, Knutti R, Levermann A, Frieler K, Hare W (2016a) Science and policy characteristics of the Paris Agreement temperature goal. Nat Clim Chang 6:827–835. https://doi.org/10.1038/nclimate3096

Schleussner CF, Lissner TK, Fischer EM, Wohland J, Perrette M, Golly A, Rogelj J, Childers K, Schewe J, Frieler K, Mengel M, Hare W, Schaeffer M (2016b) Differential climate impacts for policy relevant limits to global warming: the case of 1.5°C and 2°C. Earth Syst Dyn 7:327–351. https://doi.org/10.5194/esd-7-327-2016

Schmidt GA, Ruedy R, Hansen JE, Aleinov I, Bell N, Bauer M, Bauer S, Cairns B, Canuto V, Cheng Y, Del Genio A, Faluvegi G, Friend AD, Hall TM, Hu Y, Kelley M, Kiang NY, Koch D, Lacis AA, Lerner JJ, Lo KK, Miller RL, Nazarenko L, Oinas V, Perlwitz J, Perlwitz J, Rind D, Romanou A, Russell GL, Sato M, Shindell DT, Stone PH, Sun S, Tausnev N, Thresher D, Yao M (2006) Present-day atmospheric simulations using GISS ModelE: comparison to in situ, satellite, and reanalysis data. J Clim 19(2):153–192. https://doi.org/10.1175/JCLI3612.1

Storlazzi CD, Elias EPL, Berkowitz P (2015) Many atolls may be uninhabitable within decades due to climate change. Nat Sci Rep 5:14546. https://doi.org/10.1038/srep14546

Taylor KE, Stouffer RJ, Meehl GA (2012) An overview of CMIP5 and the experiment design. Bull Amer Meteor Soc 93:485–498. https://doi.org/10.1175/BAMS-D-11-00094.1

van Hooidonk R, Maynard J, Tamelander J, Gove J, Ahmadia G, Raymundo L, Williams G, Heron SF, Planes S (2016) Local-scale projections of coral reef futures and implications of the Paris Agreement. Nat Sci Rep 6:39666. https://doi.org/10.1038/srep39666

Voldoire A, Sanchez-Gomez E, Salas y Mélia D, Decharme B, Cassou C, Sénési S, Valcke S, Beau I, Alias A, Chevallier M, Déqué M, Deshayes J, Douville H, Fernandez E, Madec G, Maisonnave E, Moine MP, Planton S, Saint-Martin D, Szopa S, Tyteca S, Alkama R, Belamari S, Braun A, Coquart L, Chauvin F (2013) The CNRM-CM5.1 global climate model: description and basic evaluation. Clim Dyn 40: 2091–2121. https://doi.org/10.1007/s00382-011-1259-y

Volodin EM, Dianskii NA, Gusev AV (2010) Simulating present-day climate with the INMCM4. 0 coupled model of the atmospheric and oceanic general circulations. Izvestiya Atmos Ocean Phys 46(4):414–431. https://doi.org/10.1134/S000143381004002X

Watanabe M, Suzuki T, O'ishi R, Komuro Y, Watanabe S, Emori S, Takemura T, Chikira M, Ogura T, Sekiguchi M, Takata K, Yamazaki D, Yokohata T, Nozawa T, Hasumi H, Tatebe H, Kimoto M (2010) Improved climate simulation by MIROC5: mean states, variability, and climate sensitivity. J Clim 23(23):6312–6335. https://doi.org/10.1175/2010JCLI3679.1

Watanabe S, Hajima T, Sudo K, Nagashima T, Takemura T, Okajima H, Nozawa T, Kawase H, Abe M, Yokohata T, Ise T, Sato H, Kato E, Takata K, Emori S, Kawamiya M (2011) MIROC-ESM 2010: model description and basic results of CMIP5-20c3m experiments, Geosci Model Dev 4:845–872. https://doi.org/10.5194/gmd-4-845-2011

Wu T, Song L, Li W et al (2014) Acta Meteorol Sin 28:34. https://doi.org/10.1007/s13351-014-3041-7

Yukimoto S, Adachi Y, Hosaka M, Sakami T, Yoshimura H, Hirabara M, Tanaka TY, Shindo E, Tsujino H, Deushi M, Mizuta R, Yabu S, Obata A, Nakano H, Koshiro T, Ose T, Kitoh A (2012) A new global climate model of the Meteorological Research Institute: MRICGCM3– Model description and basic performance. J Meteorol Soc Jpn 90A:23–64. https://doi.org/10.2151/jmsj.2012-A02 https://doi.org/10.2151/jmsj.2012-A02
Acknowledgements
We acknowledge the WCRP Working Group on Coupled Modelling and U.S. DOE/PCMDI for CMIP, and thank the climate modeling groups (listed in the "Data, models, and methods" section of this paper) for producing and making available their model output (http://cmip-pcmdi.llnl.gov/cmip5/). K.B.K. and J.P.D. acknowledge the support from the Strategic Environmental Research and Development Program (SERDP). SERDP is the environmental science and technology program of the US Department of Defense (DoD) in partnership with the US Department of Energy (DOE) and the US Environmental Protection Agency (EPA). K.B.K. further acknowledges the support from the Alfred P. Sloan Foundation. C.F.S. acknowledges the financial support by the German Federal Ministry for the Environment, Nature Conservation and Nuclear Safety (16_II_148_Global_A_IMPACT).
About this article
Cite this article
Karnauskas, K.B., Schleussner, CF., Donnelly, J.P. et al. Freshwater stress on small island developing states: population projections and aridity changes at 1.5 and 2 °C. Reg Environ Change 18, 2273–2282 (2018). https://doi.org/10.1007/s10113-018-1331-9
Received:

Accepted:

Published:

Issue Date:
Keywords
Freshwater

Islands

SIDS

Population

Aridity

Climate

Global warming