Abstract
Storage reservoirs are an important part of the water infrastructure in both the USA and Canada. Their operations are important not only for water supply but also for downstream aquatic and riparian ecosystems. Public agencies operate some of the most important water supply reservoirs in both nations: the federal Bureau of Reclamation in the western USA and the provincial Alberta Environment and Parks in Canada's South Saskatchewan River Basin. This paper examines legal and policy issues affecting potential changes in reservoir operations as an adaptation strategy in the western USA and southern Alberta and considers the two agencies' policies and practices on reviewing dam operations. Although both agencies appear to recognize the potential value of reviewing and revising their reservoir operating plans, neither makes a practice of doing so. Thus, there is no program to review the operations of water supply projects; by contrast, hydropower project operations have been reviewed and revised in both nations. The two agencies have similar approaches even though federal laws and institutions are important for reservoir operations in the USA, but have little influence in Alberta. Whether federal or provincial, these agencies have operated their projects primarily to benefit local interests.
This is a preview of subscription content, log in to check access.
Access options
Buy single article
Instant access to the full article PDF.
US$ 39.95
Price includes VAT for USA
Subscribe to journal
Immediate online access to all issues from 2019. Subscription will auto renew annually.
US$ 99
This is the net price. Taxes to be calculated in checkout.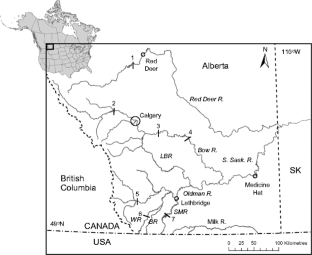 Notes
1.

These states are Arizona, California, Colorado, Idaho, Montana, Nevada, New Mexico, Oregon, Utah, Washington, and Wyoming.

2.

In the early days of Prior Appropriation, users could obtain a water right with no government approval, simply by diverting water from its natural course and applying it to a beneficial use. Beginning in 1890, the western states began moving toward requiring a state-issued permit for all new water uses (similar to an Alberta license), and today, all the western states except Colorado require a permit for any significant new use of water.

3.

This agency has had several names over the years, but for the sake of clarity, this article always refers to it as AEP, even in describing the agency's actions at a time when it had a different name.

4.

Hydropower generated at federal water projects is marketed by power marketing administrations located within the US Department of Energy: Bonneville Power Administration in the Pacific Northwest and Western Area Power Administration in the other western states.

5.

The Colorado River Watershed includes parts of seven states, and the 1922 Colorado River Compact divides that watershed into an "Upper Basin" and a "Lower Basin" at a point on the Colorado River just below the Utah-Arizona state line (and just below Glen Canyon Dam). The Compact allocates a certain volume of water to the Lower Basin (Arizona, California, and Nevada) each year, and nearly all of that water is released from Glen Canyon Dam over the course of the year. In addition, the Compact requires the Upper Basin and the Lower Basin to share equally the burden of supplying water owed to Mexico, and Glen Canyon Dam must also release the Upper Basin's share of Mexico's water (USBR 2010).

6.

The license itself only makes certain diversions subject to the "Instream Objective established for the reach of river between the diversion weir and Bassano Dam." The license did not specify the level of that Instream Objective, but AEP would later tie it to the "80 percent habitat fish rule curve."

7.

This unique operating regime for the Oldman River Dam grew out of political and legal opposition to the dam's construction. The dispute reached the Supreme Court of Canada, which issued a nationally significant ruling on the federal government's interests and responsibilities regarding the proposed project. Although the provincial government succeeded in completing the dam, the controversy led to an operating plan geared toward sustaining downstream riparian and aquatic ecosystems, as well as irrigation water supplies (Rood and Vandersteen 2010).

8.

Despite this policy, however, the Corps also does not regularly review and revise the "water control plans" for its projects (Benson 2017).

9.

USBR shared the lead with the National Park Service, because the latter agency is responsible for managing Glen Canyon National Recreation Area (the popular Lake Powell, formed by Glen Canyon Dam) and Grand Canyon National Park. Tribal, state, and local government entities also participated as "cooperating agencies" in the review.

10.

This is true of the AEP's larger water supply projects, except that the Oldman River Dam license does require a review of the dam's operating strategy after 10 years.

11.

The absence of periodic review in this context raises a question: does any nation, or sub-national government, have a program of periodic review of water supply project operations? Further research might identify one or more jurisdictions that conduct such reviews and might produce useful lessons regarding the design and implementation of operations reviews for water supply reservoirs.

12.

AEP does have one federal obligation affecting project operations—ensuring compliance with the Master Agreement on Apportionment—that is parallel to the USBR's responsibilities regarding interstate water compacts. As noted above, however, AEP has very rarely had to release water from its reservoirs solely for this purpose, so even this factor is less important in practice than it is for USBR.
References
AEP (Alberta Environment & Parks) (2006) Approved water management plan for the South Saskatchewan River Basin. In: AEP. Canada, Edmonton, AB

AlbertaWaterSMART (2015) Climate vulnerability and sustainable water management in the South Saskatchewan River Basin. Final Report, Calgary

Amos AL (2014) Dam removal and hydropower production in the United States—ushering in a new era. J Environ Law Litigation 29:1–34

Bankes N (2010) Protecting listed aquatic species under the federal Species at Risk Act: the implications for provincial water management and provincial water rights. J Environ Law Practice 24:19–65

Benson RD (2006) Deflating the deference myth: national interests vs. state authority under federal laws affecting water use. Utah Law Rev 2006:241–316

Benson RD (2011a) Environmental review of western water project operations: where NEPA has not applied, will it not protect farmers from fish? UCLA J Environ Law Policy 29:269–330

Benson RD (2011b) New adventures of the old bureau: modern-day reclamation statutes and Congress's unfinished environmental business. Harvard J Legislation 48:137–184

Benson RD (2012) Alive but irrelevant: the Prior Appropriation Doctrine in today's western water law. University of Colorado Law Rev 83:675–714

Benson RD (2013) Avoiding jeopardy, without the questions: recovery implementation programs for endangered species in western river basins. Michigan J Environ Adm Law 2:473–534

Benson, RD (2014) Environmental issues in the allocation and management of western interstate rivers. Indiana International & Comparative Law Rev 24: 183–202

Benson, RD (2017) Reviewing reservoir operations: can federal water projects adapt to change? Columbia Journal of Environmental Law 42: XXX–XXX (forthcoming)

Blumm MC, Warnock W (2003) Roads not taken: EPA vs. clean water. Enviro Law 33:79–112

Collier, M, Webb, RH and Schmidt, JC (2000) Dams and rivers: a primer on the downstream effects of dams. Circular 1126 (second revised printing), US Geological Survey, Washington, DC, USA

DC Circuit Court of Appeals (2006) City of Tacoma v. Federal Energy Regulatory Commission. Federal Reporter 3rd460: 53–78

de Loë RC (1999) Dam the news: newspapers and the Oldman River Dam project in Alberta. J Environ Manag 55(4):219–237. https://doi.org/10.1006/jema.1999.0258

Gillilan DM, Brown TC (1997) Instream flow protection. Island Press, Washington, DC

Horbulyk T (2014) Resilience of river basin governance institutions in the Saskatchewan River Basin of Western Canada. In: Garrick D, Anderson GRM, Connell D, Pittock J (eds) Federal rivers. Edward Elgar, Cheltenham, pp 90–104

Jean ME, Davies EGR (2015) Water managers' perspectives on reservoir operations for sustainable irrigation in Alberta. WIT Trans Ecol Environ 197:161–172. https://doi.org/10.2495/RM150151

Klassen S, Gilpin J (1999) Alberta irrigation in the old and new millennium. Canadian Water Resour J 24(1):61–69. https://doi.org/10.4296/cwrj2401061

Kwasniak AJ (2010) Water scarcity and aquatic sustainability: moving beyond policy limitations. Univ Denver Water Law Rev 13(2):321–360

Locke A, Stalnaker C, Zellmer S, Williams K, Beecher H, Richards T, Robertson C, Wald A, Paul A, Annear T (2008) Integrated approaches to riverine resource stewardship: case studies, science, law, people, and policy. Instream Flow Council, Cheyenne

Mattison J, Nowlan L, Lebel M, Orr C (2014) Water for power, water for nature: the story of BC Hydro's Water Use Planning Program. WWF Canada, Vancouver

MaupinMA, KennyJF, HutsonSS, LovelaceJK, BarberNL, LinseyKS (2014) Estimated use of water in the United States in 2010. Circular 1405, US Geological Survey, Washington, DC, USA. doi:https://doi.org/10.3133/cir1405

Olszynski MZP (2015) From 'badly wrong' to worse: an empirical analysis of Canada's new approach to fish habitat protection laws. J Environ Law Practice 28:1–52. https://doi.org/10.2139/ssrn.2652539

Owen D, Apse C (2015) Trading dams. Univ California Davis Law Rev 48:1043–1109

Pentney A, Ohrn D (2008) Navigating from history into the future: the water management plan for the South Saskatchewan River Basin in Alberta. Canadian Water Resour J 33(4):381–396. https://doi.org/10.4296/cwrj3304381

Percy DR (2005) Responding to water scarcity in western Canada. Texas Law Rev 83:2091–2107

Pisani, D (2008) Federal reclamation law in the twentieth century: a centennial retrospective. In The Bureau of Reclamation: history essays from the centennial symposium volumes I and II. US Government Printing Office, Washington, pp. 611–635

Pittock J, Hartmann J (2011) Taking a second look: climate change, periodic relicensing and improved management of dams. Mar Freshw Res 62:312–320. https://doi.org/10.1071/MF09302

Prairie Provinces Water Board (2009) The 1969 master agreement on apportionment and by-laws, rules and procedures. Regina, SK

Richter BD, Thomas GA (2007) Restoring environmental flows by modifying dam operations. Ecol Soc 12(1):12, www.ecologyandsociety.org/vol12/iss1/art12/. http://www.ecologyandsociety.ort/vol12/iss1/art12/

Rood SB, Mahoney JM (2000) Revised instream flow regulation enables cottonwood recruitment along the St. Mary River, Alberta, Canada. Rivers 7(2):109–125

Rood SB, Vandersteen JW (2010) Relaxing the principle of prior appropriation: stored water and sharing the shortage in Alberta, Canada. Water Resour Manag 24:1605–1620

Tarlock AD (2000) Prior appropriation: rule, principle, or rhetoric? North Dakota Law Review 76:881–910

USBR (US Bureau of Reclamation) (2010) Colorado river operations, In: The Colorado River Documents. USBR, Washington, DC, USA, pp. 1-1 – 1-8

USBR (US Bureau of Reclamation) (2016) Climate change adaptation strategy. USA, Progress Report. USBR, Washington, DC, pp 10–11

USDI (US Department of the Interior) (2016) Record of decision for the Glen Canyon Dam Long-Term Experimental and Management Plan Final Environmental Impact Statement. USDI, Washington, DC

USSupreme Court (1990) California v. Federal Energy Regulatory Commission. U.S. Report 495:490–507

Western Water Policy Review Advisory Commission (1998) Water in the West: challenge for the next century. [Final report of advisory commission established by act of US Congress]
Acknowledgements
The author conducted research for this article during his service as Visiting Research Chair in Water and the Environment at the University of Lethbridge, in Lethbridge, AB, Canada. This position was funded through the Fulbright Scholars Program, and Professor Benson thanks Fulbright Canada and the University of Lethbridge for their support of his work in Alberta. He also thanks Stewart Rood and David Hill (both of the University of Lethbridge), David Percy (University of Alberta), and the natural resources law faculty at the University of Calgary (especially Nigel Bankes, Allan Ingleson, Arlene Kwasniak, Alistair Lucas, and Martin Olszynski) for all their invaluable assistance. Professor Benson also extends his most sincere thanks to all the Alberta water professionals and US federal officials who graciously shared their time, expertise, and insights with him.
About this article
Cite this article
Benson, R.D. Reviewing reservoir operations in the North American West: an opportunity for adaptation. Reg Environ Change 18, 1633–1643 (2018). https://doi.org/10.1007/s10113-018-1330-x
Received:

Accepted:

Published:

Issue Date:
Keywords
Reservoir operations

Water management

Environmental flows

Climate adaptation

Alberta

United States