Abstract
River restoration efforts require interdisciplinary approaches involving fluvial geomorphology, hydraulic engineering, ecology, sedimentology, chemistry, social geography, and sociology. We investigated the functioning of artificial structures called "Casiers Girardon" (groyne fields) in the Rhône River. We assessed potential benefits and risks linked to removing the Rhône groyne fields in a restoration context, with particular focus on the potential for increased bank erosion. Hydraulic, morphological, chemical, ecological, and social issues resulting from dismantlement were studied for terrestrialized and aquatic Casiers Girardon. Only 10% of Casiers Girardon have maintained their aquatic features, whereas most of the Casiers are terrestrialized. Our results help to confirm the effectiveness of restoration actions; however, they also indicate uncertainties and additional knowledge needs, especially in regard to potential incompatibilities between Casier restoration and conservation. Then, an interdisciplinary conceptual model was developed to identify interventions to be considered in Casiers Girardon, according to their terrestrialization rate and physiochemical characteristics (connectivity, amount of gravel vs. fine sediment, contamination level). This model synthetizes scientific results and expert judgment and provides management recommendations based on ecological and sociological expectations about the restoration of Casiers Girardon. The model highlights high heterogeneity in functioning and ecological potential between terrestrialized and aquatic Casiers. Dismantling of terrestrialized Casiers has strong potential to provide multiple benefits, whereas aquatic Casiers could be maintained as valuable backwaters. The managing guidelines for the Casiers Girardon of the Rhône River should be adapted according to local conditions, as well as expected benefits and needs, and conducted in co-ordination with all actors involved in and affected by the restoration.
This is a preview of subscription content, log in to check access.
Access options
Buy single article
Instant access to the full article PDF.
US$ 39.95
Price includes VAT for USA
Subscribe to journal
Immediate online access to all issues from 2019. Subscription will auto renew annually.
US$ 99
This is the net price. Taxes to be calculated in checkout.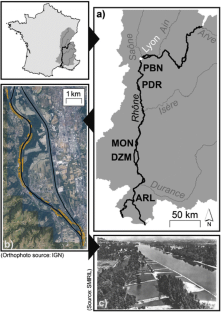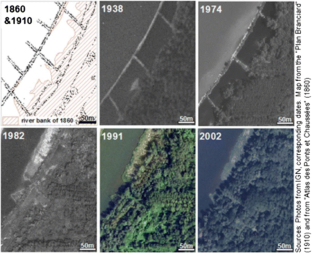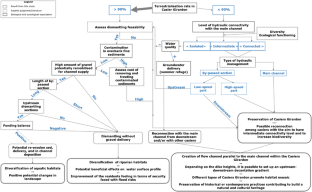 References
Amoros C, Bornette G (2002) Connectivity and biocomplexity in waterbodies of riverine floodplains. Freshw Biol 47:761–776. https://doi.org/10.1046/j.1365-2427.2002.00905.x

Arnaud F, Piégay H, Béal D, Collery P, Rollet AJ (2017) Monitoring gravel augmentation in a large regulated river and implications for process-based restoration. Earth Surf Process Landf 42:2147–2166. https://doi.org/10.1002/esp.4161

Ashmore P (2015) Towards a sociogeomorphology of rivers. Geomorphology 251:149–156. https://doi.org/10.1016/j.geomorph.2015.02.020

Babut M, Lopes C, Pradelle S, Persat H, Badot PM (2012) BSAFs for freshwater fish and derivation of a sediment quality guideline for PCBs in the Rhone basin, France. J. Soil Sediments 12:241–251. https://doi.org/10.1007/s11368-011-0448-y

Barthélémy C, Souchon Y (2009) La restauration écologique du Rhône sous le double regard du sociologue et de l'écologue. Natures Sci Sociétés 17:113–121. https://doi.org/10.1051/nss/2009025

Barthélémy C, Armani G (2015) A comparison of social processes at three sites of the French Rhone River subjected to ecological restoration. Freshw Biol 60:1208–1220. https://doi.org/10.1111/fwb.12531

Besacier-Monbertrand AL, Paillex A, Castella E (2014) Short-term impacts of lateral hydrological connectivity restoration on aquatic macroinvertebrates. Riv Res Appl 30:557–570. https://doi.org/10.1002/rra.2597

Blair P, Buytaert W (2016) Socio-hydrological modelling: a review asking "why, what and how?". Hydrol Earth Syst Sci 20:443–478. https://doi.org/10.5194/hess-20-443-2016

Bolland JD, Nunn AD, Lucas MC, Cowx IG (2012) The importance of variable lateral connectivity between artificial floodplain waterbodies and river channels. Riv Res Appl 28:1189–1199. https://doi.org/10.1002/rra.1498

Bravard JP (2010) Discontinuities in braided patterns: the River Rhône from Geneva to the Camargue delta before river training. Geomophology 117:219–233. https://doi.org/10.1016/j.geomorph.2009.01.020

Citterio A, Piégay H (2009) Overbank sedimentation rates in former channel lakes: characterization and control factors. Sedimentology 56:461–482. https://doi.org/10.1111/j.1365-3091.2008.00979.x

Clarke SJ (2015) Conserving freshwater biodiversity: the value, status and management of high quality ditch systems. J Nat Cons 24:93–100. https://doi.org/10.1016/j.jnc.2014.10.003

Comby E, Le Lay YF, Piegay H (2014) How chemical pollution becomes a social problem. Risk communication and assessment through regional newspapers during the management of PCB pollutions of the Rhone River (France). Sci The Total Environ 482:100–115. https://doi.org/10.1016/j.scitotenv2014.02.137

Connell JH (1978) Diversity in tropical rainforests and coral reefs. Science 199:1302–1310

Cottet M, Rivière-Honegger A, Piégay H (2010) Mieux comprendre la perception des paysages de bras morts en vue d'une restauration écologique : quels sont les liens entre les qualités esthétique et écologique perçues par les acteurs? Norois 216:85–103. http://norois.revues.org/3408

Cottet M. (2013) Caractériser les valeurs environnementales au cours du temps : une étape indispensable à la gestion des patrimoines naturels : Le cas de la restauration des bras morts de l'Ain et du Rhône, VertigO - la revue électronique en sciences de l'environnement. http:// vertigo.revues.org/13558. Accessed 30 May 2013

Depret T, Riquier J, Piégay H (2017) Evolution of abandoned channels : insights on controlling factors in a multi-pressure river systems. Geomorpholy 294:99–118. https://doi.org/10.1016/j.geomorph.2017.01.036

Die Moran A, El Kadi AK, Mosselman E, Habersack H, Lebert F, Aelbrecht D, Laperrousaz E (2013) Physical model experiments for sediment supply to the old Rhine through induced bank erosion. Internat J Sed Res 28:431–447. https://doi.org/10.1016/S1001-6279(14)60003-2

Dufour S, Piegay H (2009) From the myth of a lost paradise to targeted river restoration: forget natural references and focus on human benefits. Riv Res Appl 25:568–581. https://doi.org/10.1002/rra.1239

Eick D, Thiel R (2013) Key environmental variables affecting the ichthyofaunal composition of groyne fields in the middle Elbe River, Germany. Limnologica 43:297–307. https://doi.org/10.1016/j.limno.2013.01.001

Florsheim JL, Mount JF, Chin A (2008) Bank erosion as a desirable attribute of rivers. Bioscience 58:519–529. https://doi.org/10.1641/b580608

Franquet E, Cellot B, Pont D, Bournaud M (1995) Environmental and macroinvertebrate dynamics in the lower rhone river and a lateral dike field—a study matching 2 functioning descriptors. Hydrobiologia 308:207–217. https://doi.org/10.1007/bf00006872

Garnier A, Barillier A (2015) The Kembs project: environmental integration of a large existing hydropower scheme. La Houille Blanche 4:21–28. https://doi.org/10.1051/lhb/20150041

Habersack H, Piégay H (2007) 27 River restoration in the Alps and their surroundings: past experience and future challenges. In: Rinaldi M, Habersack H, Piégay H (ed) Gravel Bed Rivers VI: From Process Understanding to the Restoration of Mountain Rivers 11: 703–735

Hobbs RJ, Arico S, Aronson J, Baron JS, Bridgewater P, Cramer VA, Epstein PR, Ewel JJ, Klink CA, Lugo AE, Norton D, Ojima D, Richardson DM, Sanderson EW, Valladares F, Vila M, Zamora R, Zobel M (2006) Novel ecosystems: theoretical and management aspects of the new ecological world order. Glob Ecol Biogeogr 15:1–7. https://doi.org/10.1111/j.1466-822x.2006.00212.x

Hohensinner S, Habersack H, Jungwirth M, Zauner G (2004) Reconstruction of the characteristics of a natural alluvial river-floodplain system and hydromorphological changes following human modifications: the Danube River (1812-1991). Riv Res Appl 20:25–41

Kloesch M, Liedermann M, Habersack H (2011) Riverbank erosion processes within a major bank restoration project. In: Habersack H, Schober B, Walling D (ed) International conference on the status and future of the world's large rivers, april 11–14, 2011, Vienna, Austria, Abstract Book, 287

Lamouroux N, Gore JA, Lepori F, Statzner B (2015) The ecological restoration of large rivers needs science-based, predictive tools meeting public expectations: an overview of the Rhone project. Freshw Biol 60:1069–1084. https://doi.org/10.1111/fwb.12553

Lamouroux N, Olivier JM (2015) Testing predictions of changes in fish abundance and community structure after flow restoration in four reaches of a large river (French Rhône). Freshw Biol 60:1118–1130. https://doi.org/10.1111/fwb.12324

Mika S, Hoyle J, Kyle G, Howell T, Wolfenden B, Ryder D, Keating D, Boulton A, Brierley G, Brooks AP, Fryirs K, Leishman M, Sanders M, Arthington A, Creese R, Dahm M, Miller C, Pusey B, Spink A (2010) Inside the "Black Box" of river restoration: using catchment history to identify disturbance and response mechanisms to set targets for process-based restoration. Ecol Soc 15(4):8

Morse NB, Pellissier PA, Cianciola EN, Brereton RL, Sullivan MM, Shonka NK, Wheeler TB, McDowell WH (2014) Novel ecosystems in the Anthropocene: a revision of the novel ecosystem concept for pragmatic applications. Ecol Soc 19:12. https://doi.org/10.5751/es-06192-190212

Mourier B, Desmet M, Van Metre PC, Mahler BJ, Perrodin Y, Roux G, Bedell JP, Lefèvre I, Babut M (2014) Historical records, sources, and spatial trends of PCBs along the Rhône River (France) Sci Total Environ 476–477:568–576. doi.https://doi.org/10.1016/j.scitotenv.2014.01.026

Nicolas Y, Pont D (1997) Hydrosedimentary classification of natural and engineered backwaters of a large river, the lower Rhône: possible applications for the maintenance of high fish biodiversity. River Res Appl 13:417–431. https://doi.org/10.1002/(SICI)1099-1646(199709/10)13:5<417::AID-RRR466>3.0.CO;2-E

Olivier JM, Dole-Olivier MJ, Amoros C, Carrel G, Malard F, Lamouroux N, Bravard JP (2009) Introduction to European rivers. In: Tockner K, Robinson CT, Uehlinger A (ed) Rivers of Europe, 1st edn, Academic Press, London, pp 1–22

Opperman JJ, Galloway GE, Fargione J, Mount JF, Richter BD, Secchi S (2009) Sustainable floodplains through large-scale reconnection to rivers. Science 326:1487–1488. https://doi.org/10.1126/science.1178256

Paillex A, Doledec S, Castella E, Merigoux S (2009) Large river floodplain restoration: predicting species richness and trait responses to the restoration of hydrological connectivity. J Appl Ecol 46:250–258. https://doi.org/10.1111/j.1365-2664.2008.01593.x

Paillex A, Dolédec S, Castella E, Mérigoux S, Aldridge DC (2013) Functional diversity in a large river floodplain: anticipating the response of native and alien macroinvertebrates to the restoration of hydrological connectivity. J Appl Ecol 50:97–106. https://doi.org/10.1111/1365-2664.12018

Piégay H, Hupp CR, Citterio A, Dufour S, Moulin B, Walling DE (2008) Spatial and temporal variability in sedimentation rates associated with cutoff channel infill deposits: Ain River, France. Water Resour Res 44:5. https://doi.org/10.1029/2006WR005260

Pont D, Piegay H, Farinetti A, Allain S, Landon N, Liebault F, Dumont B, Richard-Mazet A (2009) Conceptual framework and interdisciplinary approach for the sustainable management of gravel-bed rivers: the case of the Drôme River basin (SE France). Aq Sci 71:356–370. https://doi.org/10.1007/s00027-009-9201-7

Reckendorfer W, Baranyi C, Funk A, Schiemer F (2006) Floodplain restoration by reinforcing hydrological connectivity: expected effects on aquatic mollusc communities. J Appl Ecol 43:474–484. https://doi.org/10.1111/j.1365-2664.2006.01155.x

Riquier J, Piégay H, Šulc Michalková M (2015) Hydromorphological conditions in eighteen restored floodplain channels of a large river : linking patterns to processes. Freshw Biol 60:1085–1103. https://doi.org/10.1111/fwb.12411

Rohde S, Schütz M, Kienast F, Englmaier P (2005) River widening: an approach to restoring riparian habitats and plant species. River Res Appl 21:1075–1094. https://doi.org/10.1002/rra.870

Stella JC, Hayden MK, Battles JJ, Piégay H, Dufour S, Fremier AK (2011) The role of abandoned channels as refugia for sustaining pioneer riparian forest ecosystems. Ecosystems 14:776–790. https://doi.org/10.1007/s10021-011-9446-6

Stella JC, Piégay H, Riddle JD, Gruel C, Räpple B (2015) Riparian forest impacts and dynamics on large rivers managed for multiple uses; insights from the Sacramento (California, USA) and Rhône (France). Proceedings of the Second Integrative Sciences and Sustainable Development of Rivers (IS Rivers) Conference, Lyon, France, 22–26 June 2015.

Tockner K, Schiemer F, Ward JW (1998) Conservation by restoration: the management concept for a river-floodplain system on the Danube River in Austria. Aquatic Conserv: Mar Freshw Ecosyst 8:71–86

Van de Wolfshaar KE, Middelkoop H, Addink E, Winter HV, Nagelkerke LAJ (2011) Linking flow regime, floodplain lake connectivity and fish catch in a large river-floodplain system, the Volga-Akhtuba floodplain (Russian Federation). Ecosystems 14:920–934. https://doi.org/10.1007/s10021-011-9457-3

Ward JV, Stanford JA (1995) Ecological connectivity in alluvial river ecosystems and its disruption by flow regulation. Reg River 11:105–119. https://doi.org/10.1002/rrr.3450110109
Acknowledgements
The authors thank Agence de l'Eau Rhône-Méditerrannée & Corse and Compagnie Nationale du Rhône (CNR) for their financial support and collaboration. We also thank Groupe de Recherche Rhône Alpes sur les Infrastructures et l'Eau (GRAIE) and Zone Atelier Bassin du Rhône (ZABR), and in particular, Anne Clemens. Thanks to Antonin Vienney, Lucille Priour, Patrick Modrak, Oriane Villet and Cécile Claret for their support on field work and sample analysis.
Funding
This work was funded by the Labex DRIIHM, French programme "Investissements d'Avenir" (ANR-11-LABX-0010) which is managed by the ANR, within the Observatoire Hommes-Milieux Vallée du Rhône (OHM VR).
About this article
Cite this article
Thorel, M., Piégay, H., Barthelemy, C. et al. Socio-environmental implications of process-based restoration strategies in large rivers: should we remove novel ecosystems along the Rhône (France)?. Reg Environ Change 18, 2019–2031 (2018). https://doi.org/10.1007/s10113-018-1325-7
Received:

Accepted:

Published:

Issue Date:
Keywords
River restoration

Risk analysis

Infrastructure removal

Interdisciplinary assessment