Abstract
Spain is a highly decentralized country where water governance is a multi-level institutional endeavor requiring effective intergovernmental coordination—in terms of objectives and actions. The paper revisits the evolution of vertical and horizontal intergovernmental interactions in Spain, with a special focus on four interregional river basins. We build on a historical analysis of the evolution of water governance institutions, a mapping of existing interactions over water, careful document analysis, and interviews with selected public officials that are at the interface between the political and the technical spheres. Intergovernmental interaction occurs through different mechanisms that are slowly evolving to adapt to new challenges posed by changing power dynamics and water policy goals. Since the start of political decentralization in 1978, key institutional reforms within and outside of the water sector have opened windows of opportunity for regions to seek new spheres of influence and power. Disputes over water allocation, environmental flows, inter-basin transfers, and even basin boundaries delineation emerge as an expression of a struggle over power distribution between the regions and the central government. The physical and institutional geography of water and diverging visions and priorities (over water and beyond) are among the factors that contribute to shape conflict and cooperation in intergovernmental relations over water.
This is a preview of subscription content, log in to check access.
Access options
Buy single article
Instant access to the full article PDF.
US$ 39.95
Price includes VAT for USA
Subscribe to journal
Immediate online access to all issues from 2019. Subscription will auto renew annually.
US$ 99
This is the net price. Taxes to be calculated in checkout.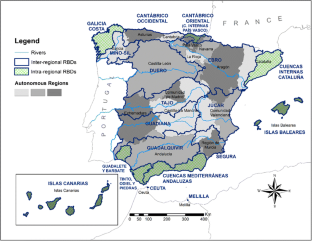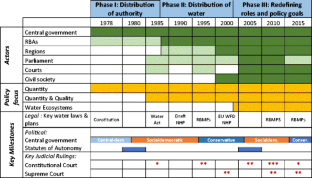 Notes
1.

As noted by Sala (2013:109) "Scholars find it difficult to characterize the type of decentralization adopted since Franco's death". It is outside the scope of this paper to discuss the federal (or not) nature of Spain, whose federalism has been qualified as "imperfect", "non-institutional", "incomplete", "unfulfilled" or "quasi-federation" (see Sala 2013), due to the lack of some elements (e.g. a Senate with territorial representation) that are considered by some scholars to be key in a federation.

2.

"River basin district" means the area of land and sea, made up of one or more neighboring river basins together with their associated groundwater and coastal waters, which is identified under Article 3(1) as the main unit for management of river basins" (Article 2, Water Framework Directive).
References
Bernauer T, Böhmelt T, Buhaug H, Gleditsch NP, Tribaldos T, Weibust EB, Wischnath G (2012) Water-related intrastate conflict and cooperation (WARICC): a new event dataset. Int Interact 38(4):529–545. https://doi.org/10.1080/03050629.2012.697428

Brochmann M (2012) Signing river treaties: does it improve river cooperation? Int Interact 38:141–163. https://doi.org/10.1080/03050629.2012.657575

Brochmann M, Hensel PR (2009) Peaceful management of international river claims. Int Negot 14(2):393–418. https://doi.org/10.1163/157180609X432879

Brochmann M, Gleditsch NP (2012) Shared rivers and conflict: a reconsideration. Polit Geogr 31:519–527. https://doi.org/10.1016/j.polgeo.2012.11.001

del Moral, Hernández-Mora N (2016) Nuevos debates sobre escalas en política de aguas. Estado, cuencas hidrográficas y comunidades autónomas en España. Ciudad y Territorio: Estudios Territoriales 190(XLVIII):563–583

De Stefano L, Jacob D, Petersen-Perlman E, Sproles A, Eynard J, Wolf AT (2017) Assessment of transboundary river basins for potential hydro-political tensions. Global Environmental Change 45:35–46. https://doi.org/10.1016/j.gloenvcha.2017.04.008

De Stefano L, Edwards P, de Silva L, Wolf AT (2010) Tracking cooperation and conflict in international river basins. Historic and recent trends. Water Policy 12:871–884. https://doi.org/10.2166/wp.2010.137

Dinar S, Katz D, De Stefano L, Blankespoor B (2015) Climate change, conflict, and cooperation: global analysis of the effectiveness of international river treaties in addressing water variability. Polit Geogr 45:55–66. https://doi.org/10.1016/j.polgeo.2014.08.003

Eidem N, Fesler KJ, Wolf AT (2012) Intranational Cooperation and Conflict Over Freshwater: Examples from the Western United States. Univ Council on Water Resour 147:63–71

Espey M, Towfique B (2004) International bilateral water treaty formation. Water Resour Res 40:1–8. https://doi.org/10.1029/2003WR002534

Font N, Subirats J (2010) Water management in Spain: the role of policy entrepreneurs in shaping change. Ecol Soc 15(2):25. https://doi.org/10.5751/ES-03344-150225

Furlong K, Gleditsch NP, Hegre H (2006) Geographic opportunity and Neomalthusian willingness: boundaries, shared rivers, and conflict. Int Interact 32:79–108. https://doi.org/10.1080/03050620600596421

Garrick D, De Stefano L, Fung F, Pittock J, Schlager E, New M, Connell D (2013) Managing hydroclimatic risks in federal rivers: a diagnostic assessment. Phil Trans R Soc A 371:20120415. https://doi.org/10.1098/rsta.2012.0415

Garrick DE, De Stefano L (2016) Adaptive capacity in federal rivers: coordination challenges and institutional responses. Curr Opin Environ Sustain 21:78–85. https://doi.org/10.1016/j.cosust.2016.11.003

Gleditsch NP, Furlong K, Hegre H, Lacina B, Owen T (2006) Conflict over shared rivers: resource scarcity or fuzzy boundaries. Polit Geogr 25(4):361–382. https://doi.org/10.1016/j.polgeo.2006.02.004

Gleditsch NP (2012) Whither the weather? Climate change and conflict. J Peace Res 49:3–9. https://doi.org/10.1177/0022343311431288

Hensel PR, Mitchell SM, Sowers TE, Thyne CL (2008) Bones of contention comparing territorial, maritime, and river issues. J Confl Resolut 52:117–143. https://doi.org/10.1177/0022002707310425

Hernández-Mora N, del Moral L, La Roca F, La Calle A, Schmidt G (2014) Interbasin water transfers in Spain. Interregional conflicts and governance responses. En: Globalized water: A question of governance, G. Schneider-Madanes (ed). Dordrecht, Springer. Pp: 175–194

Hernández-Mora N, Cabello V, De Stefano L, del Moral L (2015) Networked water citizen organizations in Spain: potential for transformation of existing power structures for water management. Water Alternatives 8(2):99–124

López-Gunn E, De Stefano L (2014) Between a rock and a hard place: redefining water security under decentralization in Spain. In: Garrick D et al (eds) Federal Rivers: managing water in multi-layered political systems. Edward Elgar, Cheltenham, UK, pp 158–176

López-Gunn E, Dumont A, Villarroya F (2013) Tablas de Daimiel National Park and groundwater conflicts. In: De Stefano L, Llamas MR (eds) Water, Agriculture and the environment in Spain: can we square the circle? Taylor and Francis Group, London, pp 259–267

March H, Saurí D, Rico-Amorós AM (2014) The end of scarcity? Water desalination as the new cornucopia for Mediterranean Spain. J Hydrol 519:2642–2651. https://doi.org/10.1016/j.jhydrol.2014.04.023

Martínez-Santos P, De Stefano L, Llamas MR, Martínez-Alfaro E (2008) Wetland Restoration in the Mancha Occidental Aquifer, Spain: A Critical Perspective on Water, Agricultural, and Environmental Policies. Restor Ecol 16(3):511–521. https://doi.org/10.1111/j.1526-100X.2008.00410.x

Moore SM (2017) The dilemma of autonomy: decentralization and water politics at the subnational level. Water Int 42:222–239. https://doi.org/10.1080/02508060.2017.1276038

Munia H, Guillaume JHA, Mirumachi N, Porkka M, Wada Y, Kummu M (2016) Water stress in global transboundary river basins: significance of upstream water use on downstream stress. Environ Res Lett 11:014002. https://doi.org/10.1088/1748-9326/11/1/014002

Nordås R, Gleditsch NP (2007) Climate change and conflict. Polit Geogr 26:627–638. https://doi.org/10.1177/0022343311431288

Pedregal B, Brugué Q, Del Moraa L, Ballester A, Espluga J, Ferrer G, Hernández-Mora N, La Calle A, La Roca F, Parés M (2011) Deliberative Democracy and Water Policy: Public Participation in Water Resources Planning in Spain, proceeding of: XIV European seminar on geography of water - "environmental conflicts and sustainable water policies in the Mediterranean region", At Cagliari, Italy, Volume: http://www.cuec.eu/index.php/download/

Saurí D, del Moral L (2001) Recent developments in Spanish water policy: alternatives and conflicts at the end of the hydraulic age. Geoforum 32:351–362. https://doi.org/10.1016/S0016-7185(00)00048-8

Sala G (2013) Federalism without adjectives in Spain. Publius-J Fed 44(1):109–134. https://doi.org/10.1093/publius/pjt010

Subirat J (2006) Multi-level governance and multi-level discontent: the triumph and tensions of the Spanish model. In: Greer SL (ed) Territory, Democracy and justice. Regionalism and federalism in western democracies. Palgrave MacMillan, Houndmills, Basingstoke, Hampshire, pp 175–200

Tir J, Ackerman J (2009) Politics of Formalized River cooperation. J Peace Res 46:623–640. https://doi.org/10.1177/0022343309336800

Toset HPW, Gleditsch NP, Hegre H (2000) Shared rivers and interstate conflict. Polit Geogr 19:971–996. https://doi.org/10.1016/S0962-6298(00)00038-X

Trench A (2006) Origins of cooperative and competitive federalism. In: Greer SL (ed.) territory, democracy and justice. Regionalism and federalism in western democracies. Palgrave MacMillan, Houndmills, Basingstoke, Hampshire, pp 201–223

Varela C, Hernández-Mora N (2010) Institutions and institutional reform in the Spanish water sector: A historical perspective. In: Garrido A, Llamas MR (eds) Water Policy in Spain. CRC Press/Balkema, Leiden

Watts RL (2006) Intergovernmental relations: in search of a theory. In: Greer SL (ed) Territory, Democracy and justice. Regionalism and federalism in western democracies. Palgrave MacMillan, Houndmills, Basingstoke, Hampshire, pp 224–256

Wolf AT, Yoffe SB, Giordano M (2003) International waters: identifying basins at risk. Water Policy 5:29–60

Yoffe SB, Wolf AT, Giordano M (2003) Conflict and cooperation over International freshwater resources: indicators of basins at risk. J Am Water Resour Assoc 39:1109–1126. https://doi.org/10.1111/j.n2003.tb03696.x

Young O (1999). Institutional dimensions of global environmental change. Science plan. IHDP Report No. 9, IHDP, Bonn
Acknowledgements
The authors thank the interviewees for sharing their insights and experiences; two anonymous reviewers for their constructive comments; Mario Ballesteros for his help with Fig. 1; and Professor Dustin Garrick and Leandro del Moral for their valuable feedback on a first draft of this paper.
Additional information
Nuria Hernández-Mora is an Independent researcher, Madrid, Spain.
Electronic supplementary material
About this article
Cite this article
De Stefano, L., Hernandez-Mora, N. Multi-level interactions in a context of political decentralization and evolving water-policy goals: the case of Spain. Reg Environ Change 18, 1579–1591 (2018). https://doi.org/10.1007/s10113-018-1318-6
Received:

Accepted:

Published:

Issue Date:
Keywords
Subnational

Multilevel

Cooperation

Dispute

Spain

WFD