Abstract
A network of winter roads that consists of snow-ice roads over land, muskeg, and frozen lakes and rivers has been and continues to be a critical seasonal lifeline in remote-northern First Nation (FN) communities in Ontario's Far North. This study examines current vulnerability of the Fort Albany community to physical, social, and economic impacts associated with the changing of the viability and longevity of winter roads and its seasons, as well as the river ice regimes. Semi-directive interviews with key informants (n = 8) and structured surveys with winter road users (n = 54) were conducted to gather local knowledge about the evolution of winter roads and climatic and environmental changes in winter road conditions and seasons. Trends in the river ice breakup and flood events for the Moose River, Albany River, and Attawapiskat River were also examined. The results of this study indicate that climatic factors, particularly air temperature and snowfall, have directly affected the construction and maintenance of the James Bay Winter Road. Trend analyses of spring flooding for the three rivers exhibit statistically significant increases (p ≤ 0.01) over the past few decades; thus, flooding in nearby communities has become a more significant threat in recent years. A few short- and medium-term adaptation strategies have been initiated in response to the impacts of climate change on winter roads; however, developing long-term planning and feasible adaptation for remote-northern communities in Ontario's Far North is necessary.
This is a preview of subscription content, log in to check access.
Access options
Buy single article
Instant access to the full article PDF.
US$ 39.95
Price includes VAT for USA
Subscribe to journal
Immediate online access to all issues from 2019. Subscription will auto renew annually.
US$ 99
This is the net price. Taxes to be calculated in checkout.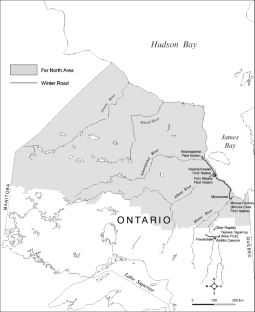 References
ACIA (2005) Arctic climate impact assessment. Cambridge University Press, Cambridge

Adam KM (1978) Building and operating winter roads in Canada and Alaska. Minister of Indian and Northern Affairs, Ottawa

Beltaos S, Prowse T (2009) River-ice hydrology in a shrinking cryosphere. Hydrol Process 23:122–144. https://doi.org/10.1002/hyp.7165

Campbell D, Bergeron J (2012) Natural revegetation of winter roads on peatlands in the Hudson Bay Lowland, Canada. Arct Antarct Alp Res 44:155–163. https://doi.org/10.1657/1938-4246-44.2.155

Chiotti Q, Lavender B (2008) Ontario. In: Lemmen DS, Warren FJ, Lacroix J, Bush E (eds) From impacts to adaptation: Canada in a changing climate 2007. Government of Canada, Ottawa, pp 227–274

CIER (2006) Climate change impacts on ice, winter roads, access trails, and Manitoba First Nations. http://www.yourcier.org/climate-change-impacts-on-ice-winter-roads-access-trails-and-manitoba-firstnations-2006.html. Accessed 16 April 2014

Dore MHI, Burton I (2001) The costs of adaptation to climate change in Canada: a stratified estimate by sectors and regions–social infrastructure. Natural Resources Canada, Ottawa

Ford JD, Smit B (2004) A framework for assessing the vulnerability of communities in the Canadian Arctic to risks associated with climate change. Arctic 57:389–400

Ford JD, Smit B, Wandel J (2006) Vulnerability to climate change in the Arctic: a case study from Arctic Bay, Canada. Glob Environ Chang 16:145–160. https://doi.org/10.1016/j.gloenvcha.2005.11.007

Ford JD, Smit B, Wandel J, Allurut M, Shappa K, Ittusarjuat H, Qrunnut K (2008) Climate change in the Arctic: Current and future vulnerability in two Inuit communities in Canada. Geogr. J 174:45–62. https://doi.org/10.1111/j.1475-4959.2007.00249.x

Ford JD, Keskitalo ECH, Smith T, Pearce T, Berrang-Ford L, Duerden F, Smit B (2010) Case study and analogue methodologies in climate change vulnerability research. WIREs Clim Change 1:374–392. https://doi.org/10.1002/wcc.48

Ford JD, McDowell G, Pearce T (2015) The adaptation challenge in the Arctic. Nat Clim Chang 5:1046–1053. https://doi.org/10.1038/nclimate2723

Furgal C, Prowse T (2008) Northern Canada. In: Lemmen DS, Warren FJ, Lacroix J, Bush E (eds) From impacts to adaptation: Canada in a changing climate. Government of Canada, Ottawa, pp 57–118

Furgal C, Seguin J (2006) Climate change, health, and vulnerability in Canadian northern Aboriginal communities. Environ Health Persp 114:1964–1970

Gagnon AS, Gough WA (2005) Trends in the dates of ice freeze-up and breakup over Hudson Bay, Canada. Arctic 58:370–382

Gagnon AS, Gough WA (2006) East-west asymmetry in long-term trends of land-fast ice thickness in the Hudson Bay region, Canada. Clim Res 32:177–186

Government of Ontario (2015) Far North Act, 2010, S.O. 2010, c. 18. http://www.ontario.ca/laws/statute/10f18. Accessed 1 December 2015

Government of Ontario (2016) Northern Ontario winter roads. http://www.mndm.gov.on.ca/en/northern-development/transportation-support/northern-ontario-winter-roads. Accessed 1 December 2016

Helsel DR, Hirsch RM (2002) Statistical methods in water resources. Elsevier, Amsterdam

Ho E, Tsuji LJS, Gough WA (2005) Trends in river-ice break-up data for the western James Bay region of Canada. Polar Geogr 29:291–299. https://doi.org/10.1080/789610144

Hori Y, Tam B, Gough WA, Ho-Foong E, Karagatzides JD, Tsuji LJS (2012) Use of traditional environmental knowledge to assess the impact of climate change on subsistence fishing in the James Bay region, Ontario, Canada. Rural Remote Health 12:1878 (Online)

Hori Y, Gough WA, Butler K, Tsuji LJS (2015) Trends in the seasonal length and opening dates of a winter road in the western James Bay region of Ontario's Far North, Canada. Theor Appl Climatol 129:1309–1320. https://doi.org/10.1007/s00704-016-1855-1

INAC (2010) Northern land use guidelines. Volume 05: Access - roads and trails. http://publications.gc.ca/pub?id=9.693034&sl=0. Accessed 14 December 2014

IPCC (2007) Climate change 2007: summary for policymakers. In: Parry ML, Canziani OF, Palutikof JP, van der Linden PJ, Hanson CE (eds) Climate Change 2007: impacts, adaptation and vulnerability. Contribution of Working Group II to the Fourth Assessment Report of the Intergovernmental Panel on Climate Change. Cambridge University Press, Cambridge, pp 7–22

Kataquapit X (2012 December 13) First Nations will rise to the challenges. Wawatay News. http://www.wawataynews.ca/. Accessed 29 April 2015

Kimesskanemenow Corporation (2015) The winter road company. http://www.winterroadcompany.ca/. Accessed 1 December 2015

Knowland KE, Gyakum JR, Lin CA (2010) A study of the meteorological conditions associated with anomalously early and late openings of a Northwest Territories winter road. Arctic 63:227–239

Leguerrie J (1994) Ecole residentielle d'Albany: Reflexions historiques (1944–1994). (n.p.).

Laidler GJ, Ford JD, Gough WA, Ikummaq T, Gagnon AS, Kowal S, Qrunnut K, Irngaut C (2009) Travelling and hunting in a changing Arctic: assessing Inuit vulnerability to sea ice change in Igloolik, Nunavut. Clim Chang 94:363–397. https://doi.org/10.1007/s10584-008-9512-z

Lemelin H, Matthews D, Mattina C, McIntyre N, Johnston M, Koster R (2010) Climate change, wellbeing and resilience in the Weenusk First Nation at Peawanuck: the Moccasin Telegraph goes global. Rural Remote Health 10:1333 (Online)

McCarthy DD, Whitelaw GS, Tsuji L (2010) The Victor Diamond Mine environmental assessment and the Mushkegwuk Territory First Nations: critical systems thinking and social justice. Can J Native Stud 30:83–116

McCarthy D, Crandall D, Whitelaw G, General Z, Tsuji LJS (2011) A critical systems approach to social learning: building adaptive capacity in social, ecological, epistemological (SEE) systems. Ecol Soc 16:18. https://doi.org/10.5751/ES-04255-160318

McDonald MA, Arragutainaq L, Novalinga Z (1997) Voices from the Bay: traditional ecological knowledge of Inuit and Cree in the Hudson Bay bioregion. Canadian Arctic Resources Committee, Ottawa

Mushkegowuk Council (2015) Community news. http://www.mushkegowuk.com. Accessed 5 December 2015

Ontario Ministry of Natural Resources (1990) Environmental guidelines for access roads and water crossings. Ontario Ministry of Natural Resources, Toronto

Pearce T, Ford J, Willox AC, Smit B (2015) Inuit traditional ecological knowledge (TEK), subsistence hunting and adaptation to climate change in the Canadian Arctic. Arctic 68:233–245. https://doi.org/10.14430/arctic4475

Prentice BE, Turriff S (eds) (2002) Applications for northern transportation, airships to the Arctic Symposium, proceedings. Winnipeg, Transport Institute, University of Manitoba

Prowse TD, Furgal C, Chouinard R, Melling H, Milburn D, Smith SL (2009) Implications of climate change for economic development in northern Canada: energy, resource, and transportation sectors. Ambio 38:272–281. https://doi.org/10.1579/0044-7447-38.5.272

Royer TC (1993) High-latitude oceanic variability associated with the 18.6-year nodal tide. J Geophys Res 98:4639–4644. https://doi.org/10.1029/92JC02750

Sen PK (1968) Estimates of the regression coefficient based on Kendall's tau. J Amer Statist Assoc 63:1379–1389

Statham S, Ford J, Berrang-Ford L, Lardeau M-P, Gough W, Siewierski R (2014) Anomalous climatic conditions during winter 2010–2011 and vulnerability of the traditional Inuit food system in Iqaluit, Nunavut. Polar Rec 51:301–317. https://doi.org/10.1017/S0032247414000151

Tam BY, Gough WA, Edwards V, Tsuji LJS (2013) The impact of climate change on the lifestyle and well-being of a First Nation community in the western James Bay region. Can Geogr 57:441–456. https://doi.org/10.1111/j.1541-0064.2013.12033.x

Williams SG, Stefan HG (2006) Modeling of lake ice characteristics in North America using climate, geography, and lake bathymetry. J Cold Reg Eng 20:140–167. https://doi.org/10.1061/(ASCE)0887-381X(2006)20:4(140)
Acknowledgements
We would like to thank Mr. Roger Davey, the Fort Albany FN community, and the K-Corp.
Funding
Financial support for this study was provided by the Ministry of the Environment and Climate Change.
Electronic supplementary material
About this article
Cite this article
Hori, Y., Gough, W.A., Tam, B. et al. Community vulnerability to changes in the winter road viability and longevity in the western James Bay region of Ontario's Far North. Reg Environ Change 18, 1753–1763 (2018). https://doi.org/10.1007/s10113-018-1310-1
Received:

Accepted:

Published:

Issue Date:
Keywords
Climate change

First Nations

James Bay

River ice

Vulnerability

Winter roads