Abstract
Forests and grasslands have changed during the past 200 years in the eastern USA, and it is now possible to quantify loss and conversion of vegetation cover at regional scales. We quantified historical (ca. 1786–1908) and current land cover and determined long-term ecosystem change to either land use or closed forests in eight states of the Great Lakes and Midwest. Historically, the region was 35% grasslands (31 million hectares), 38% open forests of savannas and woodlands (33 million hectares), and 25% closed forests (22 million hectares). Currently, the region is about 85% land use (76 million hectares), primarily agriculture, and 15% closed forests (12 million hectares). Land use intensification removed 75% of open forests, while 25% of open forests have densified to closed forests without low severity disturbance to remove understory trees. Historical forest ecosystems included a gradient of oak savannas and woodlands with open midstories (50 to 250 trees/ha), along with closed old growth forests. Open forests have become dense (200 to 375 trees/ha) and are cut frequently, resulting in the extremes of closed canopy forests and clearcut openings across forested landscapes. We demonstrated that forests have transitioned from a historically wide gradient in canopy closure to either dense young closed forests with clearcut openings or to various land uses (agriculture, grazing, residential and commercial land development). The historical abundance of open forest ecosystems, composed of both forest and grassland layers, often is not recognized, and thus, these forests are undervalued for conservation and management.
This is a preview of subscription content, log in to check access.
Access options
Buy single article
Instant access to the full article PDF.
US$ 39.95
Price includes VAT for USA
Subscribe to journal
Immediate online access to all issues from 2019. Subscription will auto renew annually.
US$ 99
This is the net price. Taxes to be calculated in checkout.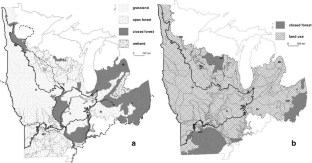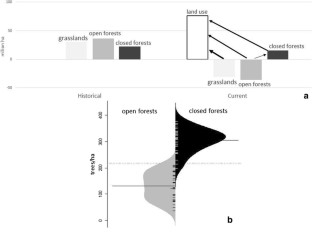 References
Abrams MD (1992) Fire and the development of oak forests. Bioscience 42:346–353

Abrams MD, Nowacki GJ (2008) Native Americans as active and passive promoters of mast and fruit trees in the eastern USA. Holocene 18:1123–1137. https://doi.org/10.1177/0959683608095581

Abrams MD, Nowacki GJ (2015) Large-scale catastrophic disturbance regimes can mask climate change impacts on vegetation—a reply to Pederson et al. (2014). Glob Chang Biol 24:1–2. https://doi.org/10.1111/gcb.12828

Archer SR, Boutton TW, Hibbard KA (2001) Trees in grasslands: biogeochemical consequences of woody plant expansion. In: Schulze E-D, Harrison SP, Heimann M, Holland EA, Lloyd J, Prentice IC, Schimel D (eds) Global biogeochemical cycles in the climate system. Academic Press, San Diego, pp 115–1337

Arthur MA, Alexander HD, Dey DC, Schweitzer CJ, Loftis DL (2012) Refining the oak–fire hypothesis for management of oak-dominated forests of the eastern United States. J For 110(5):257–266. https://doi.org/10.5849/jof.11-080

Beschta RL, Ripple WJ (2016) Riparian vegetation recovery in Yellowstone: the first two decades after wolf reintroduction. Biol Conserv 198:93–103. https://doi.org/10.1016/j.biocon.2016.03.031

Bobiec A, Jaszcz E, Wojtunik K (2011) Oak (Quercus robur L.) regeneration as a response to natural dynamics of stands in European hemiboreal zone. Eur J For Res 130:785–797. https://doi.org/10.1007/s10342-010-0471-3

Briggs JM, Hoch GA, Johnson LC (2002) Assessing the rate, mechanisms, and consequences of the conversion of tallgrass prairie to Juniperus virginiana forest. Ecosystems 5:578–586. https://doi.org/10.1007/s10021-002-0187-4

Buse J (2012) 'Ghosts of the past': flightless saproxylic weevils (Coleoptera: Curculionidae) are relict species in ancient woodlands. J Insect Conserv 16:93–102. https://doi.org/10.1007/s10841-011-9396-5

Campbell J, Hanula J, Waldrop T (2007) Effects of prescribed fire and fire surrogates on floral visiting insects of the Blue Ridge province in North Carolina. Biol Conserv 134:393–404. https://doi.org/10.1016/j.biocon.2006.08.029

Côté SD, Rooney TP, Tremblay J, Dussault C, Waller DM (2004) Ecological impacts of deer overabundance. Annu Rev Ecol Evol Syst 35:113–147. https://doi.org/10.1146/annurev.ecolsys.35.021103.105725

Cottam G (1949) The phytosociology of an oak woods in southwestern Wisconsin. Ecology 30:271–287

Decocq G, Aubert M, Dupont F, Alard D, Saguez R, Wattez-Franger A, De Foucault B, Delelis-Dusollier A, Bardat J (2004) Plant diversity in a managed temperate deciduous forest: understorey response to two silvicultural systems. J Appl Ecol 41:1065–1079. https://doi.org/10.1111/j.0021-8901.2004.00960.x

Ecomap (2007) National hierarchical framework of ecological units. USDA Forest Service, Washington

Ehrlén J, Lehtilä K (2002) How perennial are perennial plants? Oikos 98:308–322. https://doi.org/10.1034/j.1600-0706.2002.980212.x

Foltz MJ, Perez KE, Volk TJ (2013) Molecular phylogeny and morphology reveal three new species of Cantharellus within 20 m of one another in western Wisconsin, USA. Mycologia 105:447–461. https://doi.org/10.3852/12-181

Fralish JS, Mcardle TG (2009) Forest dynamics across three century-length disturbance regimes in the Illinois Ozark Hills. Am Midl Nat 162:418–449. https://doi.org/10.1674/0003-0031-162.2.418

Fuhlendorf SD, Engle DM (2001) Restoring heterogeneity on rangelands: ecosystem management based on evolutionary grazing patterns. BioScience 51:625–632. https://doi.org/10.1641/0006-3568(2001)051[0625:RHOREM]2.0.CO;2

Gilliam FS (2007) The ecological significance of the herbaceous layer in temperate forest ecosystems. BioScience 57:845–858. https://doi.org/10.1641/B571007

Hanberry BB, Nowacki GJ (2016) Oaks were the historical foundation genus of the east-central United States. Quat Sci Rev 145:94–103. https://doi.org/10.1016/j.quascirev.2016.05

Hanberry BB, Yang J, Kabrick JM, He HS (2012) Adjusting forest density estimates for surveyor bias in historical tree surveys. Am Midl Nat 167:285–306. https://doi.org/10.1674/0003-0031-167.2.285

Hanberry BB, Hanberry P, Demarais S (2013) Birds and land classes in young forested landscapes. Open Ornithol J 6:1–8. https://doi.org/10.2174/1874453201306010001

Hanberry BB, Jones-Farrand DT, Kabrick JM (2014a) Historical open forest ecosystems in the Missouri Ozarks: reconstruction and restoration targets. Ecol Restor 32:407–416. https://doi.org/10.3368/er.32.4.407

Hanberry BB, Kabrick JM, He HS (2014b) Densification and state transition across the Missouri Ozarks landscape. Ecosystems 17:66–81. https://doi.org/10.1007/s10021-013-9707-7

Hanberry BB, Kabrick JM, Dunwiddie PW, Hartel T, Jain TB, Knapp BO (2017) Restoration of temperate savannas and woodlands. In: Murphy S, Allison S (eds) Routledge handbook of ecological and environmental restoration. Routledge, New York, pp 142–157

Hédl R, Kopecký M, Komárek J (2010) Half a century of succession in a temperate oakwood: from species-rich community to mesic forest. Divers Distrib 16:267–276. https://doi.org/10.1111/j.1472-4642.2010.00637.x

Homer C, Dewitz J, Yang L, Jin S, Danielson P, Xian G, Coulston J, Herold N, Wickham J, Megown K (2015) Completion of the 2011 National Land Cover Database for the conterminous United States—representing a decade of land cover change information. Photogramm Eng Remote Sens 81:345–354. https://doi.org/10.14358/PERS.81.5.345

Horak J, Vodka S, Kout J, Halda JP, Bogusch P, Pech P (2014) Biodiversity of most dead wood-dependent organisms in thermophilic temperate oak woodlands thrives on diversity of open landscape structures. For Ecol Manag 315:80–85. https://doi.org/10.1016/j.foreco.2013.12.018

Hunter WC, Buehler DA, Canterbury RA, Confer JL, Hamel PB (2001) Conservation of disturbance-dependent birds in eastern North America. Wildl Soc Bull 29:440–455

Kaminski DA, Jackson MT (1978) A light and moisture continuum analysis of the pre- settlement prairie-forest border region of eastern Illinois. Am Midl Nat 99:280–289

Kampstra P (2008) Beanplot: a boxplot alternative for visual comparison of distributions. J Stat Softw 28:1. https://doi.org/10.18637/jss.v028.c01

King FB, Johnson JB (1977) Presettlement forest composition of the central Sangamon River basin, Illinois. Trans Illinois State Acad Sci 70:153–163

Leach MK, Givnish TJ (1999) Gradients in the composition, structure, and diversity of remnant oak savannas in southern Wisconsin. Ecol Monogr 69:353–374

Leitner LA, Jackson MT (1981) Presettlement forests of the unglaciated portion of Southern Illinois. Am Midl Nat 105:290–304

Lindbladh M, Niklasson M, Nilsson SG (2003) Long-time record of fire and open canopy in a high biodiversity forest in southeast Sweden. Biol Conserv 114:231–243. https://doi.org/10.1016/S0006-3207(03)00043-0

Lindsey AA (1961) Vegetation of the drainage-aeration classes of northern Indiana soils in 1830. Ecology 42:432–436

Liu F, Mladenoff DJ, Keuler NS, Moore LS (2011) Broadscale variability in tree data of the historical Public Land Survey and its consequences for ecological studies. Ecol Monogr 81:259–275. https://doi.org/10.1890/10-0232.1

Lorimer CG (2001) Historical and ecological roles of disturbance in eastern North American Forests: 9,000 years of change. Wildl Soc Bull 29:425–439

Manning AD, Gibbons P, Lindenmayer DB (2009) Scattered trees: a complementary strategy for facilitating adaptive responses to climate change in modified landscapes? J Appl Ecol 46:915–919. https://doi.org/10.1111/j.1365-2664.2009.01657.x

McEwan RW, Hutchinson TF, Long RP, Ford DR, McCarthy BC (2007) Temporal and spatial patterns in fire occurrence during the establishment of mixed-oak forests in eastern North America. J Veg Sci 18:655–664. https://doi.org/10.1111/j.1654-1103.2007.tb02579

McEwan RW, Dyer JM, Pederson N (2011) Multiple interacting ecosystem drivers: toward an encompassing hypothesis of oak forest dynamics across eastern North America. Ecography 34:244–256. https://doi.org/10.1111/j.1600-0587.2010.06390.x

McGranahan DA, Engle DM, Fuhlendorf SD, Miller JR, Debinski DM (2013) Multivariate analysis of rangeland vegetation and soil organic carbon describes degradation, informs restoration and conservation. Land 2:328–350. https://doi.org/10.3390/land2030328

McShea WJ, Healy WM, Devers P, Fearer T, Koch FH, Stauffer D, Waldon J (2007) Forestry matters: decline of oaks will impact wildlife in hardwood forests. J Wildl Manag 71:1717–1728. https://doi.org/10.2193/2006-169

Miklín J, Čížek L (2014) Erasing a European biodiversity hot-spot: open woodlands, veteran trees and mature forests succumb to forestry intensification, succession, and logging in a UNESCO Biosphere Reserve. J Nat Conserv 22:35–41. https://doi.org/10.1016/j.jnc.2013.08.002

Mölder A, Streit M, Schmidt W (2014) When beech strikes back: how strict nature conservation reduces herb-layer diversity and productivity in Central European deciduous forests. For Ecol Manag 319:51–61. https://doi.org/10.1016/j.foreco.2014.01.049

Niklasson M, Drakenberg B (2001) A 600-year tree-ring fire history from Norra Kvills National Park, southern Sweden: implications for conservation strategies in the hemiboreal zone. Biol Conserv 101:63–71. https://doi.org/10.1016/S0006-3207(01)00050-7

Noss RF, LaRoe ET III, Scott JM (1995) Endangered ecosystems of the United States: a preliminary assessment of loss and degradation. US Department of the Interior. National Biological Service, Washington, DC

Nowacki GJ, Abrams MD (2008) The demise of fire and 'mesophication' of forests in the eastern United States. BioScience 58:123–138. https://doi.org/10.1641/B580207

Nuzzo VA (1986) Extent and status of mid-west oak savanna: presettlement and 1985. Nat Areas J 6:6–36

Pausas JG, Keeley JE (2009) A burning story: the role of fire in the history of life. BioScience 59:593–601. https://doi.org/10.1525/bio.2009.59.7.10

Pederson N, D'Amato AW, Dyer JM, Foster DR, Goldblum D, Hart JL, Hessl AE, Iverson LR, Jackson ST, Martin-Benito D, Mccarthy BC, Mcewan RW, Mladenoff DJ, Parker AJ, Shuman B, Williams JW (2015) Climate remains an important driver of post-European vegetation change in the eastern United States. Glob Chang Biol 21:2105–2211. https://doi.org/10.1111/gcb.12779

Plue J, Van Gils B, De Schrijver A, Peppler-Lisbach C, Verheyen K, Hermy M (2013) Forest herb layer response to long-term light deficit along a forest developmental series. Acta Oecol 53:63–72 https://doi.org/10.1016/j.actao.2013.09.005

R Core Team (2017) R: A language and environment for statistical computing. R Foundation for Statistical Computing, Vienna

Reidy JL, Thompson FR, Kendrick SW (2014) Breeding bird response to habitat and landscape factors across a gradient of savanna, woodland, and forest in the Missouri Ozarks. For Ecol Manag 313:34–46. https://doi.org/10.1016/j.foreco.2013.10.042

Rogers DA, Rooney TP, Hawbaker TJ, Radeloff VC, Waller DM (2009) Paying the extinction debt in southern Wisconsin forest understories. Conserv Biol 23:1497–1506. https://doi.org/10.1111/j.1523-1739.2009.01256.x

Rooney TP, Wiegmann SM, Rogers DA, Waller DM (2004) Biotic impoverishment and homogenization in unfragmented forest understory communities. Conserv Biol 18:787–798. https://doi.org/10.1111/j.1523-1739.2004.00515.x

Royo AA, Carson WP (2006) On the formation of dense understory layers in forests worldwide: consequences and implications for forest dynamics, biodiversity, and succession. Can J For Res 36:1345–1362. https://doi.org/10.1139/X06-025

Russell FL, Zippin DB, Fowler NL (2001) Effects of white-tailed deer (Odocoileus virginianus) on plants, plant populations and communities: a review. Am Midl Nat 146:1–26

Thomson GW (1987) Iowa's forest area in 1832: a reevaluation. Proc Iowa Acad Sci 94:116–120

Varner JM, Arthur MA, Clark SL, Dey DC, Hart JL, Schweitzer CJ (2016) Fire in eastern north American oak ecosystems: filling the gaps. Fire Ecol 12:1–6. https://doi.org/10.4996/fireecology.1202001

Veldman JW, Buisson E, Durigan G, Fernandes GW, Le Stradic S, Mahy G, Negreiros D, Overbeck GE, Veldman RG, Zaloumis NP, Putz FE, Bond WJ (2015) Toward an old-growth concept for grasslands, savannas, and woodlands. Front Ecol Environ 13:154–162. https://doi.org/10.1890/140270

Vera FWM (2000) Grazing ecology and forest history. CABI Publishing, New York

Wade DD, Brock BL, Brose PH, Grace JB, Hoch GA, Patterson WAIII (2000) Fire in eastern ecosystems. In: Brown JK, Smith JK (eds) Wildland fire in ecosystems: effects of fire on flora. General Technical Report RMRS-GTR-42, vol. 2. US Department of Agriculture, Forest Service, Rocky Mountain Research Station, Ogden, pp 53–96

Whitney GG (1996) From coastal wilderness to fruited plain: a history of environmental change in temperate North America from 1500 to the present. Cambridge University Press, Cambridge
Electronic supplementary materials
About this article
Cite this article
Hanberry, B.B., Abrams, M.D. Recognizing loss of open forest ecosystems by tree densification and land use intensification in the Midwestern USA. Reg Environ Change 18, 1731–1740 (2018). https://doi.org/10.1007/s10113-018-1299-5
Received:

Accepted:

Published:

Issue Date:
Keywords
Grassland

Historical data

Land cover

Land use

Transition