Abstract
Alien invasive species cause significant impacts on ecosystems and economies, but the impacts on human well-being and livelihoods are less well known. Negative impacts can be particularly severe when caused by floating aquatic plants, which can reduce access to freshwater for extraction and navigation, reduce the harvest of fish and other resources, and change water cycling and chemistry. This paper reviews and discusses some of these impacts globally and then concentrates on the case study of Wular Lake, India. Wular is the largest freshwater lake in Jammu and Kashmir state and is highly important for local livelihoods through the provision of a range of services, including fish and edible aquatic plants, and water to local communities. The supply of these services has decreased due to a long history of environmental degradation, and recent invasions by the floating plants Azolla cristata and Alternanthera philoxerodies (alligator weed) have further impacted human well-being. Here, we review the published literature about these invasions, present information from interviews with locals living near Wular Lake, and review the global literature about invasive floating plant species to assess the present and predict the future impacts of these species. We find that the implications of these invasions for livelihoods reliant on lake resources and services provide good justification for management efforts. We discuss some options and challenges to such a management program.
Access options
Buy single article
Instant access to the full article PDF.
US$ 39.95
Tax calculation will be finalised during checkout.
Subscribe to journal
Immediate online access to all issues from 2019. Subscription will auto renew annually.
US$ 79
Tax calculation will be finalised during checkout.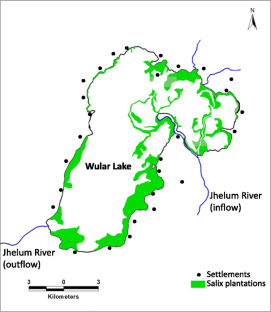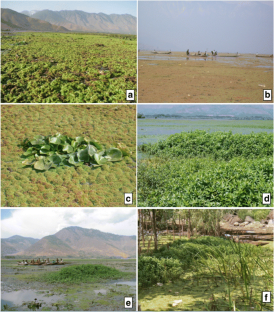 References
Aloo P, Ojwang W, Omondi R, Njiru MN, Oyugi D (2013) A review of the impacts of invasive aquatic weeds on the biodiversity of some tropical water bodies with special reference to Lake Victoria (Kenya). Biodivers J 4:471–482

AWC (Australian Weeds Committee) (2010) Alligator weed (Alternanthera philoxeroides Griseb.) strategic plan 2012–17. Weeds of National Significance, Australian Government Department of Agriculture, Fisheries, and Forestry, Canberra

Bhat AB, Pandit AK (2014) Surface water quality assessment of Wular Lake, a Ramsar site in Kashmir Himalaya, using discriminant analysis and WQI. J Ecosyst 2014:724728. https://doi.org/10.1155/2014/724728

Boyd CE (1987) Evapotranspiration/evaporation (E/Eo) ratios for aquatic plants. J Aquat Plant Manag 25:1–3

Brundu G (2015) Plant invaders in European and Mediterranean inland waters: profiles, distribution, and threats. Hydrobiologia 746:61–79. https://doi.org/10.1007/s10750-014-1910-9

Brundu G, Stinca A, Angius L, Bonanomi G, Celesti-Grapow L, D'Auria G, Griffo R, Migliozzi A, Motti R, Spingo P (2012) Pistia stratiotes L and Eichhornia crassippes (Mart.) Solms.: emerging invasive alien hydrophytes in Campania and Sardinia (Italy). Bull OEPP/EPPO Bull 42:568–579. https://doi.org/10.1111/epp.12004

Brundu GM, Azzella M, Blasi C, Camarda I, Iberite M, Celesti-Grapow L (2013) The silent invasion of Eichhornia crassipes (Mart.) Solms. in Italy. Plant Biosyst 147:1120–1127. https://doi.org/10.1080/11263504.2013.861536

Charles H, Dukes JS (2007) Impacts of invasive species on ecosystem services. In: Nentwig W (ed) Biological invasions, ecological studies, vol 193. Springer, Berlin, pp 217–237. https://doi.org/10.1007/978-3-540-36920-2_13

Coetzee JA, Jones RW, Hill MP (2014) Water hyacinth, Eichhornia crassipes (Pontederiaceae), reduces benthic macroinvertebrate diversity in a protected subtropical lake in South Africa. Biodivers Conserv 23:1319–1330. https://doi.org/10.1007/s10531-014-0667-9

DES (Directorate of Economics and Statistics) (2014) Economic Survey J&K 2013–14. Government of Jammu and Kashmir, India

Eiswerth ME, Sg D, Johnson WS (2000) Potential environmental impacts and economic damages of Eusrasian Watermilfoil (Myriophyllum spicatum) in Western Nevada and Northeastern California. Weed Technol 14:511–518

Gherardi F (2007) Biological invasions in inland waters: an overview. In: Gherardi F (ed) Biological invaders in inland waters: profiles, distribution, and threats. Springer, Netherlands, pp 3–25. https://doi.org/10.1007/978-1-4020-6029-8_1

Hill MP, McConnachie AJ, Byrne MJ (2008) Azolla filiculoides Lamarck (Pteridophyta: Azollaceae) control in South Africa: a 10-year review. In: Julien MH, Sforza R, Bon MC, Evans HC, Hatcher PE, Hinz HL, Rector BG (eds) Proceedings of the XII International Symposium on Biological Control of Weeds. CAB International, Wallingford, pp 558–560. https://doi.org/10.1079/9781845935061.0558

Holm LG, Weldon LW, Blackburn RD (1969) Aquatic weeds. Science 166:699–709. https://doi.org/10.1126/science.166.3906.699

Howard GW, Harley KLS (1998) How do floating aquatic weeds affect wetland conservation and development? How can these effects be minimised. Wetl Ecol Manag 5:215–225. https://doi.org/10.1023/A:1008209207736

ISRO (Indian Space Research Organisation) (2010) National Wetlands Atlas: Jammu and Kashmir, Ahmedabad, India. Ministry of Environment and Forests, India

Kasulo V (2000) The impact of invasive species in African lakes. In: Perrings C, Williamson M, Dalmazzone S (eds) The economics of biological invasions. Edward Elgar, Cheltenham, pp 183–207. https://doi.org/10.4337/9781781008645.00019

Kull CA, Shackleton CM, Cunningham P, Ducatillon C, Dufour-Dror J, Esler KJ, Friday JB, Gouveia AC, Griffin AR, MArchante E, Midgley SJ, Pauchard A, Rangan H, Richardson DM, Rinaudo T, Tassin J, Urgenson LS, von Maltitz GP, Zenni RD, Zylstra MJ (2011) Adoption, use and perception of Australian acacias around the world. Divers Distrib 17:822–839. https://doi.org/10.1111/j.1472-4642.2011.00783.x

Kumar R, Horwitz P, Milton GR, Sellamuttu SS, Buckton ST, Davidson NC, Pattnaik AK, Zavagli M, Baker C (2011) Assessing wetland ecosystem services and poverty interlinkages: a general framework and case study. Hydrol Sci J 56:1602–1621. https://doi.org/10.1080/02626667.2011.631496

Kundangar MRD, Sarwar SG, Shah MA (1992) Ecology and conservation of wetland of Wular Lake (Kashmir). Final report submitted to the Ministry of Environment and Forest, Government of India

Langeland KA (1996) Hydrilla verticillata (L.F.) Royle (Hydrocharitaceae), "the perfect aquatic weed". Castanea 61:293–204 http://www.jstor.org/stable/4033682

Le Maitre DC, Gaertner M, Marchante E, Ens E, Holmes PM, Pauchard A, O'Farrel PJ, Rogers AM, Blanchard R, Blignaut J, Richardson DM (2011) Impacts of invasive Australian acacias: implications for management and restoration. Divers Distrib 17:1015–1029. https://doi.org/10.1111/j.1472-4642.2011.00816.x

MacDougall AS, Turkington R (2005) Are invasive species the drivers or passengers of change in degraded ecosystems? Ecology 81:42–55. https://doi.org/10.1890/04-0669

MacIsaac HJ, Tedla RA, Ricciardi A. 2011. Patterns and rate of growth of studies in invasion ecology. Pages 51–60 in Richardson DM, ed. Fifty years of invasion biology: the legacy of Charles Elton. Wiley-Blackwell. Hoboken https://doi.org/10.1002/9781444329988.ch5

Maheshwari JK (1965) Alligator weed in Indian lakes. Nature 205:1270. https://doi.org/10.1038/2061270a0

Marais C, Wannenburgh AM (2008) Restoration of water resources (natural capital) through the clearing of invasive alien plants from riparian areas in South Africa—costs and water benefits. S Afr J Bot 74:526–537. https://doi.org/10.1016/j.sajb.2008.01.175

Masoodi A, Khan FA (2012a) A new record to the invasive alien Flora of India—Azolla cristata. Natl Acad Sci Lett 35:493–495. https://doi.org/10.1007/s40009-012-0084-0

Masoodi A, Khan FA (2012b) Invasion of alligator weed (Alternanthera philoxeroides) in Wular Lake, Kashmir, India. Aquat Invasions 7:143–146. https://doi.org/10.3391/ai.2012.7.1.016

Masoodi A, Anand S, Fareed AK, Gyan PS (2013) Predicting the spread of alligator weed (Alternanthera philoxeroides) in Wular Lake, India: a mathematical approach. Ecol Model 263:119–125. https://doi.org/10.1016/j.ecolmodel.2013.04.021

McDougall K, Khuroo AA, Loope LL, Parks CG, Pauchard A, Reshi ZA, Rushworth I, Kueffer C (2011) Plant invasions in mountains: global lessons for better management. Mt Res Dev 31:380–387. https://doi.org/10.1659/MRD-JOURNAL-D-11-00082.1

Mir SS, Pandit AK (2008) Macrophytic features of Wular Lake (Ramsar Site) in Kashmir. Journal of Research and. Development 8:1–11

Mushtaq F, Pandey AC (2014) Assessment of land use/land cover dynamics vis-à-vis hydrometeorological variability in Wular Lake environs Kashmir Valley, India using multitemporal satellite data. Arab J Geosci 7:4707–4715. https://doi.org/10.1007/s12517-013-1092-1

Nuñez MA, Pauchard A (2010) Biological invasions in developing and developed countries: does one model fit all? Biol Invasions 12:707–714. https://doi.org/10.1007/s10530-009-9517-1

van Oosterhout E (2007) Alligator weed control manual. New South Wales Department of Primary Industries, Australia

Pejchar L, Mooney HA (2009) Invasive species, ecosystem services and human well-being. Trends Ecol Evol 24:497–504. https://doi.org/10.1016/j.tree.2009.03.016

Perrings C (2007) Pests, pathogens and poverty: biological invasions and agricultural dependence. In: Kontoleon A, Pascual U, Swanson T (eds) Biodiversity economics: principles, methods and applications. Cambridge University Press, Cambridge, pp 133–165. https://doi.org/10.1017/CBO9780511551079.008

Pyšek P, Richardson DM, Pergl J, Jarošik V, Sixtová Z, Weber E (2008) Geographical and taxonomic biases in invasion ecology. Trends Ecol Evol 23:237–244. https://doi.org/10.1016/j.tree.2008.02.002

Rahmani AR (2012) Threatened birds of India—their conservation requirements. Oxford University Press, Oxford

Ramsar (2008) COP10 Resolution X.15 Describing the ecological character of wetlands, and data needs and formats for core inventory: harmonized scientific and technical guidance. The Ramsar Convention Secretariat, Gland http://ramsar.rgis.ch/pdf/res/key_res_x_15_e.pdf

Rodríguez JP, Beard Jr TD, Bennett EM, Cumming GS, Cork S, Agard J, Dobson AP, Peterson GD. 2006. Trade-offs across space, time, and ecosystem services. Ecol Soc 11: 28. https://doi.org/10.5751/ES-01667-110128

Shackleton CM, McGarry D, Fourie S, Gambiza J, Shackleton SE, Fabricius C (2007) Assessing the effects of invasive alien species on rural livelihoods: case examples and a framework from South Africa. Hum Ecol 35:113–127. https://doi.org/10.1007/s10745-006-9095-0

Shackleton RT, Le Maitre DC, Pasiecznik NM, Richardson DM (2014) Prosopis: a global assessment of the biogeography, benefits, impacts and management of one of the world's worst woody invasive plant taxa. AoB Plants 6:plu027. https://doi.org/10.1093/aobpla/plu027

Shackleton RT, Le Maitre DC, Richardson DM (2015) Stakeholder perceptions and practices regarding Prosopis (mesquite) invasion and management in South Africa. Ambio 44:569–581. https://doi.org/10.1007/s13280-014-0597-5

Shah JA, Pandit AK (2012) Physico-chemical characteristics of water in Wular Lake—a Ramsar site In Kashmir Himalaya. Int J Geol Earth Environ Sci 2:257–265

Shah KA, Sumbul S, Andrabi SA (2010) A study on nutritional potential of aquatic plants. Vetscan 5:33–38

Strayer DL (2010) Alien species in fresh waters; ecological effects, interactions with other stressors and prospects for the future. Freshw Biol 55:152–174. https://doi.org/10.1111/j.1365-2427.2009.02380.x

Thomas PA, Room PM (1986) Successful control of the floating weed Salvinia molesta in Papua New Guinea: a useful biological invasion neutralizes a disastrous one. Environ Conserv 320:581–584. https://doi.org/10.1017/S0376892900036298

Turpie JK, Marais C, Blignaut JN (2008) The working for water programme: evolution of a payments for ecosystem services mechanism that addresses both poverty and ecosystem service delivery in South Africa. Ecol Econ 65:788–798. https://doi.org/10.1016/j.ecolecon.2007.12.024

Twongo T (1996) Growing impact of water hyacinth on near shore environments on Lakes Victoria and Kyonga (East Africa). In: Johnston TC, Odada EO (eds) The limnology, climatology and paleoclimatology of East African Lakes. Gordon and Breach, Amsterdam, pp 633–642

Villamagna A, Murphy B (2010) Ecological and socio-economic impacts of invasive water hyacinth (Eichhornia crassipes): a review. Freshw Biol 55:282–298. https://doi.org/10.1111/j.1365-2427.2009.02294.x

Wetlands International (2007) Comprehensive Management Action Plan for Wular Lake, Kashmir. Prepared for the Department of Wildlife Protection. Government of Jammu and Kashmir by Wetlands International-South Asia, New Delhi

van Wilgen BW, Richardson DM (2014) Challenges and trade-offs in the management of invasive alien trees. Biol Invasions 16:721–734. https://doi.org/10.1007/s10530-013-0615-8

van Wilgen BW, Wannenburgh A (2016) Co-facilitating invasive species control, water conservation and poverty relief: achievements and challenges in South Africa's Working for Water programme. Curr Opin Environ Sustain 19:7–17. https://doi.org/10.1016/j.cosust.2015.08.012

van Wilgen BW, Forsyth GG, Le Maitre DC, Wannenburgh A, Kotze DF, van den Berg E, Henderson L (2012) An assessment of the effectiveness of a large, national-scale invasive alien plant control strategy in South Africa. Biol Conserv 148:28–38. https://doi.org/10.1016/j.biocon.2011.12.035

Wilson JRU, Ajuonu O, Center TD, Hill MP, Julien MH, Katagira FF, Neuenschwander P, Njoka SW, Ogwang J, Reeder RH, Van T (2007) The decline of water hyacinth on Lake Victoria was due to biological control by Neochetia spp. Aquat Bot 87:90–93. https://doi.org/10.1016/j.aquabot.2006.06.006

Zaz S, Romshoo SA (2012) Assessing the geoindicators of land degradation in the Kashmir Himalayan Region, India. Nat Hazards 64:1219–1245. https://doi.org/10.1007/s11069-012-0293-3
Acknowledgements
We thank Reana Thomas for her work interviewing locals in Kashmir. Two anonymous reviewers provided comments and suggestions that helped us to greatly improve the manuscript.
About this article
Cite this article
Keller, R.P., Masoodi, A. & Shackleton, R.T. The impact of invasive aquatic plants on ecosystem services and human well-being in Wular Lake, India. Reg Environ Change 18, 847–857 (2018). https://doi.org/10.1007/s10113-017-1232-3
Received:

Accepted:

Published:

Issue Date:
Keywords
Alligator weed

Alternanthera philoxeroides
Azolla cristata

Biological invasions

Ecosystem services

Kashmir

Livelihoods, poverty