Abstract
Global climate models predict temperature rises and changes in precipitation regimes that will shift regional climate zones and influence the viability of agricultural crops in Nepal. Understanding the influence of climate change on local climates and the suitability of specific sites for the production of individual crop types at present and in the future is crucial to increasing local crop resilience and ensuring the long-term viability of plantations—especially of high-value, perennial tree crops that require significant investment. This paper focuses on two cash crops, Macadamia and Juglans. A literature review summarises data on temperature, precipitation, and other macro- and microclimatic requirements of both genera. On this basis, we investigate the short- and long-term suitability of areas in Nepal for production of the two crops by means of a spatial model based on extensive in situ measurements, meteorological data, and climatic layers from the WorldClim dataset. Finally, we track changes in potential cultivation area under four Representative Concentration Pathways. Results show that climatic requirements for the cultivation of Macadamia and Juglans are fulfilled across a large part of Nepal at present and in the future: the total suitable area for both trees shrinks only marginally under all four scenarios. However, suitable areas shift considerably in spatial and altitudinal terms, meaning that some currently productive areas will become unproductive in the future, while currently unproductive ones will become productive. We conclude that the consideration of macro- and microclimatic changes in agricultural planning is essential to long-term agricultural success in Nepal.
This is a preview of subscription content, log in to check access.
Access options
Buy single article
Instant access to the full article PDF.
US$ 39.95
Price includes VAT for USA
Subscribe to journal
Immediate online access to all issues from 2019. Subscription will auto renew annually.
US$ 99
This is the net price. Taxes to be calculated in checkout.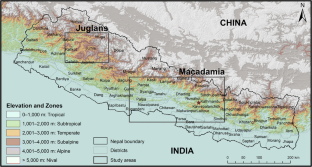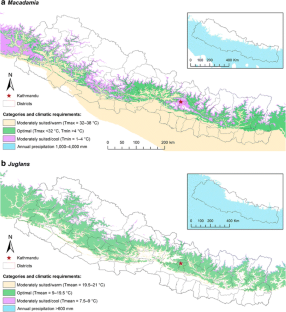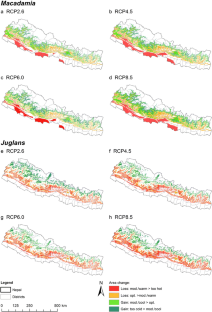 References
Barengo N (2001) Nussbaum: Juglans regia L. Projekt Förderung seltener Baumarten. Eidgenössische Forstdirektion BUWAL Professur Waldbau ETHZ. https://www.wm.ethz.ch/content/dam/ethz/special-interest/usys/ites/waldmgmt-waldbau-dam/documents/SEBA/Baumarten%20Informationen/SEBA1_AS_wnu_2000.pdf. Accessed 9 Sept 2015

Becquey J (1997) Les noyers à bois. Les Guides du Sylviculteur. Institut Pour le Développement Forestier, Paris

Bemmann A (1998) Characteristics and use of walnut timber. In: Blaser J, Carter J, Gilmour D (eds) Biodiversity and sustainable use of Kyrgyzstan's walnut-fruit forests: proceedings of the seminar, Arslanbob, Dzalal-abab Oblast, Kyrgyzstan, 4–8 September 1995. IUCN, Gland, Switzerland and Cambridge UK and Intercooperation, Bern, Switzerland, pp 107–109

Berg C (1985) Prospects of fruit growing in Palpa District, Nepal. Report. ETH, Zurich

Bernyi G, Csurka E, Srvri J, Szodfridt I (1991) Erfahrungen über den forstlichen Walnussanbau in Ungarn. AFZ/Der Wald 12:619–621

Blaser J, Carter J, Gilmour D (1998) Biodiversity and sustainable use of Kyrgyzstan's walnut-fruit forests: proceedings of the seminar, Arslanbob, Dzalal-abab Oblast, Kyrgyzstan, 4–8 September 1995. IUCN, Gland, Switzerland and Cambridge UK and Intercooperation, Bern, Switzerland, pp 1–182

Bulychev AS, Venglovsky BI (1978) Soil conditions in the walnut forest belt of southern Kyrgyzstan. Frunze, Kyrgyzstan

CBS [Central Bureau of Statistics] (2012) National Population and Housing Census 2011: general and social characteristics tables. Government of Nepal, Kathmandu https://unstats.un.org/unsD/demographic/sources/census/wphc/Nepal/Nepal-Census-2011-Vol1.pdf. Accessed 31 Aug 2017

Chan HT (1983) Handbook of tropical foods. Marcel Dekker, New York

Chen C, Noble I, Hellman J, Murillo M, Chawla N (2015) Global adaptation index. University of Notre Dame, Indiana http://index.gain.org/. Accessed 15 Mar 2016

Crawford M (1996) Walnuts: production and culture. Agroforestry Research Trust Publications, Totnes

Cull BW, Trochoulias T (1982) Macadamias - environmental range for commercial production. In: Noel D (ed) Proceedings of the First Australasian Conference on Tree and Nut Crops, Perth, Western Australia. West Australian Nut and Tree Crop Association, pp 54–61

Dulal HB, Brodnig G, Thakur HK, Green-Onoriose C (2010) Do the poor have what they need to adapt to climate change? A case study of Nepal. Local Environ 15(7):621–635. https://doi.org/10.1080/13549839.2010.498814

FAO [Food and Agriculture Organization of the United Nations] (2016) FAO Soils Portal http://www.fao.org/soils-portal/soil-survey/en/. Accessed 4 July 2016

Forestry Nepal (2016) Juglans regia http://www.forestrynepal.org/resources/trees/juglans-regia. Accessed 14 Feb 2016

Gornall J, Betts R, Burke E, Clark R, Camp J, Willett K, Wiltshire A (2010) Implications of climate change for agricultural productivity in the early twenty-first century. Philos Trans R Soc B 365(1554):2973–2989. https://doi.org/10.1098/rstb. 2010.0158

Government of Nepal [GoN] (2014) Monsoon onset and withdrawal date. Government of Nepal, Ministry of Population and Environment, Department of Hydrology and Meteorology, Kathmandu http://www.dhm.gov.np/uploads/climatic/535305507monsoon%20onset%20n%20withdrawal.pdf. Accessed 10 Oct 2016

Hamilton RA, Fukunaga ET (1959) Growing macadamia nuts in Hawaii. Bull 121:1–51 http://hdl.handle.net/10125/15280. Accessed 9 Apr 2016

Hemery GE, Popov SI (1998) The walnut (Juglans regia L.) forests of Kyrgyzstan and their importance as a genetic resource. Commonw Rev 77(4):272–275

Hertel TW, Rosch SD (2010) Climate change, agriculture, and poverty. Appl Econ Perspect Policy 32(3):355–385. https://doi.org/10.1596/1813-9450-5468

Hijmans RJ, Cameron SE, Parra JL, Jones PG, Jarvis A (2005) Very high resolution interpolated climate surfaces for global land areas. Int J Climatol 25(15):1965–1978. https://doi.org/10.1002/joc.1276

IPCC [International Panel on Climate Change] (2014) Climate change 2014: synthesis report. Contribution of working groups I, II and III to the fifth assessment report of the intergovernmental panel on climate change. IPCC, Geneva, pp 1–151

Jackson JK (1994) Manual of afforestation in Nepal, vol 2. Forest Research and Survey Centre, Ministry of Forests and Soil Conservation, Kathmandu, pp 277–280 http://www.dfrs.gov.np/downloadfile/Manual%20volume%202%20reduced_1450252224.pdf. Accessed 8 August 2017

Jarvis A, Reuter HI, Nelson A, Guevara E (2008) Hole-filled SRTM for the globe Version 4, available from the CGIAR-CSI SRTM 90m Database http://srtm.csi.cgiar.org. Accessed 9 Apr 2014

Karki R, Gurung A (2012) An overview of climate change and its impact on agriculture: a review from least developing country, Nepal. Int J Ecosyst 2(2):19–24. https://doi.org/10.5923/j.ije.20120202.03

Kohler T, Wehrli A, Jurek M (2014) Mountains and climate change: a global concern. Sustainable mountain development series. Bern, Switzerland, Centre for Development Series. Bern, Switzerland, Centre for Development and Environment (CDE), Swiss Agency for Development and Cooperation (SDC) and Geographica Bernensia https://www.eda.admin.ch/content/dam/deza/en/documents/themen/klimawandel/Sustainable-Development-Series-Mountains-and-Climate-Change-2014_EN.pdf. Accessed 18 October 2017

Kolov O (1998) Ecological characteristics of the walnut-fruit forests of southern Kyrgyzstan. In: Blaser J, Carter J, Gilmour D (eds) Biodiversity and sustainable use of Kyrgyzstan's walnut-fruit forests: proceedings of the seminar, Arslanbob, Dzalal-abab Oblast, Kyrgyzstan, 4–8 September 1995. IUCN, Gland, Switzerland and Cambridge UK and Intercooperation, Bern, Switzerland, pp 59–61

Kreft S, Eckstein D, Junghans L, Kerestan C, Hagen U (2014) Global climate risk index 2015: who suffers most from extreme weather events? Weather-related loss events in 2013 and 1994 to 2013. Germanwatch, Bonn

Kunwar RM, Nepal BK, Kshhetri HB, Rai SK, Bussmann RW (2006) Ethnomedicine in Himalaya: a case study from Dolpa, Humla, Jumla and Mustang districts of Nepal. J Ethnobiol Ethnomed 2(1). https://doi.org/10.1186/1746-4269-2-27

Leduc B (2009) Case study: gender and climate change in the Himalayas. Background Paper. ICIMOD, Kathmandu http://www.wedo.org/wp-content/uploads/nepalcasestudy.pdf. Accessed 12 Oct 2016

Maharjan KL, Joshi NP, Piya L (2013) Effect of climate variables on yield of major food-crops in Nepal: a time-series analysis. In: Maharajan KL, Joshi NP (eds) Climate change, agriculture and rural livelihoods in developing countries. Advances in Asian Human-Environment Research. Springer, Tokyo. https://doi.org/10.1007/978-4-431-54343-5_9

Mainlay J, Tan SF (2012) Mainstreaming gender and climate change in Nepal. IIED [International Institute for Environment and Development] climate change working paper 2. IIED, London http://pubs.iied.org/pdfs/10033IIED.pdf. Accessed 10 Oct 2016

Mascott Ltd. (1993) Gulmi and Arghakhanchi rural development project: coffee/treenut feasibility study. Mascott Construction Europe, Belfast

Masui T, Matsumoto K, Hijioka Y, Kinoshita T, Nozawa T, Ishiwatari S, Kato E, Shukla PR, Yamagata Y, Kainuma M (2011) An emission pathway for stabilization at 6 Wm−2 radiative forcing. Clim Chang 109:59–76. https://doi.org/10.1007/s10584-011-0150-5

McGranahan G, Leslie C (1991) Walnuts (Juglans). Acta Hortic 290:907–974. https://doi.org/10.17660/ActaHortic.1991.290.20

McSweeney C, New M, Lizcano G (2010). UNDP Climate Change Country Profiles: Nepal- http://www.geog.ox.ac.uk/research/climate/projects/undp-cp/UNDP_reports/Nepal/Nepal.hires.report.pdf. Accessed 2 Jan 2016

Mettendorf B, Franke A, Widmaier T (1996) Der Anbau der Walnuss zur Holzproduktion. Merkblätter der forstlichen Versuchs-und Forschungsanstalt Baden-Wuerttemberg, Germany

Molnar T, Zaurov D, Capik J, Eisenman S, Ford T, Nikolyi L, Funk C (2011) Persian walnuts (Juglans regia L.) in Central Asia. Ann Rep North Nut Grow Assoc 101:56–69 http://www.ippfbe.org/index.php?option=com_docman&task=doc_download&gid=29&Itemid=100027. Accessed 10 Oct 2016

Moncur MW, Stephenson RA, Trochoulias T (1985) Floral development of Macadamia integrifolia Maiden & Betche under Australian conditions. Sci Hortic 27(1–2):87–96. https://doi.org/10.1016/0304-4238 (85)90058-5

Morrow D (2007) Mines to macadamias: emerald trial site. Australian Macadamia Society News. Bulletin 2007(March):44–46

Nagao MA (2011) Farm and forestry production and marketing profile for Macadamia nut (Macadamia integrifolia and M. tetraphylla). In: Elevitch CR (ed) Specialty crops for Pacific Island agroforestry. Permanent Agriculture Ressources (PAR), Holualoa http://agroforestry.net/images/pdfs/Macadamia_specialty_crop.pdf. Accessed 13 Oct 2016

Nagao MA, Hirae HH, Stephenson R (1992) Macadamia: cultivation and physiology. Cri Rev Plant Sci 10(5):441–470. https://doi.org/10.1080/07352689209382321

Nakata S (1976) Progress report on flowering, nut setting and harvesting, with special reference to the effects of night temperatures and growth regulators. Proceedings of the Hawaiian macadamia producers' association 16:31–36

Nepal Climate Vulnerability Study Team [NCVST] (2009) Vulnerability through the eyes of vulnerable: climate change induced uncertainties and Nepal's development predicaments. Institute for Social and Environmental Transition-Nepal, Nepal climate Vulnerability Study Team Kathmandu. http://i-s-e-t.org/resources/major-program-reports/vulnerability-through-the-eyes-of-vulnerable.html. Accessed 19 Oct 2016

O'Hare P, Quinlan K, Stephenson R, Vock N (2004) Growing guide: macadamia grower's handbook. Queensland Department of Primary Industries, Brisbane

Pokhrel DM, Pandey B (2013) Climate change adaptation: strategic vision in agriculture. J Agri Environ 12:104–112. https://doi.org/10.3126/aej.v12i0.7570

Pretzsch H (1995) Juglans regia LINNÉ 1753. In: A. Roloff, Weisgerber, H., U. Lang, B. Stimm, Schütt and P. Wiley VCH (eds) Enzyklopädie der Holzgewächse: Handbuch und Atlas der Dendrologie. Wiley-VCH, Weinheim

Putinică C (2012) Requirements of walnut tree (Juglans regia) to environmental factors. Evaluation of lands for culture of walnut with examples in the curvature Subcarpathians hills. Soil Form Fact process Temp Zone 11(1):81–94 http://factori.soilscience.ro/index.php/fspdzt/article/view/471/385. Accessed 9 Sept 2016

Ramirez-Villegas J, Jarvis A (2010) Downscaling global circulation model outputs: the delta method. Decision and policy analysis working paper 1. Centro international de Agricultura tropical, Cali, Colombia. http://ccafs-climate.org/downloads/docs/Downscaling-WP-01.pdf. Accessed 31 Aug 2016

Ranjitkar S, Xu J, Shrestha KK, Kindt R (2014) Ensemble forecast of climate suitability for the trans-Himalayan Nyctaginaceae species. Ecol Model 282:18–24. https://doi.org/10.1016/j.ecolmodel. 2014.03.003

Ranjitkar S, Sujakhu N, Budhamagar K, Rimal S, Xu J, Merz J, Zomer RJ (2015) Projected climate change impacts on climatic suitability and geographical distribution of banana and coffee plantations in Nepal. ICRAF Working Papers 204. https://doi.org/10.5716/WP15294.pdf

Ranjitkar S, Sujakhu NM, Lu Y, Wang Q, Wang M, He J, Mortimer PE, Xu J, Kindt R, Zomer RJ (2016) Climate modelling for agroforestry species selection in Yunnan. Environ Model Softw 75:262–272. https://doi.org/10.1016/j.envsoft. 2015.10.027

Riahi K, Rao S, Krey V, Cho C, Chirkov V, Fischer G, Kindermann G, Nakicenovic N, Rafaj P (2011) RCP 8.5-a scenario of comparatively high greenhouse gas emissions. Clim Chang 109:33–57. https://doi.org/10.1007/s10584-011-0149-y

Rokaya MB, Münzbergovà Z, Timsina B (2010) Ethnobotanical study of medicinal plants from the Humla district of western Nepal. J Ethnopharmacol 130(3):485–504. https://doi.org/10.1016/j.jep. 2010.05.036

Shigeura GT (1981) Further data to support the minimum temperature regime concept for macadamia. California Macadamia Society's Yearbook 17:74–76

Shrestha AB, Wake CP, Mayewski PA, Dibb JE (1999) Maximum temperature trends in the Himalaya and its vicinity: an analysis based on temperature records from Nepal for the period 1971–94. J Clim 12(9):2775–2786. https://doi.org/10.1175/1520-0442(1999)012<2775:MTTITH>2.0.CO;2

Shrestha UB, Gautam S, Bawa KS (2012) Widespread climate change in the Himalayas and associated changes in local ecosystems. PLoS One 7(5). https://doi.org/10.1371/journal.pone.0036741

SIG-MAGA (2015) Areas aptas cercanas a vias asfaltadas para el desarollo del cultivo Macadamia. Sistemas de Informacion Geografia, Ministerio de Agricultura Ganaderia y Alimentacion de la República de Guatemala. http://www.zonu.com/fullsize-en/2011-11-24-15018/Areas-suitable-for-growing-Macadamia-in-Guatemala.html. Accessed 31 Oct 2015

Stephenson RA, Gallagher EC (1986) Effects of night temperature on floral initiation and raceme development in macadamia. Sci Hortic 30(3):21–218. https://doi.org/10.1016/0304-4238 (86)90099-3

Stephenson RA, Trochoulias T (1994) Macadamia. In: Schaffer B, Anderson PC (eds) Handbook of environmental physiology of fruit crops. CRC Press, USA, pp 147–159

Su Y, Lu J, Manandhar S, Ahmad A, Xu J (2013) Policy and institutions in adaptation to climate change. Case study on tree crop diversity in China, Nepal, and Pakistan. ICIMOD Working Paper 2013/3. ICIMOD, Kathmandu. http://lib.icimod.org/record/28330/files/WP_13-3.pdf. Accessed 26 Mar 2016

Sugden F, Maskey N, Clement F, Ramesh V, Philip A, Rai A (2014) Agrarian stress and climate change in the eastern Gangetic plains: gendered vulnerability in a stratified social formation. Glob Environ Chang 29:258–269. https://doi.org/10.1016/j.gloenvcha.2014.10.008

Taha NA, Al-wadaan MA (2011) Utility and importance of walnut, Juglans regia Linn: A. Afr J Microbiol Res 5(32):5796–5805. https://doi.org/10.5897/AJMR11.610

Taylor KE, Stouffer RJ, Meehl GA (2012) An overview of CMIP-5 and the experiment design. Bull Am Meteorol Soc 93(4):485–498. https://doi.org/10.1175/BAMS-D-11-00094. 1

Thomson AM, Calvin KV, Smith SJ, Kyle GP, Volke A, Patel P, Delgado-Arias S, Bond-Lamberty B, Wise MA, Clarke LE, Edmonds JA (2011) RCP4.5: a pathway for stabilization of radiative forcing by 2100. Clim Chang 109:77–94. https://doi.org/10.1007/s10584-011-0151-4

Trochoulias T, Johns GG (1992) Poor response of macadamia (Macadamia integrifolia Maiden and Betche) to irrigation in a high rainfall area of subtropical Australia. Aust J Exp Agric 32(4):507–512 https://doi.org/10.1071/EA9920507

Trochoulias T, Lahav E (1983) The effect of temperature on growth and dry-matter production of macadamia. Sci Hortic 19(1–2):167–176. https://doi.org/10.1016/0304-4238 (83)90058-4

Tshering G (2007) Technology for walnut production in Bhutan ftp://ftp.fao.org/docrep/fao/010/ah928e/ah928e04.pdf. Accessed 11 Nov 2015

Upadhyay MP, Joshi BK JBK, Madhusudan P (2003) Status of plant genetic resources in Nepal. Plant genetic resources in SAARC countries: their conservation and management. Government of Nepal, Kathmandu, pp 297–422

Vahdati K (2014) Traditions and folks for walnut growing around the Silk Road. In: Sandrosyan G, Kalantaryan A, Bedoshvili D (eds) International symposium on fruit culture and its traditional knowledge along Silk Road countries, pp 19–24. https://doi.org/10.17660/ActaHortic.2014.1032.1

van Vuuren DP, Edmonds J, Kainuma M, Riahi K, Thomson A, Hibbard K, Hurtt GC, Kram T, Krey V, Lamarque JF (2011a) The representative concentration pathways: an overview. Clim Chang 109:95–116. https://doi.org/10.1007/s10584-011-0148-z

van Vuuren DP, Stehfest E, Elzen MG, Kram T, Vliet J, Deetman S, Isaac M, Goldewijk KK, Hof A, Beltran AM, Oostenrijk R, van Ruijven B (2011b) RCP2.6: exploring the possibility to keep global mean temperature increase below 2°C. Clim Chang 109:95–116. https://doi.org/10.1007/s10584-011-0152-3

Wheeler D (2011) Quantifying vulnerability to climate change: implications for adaptation assistance. Center for Global Development Working Paper 240. https://doi.org/10.2139/ssrn.1824611

Williams K, Biggs I, McConchie C, Briggs P, Underhill J, Paul R, Storey R, Prestwidge D, Laredo L, Parker T, Hardner C, Thorburn P (2006) Identification of potential new growing areas for Macadamias. Project no. MC04026. Horticulture Australia, Sydney

Xu J, Grumbine RE, Shrestha A, Eriksson M, Yang X, Wang Y, Wilkes A (2009) The melting Himalayas: cascading effects of climate change on water, biodiversity, and livelihoods. Conserv Biol 23(3):520–530. https://doi.org/10.1111/j.1523-1739.2009.01237.x

Zomer RJ, Trabucco A, Wang M, Lang R, Chen H, Metzger MJ, Smajgl A, Beckschäfer P, Xu J (2014) Environmental stratification to model climate change impacts on biodiversity and rubber production in Xishuangbanna, Yunnan, China. Biol Conserv 170:264–273. https://doi.org/10.1016/j.biocon.2013.11.028

Zomer RJ, Xu J, Wang M, Trabucco A, Li Z (2015) Projected impact of climate change on the effectiveness of the existing protected area network for biodiversity conservation within Yunnan Province, China. Biol Conserv 184:335–345. https://doi.org/10.1016/j.biocon.2015.01.031
Acknowledgements
The authors thank HELVETAS Swiss Intercooperation Nepal and the Centre for Development and Environment of the University of Bern, Switzerland, for the funding and academic guidance. Thanks also go to Prof. Dr. Robert Zomer, Kunming Institute of Botany and World Agroforestry Centre (ICRAF), China, for providing datasets. We further express our gratitude to Andreas Rudow, Institute of Terrestrial Ecosystems, ETH Zurich, Switzerland, and Dr. John Wilkie, Principal Horticulturist at the Department of Agriculture and Fisheries, Queensland Government, Australia, for valuable technical inputs.
Electronic supplementary material
About this article
Cite this article
Barrueto, A.K., Merz, J., Hodel, E. et al. The suitability of Macadamia and Juglans for cultivation in Nepal: an assessment based on spatial probability modelling using climate scenarios and in situ data. Reg Environ Change 18, 859–871 (2018). https://doi.org/10.1007/s10113-017-1225-2
Received:

Accepted:

Published:

Issue Date:
Keywords
Adaptation

Climate change

Juglans
Macadamia

Nepal

Spatial modelling