Abstract
Many papers have addressed the differing approaches to observation by scientists collecting instrumented data and by community or local knowledge-based observations. Integrating these ways of knowing is difficult because they operate at different scales and have different goals. It would benefit both scientists and communities to integrate community-based observations and instrumented data, despite obstacles, because it would expand scales of observation and because gauged data in the Arctic are sparse. This requires development of a protocol to integrate these knowledge systems to maximize reliability and validity. We used survey data from a community-based observing network in the Bering Sea and examined the correspondence of community-based observations with instrument-derived data for air temperature, sea ice break-up and freeze-up, and vegetation changes. Results highlight that there is a high correspondence between community-based observations for sea ice and vegetation change and instrumented data, but there is an inherent conflict in scales of observation for air temperature data. This helps to elucidate the benefits of community-based observing as a process for understanding and responding to change in the Arctic.
This is a preview of subscription content, log in to check access.
Access options
Buy single article
Instant access to the full article PDF.
US$ 39.95
Tax calculation will be finalised during checkout.
Subscribe to journal
Immediate online access to all issues from 2019. Subscription will auto renew annually.
US$ 99
Tax calculation will be finalised during checkout.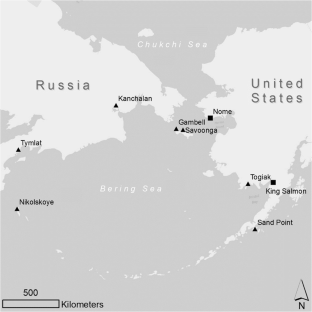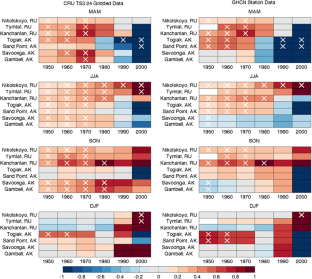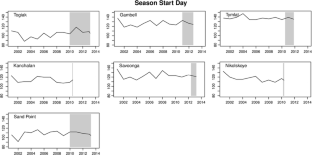 References
Achard R, Eva H, Mayaux P (2001) Tropical forest mapping from coarse spatial resolution satellite data: production and accuracy assessment issues. Int J Remote Sens 22(14):2741–2762. https://doi.org/10.1080/01431160120548

Alaska Department of Fish and Game (2012) Subsistence in Alaska: a year 2012 update. http://www.adfg.alaska.gov/index.cfm?ADFG=subsistence.main

Alaska Department of Fish and Game (2016) Subsistence division, Community Subsistence Information System (CSIS). http://www.adfg.alaska.gov/sb/CSIS/index.cfm?ADFG=harvInfo.harvestCommSelComm

Alaska Ocean Observing System (2016) http://portal.aoos.org/real-time-sensors.php#module-search?lg=8c5dd704-59ad-11e1-bb67-0019b9dae22b&p=proj3857&b=google_hybrid&page=1&tagId=&q=chukchi%2Bsea. Accessed 6 July 2016

Alessa LN, Kliskey A, Williams P, Barton M (2008) Perceptions of change in freshwater in remote resource-dependent arctic communities. Glob Environ Chang 18:153–164. https://doi.org/10.1016/j.gloenvcha.2007.05.007

Alessa LN, Kliskey A, Williams P (2010) Forgetting freshwater: technology, values, and distancing in remote arctic communities. Soc Nat Res 23(3):254–268. https://doi.org/10.1080/08941920802454813.

Alessa L, Kliskey A, Drukenmiller M, Griffith D, McKann H, Myers B, Pulsifer P, Beaujean G, Behe C, Jackson L (2016a) Best practices for community-based observing. Moscow, ID: Center for Resilient Communities, University of Idaho. http://www.uidaho.edu/caa/galleries-centers-and-lab/crc/news

Alessa L, Kliskey A, Gamble J, Fidel M, Beaujean G, Gosz J (2016b) The role of indigenous science and local knowledge in integrated observing systems: moving toward adaptive capacity indices and early warning systems. Sustain Sci 11(1):91–102. https://doi.org/10.1007/s11625-015-0295-7.

Alexander C, Bynum N, Johnson E, King U, Mustonen T, Neofotis P, Oettle N, Rosenzweig C, Sakakibara C, Shadrin V, Vicarelli A, Waterhouse J, Weeks B (2011) Linking Indigenous Knowledge and scientific knowledge of climate change. BioScience 61(6):477–484. https://doi.org/10.1525/bio.2011.61.6.10

Ambrose WG Jr, Clough LM, Johnson JC, Greenacre M, Griffith DC, Carroll ML, Whiting A (2014) Interpreting environmental change in coastal Alaska using traditional and scientific ecological knowledge. Front Mar Sci 1 article 40. https://doi.org/10.3389/fmars.2014.00040

Berger M, Mamdani M, Atkins D, Johnson M (2009) Good research practices for comparative effectiveness research: defining, reporting and interpreting nonrandomized studies of treatment effects using secondary sources. Value Health 12(8):1044–1052. https://doi.org/10.1111/j.1524-4733.2009.00600.x

Berkes F, Colding J, Folke C (2000) Rediscovery of traditional ecological knowledge as adaptive management. Ecol Appl 10(5):1251–1262. https://doi.org/10.1890/1051-0761

Brewster K (2004) The whales they give themselves: conversations with Harry Brower, Sr. University of Alaska Press, Fairbanks

Brubaker MY, Bell JN, Berner JE, Warren JA (2011) Climate change health assessment: a novel approach for Alaska Native communities. Int J Circumpolar Health 70(3):266–273. https://doi.org/10.3402/ijch.v70i3.17820

Clark A (2013) Whatever next? Predictive brains, situated agents, and the future of cognitive science. Behav Brain Sci 35:181–253. https://doi.org/10.1017/S0140525X12000477

Cleveland RB, Cleveland WS, McRae JE, Terpenning I (1990) STL: a seasonal-trend decomposition procedure based on Loess. J Off Stat 6(1):3–73

Collings P (2011) Economic strategies, community, and food networks in Ulukhaktok, Northwest Territories Canada. Arctic 64(2):207–219. https://doi.org/10.14430/arctic4100

Community Observation Network for Adaptation and Security (CONAS) (n.d.) http://conas-ak.org/. Accessed 6 July 2016

Csavina J, Roberti JA, Taylor JR, Loescher HW (2017) Traceable measurements and calibration: a primer on uncertainty analysis. Ecosphere 8(2):e01683. https://doi.org/10.1002/ecs2.1683

Dickersin K, Berlin J (1992) Meta-analysis: state of the science. Epidemiol Rev 14(1):154–176. https://doi.org/10.1093/oxfordjournals.epirev.a036084

Eicken H, Lee O (2013) Status of current observing system, White Paper Synthesis Brief of the Arctic Observing Summit, Vancouver, BC, Canada. http://www.arcticobservingsummit.org/users/white_papers.php

Eklundh L, Jönsson P (2015) TIMESAT: a software package for time-series processing and assessment of vegetation dynamics. In: Kuenzer C, Dech S, Wagner W (eds) Remote sensing time series. Springer International, pp 141–158. https://doi.org/10.1007/978-3-319-15967-6_7

Fernandez-Llamazares A, Diaz-Reviriego I, Luz AC, Cabeza M, Pyhala A, Reyes-Garcia V (2015) Rapid ecosystem change challenges the adaptive capacity of Local Environmental Knowledge. Glob Environ Chang 31:272–284. https://doi.org/10.1016/j.gloenvcha.2015.02.001

Fienup-Riordan A, Carmack E (2011) The ocean is always changing: nearshore and farshore perspectives on Arctic Coastal Seas. Oceanography 24(3):266–279. https://doi.org/10.5670/oceanog.2011.78

Ford JD, Pearce T (2012) Climate change vulnerability and adaptation research focusing on the Inuit subsistence sector in Canada: directions for future research. Can Geogr 56(2):275–287. https://doi.org/10.1111/j.1541-0064.2012.00418.x

Ford JD, Pearce T, Gilligan J, Smit B, Oakes J (2008) Climate change and hazards associated with ice use in Northern Canada. Arct Antarct Alp Res 40(4):647–649. https://doi.org/10.1657/1523-0430(07-040)[FORD]2.0.CO;2

Frey KE, Moore GWK, Cooper LW, Grebmeier JM (2015) Divergent patterns of recent sea ice cover across the Bering, Chukchi, and Beaufort seas of the Pacific Arctic Region. Prog Oceanogr 136:32–49. https://doi.org/10.1016/j.pocean.2015.05.009

Gearheard S, Pocernich M, Stewart R, Sanguya J, Huntington HP (2010) Linking Inuit knowledge and meteorological station observations to understand changing wind patterns at Clyde River, Nunavut. Clim Chang 100:267–294. https://doi.org/10.1007/s10584-009-9587-1.

Grebmeier JM (2012) Shifting patterns of life in the Pacific Arctic and Sub-Arctic Seas. Annu Rev Mar Sci 4:63–78. https://doi.org/10.1146/annurev-marine-120710-100926

Gupta SV (2012) Measurement uncertainties: physical parameters and calibration of instruments. Springer-Verlag, Berlin. https://doi.org/10.1007/978–3–642-20989-5

Harris IPDJ, Jones PD, Osborn TJ, Lister DH (2014) Updated high-resolution grids of monthly climatic observations-the CRU TS3. 10 Dataset. Int J Climatol 34(3):623–642. https://doi.org/10.1002/joc.3711

Herman-Mercer N, Schuster PF, Maracle KB (2011) Indigenous observations of climate change in the Lower Yukon River Basin, Alaska. Hum Organ 70(3):244–252. https://doi.org/10.17730/humo.70.3.v88841235897071m

Hoffman DD, Prakash C (2014) Objects of consciousness. Front Psychol 5, article 577. https://doi.org/10.3389/fpsyg.2014.00577

Hoffman DD, Singh M, Prakash C (2015) The interface theory of perception. Psychon Bull Rev 22(6):1480–1506. https://doi.org/10.3758/s13423-015-0890-8

Huntington HP, Callaghan T, Fox S, Krupnik I (2004) Matching traditional and scientific observations to detect environmental change: a discussion on arctic terrestrial ecosystems. Ambio Special report #13, 18–23

Huntington HP, Noongwook G, Bond NA, Benter B, Snyder JA, Zhang J (2013) The influence of wind and ice on spring walrus hunting success on St. Lawrence Island, Alaska. Deep Sea Res II Top Stud Oceanogr 94:312–322. https://doi.org/10.1016/j.dsr2.2013.03.016

Jia GJ, Epstein HE, Walker DA (2003) Greening of Arctic Alaska, 1981–2001. Geophys Res Lett 30. http://onlinelibrary.wiley.com/doi/10.1029/2003GL018268/full

Jolly D, Berkes F, Castleden J, Nichols T, the community of Sachs Harbour (2002) We can't predict the weather like we used to. In: Krupnik I, Jolly D (eds) The earth is faster now: indigenous observations of environmental change. Fairbanks, Arctic Research Consortium of the United States 384 pp

Jönsson P, Eklundh L (2002) Seasonality extraction by function fitting to time-series of satellite sensor data. IEEE Trans Geosci Remote Sens 40(8):1824–1832. https://doi.org/10.1109/TGRS.2002.802519

Kane DL, Stuefer SL (2015) Reflecting on the status of precipitation data collection in Alaska: a case study. Hydrol Res 46(4):478–493. https://doi.org/10.2166/nh.2014.023

Karl TR, Williams CN Jr (1987) An approach to adjusting climatological time series for discontinuous inhomogeneities. J Clim Appl Meteorol 26(12):1744–1763. https://doi.org/10.1175/1520-0450(1987)026<1744:AATACT>2.0.CO;2

Klein JA, Hopping KA, Yeh ET, Nyima Y, Boone RB, Galvin KA (2014) Unexpected climate impacts on the Tibetan Plateau: local and scientific knowledge in findings of delayed summer. Glob Environ Chang 28:141–152. https://doi.org/10.1016/j.gloenvcha.2014.03.007

Lavie N, Hirst A, de Fockert JW, Vidding E (2004) Load theory of selective attention and cognitive control. J Exp Psychol Gen 133(3):339–354. https://doi.org/10.1037/0096-3445.133.3.339

Lynch P (2016) 2016 climate trends continue to break records. NASA's Goddard Space Flight Center. http://climate.nasa.gov/news/2465/2016-climate-trends-continue-to-break-records/

Magnuson S (2014) New satellite systems to boost communication coverage in Arctic. National Defense. http://www.nationaldefensemagazine.org/archive/2014/August/pages/NewSatelliteSystemstoBoostCommunicationCoverageinArctic.aspx

Mahoney A, Eicken H, Shapiro L, Gaylord A (2006) Mapping and characterization of recurring spring leads and landfast ice in the Beaufort and Chukchi Seas. Mineral Management Service. AK-03-06, MMS-71707

Marsh ET (2007) Retelling is not the same as recalling: implications for memory. Curr Dir Psychol Sci 16(1):16–20. https://doi.org/10.1111/j.1467-8721.2007.00467.x

Meier WN, Gerland S, Granskog MA, Key JR, Haas C, Hovelsrud GK, Kovacs KM, Makshtas A, Michel C, Perovich D, Reist JD, van Oort BEH (2011) Sea ice. In: Arctic monitoring and assessment programme, snow, water, ice and permafrost in the Arctic (SWIPA): climate change and the cryosphere. Oslo, Norway. xii + 538 pp. Available at http://www.amap.no/documents/doc/arctic-climate-issues-2011-changes-in-arctic-snow-water-ice-and-permafrost/129

National Research Council (2006) Toward an integrated Arctic observing network. http://www.nap.edu/catalog/11607.html

New M, Hulme M, Jones P (2000) Representing twentieth-century space-time climate variability. Part II: Development of 1901–96 monthly grids of terrestrial surface climate. J Clim 13(13):2217–2238. https://doi.org/10.1175/1520-0442(2000)013<2217:RTCSTC>2.0.CO;2

Pachur T, Todd PM, Gigerenzer G, Schooler LJ, Goldstein DG (2012) When is the recognition heuristic an adaptive tool? In: Todd PM, Gigerenzer G (eds) Ecological rationality: intelligence in the world. Oxford University Press, New York, pp 113–143

Pattison RR, Jorgenson JC, Raynolds MK, Welker JM (2015) Trends in NDVI and tundra community composition in the Arctic of northeast Alaska between 1984 and 2009. Ecosystems 18(4):707–719. https://doi.org/10.1007/s10021-015-9858-9

Pearce TD, Ford JD, Laidler GJ, Smit B, Duerden F, Allarut M, Andrachuck M, Baryluk S, Dialla A, Elee P, Goose A, Ikummaq T, Joamie E, Kataoyak F, Loring E, Meakin S, Nickels S, Shappa K, Shirley J, Wandel J (2009) Community collaboration and climate change research in the Canadian Arctic. Polar Res 28:10–27. https://doi.org/10.1111/j.1751-8369.2008.00094.x

Prno J, Bradshaw B, Wandel J, Pearce T, Smit B, Tozer L (2011) Community vulnerability to climate change in the context of other exposure-sensitivities in Kugluktuk, Nunavut. Polar Res 30:7363. https://doi.org/10.3402/polar.v30i0.7363

Raichlan DA, Wood BM, Gordon AD, Magulla AZP, Marlowe FW, Pontzer H (2014) Evidence of Lévy walk foraging patterns in human hunter-gatherers. Proc Natl Sci Acad 111(2):728–733. https://doi.org/10.1073/pnas.1318616111

Ramnath A (2014) 'Indigenous Knowledge' and 'Science' in the age of globalization. IIM Kozhikode Soc Manag Rev 3(1):101–107. https://doi.org/10.1177/2277975214532180

Robards MD, Kitaysky AS, Burns JJ (2013) Physical and sociocultural factors affecting walrus subsistence at three villages in the northern Bering Sea: 1952–2004. Polar Geogr 36(1–2):65–85. https://doi.org/10.1080/1088937X.2013.765519

Russian Census (2010) https://en.rian.ru/infographics/20111222/170405728.html

Sand Point, Alaska (2014) http://www.sandpointak.com/

Shimada K, Kamoshida T, Itoh M, Nishino S, Carmack E, McLaughlin F, Zimmermann S, Proshutinsky A (2006) Pacific Ocean inflow: influence on catastrophic reduction of sea ice cover in the Arctic Ocean. Geophys Res Lett 33(8): (L08605). https://doi.org/10.1029/2005GL025624

Smith DA, Vodden K, Woodrow M, Khan A, Furst B (2014) The last generation? Perspectives of inshore fish harvesters from Change Islands, Newfoundland. Can Geogr 58(1):95–109. https://doi.org/10.1111/j.1541-0064.2013.12053.x

Stefanucci JK, Proffitt DR (2009) The roles of altitude and fear in the perception of height. J Exp Psychol Hum Percept Perform 35(2):424–439. https://doi.org/10.1037/a0013894

Stow D, Daeschner S, Hope A, Douglas D, Petersen A, Myneni R, Zhou L, Oechel W (2003) Variability of the seasonally integrated normalized difference vegetation index across the north slope of Alaska in the 1990s. Int J Remote Sens 24(5):1111–1117. https://doi.org/10.1080/0143116021000020144

Stroeve J, Serreze M, Holland M, Kay J, Melanik J, Barrett A (2012) The Arctic's rapidly shrinking sea ice cover: a research synthesis. Clim Chang 110:1005–1027. https://doi.org/10.1007/s10584-011-0101-1

Stroeve JC, Markus T, Boisvert L, Miller J, Barrett A (2014) Changes in Arctic melt season and implications for sea ice loss. Geophys Res Lett 41(4):1216–1225. https://doi.org/10.1002/2013GL058951

United Nations (2008) United Nations Declaration on the Rights of Indigenous Peoples. Resolution adopted by the General Assembly, March 2008. United Nations

United States Census, American FactFinder (2010) http://factfinder.census.gov/faces/nav/jsf/pages/index.xhtml

Verbyla D (2008) The greening and browning of Alaska based on 1982–2003 satellite data. Glob Ecol Biogeogr 17(4):547–555. https://doi.org/10.1111/j.1466-8238.2008.00396.x

Weatherhead E, Gearheard S, Barry RG (2010) Changes in weather persistence: insight from Inuit Knowledge. Glob Environ Chang 20(3):523–528. https://doi.org/10.1016/j.gloenvcha.2010.02.002

Wentz FJ, Matthias S (2000) Precise climate monitoring using complementary satellite data sets. Nature 403(27):414–416. https://doi.org/10.1038/35000184

Witt JK, Dorsch TE (2009) Kicking to bigger uprights: field goal kicking performance influences perceived size. Perception 38(9):1328–1340. https://doi.org/10.1068/p6325

Woodgate RA, Weingartner T, Lindsay R (2010) The 2007 Bering Strait oceanic heat flux and anomalous Arctic Sea-ice retreat. Geophys Res Lett 37:L01602. https://doi.org/10.1029/2009GL041621

Xiong X, Sun J, Barnes W, Salomonson V, Esposito J, Erives H, Guenther B (2007) Multiyear on-orbit calibration and performance of Terra MODIS reflective solar bands. IEEE Trans Geosci Remote Sens 45(4):879–889. https://doi.org/10.1109/TGRS.2006.890567

Zak A (2016) This luxury cruise ship will soon sail through the Arctic. Here's what that means for Alaska. The Alaska Dispatch News. http://www.adn.com/arctic/2016/06/12/this-luxury-cruise-ship-will-soon-sail-through-the-arctic-heres-what-that-means-for-alaska/
Acknowledgements
We would like to thank the residents of the villages of Nikolskoye, Tymlat, Kanchalan, Togiak, Sand Point, Savoonga, and Gambell for their contributions to BSSN and CONAS observing networks on which this study is based. The research was funded by the National Science Foundation (awards #0856774, #0856305, #1355238, and #1642847). The views of the authors are an official finding of the Center for Resilient Communities but do not reflect those of the National Science Foundation, Aleut International Association, the Native communities who participated in this study, the Alaska Center for Conservation Science, or the University of Alaska. We acknowledge support of the Arctic Alaska Observatory and Knowledge Hub through Community Service Payments made by a corporate defendant convicted of Federal environmental and maritime crimes. This study is also funded by Alaska EPSCoR NSF award #OIA-1208927 and the state of Alaska.
Electronic supplementary material
About this article
Cite this article
Williams, P., Alessa, L., Abatzoglou, J.T. et al. Community-based observing networks and systems in the Arctic: Human perceptions of environmental change and instrument-derived data. Reg Environ Change 18, 547–559 (2018). https://doi.org/10.1007/s10113-017-1220-7
Received:

Accepted:

Published:

Issue Date:
Keywords
Community-based observing

Community-based observing networks

Local place-based knowledge

Perception

Environmental change

Instrumented data