Brazil's Amazonian protected areas as a bulwark against regional climate change
Abstract
Brazil's Amazonian protected areas play an important role in maintaining the environmental services of the region, including Amazonia's role in regional and global climate. These protected areas face threats both from deforestation and from degradation of standing forest. Preserving carbon stocks in protected areas is important both because of the climatic benefit of avoiding greenhouse gas emissions and because of the potential to provide a monetary value that contributes to supporting local human populations in ways that maintain rather than destroy the forest. REDD+ represents one potential mechanism for maintaining these areas. A variety of legal threats to protected areas in Brazilian Amazonia has arisen, leading to concern over the future of these areas and their role as a bulwark against regional climate change.
Keywords
Conservation units 
Indigenous reserves 
Biomass 
REDD 
Amazon 
Global warming 
Brazil's Amazonian protected areas
Brazil's Amazon forest has an important role in avoiding regional as well as global climate change thanks to Amazonia's large stock of carbon that could be emitted as greenhouse gases (Nogueira et al.
2015
; Fearnside
2016a
) and thanks to the forest's role in recycling water that both maintains precipitation in the region and supplies water vapor that is critical to rainfall in other parts of Brazil and in neighboring countries (Arraut et al.
2012
). Deforestation is advancing in Brazilian Amazonia, and the forces underlying this process threaten vast areas of the remaining forest (Fearnside
2017
). Protected areas represent an important part of strategies to slow and contain deforestation (e.g., Ricketts et al.
2010
). Over the past few decades, Brazil has greatly expanded its Amazonian protected areas, which include federal, state, and municipal (county) "conservation units"; Indigenous lands; and Maroon territories (
Quilombos
) (Fig.
1
). Brazil's Legal Amazonia region had 718 protected areas covering 2.2 million km
2
in 2014, representing 43% of the region's area and 57.0% its carbon stock in vegetation at that time considering losses to deforestation (Nogueira et al.
2017
). Deforestation had reduced the "pre-modern" (pre-1970) carbon stock in these protected areas by 2.3% by 2014 (Nogueira et al.
2017
). Some additional biomass carbon had been lost to forest degradation. A variety of threats face Brazil's Amazonian protected areas, thus threatening an important bulwark against regional climate change.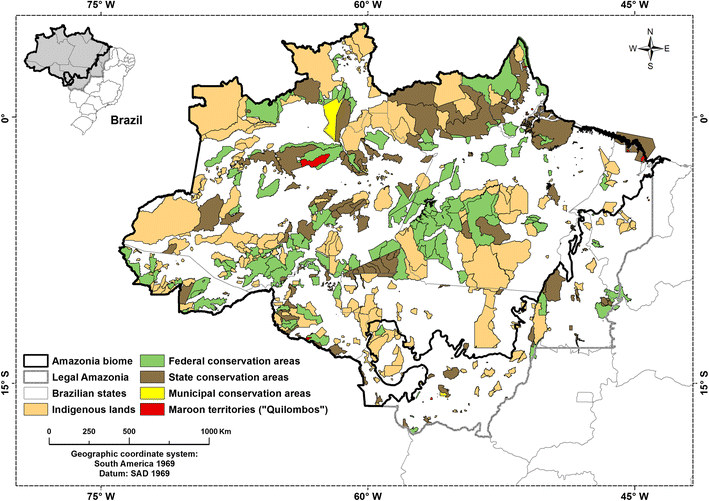 Degradation of standing forest
Forest degradation is a major source of uncertainty concerning current and past carbon emissions in Amazonia and throughout the tropics. In a review of perturbations in the carbon budget of the tropics, Grace et al. (2014) found that "insufficient information is available to estimate the tropical degradation flux and it may be the largest uncertainty in the tropical carbon budget." Berenguer et al. (2014) found that in 2010, carbon emissions from the various forms of degradation in Brazilian Amazonia were equivalent to up to 40% of the emissions from deforestation in the same year, which reached 0.08 Pg C. Data from the DEGRAD program (program for mapping forest degradation in Brazilian Amazonia) indicate that different forms of degradation affected 92,407.2 km2 of native vegetation in Brazilian Amazonia between 2007 and 2013, after deleting the areas that were subsequently clear cut. Of the areas mapped as degraded (Nogueira et al. 2017), 27,872.4 km2, were located within the protected areas. The original carbon stocks C (below- and above-ground) in these areas were estimated to be 0.287 ± 0.077 Pg. However, estimating the carbon loss in these areas continues to be a challenge, since the remotely sensed features commonly used to map degradation do not allow identification of the kind of degradation affecting the mapped areas, which is essential for estimating carbon loss.
Degradation can remove biomass over the full range from close to 0 % to essentially 100%. When degradation is so severe that an area appears as "non-forest" on LANDSAT-TM (30-m resolution) or equivalent satellite images, INPE classifies the areas as deforested in the PRODES dataset that serves as the basis of the forest loss estimates in Nogueira et al. (2017). Not only is the existence of degradation more difficult to detect remotely than deforestation, it is much more difficult to remotely estimate the amount of carbon lost. While deforestation is a simple "yes" or "no" classification, to estimate losses from degradation, one must know both the initial and the present biomass.
Degradation often begins with logging, which not only removes biomass in the harvested trees but also results in killing many other trees that are damaged during the logging operations. Note that much of the logging in Brazilian Amazonia is illegal (Greenpeace 2016) and therefore does not have reduced impact measures that decrease damages in most (but not all) of the legal portion of this activity. Annual emissions from logging in Legal Amazonia have been estimated at 62 × 106 Mg C (Fearnside 2000) and, for five of the region's nine states, at 80 × 106 Mg C (Asner et al. 2005); the only official estimate is 2.4 × 106 Mg C (Brazil, MCT 2004, p. 148), a value that is contested on methodological grounds (Fearnside 2007).
Another major cause of degradation is increased tree mortality during very severe droughts. Emissions have been estimated at 1.2 to 1.6 Pg C from forests throughout the Amazon basin during the drought of 2005 (Phillips et al. 2009) and 1.4 Pg C during the drought of 2010 (Lewis et al. 2011). The trees surviving the 2005 drought had widespread damage to their canopies that remained visible on satellite imagery until the 2010 drought, indicating slow recovery from severe drought stress and an additional risk of mortality under the increasingly closely spaced droughts of the present climate regime (Saatchi et al. 2013). However, while the 2010 drought both increased mortality and slowed the growth of trees in 97 plots monitored by the RAINFOR network in the area affected by this drought, its effect was neither increased nor decreased by the prior occurrence of the 2005 drought at each plot location (Feldpausch et al. 2016).
Fire is a major source of degradation and is favored by both logging and drought. During severe droughts, large areas of forest are affected by understory fires that kill and damage many trees, which can sometimes take several years to die (e.g., Barlow and Peres 2008). During the 1997–1998 El Niño drought, 11.4–13.9 × 103 km2 of forest were burned in Brazil's state of Roraima (Barbosa and Fearnside 1999) and 26.0 × 103 km2 in other parts of Legal Amazonia (Alencar et al. 2006). During the 2005 drought, 866 km2 were burned in Brazil's state of Amazonas (Vasconcelos et al. 2013) and 2800 km2 in the state of Acre, in addition to 1100 km2 in neighboring areas of Bolivia and Peru (Shimabukuro et al. 2009). The 2010 drought caused a dramatic increase in forest flammability and fire penetration into forest in southeastern Amazonia (Brando et al. 2014). As with logging, fire opens gaps in the canopy, leading to dryer microclimate in the forest, and leaves dead biomass that serves as fuel for the next fire, thus setting in motion a positive feedback leading to repeated fires and degradation (e.g., Cochrane et al. 1999). Repeated fires lead to successively lower biomass, essentially destroying the forest completely if burned multiple times within a decade (Longo et al. 2016).
Importance of protected areas in Brazilian Amazonia for carbon storage
In addition to being essential for biodiversity conservation and for the survival of traditional indigenous and non-indigenous populations, the vast area of the Amazon occupied by protected areas contains an enormous carbon store that is under a variety of systems of protection. However, the importance of these areas for maintaining carbon stocks has been underestimated (Walker et al. 2014).
The present study shows that the majority of the remaining forest in Legal Amazonia and in the Amazonia biome is now officially under some form of protection, totaling about 33 Pg C of the remaining carbon held in Brazil's Amazonian vegetation. Carbon in protected areas today represents more than the total reported in Nogueira et al. (2017) because the study's estimates do not include carbon stored in recently created protected areas or in areas for which files delimiting the spatial boundaries were not yet available (see Brazil, MMA 2014). For example, on the occasion of Brazil's National Indian Day in April 2015, the federal government announced demarcation of three new Indigenous lands in the states of Amazonas and Pará, which together increased protected areas in Legal Amazonia by approximately 230,000 ha (Brazil 2015).
The amount of carbon in protected areas in Brazilian Amazonia is related to a combination of the following factors: (i) protected areas occupying over two million km2 (as of 2014), which is mainly covered by mature rainforest and partly distributed in mega-reserves (continuous Indigenous lands or conservation units with more than 1 million hectares; Nogueira et al. 2017); (ii) little loss of native vegetation (< 3%) in protected areas; and (iii) high per-hectare carbon density in remaining vegetation (Nogueira et al. 2017). These three aspects show the importance of managing these areas to benefit regional and global climate conditions because of the large amount of stored carbon that is not being emitted into the atmosphere (Adeney et al. 2009; Dudley et al. 2010). Avoiding emissions requires reducing both deforestation and forest degradation. Any plan to mitigate future emissions of greenhouse gases in the Amazon should consider protected areas as an important part of the strategy, especially protected areas located close to active deforestation frontiers (Nepstad et al. 2006; Clark et al. 2008; Adeney et al. 2009; Soares-Filho et al. 2009).
Protected areas inhibit deforestation by a variety of means. Deforestation caused by large illegal land grabbers ("grileiros") is substantially reduced where protected areas are created because these invaders, who illegally occupy public lands in the expectation of obtaining land tenure in the future (albeit illegally), have only a minimal likelihood of obtaining land title in a protected area (Fearnside 2008). Deforestation in Amazonian protected areas is substantially lower than in the surrounding landscape, even in locations under strong pressure from deforestation or where material and human resources are lacking for management (Bruner et al. 2001; Ferreira et al. 2005; Soares-Filho et al. 2009; Leverington et al. 2010; Barber et al. 2014). In addition, protected areas can act as "barriers" that prevent the advance of deforestation to areas beyond the boundaries of the protected areas themselves (Fearnside 2008). For example, in 2004, the Amazonas state government created a "mosaic" of protected areas along its border with Mato Grosso to prevent deforestation activity in northern Mato Grosso from advancing into southern Amazonas (e.g., Greenpeace 2004). Such barriers can be defeated if roads are built that allow deforesters to simply pass beyond the barrier. This is expected to be the case for another series of reserves intended as a barrier: the "armored zone" ("zona blindada") composed of reserves created between 2006 and 2009 along the route of the BR-319 Highway, an abandoned road that is proposed for reconstruction linking Manaus to the "arc of deforestation" in Rondônia. Planned side roads would perforate this "armor" and allow access to large areas of unprotected forest in the western part of the state of Amazonas (Fearnside and Graça 2006).
Questions remain concerning how much of the reduction of deforestation within protected areas really reflects an absolute reduction of deforestation. One problem is that the deforestation avoided is not directly measured, and the avoided emission must therefore be calculated from a counterfactual baseline scenario. In some studies, the baseline scenarios overestimate the effectiveness of protected areas in reducing deforestation and the amount of deforestation avoided through future measures, mainly due to absence of well-designed empirical analyses (see Andam et al. 2008; Yanai et al. 2012; Vitel et al. 2013). Another problem in estimating how much deforestation has been prevented from occurring in a given protected area is that clearing activity could be redistributed to areas outside (e.g., Ewers and Rodrigues 2008; Terra et al. 2014). Carbon being emitted today through such "leakage" will be compensated for by avoided emission at a future date when available forest is exhausted in the landscape surrounding the reserve (Fearnside 2009, 2012a). The time elapsed between the clearing due to leakage and the future benefit when the reserve effectively avoids deforestation, together with the value attributed to time, are the critical factors in determining the impact of leakage from reserves (Fearnside 2009).
Monetary value of preserving carbon stocks in protected areas
The reservoir of carbon in protected areas in Brazilian Amazonia is, at least formally, under protection, with a variety of levels of restriction on human presence and sustainable use according to the criteria established in Brazilian environmental legislation (Brazil, SNUC 2000; Brazil, PNAP 2006; Brazil, FUNAI 2015). Protection can be effective in some protected areas even if they have only minimal management implementation. For example, ensuring the minimum management of a conservation unit requires employees, basic equipment, and a physical base, in addition to defined boundaries, a management plan, an advisory organization, and an established protection plan (Muanis et al. 2009). Even in protected areas with only minimal management, the carbon is less vulnerable than in surrounding unprotected areas. For example, preliminary analyses indicate that strictly protected areas supported by the ARPA (Amazon Region Protected Areas) program are more refractory to deforestation than those without similar support (Soares-Filho et al. 2009). Highly refractory areas are those with low deforestation inside the protected area despite high deforestation in the surrounding area. This suggests that appropriate management of already-demarcated protected areas can ensure the maintenance of most of the remaining stock of carbon in Brazil's Amazonian forest (Nolte et al. 2013). It would be valuable if at least the costs necessary to promote effective protection could be secured, regardless of whether funds come from government or alternative sources or whether they are proportional to the amount of stored carbon (Muanis et al. 2009; de Queiroz et al. 2010).
Carbon stocks in Amazonian protected areas provide an important justification both for creating more protected areas and for investing in the staffing and other requirements for maintaining the protected areas that have already been created. Estimating the value of carbon stocks held in protected areas requires estimating the resources needed to ensure effective defense of the protected areas that have already been demarcated, even if they receive minimal management. In Brazil, studies of the financial demands of effective protection are scarce, although it is known that the resources required would be substantial because of the need for staffing and for payment of expropriations (Araújo and Barreto 2015) and other basic management investments. It is estimated that about US$ 1.1 million (assuming an exchange rate of R$3.00/US$) would be required to ensure the consolidation of a conservation unit, considering mean total investments since creation (Muanis et al. 2009). This value was estimated from a dataset on total costs obtained for the 2005–2008 period for 51 conservation units supported by ARPA. Since most protected areas in Amazonia are still in the initial implantation stage, funds are needed for adequate management of the protected areas that have already been delimited (Muanis et al. 2009; Araújo and Barreto 2015) in order to conserve nearly 60% of the carbon stocks in Brazilian Amazonia (57.0% in Legal Amazonia and 58.5% in the Amazonia biome). Only 4% of the conservation units in the Amazonia biome have a high level of implementation, while 56% have an intermediate level and 40% have a low level (Brazil, TCU 2014). This reflects, in part, the generally low priority for the environment in the Brazilian government's allocation both of funding and of staffing. It also reflects the fact that in Brazilian Amazonia at present, unlike the parts of Brazil that are already largely deforested, the scarce resources available for conservation have their greatest environmental benefit if used for creating new protected areas, even if they are only "paper parks," rather than in completing implementation of already existing protected areas (Fearnside 2003).
Relevance of protected areas for REDD+
The potential role of protected areas in REDD+ projects needs to be carefully considered. The best estimates of carbon stocks at the time a REDD+ project begins should be used in calculating carbon benefits and will require correction of the pre-modern biomass to reflect degradation. Under REDD+, carbon benefits are calculated at the end of the project period by comparing the emissions estimated to have occurred during the period with the emissions that were predicted to occur under a hypothetical scenario without the REDD+ project. Both the emissions estimated to have actually occurred and those that are calculated to be the most likely outcome under the no-project "baseline" scenario depend on a realistic estimate of biomass.
The baseline scenario is a key issue in controversies surrounding REDD+ as a means of mitigating global warming (Fearnside 2012b). These scenarios can easily be misleading in exaggerating the deforestation that would occur without the project and thereby overstating the project's climatic benefits (Yanai et al. 2012). However, baseline scenarios can be developed without such exaggerations (Vitel et al. 2013). REDD+ and other ways of generating monetary flows to reward avoided carbon emissions from deforestation face significant political challenges, but it also represents a major opportunity both for maintaining Amazonian forests (and their environmental services) and for providing a substantial and timely contribution to efforts to contain global warming (Fearnside 2013).
Legal threats to protected areas in Brazilian Amazonia
Threats to protected areas in the Amazon are not restricted to deforestation and illegal logging. Some threats can be more severe than the lack of effective protection for areas that have already been legally established. The Brazilian National Congress is considering legislation to allow mining in integral protection conservation units and in Indigenous lands. Hundreds of requests for permission to prospect have already been filed by mining companies, which may compromise 20% of these areas (Araújo and Barreto 2010; Brazil, MME 2010; Brazil 2011, 2012; Ferreira et al. 2014).
In addition, sectors opposed to current policies on protected areas in the Amazon have undertaken legislative efforts to change the way that protected areas are created and demarcated, proposing transfer of executive power to the legislature for the establishment of new areas and for making alterations in areas that have already been demarcated (Brazil 2000). In several of the states in Legal Amazonia, judicial measures have been used to change the limits and the degree of protection of protected areas, usually in favor of infrastructure projects such as dams and roads (Araújo and Barreto 2010; Bernard et al. 2014).
These legal and legislative changes may provide mechanisms for more widespread retraction of protected areas throughout the Brazilian Amazon, posing a greater threat than deforestation and degradation (which are usually restricted to agricultural frontier zones). Various business interests and politicians argue that productive activities and economic development are being compromised by the large number and the vast extent of protected areas (Fearnside 2016b). To counteract these threats, it is necessary to quantify and assess all environmental, social, and economic benefits of protected areas. One of the many benefits of these areas is their value as carbon reserves, and it is essential that the climate benefits of this role be recognized and rewarded.
Conclusions
The role of Brazil's Amazonian protected areas in regional and global climate is threatened by deforestation and degradation. These protected areas offer an important climatic benefit by avoiding both greenhouse gas emissions and the loss of water cycling. Mechanisms to harness the value of the forest's environmental services, including possible application of REDD+, are important parts of strategies to maintain protected areas and their environmental services. Legal threats in Brazil place these areas and their climatic role at risk.
Notes
Acknowledgments
We thank the National Institute for Research in Amazonia (INPA: PRJ15.125), the National Institute of Science and Technology for the Environmental Services of Amazonia (INCT-SERVAMB), the National Council for Scientific and Technological Development (CNPq/PCI Program Proc. 304130/2013-3 and 301183/2015-5; CNPq: Proc. 304020/2010-9; 573810/2008-7), the Foundation for Support of Research in Amazonas State (FAPEAM: Proc. 708565), and the National Postdoctoral Program (PNPD/CAPES: Proc. No. 028176/2009-41) for financial and logistical support. This article is a contribution of the Brazilian Research Network on Global Climate Change, FINEP/Rede CLIMA Grant Number 01.13.0353-00. Three reviewers contributed valuable comments.
Copyright information
© Springer-Verlag GmbH Germany 2017