Abstract
The development of climate change policy in cities has been closely tied to the efforts of particular individuals, policy entrepreneurs. However, there is still much we do not know about the conditions underlying the emergence and spread of policy entrepreneurship both generally and in support of climate change policies specifically. In this paper, we shed light on these issues using data from 371 mid-sized cities throughout the Great Lakes region of the USA. Building upon scholarship from the public choice literature, we explore the role that fragmentation, that is, the number of independent but connected governmental units both within the city itself as well as in the city's regional metropolitan or micropolitan area play in explaining the emergence of climate entrepreneurship. We show that not only does fragmentation at both of these levels help predict the emergence of climate change entrepreneurs in individual cities, but also exchanges between these levels could drive the rapid development of policy entrepreneurship and related policy innovations throughout urban systems.
Access options
Buy single article
Instant access to the full article PDF.
US$ 39.95
Tax calculation will be finalised during checkout.
Subscribe to journal
Immediate online access to all issues from 2019. Subscription will auto renew annually.
US$ 79
Tax calculation will be finalised during checkout.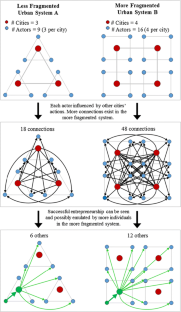 References
Aggarwal RM (2013) Strategic bundling of development policies with adaptation: an examination of Delhi's climate change action Plan. International J of Urban and Reg Research 37:1902–1915. doi:10.1111/1468-2427.12032

Anguelovski I, Carmin J (2011) Something borrowed, everything new: innovation and institutionalization in urban climate governance. Current Opinion in Environ Sustainability 3:1–7. doi:10.1016/j.cosust.2010.12.017

Basolo V (2003) US regionalism and rationality. Urban Stud 40:447–462

Batty M (2013) A Theory of City size. Science 340:1418–1419. doi:10.1126/science.1239870

Batty M, Longley P (1994) Fractal cities: a geometry of form and function. Academic Press, London isbn: 978-0124555709

Berry C (2008) Piling on: multilevel government and the fiscal common-pool. Am J of Pol Sci 52:802–820

Bettencourt LMA (2013) The origins of scaling in cities. Science 340:1438–1441. doi:10.1126/science.1235823

Bettencourt LMA, Lobo J, Helbing D, Kuhnert C, West GB (2007) Growth, innovation, scaling, and the pace of life in cities. PNAS 104:7301–7306. doi:10.1073/pnas.0610172104

Bettencourt LMA, Lobo J, Strumsky D, West GB (2010) Urban scaling and its deviations: revealing the structure of wealth, innovation and crime across cities. PLoS One 5(11):e13541. doi:10.1371/journal.pone.0013541

Bulkeley H, Kern K (2006) Local government and the governing of climate change in Germany and the UK. Urban Stud 43:2237–2259. doi:10.1080/00420980600936491

Burch S (2010) Transforming barriers into enablers of action on climate change: insights from three municipal case studies in British Columbia, Canada. Glob Environ Change 20:287–297. doi:10.1016/j.gloenvcha.2009.11.009

Carmin J, Anguelovski I, Roberts D (2012) Urban climate adaptation in the global South: planning in an emerging policy domain. J of Plann Educ and Res 32:18–32. doi:10.1177/0739456X11430951

Collier U, Löfstedt RE (1997) Think globally, act locally?: local climate change and energy policies in Sweden and the UK. Glob Environ Change 7:25–40. doi:10.1016/S0959-3780(96)00025-8

Denton F, Wilbanks TJ, Abeysinghe AC, Burton I, Gao Q, Lemos MC, Masui T, O'Brien KL, Warner K (2014) Climate-resilient pathways: adaptation, mitigation, and sustainable development. In: Climate Change. 2014: Impacts, Adaptation, and Vulnerability. Part A: Global and Sectoral Aspects. Contribution of Working Group II to the Fifth Assessment Report of the Intergovernmental Panel on Climate Change, 1101–1131

Dillman DA, Smyth JD, Christian LM (2009) Internet, mail, and mixed-mode surveys: the tailored design method, 3rd edn. Wiley, New Jersey isbn: 978-0471698685

Fenton A, Gallagher D, Wright H, Huq S, Nyandiga C (2014) Up-scaling finance for community-based adaptation. Clim and Develop 6:388–397. doi:10.1080/17565529.2014.953902

Hamilton LC (2011) Education, politics and opinions about climate change evidence for interaction effects. Climat Change 104:231–242. doi:10.1007/s10584-010-9957-8

Heinrichs D, Krellenberg K, Fragkias M (2013) Urban responses to climate change: theories and governance practice in cities of the global South. Inter J of Urb and Reg Res 37:1865–1878. doi:10.1111/1468-2427.12031

Hendrick R, Shi Y (2015) Macro-level determinants of local government interaction: how metropolitan regions in the United States compare. Urban Aff Rev 51:414–438. doi:10.1177/1078087414530546

High S (2003) Industrial sunset: the Making of North America's Rust Belt, 1969–1984. University of Toronto Press, Toronto isbn: 978-0802085283

Kalafatis SE, Lemos MC, Lo YJ, Frank KA (2015) Increasing information usability for climate adaptation: the role of knowledge networks and communities of practice. Glob Environ Change 32:30–39. doi:10.1016/j.gloenvcha.2015.02.007

Kingdon JW (1984) Agendas, alternatives and public policies. Little, Brown and Company, Boston isbn: 978-0316493918

Krause RM (2012a) An assessment of the impact that participation in local climate networks has on cities' implementation of climate, energy, and transportation policies. Rev of Pol Res 29:585–604. doi:10.1111/j.1541-1338.2012.00582.x

Krause RM (2012b) Political decision-Making and the local provision of public goods: the case of municipal climate protection in the US. Urban Stud 49:2399–2417. doi:10.1177/0042098011427183

Lambright WH, Chagnon SA, Harvey LDD (1996) Urban reactions to the global warming issue: agenda setting in Toronto and Chicago. Climat Change 34:463–478. doi:10.1007/BF00139302

Longworth RC (2009) Caught in the middle: America's heartland in the age of globalism. Bloomsbury, New York isbn: 978-1596915909

Marquart-Pyatt ST, McCright AM, Dietz T, Dunlap RE (2014) Politics eclipses climate extremes for climate change perceptions. Glob Environ Change 29:246–257. doi:10.1016/j.gloenvcha.2014.10.004

McCright AM, Dunlap RE (2011) The politicization of climate change and polarization in the American Public's views of global warming, 2001-2010. Sociol Q 52:155–194. doi:10.1111/j.1533-8525.2011.01198.x

Measham TG, Preston BL, Smith TF, Brooke C, Gorddard R, Withycombe G, Morrison C (2011) Adapting to climate change through local municipal planning: barriers and challenges. Mitig Adapt Strateg Glob Chang 16:889–909. doi:10.1007/s11027-011-9301-2

Mintrom M (1997) Policy entrepreneurs and the diffusion of innovation. Amer J of Pol Sci 41(3):738–770. doi:10.2307/2111674

Mintrom M (2000) Policy entrepreneurs and school choice. Georgetown University Press, Washington isbn: 978-0878407712

Mintrom M, Norman P (2009) Policy entrepreneurship and policy change. Policy Studies Journal 37:649–667. doi:10.1111/j.1541-0072.2009.00329.x

Mintrom M, Vergari S (1996) Advocacy coalitions, policy entrepreneurs, and policy change. Policy Studies Journal 24:420–434. doi:10.1111/j.1541-0072.1996.tb01638.x

Mukheibir P, Ziervogel G (2007) Developing a municipal adaptation Plan (MAP) for climate change: the city of cape town. Environ & Urban 19:143–158. doi:10.1177/0956247807076912

Musso JA (1998) Fiscal federalism as a framework for governance. In: Thompson F, Green M (eds) Handbook of public finance. Marcel Dekker, New York, pp 347–396 isbn: 0-8247-0134-8

Ostrom V, Tiebout CM, Warren R (1961) The Organization of Government in metropolitan areas: a theoretical inquiry. American Political Science Review 55:831–842. doi:10.1017/S0003055400125973

Roberts D (2008) Thinking globally, acting locally — institutionalizing climate change at the local government level in Durban, South Africa. Environ & Urban 20:521–537. doi:10.1177/0956247808096126

Roberts NC, King PJ (1996) Transforming public policy: dynamics of policy entrepreneurship and innovation. Jossey-Bass, San Francisco isbn: 978-0787902025

Salingaros NA (2004) Connecting the Fractal City. PLANUM 8:1–27.

Schläpfer M, Bettencourt LMA, Grauwin S, Raschke M, Claxton R, Smoreda Z, West GB, Ratti C (2014) The scaling of human interactions with city size. J R Soc Interface 11:1–9. doi:10.1098/rsif.2013.0789

Schneider M (1989) The Competitive City: the political economy of suburbia. University of Pittsburgh Press, Pittsburgh isbn: 978-0822954521

Schneider M, Teske P (1992) Toward a theory of the political entrepreneur: evidence from local government. American Political Science Review 86:737–747. doi:10.2307/1964135

Schneider M, Teske P, Mintrom M (1995) Public entrepreneurs: agents for change in American government. Princeton University Press, New Jersey isbn: 9781400821570

Strumpf KS (2002) Does government decentralization increase policy innovation? Journal of Public Economic Theory 4:207–241

Tiebout CM (1956) A pure Theory of local expenditures. J Polit Econ 64:416–424. doi:10.1086/257839

True J, Mintrom M (2001) Transnational networks and policy diffusion: the case of gender mainstreaming. Int Stud Q 45:27–57. doi:10.1111/0020-8833.00181

Wejs A (2014) Integrating climate change into governance at the municipal scale: an institutional perspective on practices in Denmark. Environ and Plan C 32(6):1017–1035. doi:10.1068/c1215

Wolman H, Spitzley D (1996) The politics of local economic development. Econ Develop Quart 10:115–150. doi:10.1177/089124249601000201

Woodruff SC, Stults M (2016) Numerous strategies but limited implementation guidance in US local adaptation plans. Nature Climate Change Online Preprint Publication. doi:10.1038/nclimate3012

Zahran S, Himanshu G, Brody SD, Vedlitz A (2008) Risk, stress, and capacity: explaining metropolitan commitment to climate protection. Urban Aff Rev 43:447–474. doi:10.1177/1078087407304688
Acknowledgements
This research was supported in part by the National Oceanic and Atmospheric Administration's Regional Integrated Sciences and Assessments Program (Grant NA10OAR4310213/Great Lakes Integrated Sciences + Assessments). We thank all of our survey respondents throughout the region who were willing to share their knowledge with us. We would also especially like to thank Yun-Jia Lo for her essential feedback on the quantitative analysis in this paper as well as Scott Campbell and Sara Hughes for their comments on a previous version. Finally, we are grateful for the guidance we received from our two anonymous reviewers.
Additional information
Editor: Robbert Biesbroek.
About this article
Cite this article
Kalafatis, S.E., Lemos, M.C. The emergence of climate change policy entrepreneurs in urban regions. Reg Environ Change 17, 1791–1799 (2017). https://doi.org/10.1007/s10113-017-1154-0
Received:

Accepted:

Published:

Issue Date:
Keywords
Cities

Metropolitan/micropolitan regions

Policy entrepreneurs

Fragmentation

Policy innovation