Abstract
The land sparing versus land sharing debate has already had a significant history and was particularly active during the last decade. Studies carried out mostly by ecologists and agronomists have clarified a number of issues related to best land use strategies in different landscapes, establishing that the best strategy depends first on the response of biodiversity to anthropogenic pressures, and can vary with the spatial scale of the analysis. We argue that the first contribution of an economist's perspective is to place the idea of social efficiency, i.e., the improvement in human welfare from limited resources, at the heart of discussions and models concerning the food/biodiversity nexus. The purpose and meaning of economic approaches, whether incorporated into biophysical analyses or based on their results, is to identify and understand the logic and behaviour of agents and their impact on land use. We highlight some significant results derived from modelling work. In particular, it is shown that the assumption of fixed production target used in many works is unrealistic. We put into perspective recent work that analysed the effects of price changes and the impact of agricultural markets on land use. We conclude on the importance of integrating the economic mechanisms that guide individual and collective behaviours, in the design of local policy mix between land sparing and land sharing.
Access options
Buy single article
Instant access to the full article PDF.
US$ 39.95
Tax calculation will be finalised during checkout.
Subscribe to journal
Immediate online access to all issues from 2019. Subscription will auto renew annually.
US$ 79
Tax calculation will be finalised during checkout.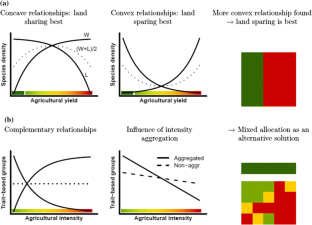 Notes
1.

If the ecological conditions allow it in the long run, an openfield of organic production would fit the land sharing concept. In fact, the literature on agroecology is often artificially linked to the LS² debate (as well as the debate on ecological intensification).

2.

This effect is ambiguous and depends on the shape of the demand function for food. Intensification (assuming higher profit) increases the share of intensive agriculture, but may reduce more than proportionally the share of extensive farming if demand has a low price-elasticity. The overall result may depend on some type of rebound effect (see Lambin and Meyfroidt 2011).

3.

The consumers' surplus is the gain obtained by consumers when they can purchase a product for a price that is less than the highest price that they would be willing to pay it. The producers' surplus is the gain obtained by producers when they sell their product at a price higher than the least that they would be willing to sell for, or what it cost to produce it. The total surplus (consumers' and producers' surplus) is equivalent to the net economic value.

4.

It is perhaps not superfluous to remind that a large part of the populations suffering from hunger are poor peasants: "Today, nearly two-thirds of the world's hungry people are farmers and pastoralists who live in marginal lands in Asia and Africa" (Borlaug 2007).
References
Allen R (1980) World conservation strategy. Living resource conservation for sustainable development. IUCN, Gland

Altieri MA (2002) Agroecology: the science of natural resource management for poor farmers in marginal environments. Agric Ecosyst Environ 93:1–24. doi:10.1016/S0167-8809(02)00085-3

Andreyeva T, Long MW, Brownell KD (2010) The impact of food prices on consumption: a systematic review of research on the price elasticity of demand for food. Am J Public Health 100(2):216–222. doi:10.2105/AJPH.2008.151415

Angelsen A, Kaimowitz D (eds) (2001) Agricultural technologies and tropical deforestation. CAB International, Wallingford, p 422

Badgley C, Perfecto I (2007) Can organic agriculture feed the world? Renew Agric Food Syst 22(02):80–86. doi:10.1017/S1742170507001871

Badgley C, Moghtader J, Quintero E, Zakem E, Chappell MJ, Aviles-Vazquez K, Perfecto I (2007) Organic agriculture and the global food supply. Renew Agric Food Syst 22(2):86–108. doi:10.1017/S1742170507001871

Balmford A, Green R, Scharlemann JP (2005) Sparing land for nature: exploring the potential impact of changes in agricultural yield on the area needed for crop production. Glob Chang Biol 11(10):1594–1605. doi:10.1111/j.1365-2486.2005.001035.x

Barraquand F, Martinet V (2011) Biological conservation in dynamic agricultural landscapes: effectiveness of public policies and trade-offs with agricultural production. Ecol Econ 70(5):910–920. doi:10.1016/j.ecolecon.2010.12.019

Batary P, Baldi A, Erdos S (2007) Grassland versus non-grassland bird abundance and diversity in managed grasslands: local, landscape and regional scale effects. Biodivers Conserv 16:871–881. doi:10.1007/s10531-006-9135-5

Bignal EM, McCracken DI (1996) Low-intensity farming systems in the conservation of the countryside. J Appl Ecol 33:413–424. doi:10.2307/2404804

Borlaug NE (2002) Feeding a world of 10 billion people: the miracle ahead. In Vitro Cell Develop Biol Plant 38(2):221–228. doi:10.1079/IVP2001279

Borlaug N (2007) Feeding a hungry world. Science 318(5849):359. doi:10.1126/science.1151062

Bougherara D, Combris P (2009) Eco-labelled food products: what are consumers paying for? Eur Rev Agric Econ 36(3):321–341. doi:10.1093/erae/jbp023

Butsic V, Radeloff VC, Kuemmerle T, Pidgeon AM (2012) Analytical solutions to trade-offs between size of protected areas and land-use intensity. Conserv Biol 26:883–893. doi:10.1111/j.1523-1739.2012.01887.x

Chazdon RL, Harvey CA, Komar O, Griffith DM, Ferguson BG, Martínez-Ramos M, Philpott SM (2009) Beyond reserves: a research agenda for conserving biodiversity in human-modified tropical landscapes. Biotropica 41(2):142–153. doi:10.1111/j.1744-7429.2008.00471.x

Chiron F, Chargé R, Julliard R, Jiguet F, Muratet A (2014) Pesticide doses, landscape structure and their relative effects on farmland birds. Agric Ecosyst Environ 185:153–160. doi:10.1016/j.agee.2013.12.013

Costello C, Polasky S (2004) Dynamic reserve site selection. Resour Energy Econ 26(2):157–174. doi:10.1002/aqc.2369

Desquilbet M, Dorin B, Couvet D (2013) Land sharing ou land sparing pour la biodiversité: comment les marchés agricoles font la différence. Innov Agron 32:377–389

Desquilbet M, Dorin B, Couvet D (2016) Land sharing vs land sparing to conserve biodiversity: how agricultural markets make the difference. Environ Model Assess. doi:10.1007/s10666-016-9531-5

Ekroos J, Hyvönen T, Tiainen J, Tiira M (2010) Responses in plant and carabid communities to farming practises in boreal landscapes. Agric Ecosyst Environ 135(4):288–293

Ewers RM, Scharlemann JPW, Balmford A, Green RE (2009) Do increases in agricultural yield spare land for nature? Glob Chang Biol 15:1716–1726. doi:10.1111/j.1365-2486.2009.01849.x

Fischer J, Brosi B, Daily GC, Ehrlich PR, Goldman R, Goldstein J, Tallis H (2008) Should agricultural policies encourage land sparing or wildlife-friendly farming? Front Ecol Environ 6(7):380–385. doi:10.1890/070019

Fischer J, Abson DJ, Butsic V, Chappell MJ, Ekroos J, Hanspach J, Wehrden H (2014) Land sparing versus land sharing: moving forward. Conserv Lett 7(3):149–157. doi:10.1111/conl.12084

Godfray HCJ (2011) Food and biodiversity. Science 333(6047):1231–1232. doi:10.1126/science.1211815

Godfray HCJ, Beddington JR, Crute IR, Haddad L, Lawrence D, Muir JF, Toulmin C (2010) Food security: the challenge of feeding 9 billion people. Science 327(5967):812–818. doi:10.1126/science.1185383

Goklany IM (1998) Saving habitat and conserving biodiversity on a crowded planet. Bioscience 48(11):941–953. doi:10.2307/1313298

Grau R, Kuemmerle T, Macchi L (2013) Beyond 'land sparing versus land sharing': environmental heterogeneity, globalization and the balance between agricultural production and nature conservation. Curr Opin Environ Sustain 5(5):477–483. doi:10.1016/j.cosust.2013.06.001

Green RE, Cornell SJ, Scharlemann JP, Balmford A (2005) Farming and the fate of wild nature. Science 307(5709):550–555. doi:10.1126/science.1106049

Griffon M, Weber J (1998) Economic and institutional aspects of the Doubly Green Revolution. Dev Res Netw Nat Res Environ Ecol (USA) 9(4):39–42

Hart R, Brady M, Olsson O (2014) Joint production of food and wildlife: uniform measures or nature oases? Environ Resour Econ 59(2):187–205. doi:10.1007/s10640-013-9723-2

Hertel TW, Ramankutty N, Baldos ULC (2014) Global market integration increases likelihood that a future African Green Revolution could increase crop land use and CO2 emissions. Proc Natl Acad Sci USA 111(38):13799–13804. doi:10.1073/pnas.1403543111

Hulme MF, Vickery JA, Green RE, Phalan B, Chamberlain DE, Pomeroy DE, Atkinson PW (2013) Conserving the birds of Uganda's banana-coffee arc: land sparing and land sharing compared. PLoS ONE 8(2):e54597. doi:10.1371/journal.pone

Kaimowitz D (1996) Livestock and deforestation in Central America in the 1980s and 1990s: a policy perspective. Center for International Forestry Research (CIFOR), Jakarta, p 88

Kendall HW, Pimentel D (1994) Constraints on the expansion of the global food supply. Ambio 23:198–205

Kleijn D, Kohler F, Baldi A (2009) On the relationship between farmland biodiversity and land-use intensity in Europe. Philos Trans R Soc B Biol Sci 276:903–909. doi:10.1098/rspb.2008.1509

Kremen C (2015) Reframing the land-sparing/land-sharing debate for biodiversity conservation. Ann N Y Acad Sci 1355(1):52–76. doi:10.1111/nyas.12845

Lambin EF, Meyfroidt P (2011) Global land use change, economic globalization, and the looming land scarcity. Proc Natl Acad Sci 108(9):3465–3472. doi:10.1073/pnas.1100480108

Loos J, Abson DJ, Chappell MJ, Hanspach J, Mikulcak F, Tichit M, Fischer J (2014) Putting meaning back into "sustainable intensification". Front Ecol Environ 12(6):356–361. doi:10.1890/130157

Martinet V (2014) The economics of the food versus biodiversity debate. Paper presented at the EAAE 2014 Congress, agri-food and rural innovations for healthier societies, Ljubljana, Slovenia, 26–29 Aug 2014

Martinet V, Barraquand F (2012) Trade-offs between food production and biodiversity conservation: some economic aspects. Paper presented at 14th BioEcon conference resource economics, biodiversity conservation and development, Kings College, Cambridge (UK), 18–20 Sep

Matson PA, Vitousek PM (2006) Agricultural intensification: will land spared from farming be land spared for nature? Conserv Biol 20(3):709–710. doi:10.1111/j.1523-1739.2006.00442.x

Mouysset L, Doyen L, Jiguet F (2014) From population viability analysis to coviability of farmland biodiversity and agriculture. Conserv Biol 28(1):187–201. doi:10.1111/cobi.12184

Naidoo R, Balmford A, Ferraro PJ, Polasky S, Ricketts TH, Rouget M (2006) Integrating economic costs into conservation planning. Trends Ecol Evol 21(12):681–687. doi:10.1016/j.tree.2006.10.003

Paracchini ML, Petersen JE, Hoogeveen Y, Bamps C, Burfield I, van Swaay C (2008). High nature value farmland in Europe. An estimate of the distribution patterns on the basis of land cover and biodiversity data, Luxemburg: Office for Official Publications of the European Communities

Perfecto I, Vandermeer J (2008a) Biodiversity conservation in tropical agroecosystems. Ann N Y Acad Sci 1134(1):173–200. doi:10.1196/annals.1439.011

Perfecto I, Vandermeer J (2008b) Spatial pattern and ecological process in the coffee agroforestry system. Ecology 89(4):915–920

Perfecto I, Vandermeer J (2010) The agroecological matrix as alternative to the land-sparing/agriculture intensification model. Proc Natl Acad Sci 107(13):5786–5791. doi:10.1073/pnas.0905455107

Perfecto I, Vandermeer J, Mas A, Pinto L (2005) Biodiversity, yield, and shade coffee certification. Ecol Econ 54:435–446. doi:10.1016/j.ecolecon.2004.10.009

Phalan B, Onial M, Balmford A, Green RE (2011a) Reconciling food production and biodiversity conservation: land sharing and land sparing compared. Science 333(6047):1289–1291. doi:10.1126/science.1208742

Phalan B, Balmford A, Green RE, Scharlemann JP (2011b) Minimising the harm to biodiversity of producing more food globally. Food Policy 36:S62–S71. doi:10.1016/j.foodpol.2010.11.008

Phalan B, Green R, Balmford A (2014) Closing yield gaps: perils and possibilities for biodiversity conservation. Philos Trans R Soc Lond B Biol Sci 369(1639):20120285. doi:10.1098/rstb.2012.0285

Pimentel D, Stachow U, Takacs DA, Brubaker HW, Dumas AR, Meaney JJ, O'Neil JAS, Onsi DE, Corzilius DB (1992) Conserving biological diversity in agricultural/forestry systems. Bioscience 42:354–362. http://www.jstor.org/stable/1311782

Polasky S, Costello C, McAusland C (2004) On trade, land-use, and biodiversity. J Environ Econ Manag 48(2):911–925. doi:10.1016/j.jeem.2003.11.003

Polasky S, Nelson E, Camm J, Csuti B, Fackler P, Lonsdorf E, Tobalske C (2008) Where to put things? Spatial land management to sustain biodiversity and economic returns. Biol Conserv 141(6):1505–1524. doi:10.1016/j.biocon.2008.03.022

Queiroz C, Beilin R, Folke C, Lindborg R (2014) Farmland abandonment: threat or opportunity for biodiversity conservation? A global review. Front Ecol Environ 12(5):288–296. doi:10.1890/120348

Ranganathan J, Daniels RJR, Chandran MDS, Ehrlich PR, Daily GC (2008) Sustaining biodiversity in ancient tropical countryside. Proc Natl Acad Sci USA 105:17852–17854. doi:10.1073/pnas.0808874105

Roebeling PC, Hendrix EMT (2010) Land speculation and interest rate subsidies as a cause of deforestation: the role of cattle ranching in Costa Rica. Land Use Policy 27:489–496. doi:10.1016/j.landusepol.2009.07.002

Scariot A (2013) Land sparing or land sharing: the missing link. Front Ecol Environ 11:177–178. doi:10.1890/13.WB.008

Sen A (1981) Poverty and famines: an essay on entitlement and deprivation. Oxford Clarendon Press, Oxford, p 257

Seufert V, Ramankutty N, Foley JA (2012) Comparing the yields of organic and conventional agriculture. Nature 485(7397):229–232. doi:10.1038/nature11069

Steffan-Dewenter I, Kessler M, Barkmann J, Bos MM, Buchori D, Erasmi S, Tscharntke T (2007) Tradeoffs between income, biodiversity, and ecosystem functioning during tropical rainforest conversion and agroforestry intensification. Proc Natl Acad Sci USA 104(12):4973–4978. doi:10.1073/pnas.0608409104

Teillard F (2012) Reconciling food production and biodiversity in farmlands: the role of agricultural intensity and its spatial allocation. PhD dissertation, Université Paris Descartes. https://tel.archives-ouvertes.fr/tel-00766882/

Teillard F, Allaire G, Cahuzac E, Léger F, Maigné E, Tichit M (2012) A novel method for mapping agricultural intensity reveals its spatial aggregation: implications for conservation policies. Agric Ecosyst Environ 149:135–143. doi:10.1016/j.agee.2011.12.018

Teillard F, Jiguet F, Tichit M (2015) The response of farmland bird communities to agricultural intensity as influenced by aggregation. PLoS ONE 10(3):e0119674. doi:10.1371/journal.pone.0119674

Tilman D, Cassman KG, Matson PA, Naylor R, Polasky S (2002) Agricultural sustainability and intensive production practices. Nature 418(6898):671–677

Tilman D, Fargione J, Wolff B, D'Antonio C, Dobson A, Howarth R, Swackhamer D (2001) Forecasting agriculturally driven global environmental change. Science 292(5515):281–284. doi:10.1126/science.1057544

Tomich TP, Van Noordwjik M, Budidarsono S, Gillison AN, Kusumanto T, Murdiyarso D, Stolle F, Fagi AM (2001) Agricultural intensification, deforestation, and the environment: assessing tradeoffs in Sumatra, Indonesia. In: Lee DR, Barrett CB (eds) Tradeoffs or synergies?: agricultural intensification, economic development, and the environment. CAB International, Wallingford, Oxon, UK, pp 221–244

Trewavas AJ (2001) The population/biodiversity paradox. Agricultural efficiency to save wilderness. Plant Physiol 125(1):174–179. doi:10.1104/pp.125.1.174

Tscharntke T, Clough Y, Wanger TC, Jackson L, Motzke I, Perfecto I, Whitbread A (2012) Global food security, biodiversity conservation and the future of agricultural intensification. Biol Conserv 151(1):53–59. doi:10.1016/j.biocon.2012.01.068

Van Noordwijk M, Tomich TP, Verbist B (2003) Negotiation support models for integrated natural resource management in tropical forest margins. In: Campbell BM, Sayer JA (eds) Integrated natural resource management: linking productivity, the environment, and development. CABI Publishing, Cambridge, pp 87–108

Vandermeer J, Perfecto I (2005) The future of farming and conservation. Science 308(5726):1257–1258

Waggoner PE (1996) How much land can ten billion people spare for nature? Daedalus 73–93. http://www.jstor.org/stable/20027371
Acknowledgements
A first version of this paper was presented at the 3rd International Conference: Biodiversity and Food Security—From Tradeoffs to Synergies, Aix-en-Provence, October 29–31, 2014. The authors wish to express their sincere thanks to the organizers and participants of the conference, to Vincent Martinet (INRA Eco-Pub, Paris) for friendly and useful comments on an earlier version of the text, and to three referees whose criticisms and suggestions have indeed contributed to improve this text.
About this article
Cite this article
Salles, JM., Teillard, F., Tichit, M. et al. Land sparing versus land sharing: an economist's perspective. Reg Environ Change 17, 1455–1465 (2017). https://doi.org/10.1007/s10113-017-1142-4
Received:

Accepted:

Published:

Issue Date:
Keywords
Agriculture

Conservation

Economic analysis

Land sharing

Land sparing