Abstract
Despite internationally recognized definitions, there remains debate over what constitutes 'actual' degradation in various agro-pastoral contexts. This contention is especially pronounced in post-Soviet Central Asia. In this paper, we report on new interview data from the post-Soviet Kyrgyz Republic. These data evidence greater diversity of local perceptions of pasture degradation than previously reported. We then demonstrate how considering the role of well-documented aspects of human cognition demystifies the otherwise puzzling inconsistency in local pasture degradation narratives. We conclude by reflecting on the implications of this analytical approach for management.
This is a preview of subscription content, log in to check access.
Access options
Buy single article
Instant access to the full article PDF.
US$ 39.95
Tax calculation will be finalised during checkout.
Subscribe to journal
Immediate online access to all issues from 2019. Subscription will auto renew annually.
US$ 99
Tax calculation will be finalised during checkout.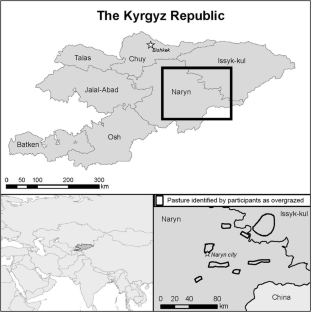 References
Addison J, Friedel M, Brown C, Davies J, Waldron S (2012) A critical review of degradation assumptions applied to Mongolia's Gobi Desert. Rangel J 34:125–137. doi:10.1071/RJ11013

Bai ZG, Dent DL, Olsson L, Schaepman ME (2008) Proxy global assessment of land degradation. Soil Use Manag 24(3):223–234. doi:10.1111/j.1475-2743.2008.00169.x

Bolotova A (2004) Colonization of nature in the Soviet Union: state ideology, public discourse, and the experience of geologists. Historical social research, 104–123. Retrieved 4 Nov 2016, from http://nbn-resolving.de/urn:nbn:de:0168-ssoar-30790

Borchardt P, Schickhoff U, Scheitweiler S, Kulikov M (2011) Mountain pastures and grasslands in the SW Tien Shan, Kyrgyzstan—floristic patterns, environmental gradients, phytogeography, and grazing impact. J Mt Sci 8(3):363–373. doi:10.1007/s11629-011-2121-8

Bussler S (2010) Community based pasture management in Kyrgyzstan. Bishkek, Kyrgyzstan: Deutsche Gesellschaft für international Zusammenarbeit (GIZ) and CAMP Alatoo. Retrieved 3 Nov 2016, from http://tinyurl.com/pee6x9z

Cohen S (2001) States of denial: knowing about atrocities and suffering. Polity Press, Cambridge

Creswell JW (2013) Qualitative inquiry and research design: choosing among five approaches. Sage, Thousand Oaks

Crewet W (2012) Improving the sustainability of pasture use in Kyrgyzstan. Mt Res Dev 32(3):267–274. doi:10.1659/MRD-JOURNAL-D-11-00128.1

Crewett W (2015a) Introducing decentralized pasture governance in Kyrgyzstan: designing implementation rules. Environ Sci Policy 53:215–224. doi:10.1016/j.envsci.2014.12.009

Crewett W (2015b) Street-level bureaucrats at work: a municipality-level institutional analysis of community-based natural resource management implementation practice in the pasture sector of Kyrgyzstan. Sustainability 7:3146–3174. doi:10.3390/su7033146

Eddy I (2016) Land degradation in Central Asia: Identifying dynamics of pasture resources in heterogeneous landscapes using remote sensing. Retrieved 3 Nov 2016, from UBC Open Collections (cIRcle): http://tinyurl.com/zuc3a8a

FAOSTAT (2014) Production: live animals (Kyrgyzstan). Retrieved 3 Nov 2016, from http://faostat3.fao.org/browse/Q/QA/E

Fernández-Giménez ME (2002) Spatial and social boundaries and the paradox of pastoral land tenure: a case study from postsocialist Mongolia. Hum Ecol 30(1):49–78. doi:10.1023/A:1014562913014

Gigerenzer G, Brighton H (2009) Homo heuristicus: why biased minds make better inferences. Top Cognit Sci 1(1):107–143. doi:10.1093/acprof:oso/9780199744282.003.0001

Heck PR, Krueger JI (2015) Self-enhancement diminished. J Exp Psychol Gen 144(5):1003–1020. doi:10.1037/xge0000105

Ishenbekova N (2010) The history of animal husbandry of the Kyrgyz Republic (1980–1990): experience and challenges. Issyk-Kul State University (PhD Thesis)

Jacquesson S (2010) Reforming pastoral land use in Kyrgyzstan: from clan and custom to self-government and tradition. Cent Asian Surv 29(1):103–118. doi:10.1080/02634931003765571

Kakinuma K, Ozaki T, Takatsuki S, Chuluun J (2008) How pastoralists in Mongolia perceive vegetation changes caused by grazing. Nomadic Peoples 12(2):67–73. doi:10.3167/np.2008.120205

Kiage L (2013) Perspectives on the assumed causes of land degradation in the rangelands of Sub-Saharan Africa. Prog Phys Geogr 37(5):664–684. doi:10.1177/0309133313492543

Korman AK (2001) Self-enhancement and self-protection: toward a theory of work motivation. In: Erez M, Kleinbeck U, Theirry H (eds) Work motivation in the context of a globalizing economy. Lawrence Erlbaum Associates, Mahwah, pp 121–130

Kulov KM, Zhooshov PM (2007) Desertification processes in Kyrgyzstan [Russian language]. Problems of Desert Development, 2, 7-10. Retrieved 4 Nov 2016, from http://science.gov.tm/files/desert_2_2007.pdf

Lal R, Safriel U, Boer B (2012) Zero Net Land Degradation: a New Sustainable Development Goal for Rio +20 (report). UNCCD. Retrieved 4 Nov 2016, from https://sustainabledevelopment.un.org/content/documents/UNCCD_PolicyBrief_ZeroNetLandDegradation.pdf

Levine J, Chan KM, Satterfield T (2015) From rational actor to efficient complexity manager: exorcising the ghost of Homo economicus with a unified synthesis of cognition research. Ecol Econ 114:22–32. doi:10.1016/j.ecolecon.2015.03.010

Liechti K (2012) The meanings of pasture in resource degradation negotiations: evidence from post-socialist rural Kyrgyzstan. Mt Res Dev 32(3):304–312. doi:10.1659/MRD-JOURNAL-D-11-00113.1

Makridakis S, Moleskis A (2015) The costs and benefits of positive illusions. Front Psychol 6:859. doi:10.3389/fpsyg.2015.00859

Mestre I (2014) Involving communities in pasture management: the challenge of pasture committees in Kyrgyzstan. Central Eurasian Scholars & Media Initiative. Retrieved 4 Nov 2016, from http://cesmi.info/wp/?p=1046]

Mestre I, Ibraimova A, Azhibekov B (2013) Conflicts over pasture resources in the Kyrgyz Republic. Bishkek: Centra Asia Mountain Partnership (CAMP) Alatoo. Retrieved 3 Nov 2011, from http://tinyurl.com/gtwrsqt

Peterson J, Flanders JL (2002) Complexity management theory: motivation for ideological rigidity and social conflict. Cortex 38:429–458. doi:10.1016/S0010-9452(08)70680-4

Rahimon RM (2012) Evolution of land use in pastoral culture in Central Asia with special reference to Kyrgyzstan and Kazakhstan. In: Squires V (ed) Rangeland stewardship in Central Asia: balancing improved livelihoods, biodiversity conservation and land protection. Springer, Dordrecht, pp 51–67

Robinson S (2016) Land degradation in Central Asia: evidence, perception and policy. In: Behnke RH, Mortimore M (eds) The end of desertification?. Springer, Heidelberg, pp 451–490

Robinson S, Milner-Gulland EJ, Alimaev I (2003) Rangeland degradation in Kazakhstan during the Soviet era: re-examining the evidence. J Arid Environ 53:419–439. doi:10.1006/jare.2002.1047

Sedikides C, Gaertner L, Toguchi Y (2003) Pancultural self-enhancement. J Pers Soc Psychol 84(1):60–79. doi:10.1037/0022-3514.84.1.60

Shepperd JA, Waters EA, Weinstein ND, Klein WM (2015) A primer on unrealistic optimism. Curr Dir Psychol Sci 24(3):232–237. doi:10.1177/0963721414568341

Shigaeva J, Hagerman S, Zerriffi Z, Hergarten C, Isaeva A, Mamadalieva Z, Foggin M (2016) Decentralizing governance of agropastoral systems in Kyrgyzstan: an assessment of recent pasture reforms. Mt Res Dev 36(1):91–101. doi:10.1659/MRD-JOURNAL-D-15-00023.1
Acknowledgements
We wish to thank the Partnership for the Advancement of Human Development in Africa and Asia (AKDN and Government of Canada) for their financial support.
Additional information
Editor: Nicolas Dendoncker.
About this article
Cite this article
Levine, J., Isaeva, A., Eddy, I. et al. A cognitive approach to the post-Soviet Central Asian pasture puzzle: new data from Kyrgyzstan. Reg Environ Change 17, 941–947 (2017). https://doi.org/10.1007/s10113-017-1122-8
Received:

Accepted:

Published:

Issue Date:
Keywords
Pasture degradation

Central Asia

Cognition

Post-Soviet

Kyrgyzstan

Self-concept