Abstract
In this paper, we contribute to recent attempts to operationalize the measurement of climate resilience by measuring household resilience to climate shocks and by assessing the role of farmer innovations in enhancing climate resilience. Adapting the Food and Agriculture Organization's resilience tool, we develop a household resilience index using survey data from rural farm households in northern Ghana. The index consists of six components and 23 indicators and was constructed using two indicator-weighting approaches. The proposed resilience index is a simple tool that can be used to quantitatively assess the resilience of households to the incidence of climate shocks and to monitor interventions aimed at building rural household resilience to unpredictable shocks. The results indicate that farm households in the study region are weakly resilient to climate shocks. We also show that farmers go beyond adoption of externally driven technologies to develop their very own innovations, and these innovations contribute significantly to enhancing household resilience to climate shocks. Using propensity score matching method, we found that farmer innovators are about 6% more resilient to climate shocks than non-innovators. This result is robust to alternative weighting approaches and matching algorithms, and also to hidden bias. The paper concludes that policy efforts aiming at enhancing farm households' resilience to climate shocks should consider providing support for farmers' innovations.
This is a preview of subscription content, log in to check access.
Access options
Buy single article
Instant access to the full article PDF.
US$ 39.95
Price includes VAT for USA
Subscribe to journal
Immediate online access to all issues from 2019. Subscription will auto renew annually.
US$ 99
This is the net price. Taxes to be calculated in checkout.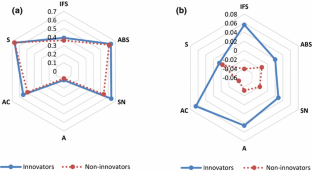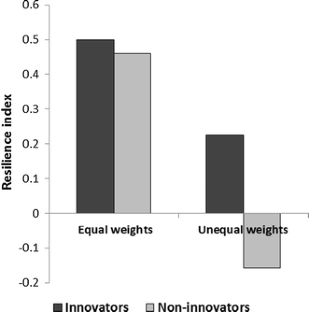 Notes
1.

For a review of the different matching techniques, see Caliendo and Kopeinig (2008).

2.

The other two matching estimators also yield similar results of matching quality, but are not reported for brevity.

3.

The resilience indices based on the unequal weighting approach, which were constructed using PCA, have a sample mean value of zero. Thus, percentage interpretations relative to the sample mean are not possible (Kabunga et al. 2014). However, the ATT values suggest that innovators are significantly more resilient to climate shocks than non-innovators.
References
Alinovi L, Mane E, Romano D (2008) Towards the Measurement of Household Resilience to Food Insecurity: Applying a Model to Palestinian Household Data. In: Sibrian R (ed) Deriving Food Security Information From National Household Budget Surveys. Experiences, Achievement, Challenges, FAO. Rome, pp 137–152

Alinovi L, D'Errico M, Mane E, Romano D (2010) Livelihoods strategies and household resilience to food insecurity: an empirical analysis to Kenya. Paper presented at the European Research for Development Conference, 28–30 June 2013, Dakar, Senegal

Barrett C, Constas M (2014) Toward a theory of development resilience for international development applications. Proc Natl Acad Sci 111:14625–14630. doi:10.1073/pnas.1320880111

Bentley JW (2006) Folk experiments. Agric Hum Values 23:451–462. doi:10.1007/s10460-006-9017-1

Biggs SD, Clay EJ (1981) Sources of innovation in agricultural technology. World Dev 9:321–336. doi:10.1016/0305-750X(81)90080-2

Caliendo M, Kopeinig S (2008) Some practical guidance for the implementation of propensity score matching. J Econ Surv 22:31–72. doi:10.1111/j.1467-6419.2007.00527.x

Callo-Concha D, Gaiser T, Webber H, Tischbein B, Müller M, Ewert F (2013) Farming in the West African Sudan Savanna: insights in the context of climate change. Afr J Agric Res 3:4693–4705. doi:10.5897/AJAR2013.7153

Ciani F, Romano D (2014) Testing for household resilience to food insecurity: evidence from Nicaragua. Paper presented at the EAAE congress. 26–29 Aug 2014, Ljubljana, Slovenia

Coates J, Swindale A, Bilinsky P (2007) Household Food Insecurity Access Scale (HFIAS) for measurement of household food access: indicator guide (v. 2). Food and Nutrition Technical Assistance Project, Academy for Educational Development, Washington, DC

Conway G, Wilson K (2012) One billion hungry: can we feed the world?. Cornell University Press, Ithaca

Darnhofer S (2014) Resilience and why it matters for farm management. Eur Rev Agric Econ 41:461–484. doi:10.1093/erae/jbu012

Fan S, Pandya-Lorch R, Yosef S (eds) (2014) Resilience for food and nutrition security. International Food Policy Research Institute, Washington

FAO (2010) Measuring resilience: a concept note on the resilience tool. EC-FAO Programme on Linking Information and Decision Making to Improve Food Security. Food and Agriculture Organization of the United Nations (FAO), Rome

Filmer D, Pritchett LH (2001) Estimating wealth effect without expenditure data—or tears: an application to educational enrolments in states of India. Demography 38:115–132. doi:10.1353/dem.2001.0003

Gbadugui BJ, Coulibaly O (2013) PRONAF's Farmer Field Fora FFF. MEAS HRD case study series, # 2. International Institute of Tropical Agriculture, Cotonou

Gbetibouo GA, Ringler C, Hassan R (2010) Vulnerability of the South African farming sector to climate change and variability: an indicator approach. Nat Resour Forum 34:175–187. doi:10.1111/j.1477-8947.2010.01302.x

GSS (2012) 2010 population & housing census: summary report of final results. Ghana Statistical Service (GSS), Accra, Ghana

Hahn MB, Riederer AM, Foster SO (2009) The livelihood vulnerability index: a pragmatic approach to assessing risks from climate variability and change—a case study in Mozambique. Glob Environ Change 19:74–88. doi:10.1016/j.gloenvcha.2008.11.002

Harrison GW, Rutström EE (2008) Risk aversion in the laboratory. Res Exp Econ 12:41–196. doi:10.1016/S0193-2306(08)00003-3

IPCC (2012) Glossary of terms. In: Managing the Risks of Extreme Events and Disasters to Advance Climate Change Adaptation [Field, C.B., V. Barros, T.F. Stocker, D. Qin, D.J. Dokken, K.L. Ebi, M.D. Mastrandrea, K.J. Mach, G.-K. Plattner, S.K. Allen, M. Tignor, and P.M. Midgley (eds)]. A Special Report of Working Groups I and II of the Intergovernmental Panel on Climate Change (IPCC). Cambridge University Press, Cambridge, UK, and New York, NY, USA, pp 555–564

IPCC (2014) Climate Change 2014: Synthesis Report. Contribution of Working Groups I, II and III to the Fifth Assessment Report of the Intergovernmental Panel on Climate Change [Core Writing Team, R.K. Pachauri and L.A. Meyer (eds)]. IPCC, Geneva, Switzerland, p 151

Kabunga SN, Dubois T, Qaim M (2014) Impact of tissue culture banana technology on farm household income and food security in Kenya. Food Policy 45:25–34. doi:10.1016/j.foodpol.2013.12.009

Ker A (1995) Farming systems of the African savanna: a continent in crisis. International Development Research Centre (IDRC), Ottawa, Canada

Kummer S (2011) Organic farmers' experiments in Austria: learning processes and resilience building in farmers' own experimentation activities. Doctoral thesis. University of Natural Resources and Life Sciences, Vienna

Kummer S, Milestad R, Leitgeb F, Vogl CR (2012) Building resilience through farmers' experiments in organic agriculture: examples from eastern Austria. Sustain Agric Res 1:308–321. doi:10.5539/sar.v1n2p308

Leitgeb F, Kummer S, Funes-Monzote FR, Vog CR (2014) Farmers' experiments in Cuba. Renewable Agric Food Syst 29:48–64. doi:10.1017/S1742170512000336

Macmillan T, Benton TG (2014) Engage farmers in research. Nature 509:25–27. doi:10.1038/509025a

Millar D (1994) Experimenting farmers in Northern Ghana. In: Scoones I, Thompson J (eds) Beyond Farmer First: Rural People's Knowledge, Agricultural Research and Extension Practice. Intermediate Technical Publications, London, pp 160–165

Reij C, Waters-Bayer A (eds) (2001) Farmer innovation in Africa: a source of inspiration for agricultural development. Earthscan, London

Röling N (2009) Conceptual and methodological developments in innovation. In: Sanginga PC et al (eds) Innovation Africa: enriching farmers' livelihoods. Earthscan, London

Rosenbaum PR (2002) Observational studies, 2nd edn. Springer, New York

Rosenbaum P, Rubin D (1983) The central role of the propensity score in observational studies for causal effects. Biometrika 70:41–55. doi:10.1093/biomet/70.1.41

Saad N (2002) Farmer processes of experimentation and innovation. A review of the literature. CGIAR system wide program on participatory research and gender analysis. Working Doc. No 21

Sanginga P, Waters Bayer A, Kaaria S, Njuki J, Wettasinha C (eds) (2009) Innovation Africa: enriching farmers' livelihoods. Earthscan, London

Speranza IC, Wiesmann U, Rist S (2014) An Indicator framework for assessing livelihood resilience in the context of social-ecological dynamics. Glob Environ Change 28:109–119. doi:10.1016/j.gloenvcha.2014.06.005

Sumberg J, Okali C (1997) Farmers' experiments: creating local knowledge. Lynne Rienner Publishers Inc., London

Swindale A, Bilinsky P (2006) Household Dietary Diversity Score (HDDS) for measurement of household food access: indicator guide (v.2). Food and Nutrition Technical Assistance Project, Academy for Educational Development, Washington, DC

Tambo JA (2015) Farmer innovation in rural Ghana: determinants, impacts and identification. Doctoral Dissertation, University of Bonn, Bonn

Tambo JA, Wünscher T (2015) Identification and prioritization of farmers' innovations in northern Ghana. Renewable Agric Food Syst 30:537–549. doi:10.1017/S1742170514000374

Tambo JA, Wünsher T (2014) More than adopters: the welfare impacts of farmer innovation in rural Ghana. Paper presented at the Agricultural and Applied Economics Association's (AAEA) annual meeting, 27–29 July 2014, Minneapolis, USA

Thornton PK, Jones PG, Eriksen PJ, Challinor AJ (2011) Agriculture and food systems in sub-Saharan Africa in a 4°C+ world. Philos Trans R Soc 369:117–136. doi:10.1098/rsta.2010.0246

UNDP (2006) Human development report 2006: beyond scarcity: power, poverty and the global water crisis. United Nations Development Programme (UNDP), New York

UNDP (2014) Human development report 2014: sustaining human progress: reducing vulnerabilities and building resilience. United Nations Development Programme (UNDP), New York

Wheeler T, von Braun J (2013) Climate change impacts on global food security. Science 341:508–513. doi:10.1126/science.1239402

World Bank (2009) World development report 2010: development and climate change. World Bank, Washington, DC

Zseleczky L, Yosef S (2014) Are shocks becoming more frequent or intense. In: Fan S, Pandya-Lorch R, Yosef S (eds) Resilience for food and nutrition security. International Food Policy Research Institute, Washington, DC, pp 9–17
Acknowledgements
Funding received from the German Federal Ministry of Education and Research (BMBF) through the West African Science Service Center for Climate Change and Adapted Land Use (WASCAL) research programme is gratefully acknowledged. Writing this article was also made possible by financial support of the German Federal Ministry for Economic Cooperation and Development (BMZ) under the Program of Accompanying Research for Agricultural Innovation (PARI). We also thank two anonymous reviewers for their helpful comments.
Electronic supplementary material
Below is the link to the electronic supplementary material.
About this article
Cite this article
Tambo, J.A., Wünscher, T. Enhancing resilience to climate shocks through farmer innovation: evidence from northern Ghana. Reg Environ Change 17, 1505–1514 (2017). https://doi.org/10.1007/s10113-017-1113-9
Received:

Accepted:

Published:

Issue Date:
Keywords
Climate shocks

Resilience

Farmer innovation

Index

Propensity score matching

Northern Ghana