Abstract
The dry forests of Latin America are among the most dynamic deforestation frontiers in the world and are important carbon and biodiversity reservoirs. Our knowledge on the spatial patterns of deforestation and its proximate drivers remains partial though. We used the full Landsat image archive to reconstruct deforestation and post-deforestation dynamics between 1987 and 2012 for the entire Paraguayan Chaco, where deforestation has been rampant recently. Our classification resulted in reliable land-use change maps (86.16%), highlighting drastic forest losses of almost 44,000 km2 between 1987 and 2012, equaling a deforestation rate of 27% and about 1% yearly, predominantly for grasslands. These likely represented new pastures, making pasture expansion the dominant proximate cause of deforestation. Cropland expansion, in contrast, only played a minor role as a proximate deforestation cause in the Paraguayan Chaco. Deforestation more than doubled between 2001 and 2012 (~29,000 km2) compared to 1987–2000 (~14,000 km2), due to leakage effects from the deforestation ban in the Paraguayan Atlantic Forests in 2004. Interestingly, while grasslands expanded in the Paraguayan Chaco between 1987 and 2000, cattle numbers decreased during the same time period, though strongly increased since. This apparent decoupling of area change and land-use intensity may indicate that the Paraguayan Chaco experienced an amplification period during the 1990s followed by an intensification period since 2001. Thus, our results highlight the need for both, a more detailed monitoring of post-deforestation dynamics and a land systems perspective in order to understand deforestation frontiers and thus ultimately to identify strategies to better balance production and conservation goals.
Access options
Buy single article
Instant access to the full article PDF.
USD 39.95
Price excludes VAT (USA)
Tax calculation will be finalised during checkout.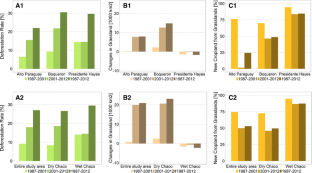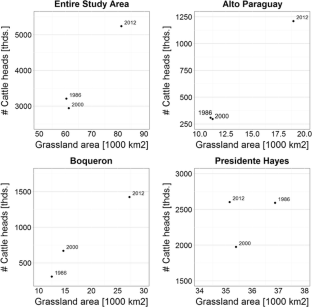 References
Abril A, Barttfeld P, Bucher EH (2005) The effect of fire and overgrazing disturbes on soil carbon balance in the Dry Chaco forest. For Ecol Manag 206:399–405. doi:10.1016/j.foreco.2004.11.014

Aide TM et al (2013) Deforestation and reforestation of Latin America and the Caribbean (2001–2010). Biotropica 45:262–271. doi:10.1111/j.1744-7429.2012.00908.x

Blackie R et al (2014) Tropical dry forests: The state of global knowledge and recommendations for future research. In: Center for International Forestry Research (CIFOR). Bogor, Indonesia. p. 30. doi:10.17528/cifor/004408

Barona E, Ramankutty N, Hyman G, Coomes OT (2010) The role of pasture and soybean in deforestation of the Brazilian Amazon. Environ Res Lett. doi:10.1088/1748-9326/5/2/024002

Baumann M, Radeloff VC, Avedian V, Kuemmerle T (2015) Land-use change in the Caucasus during and after the Nagorno-Karabakh conflict. Reg Environ Change 15:1703–1716. doi:10.1007/s10113-014-0728-3

Baumann M, Gasparri I, Piquer-Rodríguez M, Gavier Pizarro G, Griffiths P, Hostert P, Kuemmerle T (2016a) Carbon emissions from agricultural expansion and intensification in the Chaco. Glob Change Biol. doi:10.1111/gcb.13521

Baumann M, Piquer-Rodríguez M, Fehlenberg V, Gavier Pizarro G, Kuemmerle T (2016b) Land-use competition in the South American Chaco. In: Niewöhner J et al (eds) Land use competition: ecological, economic and social perspectives. Springer International Publishing, Cham, pp 215–229. doi:10.1007/978-3-319-33628-2_13

Bertello F (2008) Cada vez más productores argentinos van a sembrar soja a Uruguay. http://www.lanacion.com.ar/992652-cada-vez-mas-productores-argentinos-van-a-sembrar-soja-a-uruguay. Accessed 22 Nov 2016

Boletta PE, Ravelo AC, Planchuelo AM, Grilli M (2006) Assessing deforestation in the Argentine Chaco. For Ecol Manag 228:108–114. doi:10.1016/j.foreco.2006.02.045

Brannstrom C, Jepson W, Filippi AM, Redo D, Xu ZW, Ganesh S (2008) Land change in the Brazilian Savanna (Cerrado), 1986–2002: comparative analysis and implications for land-use policy. Land Use Policy 25:579–595. doi:10.1016/j.landusepol.2007.11.008

Breiman L (2001) Random forests. Mach Learn 45:5–32. doi:10.1023/a:1010933404324

Bucher EH (1982) Chaco and Caatinga—South American arid Savannas. In: Huntley BJ, Walker BH (eds) Woodlands and tickets. Springer, Berlin, pp 48–80

Buol SW (2007) Soils. In: Veblen TT, Young KR, Orme AR (eds) The physical geography of South America. Oxford University Press, Oxford, pp 101–111

Cabrera AL (1976) Regiones Fitogeograficas de Argentina. ACME, Buenos Aires

Cabrera AJN, Stosiek D, Glatzle A, Shelton HM, Schultze-Kraft R (2001) Liveweight gains of steers at different stocking rates on monospecific Gatton panic and Estrella grass pastures in the Chaco Central region of Paraguay. Trop Grassl 35:186–192

Caldas MM, Goodin D, Sherwood S, Campos Krauer JM, Wisely SM (2015) Land-cover change in the Paraguayan Chaco: 2000–2011. J Land Use Sci 10:1–18. doi:10.1080/1747423X.2013.807314

Campos-Krauer JM, Wisely SM (2011) Deforestation and cattle ranching drive rapid range expansion of capybara in the Gran Chaco ecosystem. Glob Change Biol 17:206–218. doi:10.1111/j.1365-2486.2010.02193.x

Carlson KM, Curran LM, Asner GP, Pittman AM, Trigg SN, Adeney JM (2013) Carbon emissions from forest conversion by Kalimantan oil palm plantations. Nat Clim Change 3:283–287. doi:10.1038/Nclimate1702

Carr DL (2004) Proximate population factors and deforestation in tropical agricultural frontiers. Popul Environ 25:585–612

Carvalho FMV, De Marco P, Ferreira LG (2009) The Cerrado into-pieces: habitat fragmentation as a function of landscape use in the savannas of central Brazil. Biol Conserv 142:1392–1403. doi:10.1016/j.biocon.2009.01.031

Clark ML, Aide TM (2011) Virtual Interpretation of Earth Web-Interface Tool (VIEW-IT) for collecting land-use/land-cover reference data. Remote Sens 3:601–620

Clark ML, Aide TM, Grau HR, Riner G (2010) A scalable approach to mapping annual land cover at 250 m using MODIS time series data: a case study in the Dry Chaco ecoregion of South America. Remote Sens Environ 114:2816–2832. doi:10.1016/j.rse.2010.07.001

Cohen WB, Yang ZG, Kennedy R (2010) Detecting trends in forest disturbance and recovery using yearly Landsat time series: 2. TimeSync—tools for calibration and validation. Remote Sens Environ 114:2911–2924. doi:10.1016/j.rse.2010.07.010

Coppin P, Jonckheere I, Nackaerts K, Muys B, Lambin E (2004) Digital change detection methods in ecosystem monitoring: a review. Int J Remote Sens 25:1565–1596

Dana L-P, Dana TE (2007) Collective entrepreneurship in a mennonite community in Paraguay. Latin Am Bus Rev 8:82–97

DeFries RS, Houghton RA, Hansen MC, Field CB, Skole D, Townshend J (2002) Carbon emissions from tropical deforestation and regrowth based on satellite observations for the 1980s and 1990s. Proc Natl Acad Sci USA 99:14256–14261

Fatecha A (1989) Present and potential area for agricultural use in the arid Chaco of Paraguay. In: Hamp M, Tiefert MA (eds) Agricultural production under semi-arid conditions with special reference to the Paraguayan Chaco: strategies and appropriate technologies. Food and Agriculture Development Centre, Feldafing, pp 26–49

Foody GM (2002) Status of land cover classification accuracy assessment. Remote Sens Environ 80:185–201

Foody GM (2008) Harshness in image classification accuracy assessment. Int J Remote Sens 29:3137–3158. doi:10.1080/01431160701442120

Foody GM, Mathur A (2004) Toward intelligent training of supervised image classifications: directing training data acquisition for SVM classification. Remote Sens Environ 93:107–117. doi:10.1016/j.rse.2004.06.017

Fujisaki K, Perrin AS, Desjardins T, Bernoux M, Balbino LC, Brossard M (2015) From forest to cropland and pasture systems: a critical review of soil organic carbon stocks changes in Amazonia. Glob Change Biol 21:2773–2786. doi:10.1111/gcb.12906

Gasparri NI, Grau HR (2009) Deforestation and fragmentation of Chaco dry forest in NW Argentina (1972–2007). For Ecol Manag 258:913–921. doi:10.1016/j.foreco.2009.02.024

Gasparri NI, le Polain de Waroux Y (2014) The coupling of South American soybean and cattle production frontiers: new challenges for conservation policy and land change science. Conserv Lett 8:290–298. doi:10.1111/conl.12121

Gasparri NI, Parmuchi MG, Bono J, Karszenbaum H, Montenegro CL (2010) Assessing multi-temporal Landsat 7 ETM + images for estimating above-ground biomass in subtropical dry forests of Argentina. J Arid Environ 74:1262–1270. doi:10.1016/j.jaridenv.2010.04.007

Gasparri NI, Grau HR, Gutiérrez Angonese J (2013) Linkages between soybean and neotropical deforestation: coupling and transient decoupling dynamics in a multi-decadal analysis. Glob Environ Change 23:1605–1614. doi:10.1016/j.gloenvcha.2013.09.007

Geist HJ, Lambin EF (2002) Proximate causes and underlying driving forces of tropical deforestation. Bioscience 52:143–150

Glatzle A (1999) Compendio para el Manejo de Pasturas en el Chaco. Editorial El Lector. Asuncion, Paraguay, pp 214

Goldfarb L, Zoomers A (2013) The drivers behind the rapid expansion of genetically modified soya production into the Chaco Region of Argentina. In: Fang Z (ed) Biofuels—economy, environment and sustainability. InTech Publisher, Rijeka, pp 73–95. doi:10.5772/53447

Gonzales D (2013) Uruguayos ya explotan el 12,5% de las tierras ganaderas en Paraguay. http://www.ultimahora.com/uruguayos-ya-explotan-el-125-las-tierras-ganaderas-paraguay-n599977.html. Accessed 22 Nov 2016

Goodale CL et al (2002) Forest carbon sinks in the Northern Hemisphere. Ecol Appl 12:891–899

Graesser J, Aide M, Grau R, Ramankutty N (2015) Cropland/pastureland dynamics and the slowdown of deforestation in Latin America. Environ Res Lett 10:034017

Grau HR, Aide M (2008) Globalization and land-use transitions in Latin America. Ecol Soc 13(2):16. doi:10.5751/ES-02559-130216

Griffiths P, Müller D, Kuemmerle T, Hostert P (2013a) Agricultural land change in the Carpathian ecoregion after the breakdown of socialism and expansion of the European Union. Environ Res Lett 8:045024

Griffiths P, van der Linden S, Kuemmerle T, Hostert P (2013b) A pixel-based landsat compositing algorithm for large area land cover mapping. IEEE J Sel Top Appl Earth Obs Remote Sens. doi:10.1109/jstars.2012.2228167

Hamp M, Tiefert MA (1989) Agricultural production under semi-arid conditions with special reference to the Paraguayan Chaco: strategies and appropriate technologies. In: Proceedings of a German/Israel/Paraguayan workshop in Kibbutz Shefayim Guest House (near Tel-Aviv) Israel, 1–7 Dec 1988. Food and Agriculture Development Centre

Hansen MC et al (2013) High-resolution global maps of 21st-century forest cover change. Science 342:850–853. doi:10.1126/science.1244693

Hecht A (1975) The Agricultural economy of the mennonite settlers in Paraguay. Growth Change 6:14–23. doi:10.1111/j.1468-2257.1975.tb00808.x

Houghton RA et al (2012) Carbon emissions from land use and land-cover change. Biogeosciences 9:5125–5142. doi:10.5194/bg-9-5125-2012

Hoyos LE, Cingolani AM, Zak MR, Vaieretti MV, Gorla DE, Cabido MR (2013) Deforestation and precipitation patterns in the arid Chaco forests of central Argentina. Appl Veg Sci 16:260–271. doi:10.1111/j.1654-109X.2012.01218.x

Huang CQ et al (2007) Rapid loss of Paraguay's Atlantic forest and the status of protected areas—a Landsat assessment. Remote Sens Environ 106:460–466. doi:10.1016/j.rse.2006.09.016

Huang CQ et al (2009) Assessment of Paraguay's forest cover change using Landsat observations. Global Planet Change 67:1–12. doi:10.1016/j.gloplacha.2008.12.009

Jangid K et al (2008) Relative impacts of land-use, management intensity and fertilization upon soil microbial community structure in agricultural systems. Soil Biol Biochem 40:2843–2853. doi:10.1016/j.soilbio.2008.07.030

Jarvis A, Reuter HI, Nelson A, Guevara E (2008) Hole-filled seamless SRTM data V4. International Centre for Tropical Agriculture (CIAT). http://srtm.csi.cgiar.org

Kastner T, Rivas MJI, Koch W, Nonhebel S (2012) Global changes in diets and the consequences for land requirements for food. Proc Natl Acad Sci 109:6868–6872. doi:10.1073/pnas.1117054109

Killeen TJ, Calderon V, Soria L, Quezada B, Steininger MK, Harper G, Solórzano LA, Tucker CJ (2007) Ambio. J Hum Environ 36(7):600–606. doi:10.1579/0044-7447(2007)36[600:Tyolci]2.0.Co;2

Klink CA, Machado RB (2005) Conservation of the Brazilian Cerrado. Conserv Biol 19:707–713. doi:10.1111/j.1523-1739.2005.00702.x

Lawrence D, Vandecar K (2015) Effects of tropical deforestation on climate and agriculture. Nat Clim Change 5:27–36. doi:10.1038/Nclimate2430

Lehmann CER (2010) Savannas need protection. Science 327:642–643. doi:10.1126/science.327.5966.642-c

Lu D, Mausel P, Brondizio E, Moran E (2004) Change detection techniques. Int J Remote Sens 25:2365–2407

Macchi L, Grau HR, Zelaya PV, Marinaro S (2013) Trade-offs between land use intensity and avian biodiversity in the dry Chaco of Argentina: a tale of two gradients. Agric Ecosyst Environ 174:11–20. doi:10.1016/j.agee.2013.04.011

Macedo MN, DeFries RS, Morton DC, Stickler CM, Galford GL, Shimabukuro YE (2012) Decoupling of deforestation and soy production in the southern Amazon during the late 2000s. Proc Natl Acad Sci USA 109:1341–1346. doi:10.1073/pnas.1111374109

Masek JG et al (2006) A Landsat surface reflectance dataset for North America, 1990–2000. IEEE Geosci Remote Sens Lett 3:68–72

Mastrangelo ME, Gavin MC (2012) Trade-offs between cattle production and bird conservation in an agricultural frontier of the Gran Chaco of Argentina. Conserv Biol 26:1040–1051. doi:10.1111/j.1523-1739.2012.01904.x

Mastrangelo ME, Gavin MC (2014) Impacts of agricultural intensification on avian richness at multiple scales in Dry Chaco forests. Biol Conserv 179:63–71. doi:10.1016/j.biocon.2014.08.020

Medan D, Torretta JP, Hodara K, de la Fuente EB, Montaldo NH (2011) Effects of agriculture expansion and intensification on the vertebrate and invertebrate diversity in the Pampas of Argentina. Biodivers Conserv 20:3077–3100. doi:10.1007/s10531-011-0118-9

Morton DC et al (2006) Cropland expansion changes deforestation dynamics in the southern Brazilian Amazon. Proc Natl Acad Sci USA 103:14637–14641. doi:10.1073/pnas.0606377103

Müller R, Müller D, Schierhorn F, Gerold G, Pacheco P (2012) Proximate causes of deforestation in the Bolivian lowlands: an analysis of spatial dynamics. Reg Environ Change 12:445–459. doi:10.1007/s10113-011-0259-0

Olofsson P, Foody GM, Stehman SV, Woodcock CE (2013) Making better use of accuracy data in land change studies: estimating accuracy and area and quantifying uncertainty using stratified estimation. Remote Sens Environ 129:122–131. doi:10.1016/j.rse.2012.10.031

Olofsson P, Foody GM, Herold M, Stehman SV, Woodcock CE, Wulder MA (2014) Good practices for estimating area and assessing accuracy of land change. Remote Sens Environ 148:42–57. doi:10.1016/j.rse.2014.02.015

Parr CL, Lehmann CER, Bond WJ, Hoffmann WA, Andersen AN (2014) Tropical grassy biomes: misunderstood, neglected, and under threat. Trends Ecol Evol 29:205–213. doi:10.1016/j.tree.2014.02.004

Polasky S et al (2008) Where to put things? Spatial land management to sustain biodiversity and economic returns. Biol Conserv 141:1505–1524. doi:10.1016/j.biocon.2008.03.022

Potapov P, Turubanova S, Hansen MC (2011) Regional-scale boreal forest cover and change mapping using Landsat data composites for European Russia. Remote Sens Environ 115:548–561

Potapov PV et al (2012) Quantifying forest cover loss in Democratic Republic of the Congo, 2000–2010, with Landsat ETM + data. Remote Sens Environ 122:106–116. doi:10.1016/j.rse.2011.08.027

Potapov PV, Turubanova SA, Tyukavina A, Krylov AM, McCarty JL, Radeloff VC, Hansen MC (2015) Eastern Europe's forest cover dynamics from 1985 to 2012 quantified from the full Landsat archive. Remote Sens Environ 159:28–43. doi:10.1016/j.rse.2014.11.027

Prado DE (1993) What is the Gran Chaco vegetation in South America? I. A review: contribution to the study of flora and vegetation of the Chaco. V Candollea 48:145–172

Quinlan JF, Scarone CA, Laneri JL (1980) Cattle tick identification and seasonal-variation in infestation rates in Paraguay. Trop Anim Health Prod 12:259–264. doi:10.1007/Bf02236626

Ramirez EG, Laneri JL (1989) Fodder and feeding of cattle in the Paraguayan Chaco. In: Hamp M, Tiefert MA (eds) Agricultural production under semi-arid conditions with special reference to the Paraguayan Chaco: strategies and appropriate technologies. Food and Agriculture Development Centre, Feldafing, pp 139–148

Reenberg A, Fenger NA (2011) Globalizing land use transitions: the soybean acceleration. Geogr Tidsskr-Den 111:85–92

Republica del Paraguay (2009) Censo Agropecuario Nacional 2008. Ministerio de Agricultura y Ganadería de Paraguay. Asuncion, Paraguay

Seyler D (1988) The economy. In: Hanratty DM, Meditz SW (eds) Paraguay: a country study. Library of Congress Country Studies, Washington DC

Stehman SV (2013) Estimating area from an accuracy assessment error matrix. Remote Sens Environ 132:202–211. doi:10.1016/j.rse.2013.01.016

The Nature Conservancy (2005) Evaluacion Ecoregional del Gran Chaco The Nature Conservancy. South American Conservation Region, Buenos Aires, p 28

Vallejos M, Volante JN, Mosciaro MJ, Vale LM, Bustamante ML, Paruelo JM (2015) Transformation dynamics of the natural cover in the Dry Chaco ecoregion: a plot level geo-database from 1976 to 2012. J Arid Environ. doi:10.1016/j.jaridenv.2014.11.009

Vargas Gil R (1988) Chaco sudamericano: regiones naturales. In: X Reunión Grupo Campos y Chaco. FAO UNESCO MAB INTA. La Rioja, Argentina. pp 16–20

Vidal J (2010) Chaco deforestation by Christian sect puts Paraguayan land under threat. http://www.theguardian.com/world/2010/oct/05/chaco-paraguay-deforestation

Volante JN, Alcaraz-Segura D, Mosciaro MJ, Viglizzo EF, Paruelo JM (2012) Ecosystem functional changes associated with land clearing in NW Argentina. Agric Ecosyst Environ 154:12–22. doi:10.1016/j.agee.2011.08.012

Waske B, van der Linden S, Oldenburg C, Jakimow B, Rabe A, Hostert P (2012) imageRF—a user-oriented implementation for remote sensing image analysis with random forests. Environ Model Softw 35:192–193. doi:10.1016/j.envsoft.2012.01.014

Woodcock CE et al (2008) Free access to Landsat imagery. Science 320:1011

World Wildlife Fund (2015) Soy and deforestation—the Gran Chaco. http://wwf.panda.org/what_we_do/footprint/agriculture/soy/soyreport/soy_and_deforestation/the_gran_chaco/. Accessed 16 March 2015

Zak MR, Cabido M, Hodgson JG (2004) Do subtropical seasonal forests in the Gran Chaco, Argentina, have a future? Biol Conserv 120:589–598. doi:10.1016/j.biocon.2004.03.034

Zak MR, Cabido M, Caceres D, Diaz S (2008) What drives accelerated land cover change in central Argentina? Synergistic consequences of climatic, socioeconomic, and technological factors. Environ Manag 42:181–189. doi:10.1007/s00267-008-9101-y

Zhu Z, Woodcock CE (2012) Object-based cloud and cloud shadow detection in Landsat imagery. Remote Sens Environ 118:83–94. doi:10.1016/j.rse.2011.10.028
Acknowledgements
We gratefully acknowledge support for this research by the German Research Foundation (DFG, KU 2458/5-1), by the Federal Ministry of Science and Education (BMBF, PASANOA 031B0034A), by the Einstein Foundation Berlin and the Argentine National Agricultural Technology Institute (INTA, PNNAT 1128052). We are grateful for comments made by the two anonymous reviewers, whose comments greatly improved the manuscript.
Additional information
Editor: Nicolas Dendoncker.
Electronic supplementary material
Below is the link to the electronic supplementary material.
About this article
Cite this article
Baumann, M., Israel, C., Piquer-Rodríguez, M. et al. Deforestation and cattle expansion in the Paraguayan Chaco 1987–2012. Reg Environ Change 17, 1179–1191 (2017). https://doi.org/10.1007/s10113-017-1109-5
Received:

Accepted:

Published:

Issue Date:

DOI: https://doi.org/10.1007/s10113-017-1109-5
Keywords
Subtropical deforestation

Proximate drivers

Intensification

Landsat composites

Cattle ranching

Chaco

Remote sensing