Abstract
Nitrogen (N) use efficiency (NUE) is an important indicator to evaluate the performance of N use in agricultural systems. Understanding changes in NUE is crucial to improve N management and reduce harmful environmental impacts. Here we analyzed the historical changes in NUE in three agricultural subsystems in China: cropland, confined livestock feedlot and grassland with grazing animals, as well as their impacts on food security and the environments using the mass balance approach. The NUE in croplands increased from 40% in 1980 to 45% in 1984 and then decreased to 36% in 2003, after which it rebound to 39% in 2010, explained by the interaction of socioeconomic development and natural factors. The livestock and grazing/grassland subsystems saw continuous improvement of NUE from 6 to 16 and 1 to 5%, respectively, associated with the increase in average livestock farm size and related technological innovations and livestock specie changes between 1980 and 2010. The low agricultural NUE has resulted in the loss of 18.4–44.8 Tg N year−1 to the atmosphere or hydrosphere, or accumulation in the soil as reactive N in Chinese agriculture systems between 1980 and 2010. Despite the large amount of N used and lost during food production, the overall protein self-sufficiency ratio decreased from over 90% in the 1980s to 79% in 2010. Future agricultural development in China faces multiple challenges on increasing the productivity and reducing the N loss, for which increasing the NUE in all three agricultural subsystems should be a priority.
Access options
Buy single article
Instant access to the full article PDF.
USD 39.95
Price includes VAT (USA)
Tax calculation will be finalised during checkout.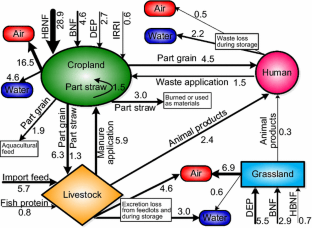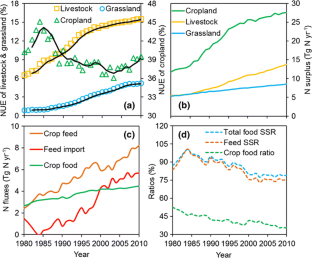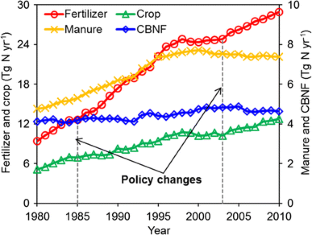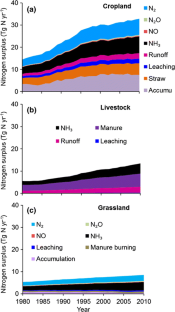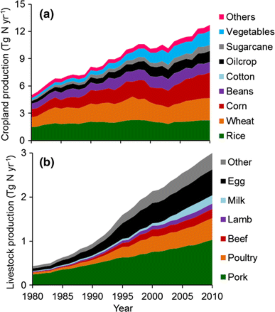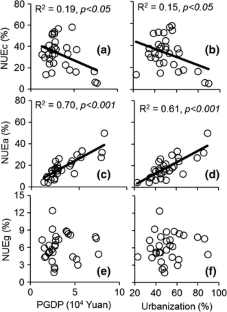 References
Bai ZH, Ma L, Qin W, Chen Q, Oenema O, Zhang FS (2014) Changes in pig production in china and their effects on nitrogen and phosphorus use and losses. Environ Sci Technol 48:12742–12749. doi:10.1021/es502160v

Chen M, Chen J (2007) Nitrogen flow in farming-feeding system and its environmental impact in China. Environ Sci 10:2342–2349

Chen X, Cui Z, Vitousek PM, Cassman KG, Matson PA, Bai J, Meng Q, Hou P, Yue S, Römheld V, Zhang F (2011) Integrated soil–crop system management for food security. Proc Natl Acad Sci USA 108:6399–6404. doi:10.1073/pnas.1101419108

Chen X, Cui Z, Fan M, Vitousek P, Zhao M, Ma W, Wang Z, Zhang W, Yan X, Yang J, Deng X, Gao Q, Zhang Q, Guo S, Ren J, Li S, Ye Y, Wang Z, Huang J, Tang Q, Sun Y, Peng X, Zhang J, He M, Zhu Y, Xue J, Wang G, Wu L, An N, Wu L, Ma L, Zhang W, Zhang F (2014) Producing more grain with lower environmental costs. Nature 514:486–489. doi:10.1038/nature13609

Davidson EA (2009) The contribution of manure and fertilizer nitrogen to atmospheric nitrous oxide since 1860. Nat Geosci 2:659–662. doi:10.1038/NGEO608

de Vries W, Leip A, Reinds GJ, Kros J, Lesschen JP, Bouwman AF, Grizzetti B, Bouraoui F, Butterbach-Bahl K, Bergamaschi P, Winiwarter W (2011) Geographical variation in terrestrial nitrogen budgets across Europe. In: Sutton MA, Howard CM, Erisman JW, Billen G, Bleeker A, Grennfelt P, Grinsven HV, Grizzetti B (eds) The European nitrogen assessment. Cambridge University Press, Cambridge, pp 317–344

Doering OC III, Galloway JN, Theis TL (2011) Reactive nitrogen in the United States: an analysis of inputs, flows, consequences, and management options. Environ Prot Agency, U.S

Erisman JW, Galloway JN, Seitzinger S, Bleeker A, Dise NB, Petrescu AR, Leach AM, de Vries W (2013) Consequences of human modification of the global nitrogen cycle. Philos Trans R Soc Lond B Biol Sci 368:20130116. doi:10.1098/rstb.2013.0116

FAO (Food and Agriculture Organization of the United Nations) (2016) FAOSTAT: FAO statistical databases. Italy, Rome

Fowler D, Coyle M, Skiba U, Sutton MA, Cape JN, Reis S, Sheppard LJ, Jenkins A, Grizzetti B, Galloway JN (2013) The global nitrogen cycle in the twenty-first century. Philos Trans R Soc Lond B Biol Sci 368:20130164. doi:10.1098/rstb.2013.0164

Galloway JN, Townsend AR, Erisman JW, Bekunda M, Cai Z, Freney JR, Martinelli LA, Seitzinger SP, Sutton MA (2008) Transformation of the nitrogen cycle: recent trends, questions, and potential solutions. Science 320:889–892. doi:10.1126/science.1136674

Gong P, Liang S, Carlton EJ, Jiang Q, Wu J, Wang L, Remais JV (2012) Urbanisation and health in China. The Lancet 379:843–852. doi:10.1016/S0140-6736(11)61878-3

Gu B, Ge Y, Ren Y, Xu B, Luo W, Jiang H, Gu B, Chang J (2012) Atmospheric reactive nitrogen in China: sources, recent trends, and damage costs. Environ Sci Technol 46:9420–9427. doi:10.1021/es301446g

Gu B, Ge Y, Chang SX, Luo W, Chang J (2013) Nitrate in groundwater of China: sources and driving forces. Glob Environ Change 23:1112–1121. doi:10.1016/j.gloenvcha.2013.05.004

Gu B, Sutton MA, Chang SX, Ge Y, Chang J (2014) Agricultural ammonia emissions contribute to China's urban air pollution. Front Ecol Environ 12:265–266. doi:10.1890/14.WB.007

Gu B, Ju X, Chang J, Ge Y, Vitousek PM (2015) Integrated reactive nitrogen budgets and future trends in China. Proc Natl Acad Sci USA 112:8792–8797. doi:10.1073/pnas.1510211112

Guo L (2007) Doing battle with the green monster of Taihu Lake. Science 317:1166. doi:10.1126/science.317.5842.1166

Guo JH, Liu XJ, Zhang Y, Shen JL, Han WX, Zhang WF, Christie P, Goulding KWT, Vitousek PM, Zhang FS (2010) Significant acidification in major Chinese croplands. Science 327:1008–1010. doi:10.1126/science.1182570

Herrero M, Thornton PK, Notenbaert AM, Wood S, Msangi S, Freeman HA, Bossio D, Dixon J, Peters M, van de Steeg J, Lynam J, Rao PP, Macmillan S, Gerard B, McDermott J, Seré C, Rosegrant M (2010) Smart investments in sustainable food production: revisiting mixed crop-livestock systems. Science 327:822–825. doi:10.1126/science.1183725

Herrero M, Havlík P, Valin H, Notenbaert A, Rufino MC, Thornton PK, Blümmel M, Weiss F, Grace D, Obersteiner M (2013) Biomass use, production, feed efficiencies, and greenhouse gas emissions from global livestock systems. Proc Natl Acad Sci USA 110:20888–20893. doi:10.1073/pnas.1308149110

Hou Y, Ma L, Gao ZL, Wang FH, Sims JT, Ma WQ, Zhang FS (2013) The Driving Forces for Nitrogen and Phosphorus Flows in the Food Chain of China, 1980 to 2010. J Environ Qual 42:962. doi:10.2134/jeq2012.0489

Ju X (2014) Direct pathway of nitrate produced from surplus nitrogen inputs to the hydrosphere. Proc Natl Acad Sci USA 111:E416. doi:10.1073/pnas.1321334111

Ju X, Liu X, Pan J, Zhang F (2007) Fate of 15 N-labeled urea under a winter wheat-summer maize rotation on the North China Plain. Pedosphere 17:52–61

Ju X, Xing G, Chen X, Zhang S, Zhang L, Liu X, Cui Z, Yin B, Christie P, Zhu Z, Zhang F (2009) Reducing environmental risk by improving N management in intensive Chinese agricultural systems. Proc Natl Acad Sci USA 106:3041–3046. doi:10.1073/pnas.0813417106

Ju X, Gu B, Wu Y, Galloway J (2016) Reducing China's fertilizer use by increasing farm size. Glob Environ Change 41:26–32. doi:10.1016/j.gloenvcha.2016.08.005

Kemp DR, Han G, Hou X, Michalk DL, Hou F, Wu J, Zhang Y (2013) Innovative grassland management systems for environmental and livelihood benefits. Proc Natl Acad Sci USA 110:8369–8374. doi:10.1073/pnas.1208063110

Leach AM, Galloway JN, Bleeker A, Erisman JW, Kohn R, Kitzes J (2012) A nitrogen footprint model to help consumers understand their role in nitrogen losses to the environment. Environ Dev 1:40–66. doi:10.1016/j.envdev.2011.12.005

Li Y, Zhang W, Ma L, Huang G, Oenema O, Zhang F, Dou Z (2013) An analysis of China's fertilizer policies: impacts on the industry, food security, and the environment. J Environ Qual 42:972–981. doi:10.2134/jeq2012.0465

Liu J, You L, Amini M, Obersteiner M, Herrero M, Zehnder AJB, Yang H (2010) A high-resolution assessment on global nitrogen flows in cropland. Proc Natl Acad Sci USA 107:8035–8040. doi:10.1073/pnas.0913658107

Luan Y, Cui X, Ferrat M (2013) Historical trends of food self-sufficiency in Africa. Food Secur 5:393–405. doi:10.1007/s12571-013-0260-1

MA (Ministry of Agriculture) (1996) China's grassland resources. China Science and Technology Press, Beijing

Ma L, Velthof GL, Wang FH, Qin W, Zhang WF, Liu Z, Zhang Y, Wei J, Lesschen JP, Ma WQ, Oenema O, Zhang FS (2012) Nitrogen and phosphorus use efficiencies and losses in the food chain in China at regional scales in 1980 and 2005. Sci Total Environ 434:51–61. doi:10.1016/j.scitotenv.2012.03.028

Mo H, Qiu H, Wang J, Bai J (2011) Treatments of livestock excreta and its influencing factors in China. Agro Environ Dev 6:59–64

Mueller ND, Gerber JS, Johnston M, Ray DK, Ramankutty N, Foley JA (2012) Closing yield gaps through nutrient and water management. Nature 490:254–257. doi:10.1038/nature11420

Naylor R, Steinfeld H, Falcon W, Galloway J, Smil V, Bradford E, Alder J, Mooney H (2005) Losing the links between livestock and land. Science 310:1621–1622. doi:10.1126/science.1117856

NBSC (National Bureau of Statistics of China) (2016) National data. Beijing, China. http://data.stats.gov.cn

Oenema O (2006) Nitrogen budgets and losses in livestock systems. Int Congr Ser 1293:262–271. doi:10.1016/j.ics.2006.02.040

Piao S, Fang J, Zhou L, Tan K, Tao S (2007) Changes in biomass carbon stocks in China's grasslands between 1982 and 1999. Glob Biogeochem Cycles. doi:10.1029/2005GB002634

Piao SL, Fang JY, Ciais P, Peylin P, Huang Y, Sitch S, Wang T (2009) The carbon balance of terrestrial ecosystems in China. Nature 458:1009–1082. doi:10.1038/nature07944

Piao SL, Ciais P, Huang Y, Shen ZH, Peng SS, Li JS, Zhou LP, Liu HY, Ma YC, Ding YH, Friedlingstein P, Liu CZ, Tan K, Yu YQ, Zhang TY, Fang JY (2010) The impacts of climate change on water resources and agriculture in China. Nature 467:43–51. doi:10.1038/nature09364

Ren J (2013) China's traditional agricultural structure has to be changed—worries behind the increase of grain production for nine years. Acta Prataculturae Sin 22:1–5

SDSN (Sustainable Development Solutions Network) (2015) Indicators and a monitoring framework for sustainable development goals—revised working draft. http://unsdsn.org/resources

Sebilo M, Mayer B, Nicolardot B, Pinay G, Mariotti A (2013) Long-term fate of nitrate fertilizer in agricultural soils. Proc Natl Acad Sci USA 110:18185–18189. doi:10.1073/pnas.1305372110

Sun W, Huang Y, Zhang W, Yu Y (2010) Carbon sequestration and its potential in agricultural soils of China. Glob Biogeochem Cyclescles 24:B3001. doi:10.1029/2009gb003484

Sutton MA, Oenema O, Erisman JW, Leip A, van Grinsven H, Winiwarter W (2011) Too much of a good thing. Nature 472:159–161

Sutton MA, Reis S, Riddick SN, Dragosits U, Nemitz E, Theobald MR, Tang YS, Braban CF, Vieno M, Dore AJ (2013) Towards a climate-dependent paradigm of ammonia emission and deposition. Philos Trans R Soc Lond B Biol Sci 368:20130166. doi:10.1038/472159a

Tian H, Wang S, Liu J, Pan S, Chen H, Zhang C, Shi X (2006) Patterns of soil nitrogen storage in China. Glob Biogeochem Cycles 20:B1001. doi:10.1029/2005gb002464

Vitousek PM, Naylor R, Crews T, David MB, Drinkwater LE, Holland E, Johnes PJ, Katzenberger J, Martinelli LA, Matson PA (2009) Nutrient imbalances in agricultural development. Science 324:1519. doi:10.1126/science.1170261

Walvoord MA, Phillips FM, Stonestrom DA, Evans RD, Hartsough PC, Newman BD, Striegl RG (2003) A reservoir of nitrate beneath desert soils. Science 302:1021–1024. doi:10.1126/science.1086435

Wu Y, Gu B, Erisman JW, Reis S, Fang Y, Lu X, Zhang X (2016) PM2.5 pollution is substantially affected by ammonia emissions in China. Environ Pollut 218:86–94. doi:10.1016/j.envpol.2016.08.027

Xia L, Lam SK, Chen D, Wang J, Tang Q, Yan X (2016) Can knowledge-based N management produce more staple grain with lower greenhouse gas emission and reactive nitrogen pollution? A meta-analysis. Glob Change Biol. doi:10.1111/gcb.13455

Yan X, Cai Z, Wang S, Smith P (2011) Direct measurement of soil organic carbon content change in the croplands of China. Glob Change Biol 17:1487–1496. doi:10.1111/j.1365-2486.2010.02286.x

Yan X, Ti C, Vitousek P, Chen D, Leip A, Cai Z, Zhu Z (2014) Fertilizer nitrogen recovery efficiencies in crop production systems of China with and without consideration of the residual effect of nitrogen. Environ Res Lett 9:95002. doi:10.1088/1748-9326/9/9/095002

Yang R (2000) Analysis of developing potential of grassland resources in red soil hilly regions in south of China. Acta Agric Univ Jiangxiensis 22:192–198

Zhang F, Cui Z, Chen X, Ju X, Shen J, Chen Q, Liu X, Zhang W, Mi G, Fan M (2012) Integrated nutrient management for food security and environmental quality in China. Adv Agron 116:1–40

Zhang F, Chen X, Vitousek P (2013a) Chinese agriculture: an experiment for the world. Nature 497:33–35. doi:10.1038/497033a

Zhang W, Dou Z, He P, Ju X, Powlson D, Chadwick D, Norse D, Lu Y, Zhang Y, Wu L (2013b) New technologies reduce greenhouse gas emissions from nitrogenous fertilizer in China. Proc Natl Acad Sci USA 110:8375–8380. doi:10.1073/pnas.1210447110

Zhang X, Davidson EA, Mauzerall DL, Searchinger TD, Dumas P, Shen Y (2015) Managing nitrogen for sustainable development. Nature 528:51–59. doi:10.1038/nature15743

Zhou J, Gu B, Schlesinger WH, Ju X (2016) Significant accumulation of nitrate in Chinese semi-humid croplands. Sci Rep 6:25088. doi:10.1038/srep25088

Zhu ZL, Chen DL (2002) Nitrogen fertilizer use in China-Contributions to food production, impacts on the environment and best management strategies. Nutr Cycl Agroecosyst 63:117–127. doi:10.1023/A:1021107026067
Acknowledgements
We thank Dr. Peter M. Vitousek of Stanford University for his substantial contributions in analyzing the results and formulating the framework of this paper. This study was supported by the National Key Research and Development Project of China (2016YFC0207906), the National Natural Science Foundation of China (Grant Nos. 41201502, 31270377, 31470463 and 41471190), the Special Fund for the Agricultural Profession (201503106) and the "973" program (2014CB953803) of the Ministry of Science and Technology of China. The work contributes to the UK-China Virtual Joint Centre on Nitrogen "N-Circle" funded by the Newton Fund via UK BBSRC/NERC (BB/N013484/1).
Additional information
Baojing Gu and Xiaotang Ju have contributed equally to this work.
Editor: Helmut Haberl.
Electronic supplementary material
Below is the link to the electronic supplementary material.
About this article
Cite this article
Gu, B., Ju, X., Chang, S.X. et al. Nitrogen use efficiencies in Chinese agricultural systems and implications for food security and environmental protection. Reg Environ Change 17, 1217–1227 (2017). https://doi.org/10.1007/s10113-016-1101-5
Received:

Accepted:

Published:

Issue Date:
Keywords
Cropland

Feed import

Grassland

Livestock

Nitrogen pollution

Policy