Abstract
This paper contributes to the vivid academic debate on potentially more sustainable models of food production, focusing especially on energy issues. Applying social metabolism and energy flow analysis, it compares the functioning of a current small-scale organic family farm in the village of Holubí Zhoř, Czech Republic, with the historical performance of the village agroecosystem in c.1840. Historical data from the Franciscan stable cadastre and current data from direct field research are employed to quantify main productive assets (land, livestock, machinery and labour) and related energy flows into energy balance indicators. Their comparison shows that the present farm lies halfway between modern mechanized and traditional organic agriculture and thus constitutes an indicative case of the limits and potentialities of present-day more sustainable farm systems. Methodologically, the study is innovative by applying the social metabolism approach on the local (village and farm) level in the context of the global North, and by advancing the use of Energy Return On Investment (EROI) indicators for agroecosystems.
Access options
Buy single article
Instant access to the full article PDF.
USD 39.95
Price excludes VAT (USA)
Tax calculation will be finalised during checkout.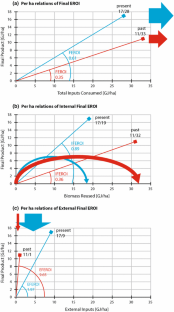 References
Anglade J, Billen G, Garnier J, Makridis T, Puech T, Tittel C (2015) Nitrogen soil surface balance of organic vs conventional cash crop farming in the Seine watershed. Agric Syst 139:82–92. doi:10.1016/j.agsy.2015.06.006

Douthwaite R (1996) Short circuit: strengthening local economies for security in an unstable world. Lilliput Press, Dublin. doi:10.1604/9781874675600

Edelman M, Weis T, Baviskar A, Borras SM Jr, Holt-Giménez E, Kandiyoti D, Wolford W (2014) Introduction: critical perspectives on food sovereignty. J Peasant Stud 41:911–931. doi:10.1080/03066150.2014.963568

Erb KH, Lauk Ch, Kastner T, Mayer A, Theurl MC, Haberl H (2016) Exploring the biophysical option space for feeding the world without deforestation. Nat Commun 7:11382. doi:10.1038/ncomms11382

Fischer-Kowalski M, Haberl H (eds) (2007) Socioecological transitions and global change: trajectories of social metabolism and land use. Edward Elgar Publishing, Cheltenham. doi:10.4337/9781847209436

Fischer-Kowalski Singh S J, Lauk C, Remesch A, Ringhofer L, Grünbühel CM (2011) Sociometabolic transitions in subsistence communities: Boserup revisited in four comparative case studies. Hum Ecol Rev 18(2):147–158

Foley JA, Ramankutty N, Brauman KA, Cassidy ES, Gerber JS, Johnston M, Mueller ND, O'Connell C, Ray DK, West PC, Balzer C, Bennett EM, Carpenter SR, Hill J, Monfreda C, Polasky S, Rockström J, Sheehan J, Siebert S, Tilman D, Zaks DPM (2011) Solutions for a cultivated planet. Nature 478:337–342. doi:10.1038/nature10452

Galán E, Padró R, Marco I, Tello E, Cunfer G, Guzmán GI, González de Molina M, Krausmann F, Gingrich S, Sacristán V, Moreno-Delgado D (2016) Widening the analysis of energy return on investment (EROI) in agro-ecosystems: socio-ecological transitions to industrialized farm systems (the Vallès County, Catalonia, c.1860 and 1999). Ecol Model 336:3–25. doi:10.1016/j.ecolmodel.2016.05.012

Georgescu-Roegen N (1971) The entropy law and the economic process. Harvard University Press, Cambridge, Massachusetts. doi:10.4159/harvard.9780674281653

Giampietro M (2003) Multi-scale integrated analysis of agroecosystems. CRC Press, Boca Raton. doi:10.1201/9780203503607

Giampietro M, Mayumi K, Sorman AH (2012) The metabolic pattern of societies: where economists fall short. Routledge, London

Giampietro M, Mayumi K, Sorman AH (2013) Energy analysis for a sustainable future: multi-scale integrated analysis of societal and ecosystem metabolism. Routledge, London

Gingrich S, Haidvogl G, Krausmann F, Preis S, Garcia-Ruiz R (2015) Providing food while sustaining soil fertility in two pre-industrial Alpine agroecosystems. Hum Ecol 43:395–410. doi:10.1007/s10745-015-9754-0

Gingrich S, Marco I, Padró R, Aguilera E, Cattaneo C, Watson A, McFayden J (forthcoming) What drove the agricultural energy transition? Comparative analysis of long-term trends in seven case studies across the Atlantic. Submitted to this issue Regional Environmental Change

Gliessman SR (2015) Agroecology. The ecology of sustainable food systems, 3rd edn. CRC Press, Boca Raton

Gomiero T, Giampietro M, Mayumi K (2006) Facing complexity on agro-ecosystems: a new approach to farming system analysis. Int J Agric Resour Gov Ecol 5:116–144. doi:10.1504/IJARGE.2006.009160

Gomiero T, Pimentel D, Paoletti MG (2011) Is there a need for a more sustainable agriculture? Crit Rev Plant Sci 30:6–23. doi:10.1080/07352689.2011.553515

González De Molina M, Toledo VM (2014) The social metabolism: a socio-ecological theory of historical change. Springer International Publishing, Switzerland. doi:10.1007/978-3-319-06358-4

Goodman D, Dupuis EM, Goodman MK (2014) Alternative food networks. Knowledge, practice, and politics. Routledge, New York

Grešková Kušková P (2013) A case study of the Czech agriculture since 1918 in a socio-metabolic perspective. from land reform through nationalisation to privatisation. Land Use Policy 30:592–603. doi:10.1016/j.landusepol.2012.05.009

Grešlová P, Gingrich S, Krausmann F, Chromý P, Jančák V (2015) Social metabolism of Czech agriculture in the period 1830–2010. AUC Geogr 50:23–35. doi:10.14712/23361980.2015.84

Guzmán GI, Gonzalez de Molina M (2009) Preindustrial agriculture versus organic agriculture: the land cost of sustainability. Land Use Policy 26:502–510. doi:10.1016/j.landusepol.2008.07.004

Guzmán GI, Gonzalez de Molina M (2016) Energy in agroecosystems: a tool for assessing sustainability. CRC Press, Boca Raton

Haas W, Krausmann F (2015). Transition-related changes in the metabolic profile of an Austrian rural village. Working paper social ecology 153, IFF Social Ecology, Vienna

Haberl H, Krausmann F (2007) The local base of the historical agrarian-industrial transition, and the interaction between scales. In: Fischer-Kowalski M, Haberl H, (Eds.) Socio-ecological transitions and global change: Trajectories of social metabolism and land use. Edward Elgar: Cheltenham, UK, Northampton, USA. pp. 116–138. doi:10.4337/9781847209436.00012

Hall CA (2011) Introduction to special issue on new studies in EROI (Energy Return on Investment). Sustainability 3:1773–1777. doi:10.3390/su3101773

Hall CA, Cleveland CJ, Kaufmann R (1992) Energy and resource quality. University of Colorado, Niwot, Colorado

Hall CA, Balogh S, Murphy DJ (2009) What is the minimum EROI that a sustainable society must have? Energies 2:25–47. doi:10.3390/en20100025

Hitschmann HH (1891) Vademecum für den Landwirth. M, Perles, Wien

Holt-Giménez E, Altieri MA (2013) Agroecology, food sovereignty, and the new green revolution. Agroecol Sustain Food Syst 37:90–102. doi:10.1080/10440046.2012.716388

Krausmann F (2004) Milk, manure, and muscle power. livestock and the transformation of preindustrial agriculture in central Europe. Hum Ecol 32:735–772. doi:10.1007/s10745-004-6834-y

Kušková P, Gingrich S, Krausmann F (2008) Long term changes in social metabolism and land use in Czechoslovakia, 1830–2000: an energy transition under changing political regimes. Ecol Econ 68:394–407. doi:10.1016/j.ecolecon.2008.04.006

Lal R (2004) Soil carbon sequestration impacts on global climate change and food security. Science 304:1623–1627. doi:10.1126/science.1097396

Lotka AJ (1922) Contribution to the energetics of evolution. Proc Natl Acad Sci 8:147–151. doi:10.1073/pnas.8.6.147

Martinez S, Hand MS, Da Pra M, Pollack S, Ralston K, Smith T, Vogel S, Clark S, Lohr L, Low SA, Newman C (2010) Local food systems: concepts, impacts, and issues. ERR-97, U.S. Department of Agriculture, Economic Research Service. http://www.ers.usda.gov/Publications/ERR97/ERR97.pdf. Accessed 12 June 2012

Mayer A, Schaffartzik A, Haas W, Sepulveda AR (2015) Patterns of global biomass trade and the implications for food sovereignty and socio-environmental conflict. EJOLT Report No. 20. doi:10.13140/2.1.1442.5128

MoA (2013) Organic Framing in the Czech Republic. Yearbook 2012. [in Czech with English summary] Ministry of Agriculture, Prague.

MPAB (2016) Zhorz Holuby. Catastral Schätzungs Operat, signature 715, filing ("Karton") 280, file ("značka") D8, fund "Stable cadastre—Schätzungoperaten". [Archive material] Moravian Provincial Archives in Brno, Czech Republic

Pimentel D, Pimentel M (2008) Food, energy, and society, 3d edn. CRC Press, Boca Raton, USA

Pretty JN, Noble AD, Bossio D, Dixon J, Hine RE, de Vries FWP, Morison JI (2006) Resource-conserving agriculture increases yields in developing countries. Environ Sci Technol 40:1114–1119. doi:10.1021/es051670d

Schaschl E. (2007) Rekonstruktion der Arbeitszeit in der Landwirtschaft im 19. Jahrhundert am Beispiel von Theyern in Niederösterreich. Social ecology Working paper 96, Institute of Social Ecology, IFF—Faculty for interdisciplinary studies, Klagenfurt University, Vienna, pp. 1–174

Scheidel A, Giampietro M, Ramos-Martin J (2013) Self-sufficiency or surplus: conflicting local and national rural development goals in Cambodia. Land use policy 34:342–352. doi:10.1016/j.landusepol.2013.04.009

Seyfang G (2007) Cultivating carrots and community: local organic food and sustainable consumption. Environ Values 16:105–123. doi:10.3197/096327107780160346

Singh SJ, Haberl H, Chertow M, Mirtl M, Schmid M (eds) (2013) Long term socio-ecological research. Studies in society-nature interactions across spatial and temporal scales. Springer, Berlin

Smil V (2013) Harvesting the biosphere. What we have taken from nature. Massachusetts Institute of Technology, Cambridge, Massachusetts. doi:10.1111/j.1728-4457.2013.00617.x

Svobodová K (2010) Stav pěstování zemědělských plodin a chovu hospodářských zvířat na jižní a jihovýchodní Moravě v polovině 19. století ve světle stabilního katastru [The state of the growing of the agricultural plants and of the farm animals breeding on the south and south-east Moravia in the half of the 19th century in the light of the stable land-registry]. Dissertation (in Czech). Department of History, Faculty of Arts, Masaryk University in Brno, Czech Republic. https://is.muni.cz/th/8274/ff_d?furl=%2Fth%2F8274%2Fff_d;so=nx;lang=en. Accessed 18 April 2016

Tello E, Garrabou R, Cussó X, Ramón Olarieta J, Galán E (2012) Fertilizing methods and nutrient balance at the end of traditional organic agriculture in the Mediterranean bioregion: Catalonia (Spain) in the 1860s. Hum Ecol 40:369–383. doi:10.1007/s10745-012-9485-4

Tello E, Galán E, Sacristán V, Cunfer G, Guzmán GI, González de Molina M, Krausmann F, Gingrich S, Padró R, Marco I, Moreno-Delgado D (2016) Opening the black box of energy throughputs in farm systems: a decomposition analysis between the energy returns to external inputs, internal biomass reuses and total inputs consumed (the Vallès County, Catalonia, c.1860 and 1999). Ecol Econ 121:160–174. doi:10.1016/j.ecolecon.2015.11.012

Tilman D, Balzer C, Hill J, Befort BL (2011) Global food demand and the sustainable intensification of agriculture. Proc Natl Acad Sci 108:20260–20264. doi:10.1073/pnas.1116437108

Weis T (2010) The accelerating biophysical contradictions of industrial capitalist agriculture. J Agrar Change 10:315–341. doi:10.1111/j.1471-0366.2010.00273.x

West TO, Marland G (2002) A synthesis of carbon sequestration, carbon emissions, and net carbon flux in agriculture: comparing tillage practices in the United States. Agric Ecosyst Environ 91:217–232. doi:10.1016/S0167-8809(01)00233-X
Acknowledgements
This research was supported by the Czech Science Foundation, Grant no. 13-38994P: Quest for sustainable food production: Social and financial metabolism of selected local food systems. Claudio Cattaneo acknowledges support from the Sustainable Farm Systems project, partnership Grant 895-2011-1020 awarded by the Social Sciences and Humanities Research Council of Canada. The historical cadastral data were provided for free by the Moravian Provincial Archives in Brno (Czech Republic). We are further grateful for the help of Majka Chudíková and Lucka Jahnová with the field data collection, Bára Machová, Hana Bernardová, Kamila Svobodová and Hana Prymusová with translation and interpretation of the historical data, Martin Černý and Nikola Šťastná with data transcription, Simone Gingrich for her kind support during the analysis, and Nadia Johanisová for language corrections. We are also grateful to two anonymous referees for their valuable feedback.
Electronic supplementary material
Below is the link to the electronic supplementary material.
Comparison of land use patterns: historical and current national scale (1843 and 2012), and case studies (village c.1840 and farm 2012). Source: own calculation based on Kušková et al. (2008); MoA (2013); ČÚZK (2015) (PDF 319 kb)
About this article
Cite this article
Fraňková, E., Cattaneo, C. Organic farming in the past and today: sociometabolic perspective on a Central European case study. Reg Environ Change 18, 951–963 (2018). https://doi.org/10.1007/s10113-016-1099-8
Received:

Accepted:

Published:

Issue Date:

DOI: https://doi.org/10.1007/s10113-016-1099-8
Keywords
Sustainable farm systems

Social metabolism

Organic farming

Local food systems

EROI (Energy Return On Investment) in agriculture

Franciscan stable cadastre