Abstract
There is a critical need to develop effective strategies for the long-term sustainability of Canada's oceans. However, this is challenged by uncertainty over future impacts of global environmental and socioeconomic change on marine ecosystems, and how coastal communities will respond to these changes. Scenario analysis can address this uncertainty by exploring alternative futures for Canadian oceans under different pathways of climate change, economic development, social and policy changes. However, there has, to date, been no scenario analysis of Canada's future ocean sustainability at a national scale. To facilitate this process, we review whether the literature on existing scenarios of Canada's fisheries and marine ecosystems provides an integrative, social-ecological perspective about potential future conditions. Overall, there is sufficient national-level oceanographic data and application of ecosystem, biophysical, and socioeconomic models to generate projections of future ocean and socioeconomic trends in Canada. However, we find that the majority of marine-related scenario analyses in Canada focus on climate scenarios and the associated oceanographic and ecological changes. There is a gap in the incorporation of social, economic, and governance drivers in scenarios, as well as a lack of scenarios which consider the economic and social impact of future change. Moreover, available marine scenario studies mostly do not cover all three Canadian oceans simultaneously. To address these gaps, we propose to develop national-level scenarios using a matrix framework following the concept of Shared Socioeconomic Pathways, which would allow a social-ecological examination of Canada's oceans in terms of the state of future uncertainties.
This is a preview of subscription content, log in to check access.
Access options
Buy single article
Instant access to the full article PDF.
US$ 39.95
Price includes VAT for USA
Subscribe to journal
Immediate online access to all issues from 2019. Subscription will auto renew annually.
US$ 99
This is the net price. Taxes to be calculated in checkout.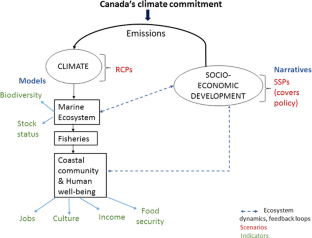 Notes
1.

Scenario building is a core component of the interdisciplinary and inter-sectoral OceanCanada Partnership (www.oceancanada.org). OceanCanada researcher synthesize social, cultural, and environmental knowledge about Canadian oceans and coasts to take stock of present status, build scenarios for possible futures, and by doing so create a national dialogue and shared vision for Canada's oceans.

2.

RCPs represent different trajectories for the development of emissions and concentrations of atmospheric constituents that affect the climate system over time (to 2100). These pathways may be affected to some extent by mitigation policies.
References
Ainsworth CH, Sumaila UR (2005) Intergenerational valuation of fisheries resources can justify long-term conservation: a case study of Atlantic cod (Gadus morhua). Can J Fish Aquat Sci 62:1104–1110. doi:10.1139/f05-010

Ainsworth CH, Samhouri JF, Busch DS, Cheung WWL, Dunne J, Okey TA (2011) Potential impacts of climate change on Northeast Pacific marine food webs and fisheries. ICES J Mar Sci 68:1217–1229. doi:10.1093/icesjms/fsr043

Badjeck MC, Diop N (2010) The future is now: How scenarios can help Senegalese and Mauritanian fisheries adapt to climate change. Nat Fauna 25:68–74

Bailey M, Favaro B, Otto SP, Charles A, Devillers R, Metaxas A, Tyedmers P, Ban NC, Mason T, Hoover C, Duck TJ, Fanning L, Milley C, Cisneros-Montemayor AM, Pauly D, Cheung WWL, Cullus-Suzuki S, Teh L, Sumaila UR (2016) Canada at a crossroad: the imperative for realigning ocean policy with ocean science. Mar Policy 63:53–60. doi:10.1016/j.marpol.2015.10.002

Baum JK, Fuller SD (2016) Canada's marine fisheries: status, recovery potential and pathways to success. Oceana Canada, pp 150

Berkes F, Armitage D (2010) Co-management institutions knowledge and learning: adapting to change in the Arctic. Etudes/Inuit Studies 34:109–131

Berkes F, Jolly D (2001) Adapting to climate change: social-ecological resilience in a Canadian western Arctic community. Conserv Ecol 5(2):18. http://www.consecol.org/vol5/iss2/art18/

Berkes F, Folke C, Colding J (1998) Linking social and ecological systems: management practices and social mechanisms for building resilience. Cambridge University Press, Cambridge

Biggs R, Raudsepp-Hearne C, Atkinson-Palombo C, Bohensky E, Boyd E, Cundill G, Fox H, Ingram S, Kok K, Spehar S, Tengo M, Timmer D, Zurek M (2007) Linking futures across scales: a dialog on multiscale scenarios. Ecol Soc 12:17. http://www.ecologyandsociety.org/vol12/iss1/art17/

Bishop P, Hines A, Collins T (2007) The current state of scenario development: an overview of techniques. Foresight 9:5–25

Bohensky E, Butler JRA, Costanza R, Bohnet I, Delisle A, Fabricius K, Gooch M, Kubiszewski I, Lukacs G, Pert P, Wolanski E (2011) Future makers or future takers? A scenario analysis of climate change and the Great Barrier Reef. Global Environ Chang 21:876–893. doi:10.1016/j.gloenvcha.2011.03.009

Canada National Round Table on the Environment and the Economy (2011) Paying the price: the economic impacts of climate change for Canada. Federation of Canadian Municipalities. http://www.fcm.ca/Documents/reports/PCP/paying_the_price_EN.pdf. Accessed 26 Feb 2016

Cheung WWL, Zeller D, Pauly D (2011a) Projected species shift due to climate change in the Canadian Marine Ecoregions. Report to Environment Canada. Sea Around Us Project. http://www.seaaroundus.org/doc/publications/project-reports/2011/Cheung-etal-2011-Climate-change-EnvCan-Report.pdf. Accessed 29 Feb 2016

Cheung WWL, Dunne J, Sarmiento JL, Pauly D (2011b) Integrating eco-physiology and plankton dynamics into projected changes in maximum fisheries catch potential under climate change in the Northeast Atlantic. ICES J Mar Sci 68:1008–1018. doi:10.1093/icesjms/fsr012

Cheung WWL, Brodeur RD, Okey TA, Pauly D (2015) Projecting future changes in distributions of pelagic fish species of Northeast Pacific shelf seas. Prog Oceanogr 130:19–31. doi:10.1016/j.pocean.2014.09.003

Cheung WWL, Jones MC, Reygondeau G, Stock CA, Lam VWY, Froelicher T (2016) Structural uncertainty in projecting global fisheries catches under climate change. Ecol Modell 325. doi:10.1016/j.ecolmodel.2015.12.018

Christensen V, Walters CJ (2004) Ecopath with Ecosim: methods, capabilities and limitations. Ecol Modell 172:109–139. doi:10.1016/j.ecolmodel.2003.09.003

Cisneros-Montemayor A, Cheung WWL, Bodkter K, Teh L, Steiner N, Bailey M, Hoover C, Sumaila UR (2016) Towards an integrated database of Canadian ocean resources: benefits, current states, and research gaps. Can J Fish Aquat Sci. doi:10.1139/cjfas-2015-0573

Cuaresma JC (2015) Income projections for climate change research: a framework based on human capital dynamics. Global Environ Chang. doi:10.1016/j.gloenvcha.2015.02.012

Daw TM, Coulthard S, Cheung WWL, Brown K, Abunge C, Galafassi D, Peterson GD, McClanahan TR, Omukoto JO, Munyi L (2015) Evaluating taboo trade-offs in ecosystems services and human well-being. Proc Natl Acad Sci USA 112:6949–6954. doi:10.1073/pnas.1414900112

Day A, Prins M (2012) Haida Gwaii marine planning: future scenario analysis. Report from a workshop held July 17 and 18, 2012. Uma Consulting. http://www.haidanation.ca/Pages/programs/marine_planning/. Accessed 29 Feb 2016

DFO (2014) Predictions and Scenarios. Fisheries and Oceans Canada. http://www.dfo-mpo.gc.ca/science/oceanography-oceanographie/predictions/index-eng.html. Accessed 6 July 2015

Dolan AH, Ommer R (2008) Climate change and community health: lessons from Canada's east and west coasts. J Rural Commun Dev 3:27–46

Dolan AH, Walker IJ (2004) Understanding vulnerability of coastal communities to climate change related risks. J Coast Res 39:1316–1323. http://www.jstor.org/stable/25742967

Drinkwater K (2005) The response of Atlantic cod (Gadus morhua) to future climate change. ICES J Mar Sci 62:1327–1337. doi:10.1016/j.icesjms.2005.05.015

Ebi KL (2014) Health in the new scenarios for climate change research. Int J Environ Res Public Health 11:30–46. doi:10.3390/ijerph110100030

Ebi KL, Hallegatte S, Kram T, Arnell NW, Carter TR, Edmonds J, Kriegler E, Mathur R, O'Neill BC, Riahi K, Winkler H, van Vuuren DP, Zwickel T (2014) A new scenario framework for climate change research: background, process, and future directions. Clim Change 122:363–372. doi:10.1007/s10584-013-0912-3

Evans LS, Hicks CC, Fidelman P, Tobin RC, Perry AL (2013) Future scenarios as a research tool: investigating climate change impacts, adaptation options and outcomes for the Great Barrier Reef, Australia. Hum Ecol 41:841–857. doi:10.1007/s10745-013-9601-0

Favaro B, Reynolds J, Cote IM (2012) Canada's weakening aquatic protection. Science 337(6091):154–154. doi:10.1126/science.1225523

Filgueira R, Guyondet T, Corneau LA (2014) Preliminary carrying capacity analysis of current and future aquaculture scenario in Malpeque Bay (Prince Edward Island). DFO, Moncton

Folke C, Carpenter S, Walker B, Scheffer M, Elmqvist T, Gunderson L, Holling CS (2004) Regime shifts, resilience, and biodiversity in ecosystem management. Ann Rev Ecol Evol Syst 35:557–581. doi:10.1146/annurev.ecolsys.35.021103.105711

Ford JD, Pearce T, Duerden F, Furgal C, Smit B (2010) Climate change policy responses for Canada's Inuit population: the importance of and opportunities for adaptation. Global Environ Chang 20:177–191. doi:10.1016/j.gloenvcha.2009.10.008

Ford JD, Bolton K, Shirley J, Pearce T, Tremblay M, Westlake M (2012) Mapping human dimensions of climate change research in the Canadian Arctic. Ambio 41:808–822. doi:10.1007/s13280-012-0336-8

Fulton EA, Link JS, Kaplan IC, Savina-Rolland M, Johnson P, Ainsworth C, Horne P, Gorton R, Gamble RJ, Smith ADM, Smith DC (2011) Lessons in modelling and management of marine ecosystems: the Atlantis experience. Fish Fish 12:171–188. doi:10.1111/j.1467-2979.2011.00412.x

Guénette S, Araújo JN, Bundy A (2014) Exploring the potential effects of climate change on the Western Scotian Shelf ecosystem, Canada. J Marine Syst 134:89–100. doi:10.1016/j.jmarsys.2014.03.001

Haedrich RL, Hamilton LC (2000) The fall and future of Newfoundland's cod fishery. Soc Nat Resour 13:359–372. doi:10.1080/089419200279018

Halpern BS, Longo C, Hardy D, McLeod KL, Samhouri JF, Katona SK, Kleisner K, Lester SE, O'Leary J, Ranelletti M, Rosenberg AA, Scarborough C, Selig ER, Best BD, Brumbaugh DR, Chapin FS, Crowder LB, Daly KL, Doney SC, Elfes C, Fogarty MJ, Gaines SD, Jacobsen KI, Bunce Karrer L, Leslie HM, Neeley E, Pauly D, Polasky S, Ris B, St Martin K, Stone GS, Sumaila UR, Zeller D (2012) An index to assess the health and benefits of the global ocean. Nature 488:615–620. doi:10.1038/nature11397

Hodgson JRF, Russell WD, Megannety M (2013) Exploring plausible futures for marine transportation in the Canadian arctic, a scenarios based approach. Prepared for Transport Canada. Hodgson and Associates. http://www.dal.ca/content/dam/dalhousie/images/faculty/science/marine-affairs-program/Marine%20Transportation%20in%20Canadian%20Arctic%20Report%202014.pdf. Accessed 15 Jan 2016

Hoover C, Pitcher TJ, Christensen V (2013) Effects of hunting, fishing and climate change on the Hudson Bay marine ecosystem: II. Ecosystem model future projections. Ecol Modell 264:143–156. doi:10.1016/j.ecolmodel.2013.01.010

Hotte N, Sumaila R (2014) How much could a tanker spill cost British Columbians? Environ Dev Sustain 16:159–180. doi:10.1007/s10668-013-9468-7

Hutchings JA, Côté IM, Dodson JJ, Fleming IA, Jennings S, Mantua NJ, Peterman RM, Riddell BE, Weaver AJ, VanderZwaag DL (2012a) Is Canada fulfilling its obligations to sustain marine biodiversity? A summary review, conclusions, and recommendations. Environ Rev 20:353–361. doi:10.1139/er-2012-0049

Hutchings JA, Côté IM, Dodson JJ, Fleming IA, Jennings S, Mantua NJ, Peterman RM, Riddell BE, Weaver AJ (2012b) Climate change, fisheries, and aquaculture: trends and consequences for Canadian marine biodiversity. Environ Rev 20:220–311. doi:10.1139/a2012-011

IPBES (2016) Summary for policymakers of the assessment report of the methodological assessment of scenarios and models of biodiversity and ecosystem services by the Intergovernmental Science-Policy Platform on Biodiversity and Ecosystem Services. http://www.ipbes.net/sites/default/files/downloads/pdf/SPM_scenarios_advance.pdf. Accessed 29 June 2016

IPCC (2013) Definition of terms used within the DDC pages IPCC Data Distribution Centre. http://www.ipcc-data.org/guidelines/pages/definitions.html. Accessed 29 Feb 2016

IPCC (2014) Climate change 2014: synthesis report. In: Pachauri RK and L.A. Meyer LA (eds) Contribution of working groups I, II and III to the fifth assessment report of the Intergovernmental Panel on Climate Change [Core Writing Team. IPCC, Geneva

Jackson JBC (2008) Ecological extinction and evolution in the brave new ocean. Proc Natl Acad Sci USA 105:11458–11465. doi:10.1073/pnas.0802812105

Johnson KA, Genya D, Jordan NR, Draeger KJ, Kapuscinski A, Schmitt Olabisi LK, Reich PB (2012) Using participatory scenarios to stimulate social learning for collaborative sustainable development. Ecol Soc 17(2):9. doi:10.5751/ES-04780-170209

Kaschner K, Watson R, Trites AW, Pauly D (2006) Mapping world-wide distributions of marine mammal species using a relative environmental suitability (RES) model. Mar Ecol Prog Ser 316:285–310. doi:10.3354/meps316285

Kok K, Biggs R, Zurek M (2007) Methods for developing multiscale participatory scenarios: insights from southern Africa and Europe. Ecol Soc 13(1):8. http://www.ecologyandsociety.org/vol12/iss1/art8/

Kok MTJ, Kok K, Peterson GD, Hill R, Agard J, Carpenter SR (2016) Biodiversity and ecosystem services required IPBES to take novel approach to scenarios. Sustain Sci. doi:10.1007/s11625-016-0354-8

Kriegler E, O'Neill BC, Hallegatte S, Kram T, Lempert RJ, Moss RH, Wilbanks T (2012) The need for and use of socioeconomic scenarios for climate change analysis: a new approach based on shared socioeconomic pathways. Global Environ Chang 22:807–822. doi:10.1016/j.gloenvcha.2012.05.005

MA (Millennium Ecosystem Assessment) (2005) Ecosystems and human well-being: synthesis. Island Press, Washington, DC

Martins EG, Hinch SG, Patterson DA, Hague MJ, Cooke SJ, Miller KM, Lapointe MF, English KK, Farrell AP (2011) Effects of river temperature and climate warming on stock-specific survival of adult migrating Fraser River sockeye salmon (Oncorhynchus nerka). Glob Chang Biol 17:99–114. doi:10.1111/j.1365-2486.2010.02241.x

McDaniels T, Wilmot S, Healey M, Hinch S (2010) Vulnerability of Fraser River sockeye salmon to climate change: a life cycle perspective using expert judgment. J Environ Manage 91:2771–2780. doi:10.1016/j.jenvman.2010.08.004

Merino G, Barange M, Blanchard JL, Harle J, Holmes R, Allen I, Allison EH, Badjeck MC, Dulvy NK, Holt J, Jennings S, Mullon C, Rodwell LD (2012) Can marine fisheries and aquaculture meet fish demand from a growing human population in a changing climate? Global Environ Chang 22:795–806. doi:10.1016/j.gloenvcha.2012.03.003

Morrison J, Quick MC, Foreman MGG (2002) Climate change in the Fraser River watershed: flow and temperature projections. J Hydrol 263:230–244

Moss RH, Edmonds JA, Hibbard KA, Manning MR, Rose SK, van Vuuren DP, Carter TR, Emori S, Kainuma M, Kram T, Meehl GA, Mitchell JFB, Nakicenovic N, Riahi K, Smith SJ, Stouffer RJ, Thomson AM, Weyant JP, Wilbanks TJ (2010) The next generation of scenarios for climate change research and assessment. Nature 463:747–756. doi:10.1038/nature08823

Nelitz M, Wieckowski K, Porter M, Bryan K, Poulsen F, Carr D (2010) Evaluating the vulnerability of freshwater fish habitats to climate change and identifying regional adaptation strategies in the Cariboo-Chilcotin. Report prepared for Fraser Salmon and Watersheds Program by ESSA Technologies Ltd. http://www.fraserbasin.bc.ca/_Library/CCAQ_BCRAC/bcrac_fish_habitat_ccr_2f.pdf. Accessed 29 Feb 2016

O'Neill BC, Kriegler E, Riahi K, Ebi KL, Hallegatte S, Carter TR, Mathur R, van Vuuren DP (2014) A new scenario framework for climate change research: the concept of shared socioeconomic pathways. Clim Change 122:387–400. doi:10.1007/s10584-013-0905-2

O'Neill BC, Kriegler E, Ebi KL, Kemp-Benedict E, Riahi K, Rothman DS, van Ruijven BJ, van Vuuren DP, Birkmann J, Kok K, Levy M, Solecki W (2015) The roads ahead: narratives for shared socioeconomic pathways describing world futures in the 21st century. Global Environ Change. doi:10.1016/j.gloenvcha.2015.01.004

Okey TA, Alidina HM, Lo V, Jessen S (2014) Effects of climate change on Canada's Pacific marine ecosystems: a summary of scientific knowledge. Rev Fish Biol Fish 24:519–559. doi:10.1007/s11160-014-9342-1

Ommer R, Team CUSRP (2007) Coasts under stress: change and social-ecological health. McGill-Queens University Press, Montreal

Osterblom H, Merrie A, Metian M, Boonstra WJ, Blenckner T, Watson JR, Rykaczewski RR, Ota Y, Sarmiento JL, Christensen V, Schluter M, Birnbaum S, Gustafsson BG, Humborg C, Morth CM, Muller-Karulis B, Tomczak MT, Troell M, Folke C (2013) Modeling social-ecological scenarios in marine systems. Bioscience 63:735–744. doi:10.1093/bioscience/63.9.735

Oteros-Rozas E, Martin-Lopez B, Daw TM, Bohensky EL, Butler JA, Hill R, Martin-Ortega J, Quinlan A, Ravera F, Ruiz-Mallen I, Thyresson M, Mistry J, Palomo I, Peterson GD, Plieninger T, Waylen KA, Beach DM, Bohnet IC, Hamann M, Hanspach J, Hubacek K, Lavorel S, Vilardy SP (2015) Participatory scenario planning in place-based social-ecological research: insights and experiences from 23 case studies. Ecol Soc 20(4):32. doi:10.5751/ES-07985-200432

Parson EA (2008) Useful global-change scenarios: current issues and challenges. Environ Res Lett 3(4):045016

Pereira HM, Leadley PW, Proença V, Alkemade R, Scharlemann JPW, Fernandez-Manjarres JF, Araujo MB, Balvanera P, Biggs R, Cheung WWL, Chini L, Cooper HD, Gilman EL, Guénette S, Hurtt GC, Huntington HP, Mace GM, Oberdoff T, Revenga C, Rodrigues P, Scholes RJ, Sumaila UR, Walpole M (2010) Scenarios for global biodiversity in the 21st century. Science 330:1496–1501. doi:10.1126/science.1196624

Pinnegar JK, Viner D, Hadley D, Dye S, Harris M, Berkout F, Simpson M (2006) Alternative future scenarios for marine ecosystems: technical report. CEFAS, Lowestoft

Pitcher TJ, Lam ME, Varkey D, Adams N, Buchary E, Hunt B, Klain S, Li LB, Obradovich S, Parkinson K, McKechnie I, Tesfamichael D, Schoenberger Z, Stewart H (2009) The Sea Before Us: reconstructing the Strait of Georgia. A Peter Wall Institute for Advanced Studies Exploratory Workshop report. http://www.seabeforeus.pwias.ubc.ca/media/pdfs/report.pdf. Accessed 3 Feb 2016

Raskin PD (2005) Global scenarios: background review for the Millennium Ecosystem Assessment. Ecosystems 8:133–142. doi:10.1007/s10021-004-0074-2

Reed TE, Schindler DE, Hague MJ, Patterson DA, Meir E, Waples RS, Hinch SG (2011) Time to evolve? Potential evolutionary responses of Fraser River sockeye salmon to climate change and effects on persistence. PLoS ONE 6(6):e20380. doi:10.1371/journal.pone.0020380

Samir KC, Lutz W (2014) The human core of the shared socioeconomic pathways: population scenarios by age, sex and level of education for all countries to 2100. Global Environ Chang. doi:10.1016/j.gloenvcha.2014.06.004

Sinclair S (2013) Globalization, trade treaties and the future of the Atlantic Canadian fisheries. Canadian Centre for Policy Alternatives. www.policyalternatives.ca. Accessed 10 Jan 2016

Solow RM (1957) Technical change and the aggregate production function. Rev Econ Stat 39: 312–320. http://www.jostor.org/stable/1926047

Stanton EA, Davis M, Fencl A (2010) Costing climate impacts and adaptation. A Canadian study on coastal zones. Stockholm Environment Institute. http://sei-us.org/Publications_PDF/SEI-Canada-coastal-zones-June-2010.pdf. Accessed 29 Feb 2016

Stortini CH, Shackell NL, Tydmers P, Beazley K (2015) Assessing marine species vulnerability to projected warming on the Scotian Shelf, Canada. ICES J Mar Sci 72:1731–1743. doi:10.1093/icesjms/fsv022

Sumaila UR, Lam VWY (2015) Out of stock: the impact of climate change on British Columbia's staple seafood supply and prices. Report for Vancity. https://www.documentcloud.org/documents/2158104-vancity-seafood-report.html. Accessed 15 Feb 2016

Sumaila UR, Walters CJ (2005) Intergenerational discounting: a new intuitive approach. Ecol Econ 52:135–142. doi:10.1016/j.ecolecon.2003.11.012

Sumaila UR, Cisneros-Montemayor AM, Dyck A, Huang L, Cheung W, Jacquet J, Kleisner K, Lam V, McCrea-Strub A, Swartz W, Watson R, Zeller D, Pauly D (2012) Impact of the deepwater horizon well blowout on the economics of U.S. gulf fisheries. Can J Fish Aquat Sci 69:499–510. doi:10.1139/f2011-171

Tyedmers P, Ward B (2001) A review of the impacts of climate change on BC's freshwater fish resources and possible management responses. Fisheries Centre Research Report 9(7). University of British Columbia, Vancouver

UNEP (United Nations Environmental Program) (2002) Global environmental outlook 3. Past, present and future perspectives. Earthscan Publication Ltd, London

van Vuuren DP, Carter TR (2014) Climate and socioeconomic scenarios for climate change research and assessment: reconciling the new with the old. Clim Change 122:415–429. doi:10.1007/s10584-013-0974-2

van Vuuren DP, Kok M (eds) (2012) Roads from Rio +20 pathways to achieve global sustainability goals by 2050. PBL Netherlands Environmental Assessment Agency, The Hague

van Vuuren DP, Smith S, Keywan R (2010) Downscaling socioeconomic and emissions scenarios for global environmental change research: a review. WIREs Clim Change 1:393–404. doi:10.1002/wcc.50

van Vuuren DP, Edmonds J, Kainuma M, Riahi K, Thomson A, Hibbard K, Hurtt GC, Kram T, Krey V, Lamarque JF, Masui T, Meinshausen M, Nakicenovic N, Smith SJ, Rose SK (2011) The representative concentration pathways: an overview. Clim Change 109:5–31. doi:10.1007/s10584-011-0148-z

Victor PA (2012) Growth, degrowth and climate change: a scenario analysis. Ecol Econ 84:206–212. doi:10.1016/j.ecolecon.2011.04.013

Warren FJ, Lemmen DS (eds) (2014) Canada in a changing climate: sector perspectives on impacts and adaptation. Government of Canada, Ottawa

Weatherdon LV, Ota Y, Jones MC, Close DA, Cheung WWL (2016) Projected scenarios for coastal First Nations' fisheries catch potential under climate change: management challenges and opportunities. PLoS ONE 11(1):e0145285. doi:10.1371/journal.pone.0145285

Wesche SD, Armitage DR (2014) Using qualitative scenarios to understand regional environmental change in the Canadian North. Reg Environ Change 14:1095–1108. doi:10.1007/s10113-013-0537-0

WWF (2009) Future seas: scenario planning and the establishment of a marine reserve network. WWF-New Zealand, Wellington
Acknowledgements
This study is an output of the OceanCanada Partnership, a project funded by the Canadian Social Science and Humanities Research Council (SSHRC), Grant Number 985-2013-1009. W.W.L.C. also acknowledges funding support from the Nippon Foundation-Nereus Program and Natural Sciences and Engineering Research Council of Canada. The funders had no involvement in any part of this paper.
Electronic supplementary material
Below is the link to the electronic supplementary material.
About this article
Cite this article
Teh, L.S.L., Cheung, W.W.L. & Sumaila, U. . Scenarios for investigating the future of Canada's oceans and marine fisheries under environmental and socioeconomic change. Reg Environ Change 17, 619–633 (2017). https://doi.org/10.1007/s10113-016-1081-5
Received:

Accepted:

Published:

Issue Date:
Keywords
Scenario analysis

Canada

Marine resource sustainability

Oceans

Social-ecological systems

Climate change