Abstract
This study examines the change in climate variables and snow cover dynamics and their impact on the hydrological regime of the Jhelum River basin in Western Himalayas. This study utilized daily streamflow records from Mangla dam, spanning a time period of 19 years (1995–2013), along with precipitation and temperature data over 52 years (1961–2013) from 12 different climate stations in the catchment. Additionally, moderate-resolution imaging spectroradiometer (MODIS) remote sensing product MOD10A2 was utilized to analyze the change in snow cover dynamics during 2000–2013. The Pearson and Kendall rank correlation tests were used to scrutinize snow cover trends and correlation between temperature, precipitation, snow cover area (SCA) and streamflows records. Basin-wide trend analysis showed a slightly increasing tendency in temperature (τ = 0.098) and precipitation (τ = 0.094), during the years 1961–2013. The changes in streamflow indicated a positive (r > 0.12) relationship with respect to temperature but variable trends (r = −0.45–0.41) with respect to precipitation during both the winter and monsoon seasons. This indicates that temperature has a significant impact on the hydrological regime of the basin. MODIS data-based investigations suggested an expansion in SCA during 2000–2013. The changes in SCA of high-altitude zones (>2000 m a.s.l.) depicted a stronger positive correlation with climate variables and streamflow compared with those obtained for low-altitude regions (<2000 m a.s.l.). Overall, these results signify that high-altitude areas contribute to the streamflow largely in the form of snow- and glacier-melt during the early summer season. The streamflow is then further augmented by monsoon rainfall in the low-elevation regions during late summer.
Access options
Buy single article
Instant access to the full article PDF.
USD 39.95
Price includes VAT (USA)
Tax calculation will be finalised during checkout.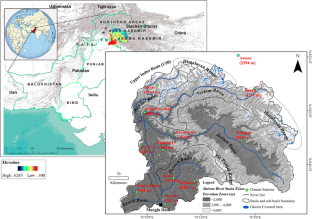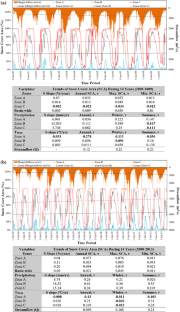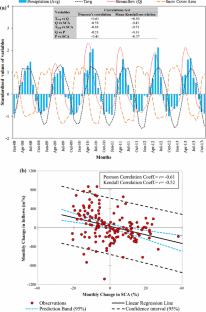 References
Allen R (2008) Quality assessment of weather data and micrometeological flux-impacts on evapotranspiration calculation. J Agric Meteorol (Jpn) 64(4):191–204. doi:10.2480/agrmet.64.4.5

Archer D, Fowler H (2008) Using meteorological data to forecast seasonal runoff on the River Jhelum. Pak J Hydrol 361(1):10–23. doi:10.1016/j.jhydrol.2008.07.017

Azmat M, Laio F, Poggi D (2015) Estimation of water resources availability and mini-hydro productivity in high-altitude scarcely-gauged watershed. Water Res Manag 29(14):5037–5054. doi:10.1007/s11269-015-1102-z

Azmat M, Choi M, Kim T-W, Liaqat UW (2016) Hydrological modeling to simulate streamflow under changing climate in a scarcely gauged cryosphere catchment. Environ Earth Sci 75(3):1–16. doi:10.1007/s12665-015-5059-2

Bookhagen B, Burbank DW (2010) Toward a complete Himalayan hydrological budget: spatiotemporal distribution of snowmelt and rainfall and their impact on river discharge. J Geophys Res Earth Surf 115(F3):2156–2202. doi:10.1029/2009JF001426

Gioli G, Khan T, Scheffran J (2014) Climatic and environmental change in the Karakoram: making sense of community perceptions and adaptation strategies. Reg Environ Change 14:1151–1162. doi:10.1007/s10113-013-0550-3

Hasson S, Lucarini V, Khan M, Petitta M, Bolch T, Gioli G (2014) Early 21st century snow cover state over the western river basins of the Indus River system. Hydrol Earth Syst Sci 18:4077–4100. doi:10.5194/hess-18-4077-2014

IPCC (2014) Climate Change 2014: Synthesis Report. In: Core Writing Team, Pachauri RK, Meyer LA (eds.) Contribution of Working Groups I, II and III to the Fifth Assessment Report of the Intergovernmental Panel on Climate Change. Geneva

Maurer EP, Rhoads JD, Dubayah RO, Lettenmaier DP (2003) Evaluation of the snow-covered area data product from MODIS. Hydrol Process 17(1):59–71. doi:10.1002/hyp.1193

Miller JD, Immerzeel WW, Rees G (2012) Climate change impacts on glacier hydrology and river discharge in the Hindu Kush-Himalayas: a synthesis of the scientific basis. Mt Res Dev 32(4):461–467. doi:10.1659/MRD-JOURNAL-D-12-00027.1

Mukhopadhyay B, Khan A (2014) A quantitative assessment of the genetic sources of the hydrologic flow regimes in upper Indus basin and its significance in a changing climate. J Hydrol 509:549–572. doi:10.1016/j.jhydrol.2013.11.059

Pratap B, Dobhal DP, Bhambri R, Mehta M, Tewari VC (2016) Four decades of glacier mass balance observations in the Indian Himalaya. Reg Environ Change 16:643–658. doi:10.1007/s10113-015-0791-4

Qamar MU, Azmat M, Cheema MJM, Shahid MA, Khushnood RA, Ahmad S (2016) Model swapping: a comparative performance signature for the prediction of flow duration curves in ungauged basins. J Hydrol 541:1030–1041. http://dx.doi.org/10.1016/j.jhydrol.2016.08.012

Rasmussen R, Baker B, Kochendorfer J, Meyers T, Landolt S, Fischer AP, Black J, Thériault JM, Kucera P, Gochis D, Smith G, Nitu R, Hall M, Ikeda K, Gutmann E (2012) How well are we measuring snow: the NOAA/FAA/NCAR winter precipitation test bed. Bull Am Meteorol Soc 93(6):811–829. doi:10.1175/BAMS-D-11-00052.1

Savoskul OS, Smakhtin V (2013) Glacier systems and seasonal snow cover in six major Asian river basins: hydrological role under changing climate. International Water Management Institute (IWMI), IWMI Research Report 150, Colombo, p 53. doi:10.5337/2013.204

Sharma V, Mishra V, Joshi P (2014) Topographic controls on spatio-temporal snow cover distribution in Northwest Himalaya. Int J Remote Sens 35(9):3036–3056. doi:10.1080/01431161.2014.894665

Shrestha AB, Aryal R (2011) Climate change in Nepal and its impact on Himalayan glaciers. Reg Environ Change 11(1):65–77. doi:10.1007/s10113-010-0174-9

Sirguey P, Mathieu R, Arnaud Y (2009) Subpixel monitoring of the seasonal snow cover with MODIS at 250 m spatial resolution in the southern Alps of New Zealand: methodology and accuracy assessment. Remote Sens Environ 113(1):160–181. doi:10.1016/j.rse.2008.09.008

Tahir A, Chevallier P, Arnaud Y, Ahmad B (2011) Snow cover dynamics and hydrological regime of the Hunza River basin, Karakoram Range, Northern Pakistan. Hydrol Earth Syst Sci 15:2275–2290. doi:10.5194/hess-15-2275-2011

Tahir AA, Adamowski JF, Chevallier P, Haq AU, Terzago S (2016) Comparative assessment of spatiotemporal snow cover changes and hydrological behavior of the Gilgit, Astore and Hunza River basins (Hindukush–Karakoram–Himalaya region, Pakistan). Meteorol Atmos Phys. doi:10.1007/s00703-016-0440-6
Acknowledgements
This study was funded by the Higher Education Commission of Pakistan (HEC), under program for overseas higher education. The financial support for this project was extremely useful for the completion of this research endeavor and is greatly appreciated. The authors wish to extend a special thanks to the organizations GMRC-WAPDA and PMD for providing access to meteorological and hydrological data utilized in this research.
Additional information
Editor: Juan Ignacio Lopez Moreno.
Electronic supplementary material
Below is the link to the electronic supplementary material.
About this article
Cite this article
Azmat, M., Liaqat, U.W., Qamar, M.U. et al. Impacts of changing climate and snow cover on the flow regime of Jhelum River, Western Himalayas. Reg Environ Change 17, 813–825 (2017). https://doi.org/10.1007/s10113-016-1072-6
Received:

Accepted:

Published:

Issue Date:
Keywords
Snow cover area

Climate variability

Hydrological regime

Mann–Kendall

Pearson correlation