Abstract
The Meckenheim fruit growing region in Western Germany may be affected as a consequence of climate change by lack of chilling, i.e. a cold period in the winter required for tree species to flower in the subsequent spring. As sweet cherry requires high chill, 160 potted trees of three sweet cherry cultivars with threefold different chilling requirements were cultivated in a large experiment over 4 years, either in the orchard or in an unheated greenhouse (simulated climate change). The orchard temperatures in the warmer winter (6.0 °C) exceeded those in the unheated greenhouse (4.7 °C) in the cold winter. Chilling computations for this region showed that cherry trees of low chill cultivar '6000CZ' required 22.3–26.6 chill portions (CP), medium chill cv. 'Brooks' about 37.9–54.4 CP and the high chill cv. 'Schneiders späte Knorpelkirsche' about 54.4–79.3 CP for a natural flowering. Cherry trees cv. '6000CZ' receiving <300 CH, cv. 'Brooks' <500 CH and cv. 'Schneiders späte Knorpelkirsche' <700 CH were unable to flower, equivalent of 50 % of the assumed chilling optimum of the respective cultivar. Maximum chill accumulation in this region is currently achieved, so that warmer winters may reduce the available chill. The beginning of leaf drop was identified as a suitable initiation point for computing chill accumulation. Overall, the work has shown that environmental change has an effect on chilling availability in Meckenheim and possibly other fruit growing regions along 50°N. The insights gained ultimately highlight the need for cross-sectoral, adaptive management practices that jointly target a sustainable regional development.
Access options
Buy single article
Instant access to the full article PDF.
US$ 39.95
Tax calculation will be finalised during checkout.
Subscribe to journal
Immediate online access to all issues from 2019. Subscription will auto renew annually.
US$ 79
Tax calculation will be finalised during checkout.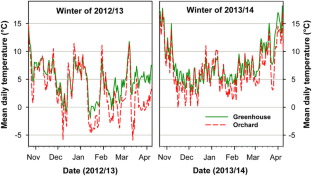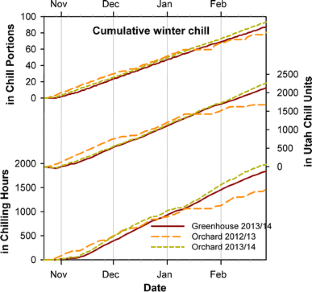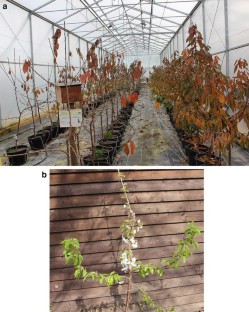 References
Alburquerque N, García-Montiel F, Carrillo A, Burgos L (2008) Chilling and heat requirements of sweet cherry cultivars and the relationship between altitude and the probability of satisfying the chill requirements. Environ Exp Bot 64(2):162–170. doi:10.1016/j.envexpbot.2008.01.003

Bindi M, Olesen JE (2011) The responses of agriculture in Europe to climate change. Reg Environ Change 11(Suppl 1):151–158. doi:10.1007/s10113-010-0173-x

Blanke MM, Kunz A (2009) Impact of recent climate change on pome fruit phenology at Klein-Altendorf-[Einfluss rezenter Klimaveränderungen auf die Phänologie bei Kernobst am Standort Klein-Altendorf—anhand 50-jähriger Aufzeichnungen]. Erwerbs Obstbau 51(3):101–114

Cesaraccio C, Spano D, Snyder RL, Duce P (2004) Chilling and forcing model to predict bud-burst of crop and forest species. Agric For Meteorol 126:1–13. doi:10.1016/j.agrformet.2004.03.002

Couvillon GA, Erez A (1985) The influence of prolonged exposure to chilling temperatures on bud break and heat requirement for bloom of several fruit species. J Am Soc Hortic Sci 110:47–50

Erez A, Fishman S, Linsley-Noakes GC, Allan P (1990) The dynamic model for rest completion in peach buds. Acta Hortic 276:165–174. doi:10.17660/ActaHortic.1990.276.18

Fishman S, Erez A, Couvillon GA (1987) The temperature dependence of dormancy breaking in plants. Mathematical analysis of a two-step model involving a cooperative transition. J Theor Biol 124(4):473–483. doi:10.1016/S0022-5193(87)80221-7

Fleckinger J (1955) Phenologie et aboriculture fruitiére. Bon Jardinier 1:362–372

Gratacós EN, Cortés AB (2007) Chilling requirements of cherry cultivars. Compact Fruit Tree 40(3):7–9

Guak S, Neilsen D (2013) Chill unit models for predicting dormancy completion of floral buds in apple and sweet cherry. Hortic Environ Biotechnol 54(1):29–36. doi:10.1007/s13580-013-0140-9

Heide OM (1993) Dormancy release in beech buds (Fagus sylvatica) requires both chilling and long days. Physiol Plant 89:187–191. doi:10.1034/j.1399-3054.1993.890127.x

Hillmann L, Kaufmann H, Blanke MM (2016) Bioindicators for the dormancy status of fruit trees-[Bioindikatoren für den Dormanzstatus von Obstgehölzen]. Erwerbs Obstbau 58(3):141–157

IPCC (2013) Climate Change 2013: Summary for Policy Makers (SPM). In: The Physical Science Basis. Contribution of Working Group I to the Fifth Assessment Report of the Intergovernmental Panel on Climate Change [Stocker, T.F., D. Qin, G.-K. Plattner, M. Tignor, S.K. Allen, J. Boschung, A. Nauels, Y. Xia, V. Bex and P.M. Midgley (eds.)]. Cambridge University Press, Cambridge, United Kingdom and New York, NY, USA, 1535 pp

Jackson JE (2003) Biology of apples and pears. Cambridge University Press, Cambridge. doi:10.1017/CBO9780511542657

Kaufmann H, Blanke MM (2016) Chilling in cherry—principles and projection—a brief introduction. Proc COST cherry FA1104 Workshop WG 2 ('Cherry phenology and climate change'). ISHS Acta Hortic 1145:00

Lang GA, Early JD, Martin GC, Darnell RL (1987) Endo-, Para-, and Ecodormancy: physiological terminology and classification for dormancy research. Hortic Sci 22(3):371–377

Lorenzo MN, Ramos AM, Brands S (2015) Present and future climate conditions for winegrowing in Spain. Reg Environ Change 16:617–627. doi:10.1007/s10113-015-0883-1

Luedeling E (2012) Climate change impacts on winter chill for temperate fruit and nut production: a review. Sci Hortic 144:218–229. doi:10.1016/j.scienta.2012.07.011

Luedeling E, Brown PH (2011) A global analysis of the comparability of winter chill models for fruit and nut trees. Int J Biometeorol 55(3):411–421. doi:10.1007/s00484-010-0352-y

Luedeling E, Kunz A, Blanke MM (2011a) More chilling for fruit trees in warmer winter?-[Mehr Chilling für Obstbäume in wärmerenWintern?]. Erwerbs Obstbau 53(4):145–155

Luedeling E, Girvetz EH, Semenov MA, Brown PH, Traveset A (2011b) Climate change affects winter chill for temperate fruit and nut trees. PLoS ONE 6(5):e20155. doi:10.1371/journal.pone.0020155

Luedeling E, Kunz A, Blanke MM (2013) Identification of chilling and heat requirements of cherry trees—a statistical approach. Int J Biometeorol 57:679–689. doi:10.1007/s00484-012-0594-y

Mahmood K, Carew JG, Hadley P, Battey NH (2000a) Chill unit models for the sweet cherry cvs Stella, Sunburst and summit. J Hortic Sci Biotech 75(5):602–606. doi:10.1080/14620316.2000.11511293

Mahmood K, Carew JG, Hadley P, Battey NH (2000b) The effect of chilling and post-chilling temperatures on growth and flowering of sweet cherry (Prunus avium L.). J Hortic Sci Biotechnol 75(5):598–601. doi:10.1080/14620316.2000.11511292

Meier U, Graf H, Hack H, Hess M, Kennel W, Klose R, Mappes D, Seipp D (1994) Phänologische Entwicklungsstadien des Kernobstes (Malus domestica Borkh. und Pyrus communis L.) des Steinobstes (Prunus-Arten), der Johannisbeere (Ribes-Arten) und der Erdbeere (Fragaria × ananassa Duch.). Nachrichtenbl DeutPflanzenschutzd 46:141–153

Millan M, Ramos-Lafargue MG, Quero-Garcia J, Charlot G (2009) Evaluation des besoins en froid du cerisier. Infos Ctifl 257:29–35

Ohashi Y, Kawakami H, Shigeta Y, Ikeda H, Yamamoto N (2012) The phenology of cherry blossom (Prunus yedoensis "Somei-yoshino") and the geographic features contributing to its flowering. Int J Biometeorol 56(5):903–914

Richardson EA, Seeley SD, Walker DR (1974) A model for estimating the completion of rest for Red haven and Elberta peach trees. HortScience 9(4):331–332

Tartachnyk I, Blanke MM (2004) Effect of delayed fruit harvest on photosynthesis, transpiration and nutrient remobilization of apple leaves. New Phytol 164:441–450. doi:10.1111/j.1469-8137.2004.01197.x

Weinberger JH (1950) Chilling requirements of peach varieties. Proc Am Soc Hortic Sci 56:122–128
Acknowledgments
We thank Eike Luedeling (ICRAF -Agroforestry- Nairobi, Kenia) for support with the computation of the chilling models, Achim Kunz and Karl-Josef Wiesel for growing the trees in the orchard, Martin Balmer for instigating the project and Lyn Jones, Scottish Crops Research Institute (SCRI) for helping to design the experimental layout, all those who supported the senior author while having to work without a departmental office and Professor G. Noga for supporting this project and the anonymous referee for constructive comments and the editor-in-chief for editorial guidance.
About this article
Cite this article
Kaufmann, H., Blanke, M. Performance of three numerical models to assess winter chill for fruit trees—a case study using cherry as model crop in Germany. Reg Environ Change 17, 715–723 (2017). https://doi.org/10.1007/s10113-016-1064-6
Received:

Accepted:

Published:

Issue Date:
Keywords
Acrotony

Chilling

Climate change

Dormancy

Global warming

Leaf fall

Sweet cherry (Prunus avium L.)