Abstract
Whale watching is a billion dollar industry worldwide. One of the most popular species for whale watching is the humpback whale (Megaptera novaeangliae). The migratory corridors, feeding, resting and calving sites which are used for whale watching may be influenced by changing ocean currents and water temperatures. Here, we used an innovative approach addressing the emerging issue of climate change on the whale watch industry. This involved participatory modelling using key stakeholders for the whale watching industry to develop a systems conceptualisation model for evaluating the potential effects of climate change based on a case study from the east coast of Australia. This participatory approach allowed us to identify the causal linkages (including feedback pathways) between different "Elements" of the system within which the whale watching industry operates. It also allowed us to integrate multiple drivers covering socio-economic and environmental aspects including climate change (e.g. temperature), policy (e.g. number of boats), ecology (e.g. number of whales) and socio-economics (e.g. number of tourists) to evaluate the changes in the overall system. We then developed a Bayesian belief network model from the systems conceptualisation on which stakeholders identified a priority issue (Profitability). Stakeholders provided the structure and the quantification of this model, and a sensitivity analysis was carried out to help identify important intervention points for the industry. Overall, our research illustrates how such a modelling process can assist local tourism operators and authorities in making rational management decisions within a holistic or systems-based framework and its approach is applicable to other regions.
Access options
Buy single article
Instant access to the full article PDF.
US$ 39.95
Tax calculation will be finalised during checkout.
Subscribe to journal
Immediate online access to all issues from 2019. Subscription will auto renew annually.
US$ 79
Tax calculation will be finalised during checkout.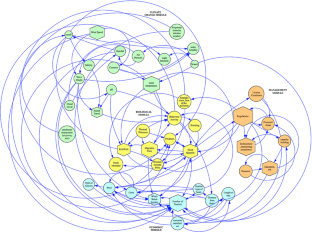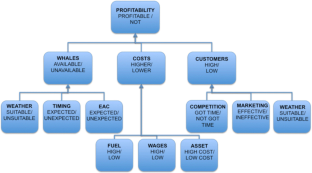 References
Abbs DJ, McInnes KL (2004) The impact of climate change on extreme rainfall and coastal sea levels over south-east Queensland. Part 1: analysis of extreme rainfall and wind events in a GCM. CSIRO Atmospheric Research, Gold Coast

Bindoff NL, Willebrand J, Artale V, Cazenave A, Gregory J, Gulev S, Hanawa K, Le Quéré C, Levitus S, Nojiri Y, Shum CK, Talley LD, Unnikrishnan A (2007) Observations: oceanic climate change and sea level. In: Solomon S, Qin D, Manning M, Chen Z, Marquis M, Averyt KB, Tignor M, Miller HL (eds) Climate change 2007: the physical science basis. Contribution of Working Group I to the Fourth Assessment Report of the Intergovernmental Panel on Climate Change. Cambridge University Press, Cambridge, United Kingdom and New York, NY, USA

Bosch OJH, King CA, Herbohn JL, Russell IW, Smith CS (2007) Getting the big picture in natural resource management-systems thinking as 'method' for scientists, policy makers and other stakeholders systems research and other stakeholders. Behav Sci 24:217–232. doi:10.1002/sres.818

Catenacci M, Giupponi C (2012) Integrated assessment of sea-level rise adaptation strategies using a Bayesian decision network approach. Environ Model Softw 44:1–14. doi:10.1016/j.envsoft.2012.10.010

Cisneros-Montemayor AM, Sumaila UR, Kaschner K, Pauly D (2010) The global potential for whale watching. Marine Policy 34:1273–1278. doi:10.1016/j.marpol.2010.05.005

Corkeron PJ, Connor RC (1999) Why do baleen whales migrate? Marine Mamm Sci 15:1228–1245. doi:10.1111/j.1748-7692.1999.tb00887.x

Cunningham PA, Huijbens EH, Wearing SL (2012) From whaling to whale watching: examining sustainability and cultural rhetoric. J Sustain Tour 20:143–161. doi:10.1080/09669582.2011.632091

Dalla Rosa L, Ford JKB, Trites AW (2012) Distribution and relative abundance of humpback whales in relation to environmental variables in coastal British Columbia and adjacent waters. Cont Shelf Res 36:89–104. doi:10.1016/j.csr.2012.01.017

Goodman LA (1961) Snowball sampling. Ann Math Stat 32(1):148–170. doi:10.1214/aoms/1177705148

Poloczanska ES, Babcock RC, Butler A, Hobday AJ, Hoegh-Guldberg O, Kunz TJ, Matear R, Milton DA, Okey TA, Richardson AJ (2007) Climate change and Australian marine life. Oceanogr Mar Bio 45:407–478. doi:10.1201/9781420050943.ch8

Hoyt E (2001) Whale watching 2001: worldwide tourism numbers, expenditures and expanding socioeconomic benefits. International Fund for Animal Welfare, Crowborough

Jackson JA, Zerbini A, Clapham P, Garrigue C, Hauser N, Poole M, Baker CS (2006) A Bayesian assessment of humpback whales on breeding grounds of Eastern Australiaand Oceania (IWC Stocks E, E1, E2 and F). Paper SC/A06/HW52 presented to the IWC Scientific Committee. International Whaling Commission, Cambridge

Johnson M (2009) Public participation and perceptions of watershed modeling. Soc Nat Resour 22:79–87. doi:10.1080/08941920802220347

Kauffman S (1993) The origins of order: self-organization and selection in evolution. Oxford University Press, Oxford

Kjærulff U, Madsen A (2008) Bayesian networks and influence diagrams: a guide to construction and analysis. Springer, New York

Knowles T, Campbell R (2011) What's a whale worth? Valuing whales for National Whale Day. International Fund for Animal Welfare (IFAW) & Economists at Large, Melbourne, Australia

Korfmacher KS (2001) The politics of participation in watershed modeling. Environ Manage 27:161–176. doi:10.1007/s002670010141

Lambert E, Hunter CP, Pierce GJ, MacLeod CD (2010) Sustainable whale- watching tourism and climate change: towards a framework of resilience. J Sust Tour 18:409–427. doi:10.1080/09669581003655497

Loeb VJ, Santora JA (2015) Climate variability and spatiotemporal dynamics of five Southern Ocean krill species. Prog Oceanogr 134:93–122. doi:10.1016/j.pocean.2015.01.002

Loucks DP, van Beek E (2005) Water resources systems planning and management: an introduction to methods, models and applications. Unesco, Paris

Meynecke J-O (2014) Whale trails—a smart phone application for whale tracking. In: Ames D, Quinn N (eds) 7th international congress on environmental modelling and software, San Diego, California, USA, 2014. International Environmental Modelling and Software Society (iEMSs) pp 1–7

Nadkarni S, Shenoy PP (2004) A causal mapping approach to constructing Bayesian networks. Decis Support Syst 38:259–281. doi:10.1016/s0167-9236(03)00095-2

Noad MJ, Dunlop RA, Paton D, Cato DH (2011) Absolute and relative abundance estimates of Australian east coast humpback whales (Megaptera novaeangliae). J Cetacean Res Manag 3:243–252

Patten BC, Jørgensen SE (1995) Complex ecology: the part-whole relation in ecosystems. Prentice Hall, Englewood Cliffs

Pörtner H-O, Karl DM, Boyd PW, Cheung WWL, Lluch-Cota SE, Nojiri Y, Schmidt DN, Zavialov PO (2014) Ocean systems. In: Field CB, Barros VR, Dokken DJ, Mach KJ, Mastrandrea MD, Bilir TE, Chatterjee M, Ebi KL, Estrada YO, Genova RC, Girma B, Kissel ES, Levy AN, MacCracken S, Mastrandrea PR, White LL (eds) Climate change 2014: impacts, adaptation, and vulnerability. Part A: global and sectoral aspects. Contribution of working group II to the fifth assessment report of the intergovernmental panel on climate change. Cambridge University Press, Cambridge, United Kingdom and New York, NY, USA, pp 411–484

Ramp C, Delarue J, Palsbo PJ II, Sears R, Hammond PS (2015) Adapting to a Warmer ocean—seasonal shift of baleen whale movements over three decades. PLoS One 10:e0121374. doi:10.1371/journal.pone.0121374

Richards R, Sano M, Roiko A, Carter RW, Bussey M, Matthews J, Smith TF (2013) Bayesian belief modeling of climate change impacts for informing regional adaptation options. Environ Model Softw 44:113–121. doi:10.1016/j.envsoft.2012.07.008

Richards RG, Sahin O, Sano M, Meynecke J-O, Tiller R (2014) App2Adapt: using tablet technology to elicit conditional probabilities for Bayesian belief network. In: Ames DP, Quinn N (eds) 7th international congress on environmental modelling and software. San Diego, California, pp 18–23

Roberts N (1983) Introduction to computer simulation: the system dynamics approach. Addison-Wesley, Reading

Smith JN, Grantham HS, Gales N, Double MC, Noad MJ, Paton D (2012) Identification of Humpback whale breeding and calving habitat in the Great Barrier Reef. Mar Ecol Prog Ser 447:259–272. doi:10.3354/meps09462

Tiller R, Gentry R, Richards R (2013) Stakeholder driven future scenarios as an element of interdisciplinary management tools; the case of future offshore aquaculture development and the potential effects on fishermen in Santa Barbara, California. Ocean Coast Manag 73:127–135. doi:10.1016/j.ocecoaman.2012.12.011

Uusitalo L (2007) Advantages and challenges of Bayesian networks in environmental modelling. Ecol Model 203:312–318. doi:10.1016/j.ecolmodel.2006.11.033

van den Honert RC, McAneney J (2011) The 2011 Brisbane floods: causes, impacts and implications. Water 3:1149–1173. doi:10.3390/w3041149

Vang L (2002) Distribution, abundance and biology of Group V Humpback whales Megaptera novaeangliae: a review. The State of Queensland Environmental Protection Agency, Brisbane

Voinov A, Gaddis EJB (2008) Lessons for successful participatory watershed modeling: a perspective from modeling practitioners. Ecol Model 216:197–207. doi:10.1016/j.ecolmodel.2008.03.010

von Bertalanffy L (1950) An outline of general system theory. Br J Philos Sci 1:134–165. doi:10.1093/bjps/I.2.134
Acknowledgments
We like to thank the workshop participants for their outstanding contribution to this research project and two anonymous reviewers for their valuable comments. The project was funded by the Griffith Climate Change Response Program (GCCRP) and undertaken under Griffith University Human ethics permit ENV/46/14/HREC.
Electronic supplementary material
Below is the link to the electronic supplementary material.
About this article
Cite this article
Meynecke, JO., Richards, R. & Sahin, O. Whale watch or no watch: the Australian whale watching tourism industry and climate change. Reg Environ Change 17, 477–488 (2017). https://doi.org/10.1007/s10113-016-1034-z
Received:

Accepted:

Published:

Issue Date:
Keywords
Whale watching

Climate change

Adaptation

Stakeholder

Bayesian belief network