Abstract
Local and traditional ecological knowledge (TEK) systems are thought to be particularly valuable for fostering adaptation and resilience to environmental and climate change. This paper investigates the role of TEK in adaptation to social–ecological change at the community level. It is unique because it takes a longitudinal perspective and draws on historical and contemporary data. We focus on a case study from Hawai'i where TEK, cultural identity, and their relationships to environmental stewardship are locally seen as the basis for social resilience. We describe how coping strategies and indicators of social resilience have changed over time; the role of TEK in resilience; and the implications for climate change adaptation. Our results show the relative contributions of some strategies to cope with social–ecological change have decreased (e.g., forecasting, storage, and mobility), while others have maintained but adapted (e.g., livelihood diversification, knowledge transmission and storage, communal pooling, and cultural identity), underscoring the importance of considering multiple strategies together to promote community resilience. The article argues that understanding how people responded in the past can suggest relevant and culturally appropriate ways—through specific language, values, reference points, and indicators expressed in narratives, proverbs, and songs—of situating climate change and framing adaptation planning. This research also shows that TEK is vital for adaptation to environmental change broadly and climate change in particular, for subsistence-based, indigenous, rural communities, as well as place-based communities living in mixed economies. Thus, it is relevant for the larger Pacific Islands region and other areas that represent a continuum from rural-to-urban and traditional-to-global economies and lifeways.
This is a preview of subscription content, log in to check access.
Access options
Buy single article
Instant access to the full article PDF.
US$ 39.95
Price includes VAT for USA
Subscribe to journal
Immediate online access to all issues from 2019. Subscription will auto renew annually.
US$ 99
This is the net price. Taxes to be calculated in checkout.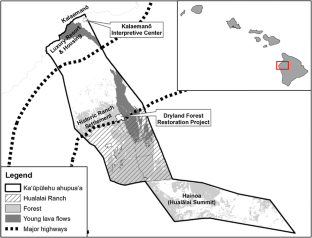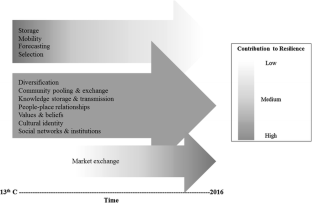 Notes
1.

Ka'ūpūlehu is owned by Kamehameha Schools (KS), the largest private landowner in Hawai'i, and the largest charitable trust in the USA (King and Roth 2006). KS was established in 1887, following the death of Princess Bernice Pauahi Bishop, the last surviving heir of Kamehameha I. All her lands were deeded to a trust that became KS.
References
Abel N, Cumming DHM, Anderies JM (2006) Collapse and reorganization in social–ecological systems: questions, some ideas, and policy implications. Ecology and Society 11:17. http://www.ecologyandsociety.org/vol11/iss1/art17/. Accessed 20 Dec 2015

Adger N (2003) Social capital, collective action, and adaptation to climate change. J Econ Geogr 79:387–404. doi:10.1111/j.1944-8287.2003.tb00220.x

Adger WN, Hughes TP, Folke C, Carpenter SR, Rockström J (2005) Social–ecological resilience to coastal disasters. Science 309:1036–1039. doi:10.1126/science.1112122

Agrawal A (2008) The role of local institutions in adaptation to climate change. Paper prepared for the social dimensions of climate change workshop, social development department, World Bank, Washington, DC, 5–6 March

Bennett NJ, Blythe J, Tyler S, Ban NC (2015) Communities and change in the anthropocene: understanding social–ecological vulnerability and planning adaptations to multiple interacting exposures. Reg Environ Change. doi:10.1007/s10113-015-0839-5

Berkes F (2012) Sacred ecology, 3rd edn. Routledge, London

Berkes F, Jolly D (2001) Adapting to climate change: social–ecological resilience in a Canadian western Arctic community. Conserv Ecol 5(2):18. http://www.consecol.org/vol5/iss2/art18. Accessed 3 Apr 2016

Berkes F, Ross H (2013) Community resilience: toward an integrated approach. Soc Nat Resour 26(1):5–20. doi:10.1080/08941920.2012.736605

Brosius JP (2006) What counts as local knowledge in global environmental assessments and conventions? In: Reid WV, Berkes F, Wilbanks T, Capistrano D (eds) Bridging scales and epistemologies: linking local knowledge and global science in multi-scale assessments. Island Press, Washington

Bunce M, Mee L, Rodwell LD, Gibb R (2009) Collapse and recovery in a remote small island—a tale of adaptive cycles or downward spirals? Glob Environ Change 19(2):213–226. doi:10.1016/j.gloenvcha.2008.11.005

Bushnell OA (1993) The gifts of civilization: germs and genocide in Hawai'i. University of Hawaii Press, Honolulu

Carpenter S, Brock W (2008) Adaptive capacity and traps. Ecol Soc 13(2):40. http://www.ecologyandsociety.org/vol13/iss2/art40/

Fazey I, Wise RM, Lyon C, Câmpeanu C, Moug P, Davies T (2015) Past and future adaptation pathways. Clim Dev. doi:10.1080/17565529.2014.989192

Gombos M, Atkinson S, Wongbusarakum S (2013) Adapting to a changing climate: guide to local early action planning and management planning. Micronesia Conservation Trust, Pohnpei, Federated States of Micronesia. https://static.weadapt.org/knowledge-base/files/1344/5342cc6b82c1dadapting-to-a-changing-climate-final-dec.-2013.pdf. Accessed 13 Mar 2014

Gómez-Baggethun E, Reyes-García V (2013) Reinterpreting change in traditional ecological knowledge. Hum Ecol Interdiscip J. doi:10.1007/s10745-013-9577-9

Gómez-Baggethun E, Reyes-García V, Olsson P, Montes C (2012) Traditional ecological knowledge and community resilience to environmental extremes: a case study in Doñana, SW Spain. Glob Environ Change 22(3):640–650. doi:10.1016/j.gloenvcha.2012.02.005

Hanazaki N, Herbst DF, Marques MS, Vandebroek I (2013) Evidence of the shifting baseline syndrome in ethnobotanical research. J Ethnobiol Ethnomed 9:75. doi:10.1186/1746-4269-9-75

Handy ES, Handy EG, Pukui MK (1991) Native planters in old Hawaii. Bernice P. Bishop Museum Bulletin, 233. Bishop Museum Press, Honolulu, Hawaii

Kamakau SM (1992) Ruling chiefs of Hawaii, Rev edn. Kamehameha Schools Press, Honolulu

Keener VW, Marra JJ, Finucane ML, Spooner D, Smith MH (eds) (2012) Climate change and Pacific Islands: indicators and impacts. Report for the 2012 Pacific Islands regional climate assessment. Island Press, Washington

Keeney R (1992) Value focused thinking: a path to creative decision making. Harvard University Press, Cambridge

Kelly M (1996) A brief history of the Ahupua'a of Pu'uwa'awa'a and Its Neighbors in North Kona, Island of Hawai'i. Printed privately by Earl Bakken

King SP, Roth RW (2006) Broken trust: greed, mismanagement, and political manipulation at America's largest charitable trust. University of Hawaii Press, Honolulu

KMLAC (Ka'ūpūlehu Marine Life Advisory Committee) (2016) Try wait proposal to rest Ka'ūpūlehu's reef and restore abundance—frequently asked questions. http://kuahawaii.org/wp-content/uploads/2016/02/Kaupulehu-Try-Wait-FAQs-2016.pdf. Accessed 26 Apr 2016

Kofinas GP, Chapin FS III, BurnSilver S, Schmidt JI, Fresco NL, Kielland K, Martin S, Springsteen A, Rupp TS (2010) Resilience of Athabascan subsistence systems to interior Alaska's changing climate. Can J For Res. doi:10.1139/X10-108

Kronik J, Verner D (2010) The role of indigenous knowledge in crafting adaptation and mitigation strategies for climate change in Latin America. In: Mearns R, Norton A (Eds) Social dimensions of climate change: equity and vulnerability in a warming World The World Bank, Washington DC, pp 145–172. doi:10.1596/978-0-8213-7887-8

Kumu Pono Associates LLC (1998a) Kekaha Wai 'Ole o Nā Kona. A report on archival and historical documentary research, and oral history interviews for Kekaha Kai State Park

Kumu Pono Associates LLC (1998b) Ka'ūpūlehu Ma Ka 'Āina Kaha. Appendix A, volume 1. A report on archival and historical documentary research, and oral history interviews. Ahupua'a of Ka'ūpūlehu, District of North Kona, Island of Hawai'i

Kumu Pono Associates LLC (2006) He Wahi Mo'olelo No Hu'ehu'e me Kāhi e A'e ma Kekaha o Nā Kona, Hawaii traditions and historical accounts of Hu'ehu'e and vicinity—a storied landscape of Kekeha at Kona, Hawaii

Lefale PF (2010) Ua 'afa le aso stormy weather today: traditional ecological knowledge of weather and climate. The Samoa experience. Clim Change 100(2):317–335. doi:10.1007/s10584-009-9722-z

Magis K (2010) Community resilience: an indicator of social sustainability. Soci Nat Resour 23(5):401–416. doi:10.1080/08941920903305674

Maher TM Jr, Baum SD (2013) Adaptation to and recovery from global catastrophe. Sustainability 5(4):1461–1479. doi:10.3390/su5041461

Malo D (1951) Hawaiian Antiquities, trans. Nathaniel Emerson, Bishop Museum

McGregor DPI (1995) Waipi'o valley, a cultural kipuka in early 20th century Hawaii. J Pac Hist 30(2):194–209

McMillen H, Ticktin T, Friedlander A, Jupiter SD, Thaman R, Campbell J, Veitayaki J, Giambelluca T, Nihmei S, Rupeni E, Apis-Overhoff L, Aalbersberg W, Orcherton DF (2014) Small islands, valuable insights: systems of customary resource use and resilience to climate change in the Pacific. Ecol Soc 19(4):44. doi:10.5751/ES-06937-190444

Murphy C, Mavuto T, Phiri A, Yerokun O, Grummell B (2015) Adapting to climate change in shifting landscapes of belief. Clim Change 134:101–114. doi:10.1007/s10584-015-1498-8

Nakashima DJ, Galloway McLean K, Thulstrup HD, Ramos-Castillo A, Rubis JT (2012) Weathering uncertainty: traditional knowledge for climate change assessment and adaptation. Paris, UNESCO, and Darwin, UNU, 120 pp. http://unesdoc.unesco.org/images/0021/002166/216613E.pdf. Accessed 5 Jan 2013

Nunn PD, Runman J, Falanruw M, Kumar R (2016) Culturally grounded responses to coastal change on islands in the Federated States of Micronesia, northwest Pacific Ocean. Reg Environ Change. doi:10.1007/s10113-016-0950-2

O'Brien KL, Wolf J (2010) A values-based approach to vulnerability and adaptation to climate change. WIREs Clim Change 1:232–242. doi:10.1002/wcc.30

Pearce T, Ford J, Willox AC, Smit B (2015) Inuit traditional ecological knowledge (TEK), subsistence hunting and adaptation to climate change in the Canadian Arctic. Arctic 68(2):233–245. doi:10.14430/arctic4475

Republic of Vanuatu (2011) Adaptation actions. National Advisory Board on Climate Change and Disaster Risk Reduction. http://www.nab.vu/adapatation-actions-search. Accessed 7 May 2012

Reyes-García V, Kinghtley E, Rio-Mallèn I, Fuentes-Pelá N, Demps K, Huanca T, Martίnez-Rodrίguez MR (2010) Schooling and local environmental knowledge: do they complement or substitute each other? Int J Educ Dev 30:305–313. doi:10.1016/j.ijedudev.2009.11.007

Rieth TM, Hunt TL, Lipo C, Wilmshurst JM (2011) The 13th century Polynesian colonization of Hawai'i Island. J Archaeol Sci 38(10):2740–2749. doi:10.1016/j.jas.2011.06.017

Ruiz-Mallén I, Corbera E, Calvo-Boyero D, Reyes-García V (2015) Participatory scenarios to explore local adaptation to global change in biosphere reserves: experiences from Bolivia and Mexico. Environ Sci Policy 54:398–408. doi:10.1016/j.envsci.2015.07.027

Strauss S, Orlove BS (eds) (2003) Weather, climate, culture. Berg, Oxford

Tanner T, Lewis D, Wrathall D, Bronen R, Cradock-Henry N, Huq S, Lawless C, Nawrotzki R, Prasad V, Rahman MdA, Alaniz R, King K, McNamara K, Nadiruzzaman Md, Henly-Shepard S, Thomalla F (2015) Livelihood resilience in the face of climate change. Nat Clim Change 5:23–26. doi:10.1038/nclimate2431

Thaman RR (2009) Our biodiversity as food security. Mai Life May 2009, pp 46–48

Thornton TF, Manasfi N (2010) Adaptation—genuine and spurious: demystifying adaptation processes in relation to climate change. Environ Soc Adv Res 1(1):132–155. doi:10.3167/ares.2010.010107

Turner NJ, Berkes F (2006) Coming to understanding: developing conservation through incremental learning in the Pacific Northwest. Hum Ecol 34:495–513. doi:10.1007/s10745-006-9042-0

Turner NJ, Gregory R, Brooks C, Failing L, Satterfield T (2008) From invisibility to transparency: identifying the implications. Ecology and Society 13(2):7. http://www.ecologyandsociety.org/vol13/iss2/art7/

US Census Bureau (2011) 2010 census blocks. Polygon. Main Hawaiian Islands: Office of Planning, State of Hawaii. http://files.hawaii.gov/dbedt/op/gis/data/blocks10.shp.zip. Accessed 3 Apr 2013

Vaughan MB, Vitousek PM (2013) Mahele: sustaining communities through small-scale inshore fishery catch and sharing networks. Pac Sci 67(3):329–344. doi:10.2984/67.3.3

Zent S (2001) Acculturation and ethnobotanical knowledge loss among the Piaroa of Venezuela: demonstration of quantitative method for the empirical study of traditional ecological knowledge change. In: Maffi L (ed) On biocultural diversity: linking language, knowledge, and the environment. Smithsonian Institution Press, Washington, pp 190–211
Acknowledgments
Thank you first to the Ka'ūpūlehu community who generously shared insights, knowledge, and experiences that are the foundation of this work; to the 'āina that provided profound inspiration; to Lisa X. Gollin, Alvin Keali'i Chock, Christopher Reyer, and two anonymous reviewers for valuable comments; and to research assistants Natalie Kurashima and La'akea Bertelmann. This project was funded by a grant from the Pacific Island Climate Change Cooperative.
Additional information
Editor: Christopher Reyer.
Electronic supplementary material
Below is the link to the electronic supplementary material.
About this article
Cite this article
McMillen, H., Ticktin, T. & Springer, H.K. The future is behind us: traditional ecological knowledge and resilience over time on Hawai'i Island. Reg Environ Change 17, 579–592 (2017). https://doi.org/10.1007/s10113-016-1032-1
Received:

Accepted:

Published:

Issue Date:
Keywords
Social resilience

Adaptation

Pacific Islands

Traditional ecological knowledge

Climate change