Abstract
The understanding of the spatial and temporal patterns in land use and land cover (LULC) change is a key issue for conservation efforts. In the Chilean hotspot, different studies have attempted to understand variations of LULC change. Nevertheless, a broader understanding of common patterns and variability of LULC over the entire range of the hotspot is lacking. We performed a complete review of the different studies reporting LULC changes and performed a joint analysis of their results using an integrated comprehensive approach. We related the variation of LULC change to latitude, time period and vascular plant richness using generalized linear models. Overall, there were nine studies, which covered 36.5 % of the study area, and reported the loss of 19 % of native forest (782,120 ha) between 1973 and 2011. The highest net forest loss was observed in the 1970–1990 period. This decreased in the 1990–2000 period and rose again in the 2000–2010 period. This result reveals a continuous forest loss in the last 40 years. Conversion of native forest to shrublands is the most important contributor to net native forest loss, accounting for 45 % of the loss. However, in the area of greatest species richness native forests are mainly converted to exotic tree plantations. Chilean forestry model has proved successful in expanding exotic tree plantation, but so far it has not been compatible with native forest conservation and restoration. It is imperative to design a new forestry policy to assure the conservation of one of the most unique biodiversity hotspots worldwide.
This is a preview of subscription content, log in to check access.
Access options
Buy single article
Instant access to the full article PDF.
US$ 39.95
Price includes VAT for USA
Subscribe to journal
Immediate online access to all issues from 2019. Subscription will auto renew annually.
US$ 99
This is the net price. Taxes to be calculated in checkout.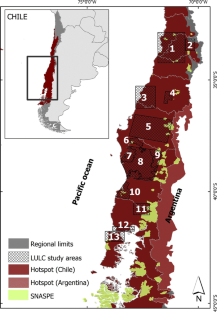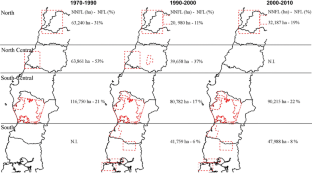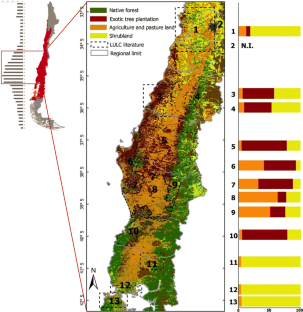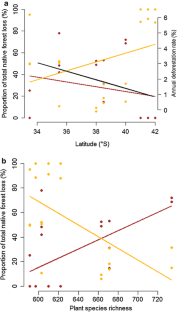 References
Aguayo M, Pauchard A, Azocar G, Parra O (2009) Land use change in the south central Chile at the end of the 20th century. Understanding the spatio-temporal dynamics of the landscape. Rev Chil Hist Nat 82(3):361–374. doi:10.4067/S0716-078X2009000300004

Aguiar AP, Camara G, Sobral MI (2007) Spatial statistical analysis of land-use determinants in the Brazilian Amazonia: exploring intra-regional heterogeneity. Ecol Model 209:169–188. doi:10.1016/j.ecolmodel.2007.06.019

Altamirano A, Lara A (2010) Deforestation in temperate ecosystems of pre-Andean range of south-central Chile. Bosque 31:53–64. doi:10.4067/S0717-92002010000100007

Altamirano A, Aplin P, Miranda A, Cayuela L, Algar A, Field R (2013) High rates of forest loss and turnover obscured by classical landscape measures. Appl Geogr 40:199–211. doi:10.1016/j.apgeog.2013.03.003

Armenteras D, Rodriguez N (2014) Forest deforestation dynamics and drivers in Latin America: a review since 1990. Colomb For 17(2):233–246. doi:10.14483/udistrital.jour.colomb.for.2014.2.a06

Armenteras D, Cabrera E, Rodríguez N, Retana J (2013) National versus regional determinants of tropical deforestation: a case study of in Colombia. Reg Environ Change 13(6):1181–1193. doi:10.1007/s10113-013-0433-7

Armesto J, Rozzi R, Smith-Ramírez C, Arroyo MTK (1998) Conservation targets in South American temperate forests. Science 282:1271–1272. doi:10.1126/science.282.5392.1271

Armesto JJ, Manuscevich D, Mora A, Smith-Ramírez C, Rozzi R, Abarzúa AM, Marquet P (2010) From the Holocene to the Anthropocene: a historical framework for land cover change in southwestern South America in the past 15,000 years. Land Use Policy 27:148–160. doi:10.1016/j.landusepol.2009.07.006

Arroyo MTK, Marquet PA, Marticorena C, Simonetti JA, Cavieres L, Squeo F, Rozzi TR (2004) Chilean winter rainfall-valdivian forests. In: Mittermeier RA, Gil PR, Hoffmann M, Pilgrim J, Brooks T, Mittermeier CG, Lamoreux J, da Fonseca GAB (eds) Hotspots revisted: earth's biologically wealthiest and most threatened ecosystems. CEMEX, México, pp 99–103

Bannister JR, Vidal OJ, Teneb E, Sandoval V (2012) Latitudinal patterns and regionalization of plant diversity along a 4270-km gradient in continental Chile. Austral Ecol 37(4):500–509. doi:10.1111/j.1442-9993.2011.02312.x

Burnham KP, Anderson DR (2002) Model selection and multimodel inference: a practical information-theoretic approach, 2d edn. Springer-Verlag, New York

CONAF (2011) Catastro de los Recursos Vegetacionales Nativos de Chile. Monitoreo de cambios y actualizaciones. Período 1997–2011. Santiago

CONAF (2016) Superficies Catastros Usos de Suelos y Recursos Vegetacionales. Departamento de Monitoreo de Ecosistemas Forestales. http://sit.conaf.cl/Accessed. 7 March 2016

Donoso C (1993) Bosques templados de Chile y Argentina: variación, estructura y dinámica. Universitaria, Santiago

Donoso C, Lara A (1995) Utilización de los bosques nativos en Chile: pasado, presente y futuro. In: Armesto J, Villagrán C, Arroyo M (eds) Ecología de los bosques nativos de Chile. Editorial Universitaria, Santiago, pp 363–387

Donoso P, Donoso C, Navarro C (2014) Manejo de ecosistemas forestales. In: Donoso C, Gonzalez M, Lara A (eds) Ecología Forestal: Bases para el Manejo Sustentable y Conservación de los Bosques Nativos de Chile. Ediciones Universidad Austral de Chile, Valdivia, pp 505–525

Echeverría C, Coomes D, Salas J, Rey-Benayas JM, Lara A, Newton A (2006) Rapid deforestation and fragmentation of Chilean temperate forests. Biol Conserv 130:481–494. doi:10.1016/j.biocon.2006.01.017

Echeverría C, Coomes D, Newton A, Rey-Benayas JM, Lara A (2007) Impacts of forest fragmentation on species composition and forest structure in the temperate landscape in southern Chile. Global Ecol Biogeogr 16:426–439. doi:10.1111/j.1466-8238.2007.00311.x

Echeverría C, Newton A, Nahuelhual L, Coomes D, Rey-Benayas JM (2012) How landscapes change: integration of spatial patterns and human processes in temperate landscapes of southern Chile. Appl Geogr 32:822–831. doi:10.1016/j.apgeog.2011.08.014

FAO (2006) Tendencias y perspectivas del sector forestal en América Latina y el Caribe. Roma, Italia

FAO (2010) Evaluación de los recursos forestales mundiales 2010. Informe Nacional. Chile. FRA2010/041. Roma, Italy

Gasparri NI, Grau HR (2009) Deforestation and fragmentation of Chaco dry forest in NW Argentina (1972–2007). For Ecol Manag 258:913–921. doi:10.1016/j.foreco.2009.02.024

Geist HJ, Lambin EF (2002) Proximate causes and underlying driving forces of tropical deforestation. Bioscience 52(2):143–150. doi:10.1641/0006-3568(2002)052[0143:PCAUDF]2.0.CO;2

González M, Lara A, Urrutia R, Bosnich J (2011) Cambio climático y su impacto potencial en la ocurrencia de incendios forestales en la zona centro-sur de Chile (33°–42° S). Bosque 32:215–219. doi:10.4067/S0717-92002011000300002

Harrison PA, Berry PM, Simpson G, Haslett JR, Blicharskac M, Bucur M, Dunford R, Egoh B, García-Llorente M, Geamănăd N, Geertsema W, Lommelen E, Meiresonne L, Turkelboom F (2014) Linkages between biodiversity attributes and ecosystem services: a systematic review. Ecosyst Serv 9:191–203. doi:10.1016/j.ecoser.2014.05.006

Hosonuma N, Herold M, De Sy V, De Fries SR, Brockhaus M, Verchot L, Angelsen A, Romijn E (2012) An assessment of deforestation and forest degradation drivers in developing countries. Environ Res Lett 7(4):1–12. doi:10.1088/1748-9326/7/4/044009

International Conservation (2014) Biological diversity in the Chilean winter rainfall-valdivian forests. http://www.eoearth.org/view/article/150639. Accessed 6 September 2015

Kim D, Sexton J, Townshend J (2015) Accelerated deforestation in the humid tropics from the 1990s to the 2000s. Geophys Res Lett 42:3495–3501. doi:10.1002/2014GL062777

Lara A, Veblen T (1993) Forest plantations in Chile: a successful model? In: Mather A (ed) Afforestation. Belhaven Press, London, pp 118–139

Lara A, Little C, Urrutia R, McPhee J, Álvarez- Garretón C, Oyarzún C, Soto D, Donoso P, Nahuelhual L, Pino M, Arismendi I (2009) Assessment of ecosystem services as an opportunity for the conservation and management of native forests in Chile. For Ecol Manag 258:415–424. doi:10.1016/j.foreco.2009.01.004

Lara A, Little C, Nahuelhual L, Urrutia R, Díaz I (2011) Lessons, challenges and policy recommendations for the management, conservation and restoration of native forests in Chile. In: Figueroa E (ed) Biodiversity conservation in the Americas: lessons and policy recommendations. Universidad de Chile, Fundación Domeyko, Governo do Estado Sao Paulo. Servicios Graficos Besegraf Ltda, Santiago, 259–299

Lara A, Solari ME, Prieto M, Peña M (2012) Reconstrucción de la cobertura de la vegetación y uso del suelo hacia 1550 y sus cambios a 2007 en la ecorregión de los bosques valdivianos lluviosos de Chile (35º–43º 30´ S). Bosque 33(1):13–23. doi:10.4067/S0717-92002012000100002

Little C, Lara A, McPhee J, Urrutia R (2009) Revealing the impact of forest exotic plantations on water yield in large scale watersheds in South-Central Chile. J Hydrol 374:162–170. doi:10.1016/j.jhydrol.2009.06.011

Millennium Ecosystem Assessment (2005) Ecosystems and human well-being: biodiversity synthesis. Island Press, Washington

Miranda A, Altamirano A, Cayuela L, Pincheira F, Lara A (2015) Different times, same story: native forest loss and landscape homogenization in three physiographical areas of south-central of Chile. Appl Geogr 60:20–28. doi:10.1016/j.apgeog.2015.02.016

Mittermeier RA, Gil P, Hoffmann M, Pilgrim J, Brooks T, Mittermeier CG, Lamoreux J, da Fonseca GAB (2004) Hotspots revisited: earth's biologically wealthiest and most threatened ecosystems. CEMEX, México

Mittermeier RA, Turner WR, Larsen FW, Brooks TM, Gascon C (2011) Global biodiversity conservation: the critical role of hotspots. In: Zach FE, Habel JC (eds) Biodiversity hotspots: distribution and protection of conservation priority areas. Springer, Berlin, Heidelberg, pp 3–22

Myers N, Mittermeier RA, Mittermeier CG, da Fonseca GAB, Kent J (2000) Biodiversity hotspots for conservation priorities. Nature 403:853–858. doi:10.1038/35002501

Nahuelhual L, Carmona A, Lara A, Echeverría C, González ME (2012) Land-cover change to forest plantations: proximate causes and implications for the landscape in South-Central Chile. Landsc Urb Plan 107(1):12–20. doi:10.1016/j.landurbplan.2012.04.006

Otero L (2006) La huella del fuego. Historia de los bosques nativos. Poblamiento y cambios en el paisaje del sur de Chile. Pehuen, Santiago

Pereira HM, Leadley PW, Proenca V, Alkemade R, Scharlemann JPW, Fernandez-Manjarres JF, Araujo MB, Balvanera P, Biggs R, Cheung WWL, Chini L, Cooper HD, Gilman EL, Guenette S, Hurtt GC, Huntington HP, Mace GM, Oberdorff T, Revenga C, Rodrigues P, Scholes RJ, Sumaila UR, Walpole M (2010) Scenarios for global biodiversity in the 21st century. Science 330(6010):1496–1501. doi:10.1126/science.1196624

Pliscoff P, Fuentes-Castillo T (2011) Representativeness of terrestrial ecosystems in Chile's protected area system. Environ Conserv 38:303–311. doi:10.1017/S0376892911000208

Putz FE, Redford KH (2010) Tropical forest definitions, degradation, phase shifts, and further transitions. Biotropica 42:10–20. doi:10.1111/j.1744-7429.2009.00567.x

Putz F, Romero C (2014) Futures of tropical forests. Biotropica 46:495–505. doi:10.1111/btp.12124

Puyravaud JP (2003) Standardizing the calculation of the annual rate of deforestation. For Ecol Manag 177:593–596. doi:10.1016/S0378-1127(02)00335-3

R Core Team (2014) R: a language and environment for statistical computing. R Foundation for Statistical Computing, Vienna. http://www.R-project.org/. Accessed 3 June 2014

Reyes R, Nelson H (2014) A tale of two forests: why forests and forest conflicts are both growing in Chile. Int For Rev 16(4):1–10. doi:10.1505/146554814813484121

Rodríguez N, Armenteras D, Retana J (2012) Land use and land cover change in the Colombian Andes: dynamics and future scenarios. J Land Use Sci 8(2):154–174. doi:10.1080/1747423X.2011.650228

Sala OE, Chapin FS, Armesto JJ, Berlow E, Bloomfield J, Dirzo R, Huber-Sanwald E, Huenneke LF, Jackson RB, Kinzig A, Leemans R, Lodge DM, Mooney HA, Oesterheld M, Poff NL, Sykes MT, Walker BH, Walker M, Wall DH (2000) Global biodiversity scenarios for the year 2100. Science 287:1770–1774. doi:10.1126/science.287.5459.1770

Sasaki N, Putz FE (2009) Critical need for new definitions of "forest" and "forest degradation" in global climate change agreements. Conserv Lett 2:226–232. doi:10.1111/j.1755-263X.2009.00067.x

Schulz J, Cayuela L, Echeverria C, Salas J (2010) Rey-Benayas JM (2010) monitoring land cover changes of dryland forest landscape of Central Chile (1975, 2008. Appl Geogr 30(3):436–447. doi:10.1016/j.apgeog.2009.12.003

Squeo FA, Estévez RA, Stoll A, Gaymer CF, Letelier Galvez L (2012) Towards the creation of an integrated system of protected areas in Chile: achievements and challenges. Plant Ecol Div 5:233–243. doi:10.1080/17550874.2012.679012

Van de Wouw P, Echeverría C, Rey-Benayas JM, Holmgren M (2011) Persistent Acacia savannas replace Mediterranean sclerophyllous forests in South America. Forest Ecol Manag 262:1100–1108. doi:10.1016/j.foreco.2011.06.009

Vergara P, Pérez-Hernández C, Hahn I, Soto G (2013) Deforestation in central Chile causes a rapid decline in landscape connectivity for a forest specialist bird species. Ecol Res 28:481–492. doi:10.1007/s11284-013-1037-x

Zamorano-Elgueta C, Rey Benayas JM, Cayuela L, Hantson S, Armenteras D (2015) Native forest replacement by exotic plantations in southern Chile (1985–2011) and partial compensation by natural regeneration. For Ecol Manag 345:10–20. doi:10.1016/j.foreco.2015.02.025
Acknowledgments
Alejandro Miranda thanks to CONICYT/Doctoral National Program/21140409, Chile. This research was supported by funding from the FONDECYT project 1141294, FONDEF Idea CA13I10276 and Dirección de Investigación of Universidad de La Frontera, Chile. A. Lara and ME González thank CONICYT/FONDAP/15110009. L. Cayuela was supported by project REMEDINAL-2 (Comunidad de Madrid S2009/AMB-178).
Electronic supplementary material
Below is the link to the electronic supplementary material.
About this article
Cite this article
Miranda, A., Altamirano, A., Cayuela, L. et al. Native forest loss in the Chilean biodiversity hotspot: revealing the evidence. Reg Environ Change 17, 285–297 (2017). https://doi.org/10.1007/s10113-016-1010-7
Received:

Accepted:

Published:

Issue Date:
Keywords
Land use and land cover change

Remote sensing

Temperate forest

Deforestation

Exotic tree plantation