Abstract
Tourism is a vital sector of Cyprus economy, attracting millions of tourists every year and providing economic growth and employment for the country. The aim of this study was to investigate the impacts of projected climate change in the tourism industry in Cyprus (Republic of Cyprus) using both "Tourism Climate Index" (TCI) and "Beach Climate Index" (BCI). TCI refers to tourism activities mainly related to sightseeing, nature-based tourism, and religious tourism etc., while BCI represents beach tourism that constitutes 85 % of tourism activities in Cyprus. The projections of climate change impacts in tourism are performed for 2071–2100 period, using regional climate model output employing the A1B greenhouse gas emissions scenario. The 1961–1990 period is used as the control run to compare the respective results of the future projections. The significant warming anticipated in the distant future (increases in annual and summer temperatures close to 4 °C) will have adverse impacts on Cyprus tourism industry regarding sightseeing tourism. TCI results for the distant future period show only acceptable conditions for general tourism activities during summer in contrast with the good/very good conditions in the present climate. Conversely, this type of tourism seems to be benefited in shoulder seasons, i.e., during spring and autumn; TCI and hence tourist activities improve in the distant future in relation to the present climate. On the other hand, concerning beach tourism, future projections indicate that it will not be negatively affected by future climate change and any changes will be positive.
Access options
Buy single article
Instant access to the full article PDF.
USD 39.95
Price excludes VAT (USA)
Tax calculation will be finalised during checkout.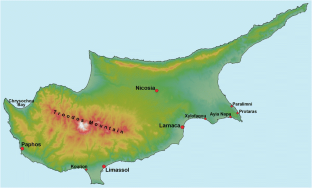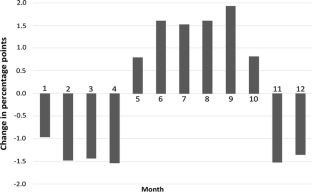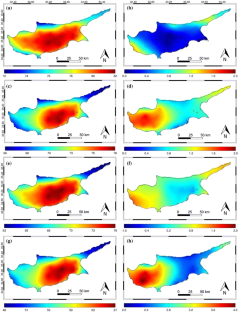 References
Alcamo J, Moreno MJ, Nováky B, Bindi M, Corobov R, Devoy R, Giannakopoulos C, Martin E, Olesen EJ, Shvidenko A (2007) Europe. In: Parry ML, Canziani OF, Palutikof JP, van der Linden PJ, Hanson CE (eds) Climate change 2007: impacts, adaptation and vulnerability. contribution of working group II to the fourth assessment report of the intergovernmental panel on climate change. Cambridge University Press, Cambridge, pp 541–580

Amelung B, Moreno A (2012) Costing the impact of climate change in tourism in Europe: results of the PESETA project. Clim Chang 112(1):83–100. doi:10.1007/s10584-011-0341-0

Amelung B, Nicholls S (2014) Implications of climate change for tourism in Australia. Tour Manage 41:228–244. doi:10.2167/jost549.0

Amelung B, Viner D (2006) Mediterranean tourism: exploring the future with the tourism climatic index. J Sustain Tour 14(4):349–366. doi:10.2167/jost549.0

Amelung B, Nicholls S, Viner D (2007) Implications of global climate change for tourism flows and seasonality. J Travel Res 45(3):285–296. doi:10.1177/0047287506295937

Amengual A, Homar V, Romero R, Ramis C, Alonso S (2014) Projections for the 21st century of the climate potential for beach-based tourism in the Mediterranean. Int J Climatol 34:3481–3498. doi:10.1002/joc.3922

Christensen JH, Kjellström E, Giorgi F, Lenderink G, Rummukainen M (2010) Weight assignment in regional climate models. Clim Res 44:179–194. doi:10.3354/cr00916

CTO (Cyprus Tourism Organization) (2011) Tourism strategy plan 2011–2015

CTO (Cyprus Tourism Organization) (2014) Regional destination profiles 2013

CYPADAPT (2012) Report on observed changes and responses to climate change worldwide and in Cyprus. CYPADAPT project (LIFE10 ENV/CY/000723), Deliverable 1.1 http://cypadapt.uest.gr/wp-content/uploads/DELIVERABLE1.1.pdf

CYSTAT (Statistical Service of Cyprus) (2012) Tourism statistics 1999–2011. Statistical Service of Cyprus

CYSTAT (Statistical Service of Cyprus) (2014) Tourist accommodation and overnight stays 2000–2013

CYSTAT (Statistical Service of Cyprus) (2015a) Arrivals of tourists by country of usual residence

CYSTAT (Statistical Service of Cyprus) (2015b) Monthly tourism revenue for the period 2011–2014

CYSTAT (Statistical Service of Cyprus) (2015c) National Accounts for the period 1995–2014

De Freitas CR, Scott D, McBoyle G (2008) A second generation climate index for tourism (CIT): specification and verification. Int J Biometeorol 52:399–407. doi:10.1007/s00484-007-0134-3

Dubois C, Cauchy A (2014) Sea surface temperature in coastal regions. CLIM-RUN product information sheet. http://www.climrun.eu/news_data/251/is09.sstcoastalregion.pdf

Dubois C, Dubois G (2014) Tourism climate index over the Mediterranean. CLIM-RUN product information sheet. http://clima.casaccia.enea.it/news_data/252/is14tcimediterranean.pdf

Ehmer P, Heymann E (2008) Climate change and tourism: where will the journey lead? Current issues—energy and climate change. Deutsche Bank Research, Webmaster

ENSEMBLES (2010) RCM-specific weights based on their ability to simulate the present climate, calibrated for the ERA40-based simulations. Deliverable D3.2.2. http://www.cru.uea.ac.uk/projects/ensembles/ScenariosPortal/Data3RCM.htm

Eurostat (2014) Tourism statistics. Statistics explained

Eurostat (2015a) Seasonality in the tourist accommodation sector. Statistics explained

Eurostat (2015b) Nights spent at tourist accommodation establishments—monthly data [tour_occ_nim]

Fagence M, Kevan S (1997) Migration, recreation and tourism: human responses to climate differences. In: Auliciems A (ed) Advances in bioclimatology. Springer, Berlin, pp 133–160

Giannakopoulos C, Kostopoulou E, Varotsos VK, Tziotziou K, Plitharas A (2011) An integrated assessment of climate change impacts for Greece in the near future. Reg Environ Change 11:829–843. doi:10.1007/s10113-011-0219-8

Gomez-Martin B (2005) Weather, climate and tourism. A geographical perspective. Ann Tour Res 32(3):571–591. doi:10.1016/j.annals.2004.08.004

Hamilton JM, Maddison DJ, Tol RSJ (2005) Climate change and international tourism: a simulation study. Glob Environ Change 15:253–266. doi:10.1016/j.gloenvcha.2004.12.009

Hanson CE, Palutikof JP, Dlugolecki A, Giannakopoulos C (2006) Bridging the gap between science and the stakeholder: the case of climate change research. Clim Res 13:121–133. doi:10.3354/cr031121

Hein L, Metzger MJ, Moreno A (2009) Potential impacts of climate change on tourism: a case study for Spain. Curr Opin Environ Sustain 1:170–178. doi:10.1016/j.cosust.2009.10.011

Kostopoulou E, Giannakopoulos C, Hatzaki M, Tziotziou K (2012) Climate extremes in the NE Mediterranean: assessing the E-OBS dataset and regional climate simulations. Clim Res 54:249–270. doi:10.3354/cr01110

Lenderink G, van den Hurk B, van Meijgaard, E, van Ulden A, Cuijpers H (2003) Simulations of present day climate in RACMO2: first results and model developments. Technical report TR-252, Royal Netherlands Meteorological Institute

Lenderink GA, van Ulden B, van den Hurk B, van Meijgaard E (2007) Summertime inter-annual temperature variability in an ensemble of regional model simulations: analysis of the surface energy budget. Clim Change 81:233–247. doi:10.1007/s10584-006-9229-9

Mieczkowski Z (1985) The tourism climatic index: a method of evaluating world climates for tourism. Can Geogr 29(3):220–233. doi:10.1111/j.1541-0064.1985.tb00365.x

Moreno A, Amelung B (2009) Climate change and tourist comfort on Europe's beaches in summer: a reassessment. Coast Manage 37(6):550–568. doi:10.1080/08920750903054997

Morgan R, Gatell E, Junyent R, Micallef A, Özhan E, Williams AT (2000) An improved user-based beach climate index. J Coast Conserv 6(1):41–50. doi:10.1007/BF02730466

Mudelsee M, Alkio M (2007) Quantifying effects in two-sample environmental experiments using bootstrap confidence intervals. Environ Model Softw 22:84–96. doi:10.1016/j.envsoft.2005.12.001

Nakicenovic N, Alcamo J, Davis D, de Vries B, Fenhann J, Gaffin S, Gregory K, Grübler A, Tae Yong J, Kram T, La Rovere E, Michaelis L, Mori S, Morita T, Pepper W, Pitcher H, Price L, Riahi K, Roehrl A, Rogner H, Sankovski A, Schlesinger M, Shukla P, Smith S, Swart R, van Rooijen S, Victor N, Dadi Z (2000) Special report on emission scenarios, Working group III of the intergovernmental panel on climate change (IPCC). Cambridge University Press, Cambridge, p 595

Nicholls S, Amelung B (2008) Climate change and tourism in northwestern Europe: impacts and adaptation. Tour Anal 13:21–31. doi:10.3727/108354208784548724

Nicholls RJ, Wong PP, Burkett VR, Codignotto JO, Hay JE, McLean RF, Ragoonaden S, Woodroffe CD (2007) Coastal systems and low-lying areas. In: Parry ML, Canziani OF, Palutikof JP, van der Linden PJ, Hanson CE (eds) Climate change 2007: impacts, adaptation and vulnerability. Contribution of working group II to the fourth assessment report of the intergovernmental panel on climate change. Cambridge University Press, Cambridge, UK, pp 315–356

Olya HGT, Alipour H (2015) Risk assessment of precipitation and the Tourism Climate Index. Tour Manage 50:73–80. doi:10.1016/j.tourman.2015.01.010

Papadaskalopoulou C, Giannakopoulos C, Lemesios G, Zachariou-Dodou M, Loizidou M (2015) Challenges for water resources and their management in light of climate change: the case of Cyprus. Desal Water Treat 53(12):3224–3233. doi:10.1080/19443994.2014.933619

Perch-Nielsen SL, Amelung B, Knutti R (2010) Future climate resources for tourism in Europe based on the daily tourism climatic index. Clim Chang 103(3–4):363–381. doi:10.1007/s10584-009-9772-2

Rutty M, Scott D (2010) Will the Mediterranean become "too hot" for tourism? A reassessment. Tour Hosp Plan Dev 7(3):267–281. doi:10.1080/1479053X.2010.502386

Samuel-Rhoads Y, Zodiatis G, Iona S, Hayes D, Georgiou G, Konnaris G, Nicolaides M (2012) Climate change impacts on sea surface temperature and salinity in the Eastern Mediterranean, Levantine Basin. This contribution, including figures and references is submitted at the "10th Pan-Hellenic Symposium of Oceanography", Athens. May 2012

Scott D, McBoyle G, Schwartzentruber M (2004) Climate change and the distribution of climatic resources for tourism in North America. Clim Res 27(2):105–117. doi:10.3354/cr027105

Scott D, Gossling S, de Freitas CR (2008) Preferred climates for tourism: case studies from Canada, New Zealand and Sweden. Clim Res 38:61–73. doi:10.3354/cr00774

Skliris N, Sofianos S, Gkanasos A, Mantziafou A, Vervatis V, Axaopoulos P, Lascaratos A (2011) Decadal scale variability of sea surface temperature in the Mediterranean Sea in relation to atmospheric variability. Ocean Dyn 62(1):13–30. doi:10.1007/s10236-011-0493-5

van den Hurk BJJM, Klein Tank AMG, Lenderink G, van Ulden AP, van Oldenborgh GJ, Katsman CA, van den Brink HW, Keller F, Bessembinder JJF, Burgers G, Komen GJ, Hazeleger W, Drijfhout SS (2006) KNMI Climate change scenarios 2006 for the Netherlands. KNMI-publication, WR-2006-01, p 82
Acknowledgments
The authors acknowledge the European financial instrument for the Environment, LIFE+, for part financing this work in the framework of the CYPADAPT project LIFE10 ENV/CY/000723.
About this article
Cite this article
Lemesios, G., Giannakopoulos, C., Papadaskalopoulou, C. et al. Future heat-related climate change impacts on tourism industry in Cyprus. Reg Environ Change 16, 1915–1927 (2016). https://doi.org/10.1007/s10113-016-0997-0
Received:

Accepted:

Published:

Issue Date:

DOI: https://doi.org/10.1007/s10113-016-0997-0
Keywords
Regional climate models

Climate change impacts

Tourism Climate Index

Beach Climate Index

Tourism industry

Cyprus