Abstract
Mangrove forests in the tropics and subtropics grow in saline sediments in coastal and estuarine environments. Preservation of mangrove forests is important for many reasons, including the prevention of coastal erosion and seawater intrusion; the provision of spawning, nursery, and feeding grounds of diverse marine biota; and for direct use (such as firewood, charcoal, and construction material)—all of which benefit the sustainability of local communities. However, for many mangrove areas of the world, unsustainable resource utilization and the profit orientation of communities have often led to rapid and severe mangrove loss with serious consequences. The mangrove forests of the Takalar District, South Sulawesi, are studied here as a case area that has suffered from degradation and declining spatial extent during recent decades. On the basis of a post-classification comparison of change detection from satellite imagery and a survey of households, we provide an estimate of the mangrove change in the Takalar District during 1979–2011 and the consequences of those changes. Mangrove forest areas were reduced by 66.05 % (3344 hectares) during the 33-year period of analysis, and the biggest annual negative change in dense mangrove forest cover (8.37 %) occurred during the period 2006–2011. The changes were caused mainly by the mangrove clearing and conversion to aquaculture, and consequences have been increasing forest degradation, coastal abrasion, seawater intrusion, a decline in fish capture, a reduction in juvenile shrimp and milkfish, and outbreaks of shrimp disease. On the other hand, the clearing and impoundment of mangrove forests for shrimp and seaweed culture have provided a source of foreign exchange and new opportunities for employment in the study area.
Access options
Buy single article
Instant access to the full article PDF.
US$ 39.95
Tax calculation will be finalised during checkout.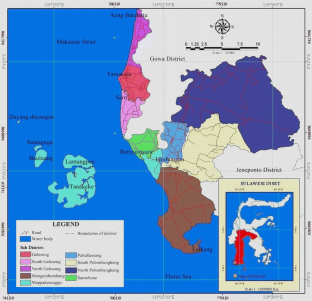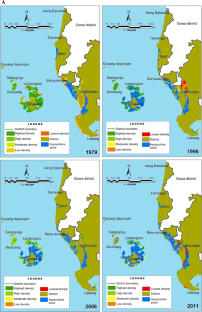 Notes
1.

Nypa fruticans, a common component of mangrove forests, is valued primarily for its fruit and sap production, medicinal purposes, and leaves, which are crafted for various purposes.
References
Aksornkoae S (1993) Ecology and management of mangroves. IUCN, Bangkok

Alifuddin M, Dana D, Eidman M, Malole MB, Pasaribu FH (2003) White Spot Disease in Black Tiger Shrimp (Penaeus Monodon Fab.): Infection of White Spot Virus at 20, 100 and 200 uG/Ml by Dipping Method within 120 Minutes Exposure Time. Jurnal Akuakultur Indonesia 2(1):31–35

Anderson JR (1976) A land use and land cover classification system for use with remote sensor data, 964th edn. US Government Printing Office, Washington

Bailey C (1988) The social consequences of tropical shrimp mariculture development. Ocean Shorel Manage 11(1):31–44. doi:10.1016/0951-8312(88)90004-5

Bakosurtanal (1999) Peta rupa bumi Indonesia. http://www.bakosurtanal.go.id/peta-rupabumi/. Accessed 13 Mar 2013

Barbier E, Cox M (2002) Economic and demographic factors affecting mangrove loss in the coastal provinces of Thailand, 1979–1996. Ambio 31(4):351–357

Béland M, Goïta K, Bonn F, Pham TTH (2006) Assessment of land-cover changes related to shrimp aquaculture using remote sensing data: a case study in the GiaoThuy District, Vietnam. Int J Remote Sens 27(8):1491–1510

Bengen DG, Dutton IM (2004) Interactions: mangroves, fisheries and forestry management in Indonesia. In: Northcote TG, Hartman GF (eds) Fishes and Forestry: Worldwide Watershed Interactions and Management. Blackwell Science Ltd, Oxford, UK, pp 632–653

BPS-Kab. Takalar (2007–2012) Kabupaten Takalar dalam angka 2007–2012. Badan Pusat Statistik (BPS) Kabupaten Takalar, Takalar. http://takalarkab.bps.go.id/frontend/

BPS-Prop. Sulawesi Selatan (2007–2012) Sulawesi Selatan dalam angka 2007–2012. Badan Pusat Statistik (BPS) Propinsi Sulawesi Selatan, Sulawesi Selatan. http://sulsel.bps.go.id/

BPS-Kab. Takalar (2012) Kabupaten Takalar dalam angka 2012. Badan Pusat Statistik (BPS) Kabupaten Takalar, Takalar. http://takalarkab.bps.go.id/frontend/

Clayton H, Brennan DC (1999) A review of economic issues for sustainable shrimp farming in the Mekong Delta, Vietnam. In: 1999 Conference (43th), January 20–22, 1999, Christchurch, New Zealand (No. 123794). Australian Agricultural and Resource Economics Society

Congalton RG (1991) A review of assessing the accuracy of classifications of remotely sensed data. Remote Sens Environ 37:35–46

Crockford M (2008) White spot disease. Australia and New Zealand Standard Diagnostic Procedures. Department of Fisheries c/o Department of Agriculture and Food, South Perth, pp 1–13. http://www.scahls.org.au/Procedures/Documents/AQANZSDP/White_Spot_Syndrome_Virus.pdf

Dahuri R (2003) Keanekaragaman hayati laut: aset pembangunan berkelanjutan Indonesia. Gramedia Pustaka Utama, Jakarta

Donato DC, Kauffman JB, Murdiyarso D, Kurnianto S, Stidham M, Kannien M (2011) Mangroves among the most carbon-rich forests in the tropics. Nat Geosci 4:293–297. doi:10.1038/ngeo1123

Duke NC, Meynecke JO, Dittmann S, Ellison AM, Anger K, Berger U, Cannicci S, Diele K, Ewel KC, Field CD, Koedam N, Lee SY, Marchand C, Nordhaus I, Dahdouh-Guebas F (2007) A world without mangroves? Science 317(5834):41–42

Emch M, Peterson M (2006) Mangrove forest cover change in the Bangladesh Sundarbans from 1990–2000: a remote sensing approach. Geocarto Int 21:5–12

FAO (2007) The world's mangroves 1980–2005. Food and Agriculture Organization of the United Nations, Rome

FAO (2011) The state of fisheries and aquaculture. Food and Agriculture Organization of the United Nations, Rome

Fast A (1992) Penaeid extensive growout systems. Dev Aquacu Fish Sci 23:355–368

Foody GM (2002) Status of land cover classification accuracy assessment. Remote Sens Environ 80:185–201. doi:10.1016/S0034-4257(01)00295-4

Fukano N (2004) A trend analysis of world shrimp aquaculture. J Int Fish 6:1–2

Ghufran HKK (2012) Ekosistem mangrove: potensi, fungsi, dan pengelolaan. Rineka Cipta, Jakarta

Giesen W, Baltzer M, Baruadi R (eds) (1991) Integrating conservation with land-use development in wetlands of South Sulawesi. PHPA/AWB (Asian Wetland Bureau), Bogor

Giesen W, Wulffraat S, Zieren M, Scholten L (2007) Mangrove guidebook for Southeast Asia. FAO Regional Office for Asia and the Pacific, Bangkok

Giri C, Pengra B, Zhu Z, Singh A, Tieszen LL (2007) Monitoring mangrove forest dynamics of the Sundarbans in Bangladesh and India using multi-temporal satellite data from 1973 to 2000. Estua Coast Shelf S 73:91–100. doi:10.1016/j.ecss.2006.12.019

Hajramurni A (2010) Abrasion speed in Takalar hit 100 meters a year, The Jakarta Post. http://www.thejakartapost.com/news/%202010/04/27/abrasion-speed-takalar-hits-100-meters-a-year.html. Accessed 13 Mar 2013

Halim A (2012) Kerusakan mangrove memiskinkan warga. http://sains.kompas.com/read/2012/11/23/03510427/.Kerusakan.Mangrove.Memiskinkan.Warga. Accessed 13 Mar 2013

Hamilton LS, Snedaker SC (eds) (1984) Handbook for mangrove area management. UNEP and East West Centre, Hawai

Ilman M, Wibisono ITC, Suryadiputra INN (2011) State of the art information on mangrove ecosystem in Indonesia. Wetland International-Indonesia Programme, Bogor

Kirkman H, Kirkman JA (2002) The management of seagrasses in Southeast Asia. B Mar Sci 71(3):1379–1390

KKP-Indonesia (2012) Sistem informasi diseminasi data statistik kelautan dan perikanan kementerian kelautan dan perikanan. http://statistik.kkp.go.id/new_sidatik/index.php/guest/buku_statistik. Accessed 1 Mar 2013

Lan NTP (2013) Social and ecological challenges of market-oriented shrimp farming in Vietnam. SpringerPlus 2:675. doi:10.1186/2193-1801-2-675

Lillesand TM, Kiefer RW, Chipman JW (2008) Digital image interpretation and analysis. In: Remote sensing and image interpretation, 6th edn. Wiley, New York, pp 545–581

Long JB, Giri C (2011) Mapping the Philippines' mangrove forests using Landsat imagery. Sensor 11(3):2972–2981. doi:10.3390/s110302972

Macintosh D (1982) Fisheries and aquaculture significance of mangrove swamps, with special reference to the Indo-West Pacific region. In: Muir JF, Roberts RJ (eds) Recent Advances in Aquaculture. Croom Helm, London, pp 4–85

Malik A, Fensholt R, Mertz O (2015a) Economic valuation of mangroves for comparison with commercial aquaculture in South Sulawesi, Indonesia. Forests 6(9):3028–3304. doi:10.3390/f6093028

Malik A, Fensholt R, Mertz O (2015b) Mangrove exploitation effects on biodiversity and ecosystem services. Biodivers Conserv 24:3543–3557. doi:10.1007/s10531-015-1015-4

Manassrisuksi K, Weir M, Hussin YA (2001) Assessment of mangrove rehabilitation programme using remote sensing and GIS: a case study of Amphur Khlung, Chantaburi Province, Eastern Thailand. In: 22nd Asian conference on remote sensing, Singapore, 5–9 November 2001. http://www.crisp.nus.edu.sg/~acrs2001/pdf/019manas.pdf

Masda Y, Magi M, Nanao H, Kogo M, Miyagi T, Kanzawa N, Kobashi D (2002) Coastal erosion due to long–term human impact on mangrove forests. Wetl Ecol Manag 10:1–9

Millennium Ecosystem Assessment (2005) Ecosystems and human well-being: Wetlands and water synthesis. World Resources Institute, Washington

Murdiyarso D, Donato D, Kauffman JB, Kurnianto S, Stidham M, Kanninen M (2010) Carbon storage in mangrove and peatland ecosystems: A preliminary account from plots in Indonesia. Working paper 48. CIFOR, Bogor. doi: 10.17528/cifor/003233

Murdiyarso D, Purbopuspito J, Kauffman JB, Warren M, Sasmito S, Donato D, Manuri S, Krisnawati H, Taberima S, Kurnianto S (2015) The potential of Indonesian mangrove forests for global climate change mitigation. Nat Clim Chang 5:1089–1092. doi:10.1038/nclimate2734

Noor YR, Khazali M, Suryadiputra INN (2006) Panduan pengenalan mangrove di Indonesia, 2nd edn. PKA/WI-IP (Wetlands International-Indonesia Programme), Bogor

Nurkin B (1979) Beberapa catatan tentang aspek pengusahaan hutan mangrove di Sulawesi Selatan. In: Soemidihardjo S, Nontji A, Djamali A (eds) Prosiding seminar ekosistem hutan mangrove. LON-LIPI, Jakarta

Nurkin B (1994) Degradation of Mangrove Forests in South Sulawesi, Indonesia. Hydrobiologia 285:271–276. doi:10.1007/BF00005673

Onrizal (2010) Perubahan tutupan hutan mangrove di pantai timur Sumatera Utara periode 1977–2006. Biologi Indonesia 6(2): 163–172. http://www.biologi.lipi.go.id/bio_indonesia/mTemplate.php?h=30&id_publikasi_jurnal=163

Onrizal, Purwoko A, Mansor M (2009) Impact of mangrove forests degradation on fisherman income and fish catch diversity in eastern coastal of North Sumatra, Indonesia. In: International Conference on Natural and Environmental Sciences 2009 (ICONES'09). Banda Aceh, Indonesia, 6–8 May 2009

Palacios MP, Haman DZ, Del-Nero E, Pardo A, Pavon N (2000) Banana production irrigated with treated effluent in the Canary Islands. Trans ASAE 43(2):309–314

Patton MQ (1990) Qualitative evaluation and research methods. SAGE Publications, Los Angeles

Phan NH, Quan TQD (2004) Environmental impacts of shrimp culture in the mangrove areas of Vietnam. In: Annual Report of FY 2003, The Core University Program between Japan Society for the Promotion of Science (JSPS) and National Science and Technology (NCST), 195–203

Primavera JH (1998) Tropical shrimp farming and its sustainability. Trop Maric 8:257–289

Primavera JH (2006) Overcoming the impacts of aquaculture on the coastal zone. Ocean Coast Manage 49:531–545. doi:10.1016/j.ocecoaman.2006.06.018

Purnomo A (1992) Pemilihan lokasi tambak udang berwawasan lingkungan. Pusat Penelitian dan Pengembangan Perikanan Badan Penelitian Pengembangan Pertanian, Jakarta

Restoring Coastal Livelihoods (2011). Kajian risilian (Resilience assessment). Situational and contextual field assessment and analysis restoring coastal livelihoods project. Prepared by Jajang Agus Sonjaya. Makassar

Rönnbäck P (2001) Shrimp aquaculture—State of the art. Swedish EIA Centre, Report 1. Swedish University of Agricultural Sciences, Uppsala 91-576-6113-8

Rönnbäck P (2002) Environmentally sustainable shrimp aquaculture. Report prepared for Swedish society for nature conservation, pp 1–25

Sathirathai S, Barbier EB (2001) Valuing mangrove conservation in Southern Thailand. Contemp Econ Policy 19(2):109–122. doi:10.1111/j.1465-7287.2001.tb00054.x

Seto KC, Fragkias M (2007) Mangrove conversion and aquaculture development in Vietnam: a remote sensing-based approach for evaluating the Ramsar convention on wetlands. Glob Environ Chang 17:486–500. doi:10.1016/j.gloenvcha.2007.03.001

Sidik AS (2008) The changes of mangrove ecosystem in Mahakam Delta Indonesia: a complex social-environmental pattern of linkages in resources utilization. The South China Sea Conference Kuantan, Malaysia, 25–29 November 2008

Sremongkontip S, Hussin YA, Groenindijk L (2000) Detecting changes in the mangrove forests of Southern Thailand using remotely sensed data and GIS. Int Arch Photogramm Remote Sens 33(1), 567–574. http://www.isprs.org/proceedings/XXXIII/congress/part7/567_XXXIII-part7.pdf

Suryono CA (2006) Struktur populasi vegetasi mangrove di laguna Segara Anakan Cilacap, Jawa Tengah. Ilmu Kelautan: Indonesian J Marine Sci 11(2):112–118

Sutrisno Y (2011) Pengembangan budidaya udang dan potensi pencemarannya pada perairan pesisir. Jurnal Teknologi 5(3):187–192

Tangko AM, dan Pantjara B (2007) Dinamika pertambakan perikanan di Sulawesi Selatan kurun waktu 1990–2005. Media Akuakultur 2(2): 118–123. http://www.sidik.litbang.kkp.go.id/index.php/searchkatalog/byId/33316

Taslim RSA (2006) Hutan bakau pesisir Sulsel perlu direhabilitasi. http://opini-kelautan.blogspot.com/2006/08/hutan-bakau-pesisir-sulsel-perlu.html. Accessed 23 Mar 2015

Thampanya U, Vermaat J, Sinsakul S, Panapitukkul N (2006) Coastal erosion and mangrove progradation of Southern Thailand. Estuar Coast Shelf Sci 68(1–2):75–85. doi:10.1016/j.ecss.2006.01.011

Ukkas M (2001) Pemetaan potensi/zonasi wilayah pesisir dan pulau-pulau kecil kabupaten Takalar. Laporan penelitian; Universitas Hasanuddin, Makassar

Unsworth RKF, de Leon PS, Garrard SL, Jompa J, Smith DJ, Bell JJ (2008) High connectivity of Indo-Pacific seagrass fish assemblages with mangrove and coral reef habitats. Mar Ecol Prog Ser 353:213–224. doi:10.3354/meps07199

Unsworth RKF, Garrard SL, de Leon PS, Cullen LC, Smith DJ, Sloman KA, Bell JJ (2009) Structuring of Indo-Pacific fish assemblages along the mangrove-seagrass continuum. Aquat Biol 5:85–95. doi:10.3354/ab00139

Unsworth RKF, Hinder SL, Bodger OG, Cullen-Unsworth LC (2014) Food supply depends on seagrass meadows in the coral triangle. Environ Res Lett 9:094005. doi:10.1088/1748-9326/9/9/094005

Valderrama D, Hishamunda N, Zhou X (2010) Estimating employment in world aquaculture. FAO Aquac Newsl 45:24–25

Van TT, Wilson N, Thanh-Tung H, Quisthoudt K, Quang-Minh V, Xuan-Tuan L, Dahdouh-Guebas F, Koedam N (2015) Changes in mangrove vegetation area and character in a war and land use change affected region of Vietnam (Mui Ca Mau) over six decades. Acta Oecol 63:71–81

Wang Y, Bonynge G, Nugranad J, Traber M, Ngusaru A, Tobey J, Hale L, Bowen R, Makota V (2003) Remote sensing of mangrove change along the Tanzania coast. Mar Geod 26:35–48. doi:10.1080/01490410306708
Acknowledgments
We would like to thank the Directorate of Higher Education, Ministry of Education and Culture, Republic of Indonesia, for their financial support of this research in collaboration with Department of Geosciences and Natural Resource Management, University of Copenhagen. We also thank the Department of Geography, State University of Makassar (UNM), and the Government of South Sulawesi and Takalar District for their support of our research. We also thank the two anonymous reviewers and the handling editor Dr. Virginia Burkett for excellent comments and suggestions.
Additional information
Editor: Virginia Burkett.
About this article
Cite this article
Malik, A., Mertz, O. & Fensholt, R. Mangrove forest decline: consequences for livelihoods and environment in South Sulawesi. Reg Environ Change 17, 157–169 (2017). https://doi.org/10.1007/s10113-016-0989-0
Received:

Accepted:

Published:

Issue Date:
Keywords
Mangrove forest

Forest degradation

Livelihoods

Remote sensing