Abstract
This study examines the potential for ecological engineering to enhance the beneficial ecosystem services provided by birds in tropical rice fields. Bird activities were monitored at six sites in the Philippines with high-diversity vegetation patches (HDVPs) established as an ecological engineering approach to restore ecosystem services. Adjacent plots of conventional rice were monitored as controls. Predatory birds (shrikes, Lanius spp., grassbirds, Megalurus palustris, and kingfishers, Halcyon spp.) were more active in the ecological engineering fields where they foraged for arthropods and snails among the rice plants. Pied trillers, Lalage nigra, and yellow vented bulbuls, Pycnonotus goiavier, foraged more in the HDVPs than in rice. These birds mainly responded to the availability of bamboo for perching in the HDVPs, although patch vegetation beneath the bamboo was also used for perching by some species. Aerial hunters such as swallows, Hirundo spp., avoided HDVPs likely because the tall vegetation and bamboo stakes represented an obstacle for their flight. Small changes in the design of HDVPs could avoid any negative effects on foraging by swallows and swifts. The results indicate that ecological engineering of rice paddies can have multiple benefits for farmers and the environment, including improved nutrition for farming communities, the creation of habitat for wildlife, and the enhancement of regulatory ecosystem services provided by insectivorous and snail-eating birds.
Access options
Buy single article
Instant access to the full article PDF.
US$ 39.95
Tax calculation will be finalised during checkout.
Subscribe to journal
Immediate online access to all issues from 2019. Subscription will auto renew annually.
US$ 79
Tax calculation will be finalised during checkout.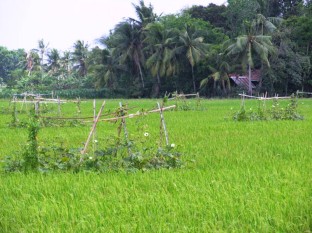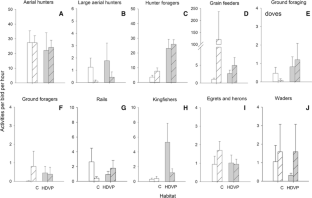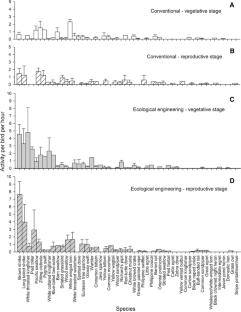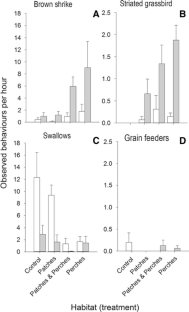 References
Ahmed M, Lorica MH (2002) Improving developing country food security through aquaculture development—lessons from Asia. Food Policy. doi:10.1016/S0306-9192(02)00007-6

Amano T, Yamaura Y (2007) Ecological and life-history traits related to range contractions among breeding birds in Japan. Biol Conserv 137:271–282. doi:10.1016/j.biocon.2007.02.010

Amano T, Kusumoto Y, Tokuoka Y, Yamada S, Kim E-Y, Yamamoto S (2008) Spatial and temporal variations in the use of rice-paddy dominated landscapes by birds in Japan. Biol Conserv 141:1704–1716. doi:10.1016/j.biocon.2008.04.012

Amano T, Li M-H, Yoshida H (2010) Silent night in Japanese rice fields? A population decline in the greater painted snipe. Ornithol Sci 9:49–53. doi:10.2326/osj.9.49

Bennetts RE, Darby PC, Karunarathe LB (2006) Foraging patch selection by snail kites in response to vegetation structure and prey abundance and availability. Waterbirds 29:88–94. doi:10.1675/1524-4695(2006)29[88:FPSBSK]2.0.CO;2

Bonny BP, Vijayaragavan K (2001) Evaluation of indigenous knowledge systems of traditional rice farmers in India. J Sustain Agric 18:39–51. doi:10.1300/J064v18n04_06

Borad CK, Mukherjee A, Parasharya BM (2000) Conservation of the avian diversity in paddy (Oryza sativa) crop agroecosystem. Indian J Agric Sci 70:378–381

Borkhataria RR, Nuessly GS, Pearlstine E, Cherry RH (2012) Effects of blackbirds (Agelaius phoenicius) on stink bug (Hemiptera: Pentatomidae) populations, damage, and yield in Florida rice. Fla Entomol 95:143–149. doi:10.1653/024.095.0122

Bourdin P, Paris T, Serrano F, Smedley R, Hettel G (2015) Guide to the birds of Philippine rice fields. International Rice Research Institute, Los Baños

Bourne GR (1985) Field tests of micropatch and prey-size selection by snail kites Rostrhamus sociablis. Ibis 127:141–147. doi:10.1111/j.1474-919X.1985.tb05050.x

Carvalheiro LG, Seymour CL, Nicolson SW, Veldtman R (2012) Creating patches of native flowers facilitates crop pollination in large agricultural fields: mango as a case study. J Appl Ecol 49:1373–1383. doi:10.1111/j.1365-2664.2012.02217.x

Carver RH, Nash JG (2006) Doing data analysis with SPSS: version 14.0. Thompson Brooks/Cole, Belmont, CA, USA

Chandrakar MK, Limje Shivaji, Asati BS, Verma A (2013) Facilitating the adoption of integrated pest management practices in rice in Rajnandgaon district of Chhattisgarh. Int J Plant Prot 6:316–319

Elliott CCH (1979) The harvest time method as a means of avoiding quelea damage to irrigated rice in Chad/Cameroun. J Appl Ecol 16:23–35. doi:10.2307/2402725

Elphick CS, Oring LW (2003) Conservation implications of flooding rice fields on winter waterbird communities. Agric Ecosyst Environ 94:17–29. doi:10.1016/S0167-8809(02)00022-1

Elphick CS, Taft O, Lourenco PM (2010) Management of rice fields for birds during the non-growing season. Waterbirds 33:181–192. doi:10.1675/063.033.s114

Goodell GE (1984) Bugs, bunds, banks, and bottlenecks: organizational contradictions in the new rice technology. Econ Dev Cult Change 33:23–41. doi:10.1086/451441

GRiSP (Global Rice Science Partnership) (2013) Rice Almanac, Fourth Edition, International Rice Research Institute, Los Baños, Philippines

Guadagnin DL, Peter AS, Rolon AS, Stenert C, Maltchik L (2012) Does non-intentional flooding of rice fields after cultivation contribute to waterbird conservation in southern Brazil? Waterbirds 35:371–380. doi:10.1675/063.035.0302

Gurr GM (2009) Prospects for ecological engineering for planthoppers and other arthropod pests in rice. In: Heong KL, Hardy B (eds) Planthoppers: new threats to the sustainability of intensive rice production systems in Asia. International Rice Research Institute, Los Baños, pp 371–388

Gurr GM, Liu J, Read DMY, Catindig JLA, Cheng JA, Lan LP, Heong KL (2011) Parasitoids of Asian rice planthoppers (Hemiptera: Delphacidae) pests and prospects for enhancing biological control by ecological engineering. Ann Appl Biol 158:149–176. doi:10.1111/j.1744-7348.2010.00455.x

Gurr GM, Heong KL, Cheng JA, Catindig J (2012) Ecological engineering strategies to manage insect pests in rice. In: Gurr GM, Wratten SD, Snyder WE, Read DMY (eds) Biodiversity and insect pests: key issues for sustainable management. Wiley Blackwell, Oxford, pp 214–229

Gurr GM, Lu Z, Zheng X, Xu H, Zhu P, Chen G, Yao X, Cheng J, Zhu Z, Catindig JL, Villareal S, Chien HV, Cuong LQ, Channoo C, Chengwattana N, Lan LP, Hai LH, Chaiwong J, Nico HI, Perovic DJ, Wratten SD, Heong KL (2016) Multi-country evidence that crop diversification promotes ecological intensification of agriulture. Nat Plants 2:16014. doi:10.10.38/nplants.2016.14

Hafidzi MN, Na'im M (2000) The use of the barn owl, Tylo alba, to suppress rat damage in rice fields in Malaysia. In: Singleton GR, Hinds LA, Krebs CJ, Spratt DM (eds) Rats, mice and people: rodent biology and management. Australian Centre for International Agricultural Research, Canberra, pp 220–223

Heong KL, Escalada MM, Van Chien H, Delos Reyes JH (2015) Are there productivity gains from insecticide applications in rice production? In: Heong KL, Cheng J, Escalada MM (eds) Rice planthoppers: ecology, management, socio economics and policy. Springer, Beijing, pp 179–190

Horgan FG, Felix MI, Portalanza DE, Sánchez L, Moya Rios WM, Farah SE, Wither JA, Andrade CI, Espin EB (2014) Responses by farmers to the apple snail invasion of Ecuador's rice fields and attitudes toward predatory snail kites. Crop Prot 62:135–143. doi:10.1016/j.cropro.2014.04.019

Horgan FG, Ramal AF, Bernal, CC, Villegas JM, Stuart AM, Almazan MLP (2016) Applying ecological engineering for sustainable and resilient rice production systems. Procedia Food Sci 6:7–15. doi:10.1016/j.profoo.2016.02.002

Kennedy RS, Gonzales PC, Dickinson EC, Miranda HC Jr, Fisher TH (2000) A guide to the birds of the Philippines. Oxford University Press, Oxford, p 369

Khush GS (1997) Origin, dispersal, cultivation and variation of rice. Plant Mol Biol 35:25–34

Lu Z, Yang Y, Yang P, Zhao Z (2012) China's green plant protection initiative: coordinated promotion of biodiversity-related technologies. In: Gurr GM, Wratten SD, Snyder WE, Read DMY (eds) Biodiversity and insect pests: key issues for sustainable management. Wiley Blackwell, Oxford, pp 230–240

Lu ZX, Zhu PY, Gurr GM, Zheng XS, Read DM, Heong KL, Yang YJ, Xu HX (2014) Mechanisms for flowering plants to benefit arthropod natural enemies of insect pests: prospects for enhanced use in agriculture. Insect Sci 21:1–12. doi:10.1111/1744-7917.12000

Lu ZX, Zhu PY, Gurr GM, Zheng XS, Chen G, Heong KL (2015) Rice pest management by ecological engineering: a pioneering attempt in China. In: Heong KL, Cheng J, Escalada MM (eds) Rice planthoppers: ecology, management, socio economics and policy. Springer, Beijing, pp 161–178

Maeda T (2001) Patterns of bird abundance and habitat use in rice fields of the Kanto Plain, Central Japan. Ecol Res 16:569–585. doi:10.1046/j.1440-1703.2001.00418.x

Mitsch WJ, Jorgensen SE (1989) Ecological engineering: an introduction to ecotechnology. Wiley, New York

Nachuha S, Quinn JL (2012) The distribution of colonial waterbirds in relation to a Ugandan rice scheme. Waterbirds 35:590–598. doi:10.1675/063.035.0408

Narayana BL, Rao VV, Reddy VV (2014) Foraging behavior of black drongo (Dicrurus macrocercus) in Nalgonda District of Andhra Pradesh, India. The Bioscan 9:467–471

Norling W, Jeske CW, Thigpen TF, Chadwick PC (2012) Estimating shorebird populations during spring stopover in rice fields in Louisiana and Texas Gulf coastal plain. Waterbirds 35:361–501. doi:10.1675/063.035.0301

Parsons KC, Mineau P, Renfrew RB (2010) Effects of pesticide use in rice fields on birds. Waterbirds 33:193–218. doi:10.1675/063.033.s115

Peterson AT, Ball LG, Brady KW (2000) Distribution of the birds of the Philippines: biogeography and conservation priorities. Bird Conserv Int 10:149–167

Pias KE, Welch ZC, Kitchens WM (2012) An artificial perch to help snail kites handle an exotic apple snail. Waterbirds 35:347–351. doi:10.1675/063.035.0217

Pierluissi S (2010) Breeding waterbirds in rice fields: a global review. Waterbirds 33:123–132. doi:10.1675/063.033.s109

Settele J, Spangenberg JH, Heong KL, Burkhard B, Bustamante JV, Cabbigat J, Chien HV, Escalada M, Grescho V, Hai LH, Harpke A, Horgan FG, Hotes S, Jahn R, Kühn I, Marquez L, Schädler M, Tekken V, Vetterlein D, Villareal SB, Westphal C, Weimers M (2015) Cultural landscapes and ecosystem services in South-East Asia—the LEGATO-project. Basic Appl Ecol 16:661–664. doi:10.1065/j.baae.2015.10.003

Stafford JD, Kaminski RM, Reinecke KJ (2011) Avian foods, foraging and habitat conservation in world rice fields. Waterbirds 33:133–150. doi:10.1675/063.033.s110

Sun Y, Skidmore AK, Wang T, van Gils HAMJ, Wang Q, Qing B, Ding C (2014) Reduced dependence of crested Ibis on winter-flooded rice fields: implications for their conservation. PLoS ONE 9:e98690. doi:10.1371/journal.pone.0098690

Tilman D, Cassman KG, Matson PA, Naylor R, Polasky S (2002) Agricultural sustainability and intensive production practices. Nature 418:671–677. doi:10.1038/nature01014

Toral GM, Figuerola J (2010) Unraveling the importance of rice fields for waterbird populations in Europe. Biodivers Conserv 19:3459–3469. doi:10.1007/s10531-010-9907-9

van Groenigen JW, Burns EG, Eadie JM, Horwath WR, van Kessel C (2003) Effects of foraging waterfowl in winter flooded rice fields on weed stress and residue decomposition. Agric Ecosyst Environ 95:289–296. doi:10.1016/S0167-8809(02)00097-X

Way M, Javier G (2001) Approaches to a relevant understanding of biodiversity for tropical irrigated rice pest management. In: Mew TW, Borromeo E, Hardy B (eds) Exploiting biodiversity for sustainable pest management. International Rice Research Institute, Los Baños

Weinberger K, Lumpkin TA (2007) Diversification into horticulture and poverty reduction: a research agenda. World Dev 35:1464–1480. doi:10.1016/j.worlddev.2007.05.002

Westphal C, Vidal S, Horgan FG, Gurr GM, Escalada M, van Chien H, Tscharntke T, Heong KL, Settle J (2015) Managing multiple ecosystem services with flower strips and participatory approaches in rice production landscapes. Basic Appl Ecol 16:681–689. doi:10.1016/j.baae.2015.10.004
Acknowledgments
The authors thank Josephine Alugbog, James Lopez, and the Alugbog family for collaborating during rice production at their farm in Colonia, Mindanao; Alberto Naredo, Reyuel Quintana, Vincent Vertudes, Arriza Arida, Quynh Vu, and Enoka Kudavidanage for advice and assistance throughout this study; Richard Smedley, Clare Jones, and Alexander Stuart for assistance in bird identification; and Chris Elphick and an anonymous reviewer for helpful comments on the manuscript. This project was funded by the Philippine Department of Agriculture—Bureau of Agricultural Research (Project: Developing ecological engineering approaches to restore and conserve ecosystem services for pest management for sustainable rice production in the Philippines), the German Ministry of Science and Education [Project: Land-use intensity and Ecological Engineering—Assessment Tools for risks and Opportunities in irrigated rice-based production systems (LEGATO)] and the Global Rice Science Partnership (GRiSP).
Electronic supplementary material
Below is the link to the electronic supplementary material.
Average number of living plants (A) and number of mature fruits (B) in high-diversity vegetation patches at six sites during the 2014 wet season. The average height of plants at the sites are also indicated (C) with the dry weight (biomass) of rice shoots and panicles. Standard errors are indicated (N = 6 sites). Gray shading indicates time of bird observations at the sites (TIFF 16403 kb)
About this article
Cite this article
Horgan, F.G., Ramal, A.F., Villegas, J.M. et al. Ecological engineering with high diversity vegetation patches enhances bird activity and ecosystem services in Philippine rice fields. Reg Environ Change 17, 1355–1367 (2017). https://doi.org/10.1007/s10113-016-0984-5
Received:

Accepted:

Published:

Issue Date:
Keywords
Conservation corridors

Ecological engineering

Diversified agriculture

Perches

Predation

Vegetables