Abstract
Conservation practitioners require strata specific, seasonal species densities for habitat management. Herein, we use stratified distance sampling in Kanha Tiger Reserve (KTR) with 200 spatial transects and an effort of 1200 km walk in the year 2013. Analysis was done to access (a) impact of human use and (b) effect of habitat and season on ungulate densities in KTR. While a single detection function for each species was used for estimating density within human-restricted core and multiple use buffer of KTR, species-specific seasonal detections were modelled for each habitat. Ungulate biomass was 4.8 times higher in the core area compared with the buffer zone. The core supported a herbivore density and biomass of 50 ± 4.80/km2 and 26,806 ± 2573 kg/km2, respectively. Chital were found to be most abundant, having a density of 30.1 ± 4.34/km2 and contributing 33 % of the biomass with a habitat preference for grasslands (106 ± 39/km2) in summer and winter. Sambar had highest density (15.4 ± 3.34/km2) in bamboo-mixed habitat, in both seasons. Gaur contributed 39 % of the ungulate biomass and showed a seasonal shift in density from sal forests (9.65 ± 3.55/km2) in summer to miscellaneous forests (8.13 ± 1.94/km2) in winter. Barasingha were restricted to grasslands with similar summer and winter densities of 1.56 ± 0.76/km2. Chousingha were rare (0.1 ± 0.04/km2), found mostly in miscellaneous forests and plateau grasslands. Grassland and bamboo-mixed forests supported 58 % of the total ungulate biomass. Management for an optimal habitat mosaic that maintains ungulate diversity, addresses the specific needs of endangered species and maximizes ungulate biomass is recommended.
Access options
Buy single article
Instant access to the full article PDF.
USD 39.95
Price excludes VAT (USA)
Tax calculation will be finalised during checkout.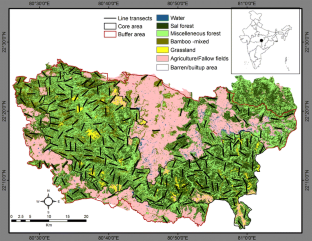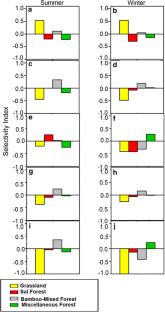 References
Beever DE, Offer N, Gill M (2000) The feeding value of grass and grass products. In: Hopkins A (ed) Grass-its production and utilization, 3rd edn. Blackwell science, Oxford, pp 140–195

Blakesley (1905) Working plan for Banjar valley, Mandla forest division. Central provinces for the period 1904–1932. Central provinces, Forest department

Buckland ST, Anderson DR, Burnham KP, Laake JL, Borchers DL, Thomas L (2001) Introduction to distance sampling: estimating abundance of biological populations. Oxford University Press, Oxford

Buckland ST, Anderson DR, Burnham KP, Laake JL, Borchers DL, Thomas L (2004) Advanced distance sampling. Oxford University Press, Oxford

Byers CR, Steinhorst RK, Krausman PR (1984) Clarification of a technique for analysis of utilization-availability data. J Wildl Manag 48:1050–1053

Champion HG, Seth SK (1968) A revised survey of forest types of India. Government of India Press, New Delhi

Cohen J (1960) A coefficient of agreement for nominal scales. Educ Psychol Meas 20(1):37–46. doi:10.1177/001316446002000104

Dinerstein E, Varma K, Wikramanayake E, Lumpkin S (2010) Wildlife Premium Market + REDD: creating a financial incentive for conservation and recovery of endangered species and habitats.www.hevnetwork.org/resources/folder.2006-09-29.6584228415/Wildlife Premium-REDD. pp 272–288 in Biology and Management of the Cervidea. Christen M. Wemmer, ed. Smithsonian Institution Press. Washington, D.C. Accessed 24 Nov 2015

Dyke FV (2008) Conservation biology: foundations, concepts, applications. Springer Publications, London

Field CB, Behrenfeld MJ, Randerson JT, Falkowski P (1998) Primary production of the biosphere: integrating terrestrial and oceanic components. Science 281:237–240. doi:10.1126/science.281.5374.237

Gopal R, Sinha PR, Mathur VB, Jhala YV, Qureshi Q (2007) Guidelines for preparation of tiger conservation plan. The National Tiger Conservation Authority, Ministry of Environment and Forests, Government of India, New Delhi

Hansen AJ, DeFries R (2007) Ecological mechanisms linking protected areas to surrounding lands. Ecol Appl 17:974–988

Hayward MW, O'Brien J, Kerley GIH (2007) Carrying capacity of large African predators: predictions and tests. Biol Conserv 139:219–229

Hofmann RR (1989) Evolutionary steps of ecophysiological adaptation and diversification of ruminants: a comparative view of their digestive system. Oecologia 78:443–457. doi:10.1007/BF00378733

Imam BARH (1985) Seasonal migrations of gaur (Bos gaurus) (A comparitive study between observations at Gaurimara Wildlife Sanctuary, West Bengal, and Megpal and Bamni in Rairkhol, Orissa). Cheetal 26(3/4):45–48

Ivlev VS (1961) Experimental ecology of the feeding of fishes. Yale University Press, New haven

Jhala YV, Qureshi Q, Gopal R (2015) The status of tigers in India 2014. National Tiger Conservation Authority, New Delhi and the Wildlife Institute of India, Dehradun

Kanoje RS (1999) Draft management plan: wetlands of Kanha Tiger Reserve, international course on wetland management 1999. RIZA Wetland Advisory and Training Center, Lelystad

Kie JG (1999) Optimal foraging and risk of predation: effects on behavior and social structure in ungulates. J Mammal 80:1114–1129. doi:10.2307/1383163

Landis JR, Koch GG (1977) The measurement of observer agreement for categorical data. Biometrics 33:159–174

Liese W, Kohl M (2015) Bamboo: the plant and its uses. Tropical forestry. Springer, Basel,  Switzerland. doi:10.1007/978-3-319-14133-6

Lillesand T, Kiefer RW, Chipman JW (2004) Remote sensing and image interpretation, 5th edn. International Edition, Wiley, New York

Lopoukhine N, Crawhall N, Dudley N, Figgis P, Karibuhoye C, Laffoley D, Londoño JM, MacKinnon K, Sandwith T (2012) Protected areas: providing natural solutions to 21st Century challenges Vol.5/no 2—IUCN Commissions. S.A.P.I.E.N.S.

Loveridge AJ, Wang S, Frank LG, Seidensticker J (2010) People and wild felids: conservation of cast and management of conflict. In: Macdonald DW, Loveridge AJ (eds) Biology and conservation of wild felids. Oxford University Press, Oxford, pp 161–195

Melillo JM, McGuire AD, Kicklighter DW, Moore B, Vorosmarty CJ, Schloss AL (1993) Global climate change and terrestrial net primary production. Nature 363:234–240. doi:10.1038/363234a0

Negi HS, Shukla R (2011) Tiger Conservation plan for Kanha Tiger Reserve (2012–2022). Report for Kanha Tiger Reserve Forest Department, Mandla, 376 pp

Ogutu JO, Bhola N, Reid R (2005) The effects of pastoralism and protection on the density and distribution of carnivores and their prey in the Mara ecosystem of Kenya. J Zool 265:281–293. doi:10.1017/S0952836904006302

OwenSmith N (1994) Foraging responses of kudus to seasonal changes in food resources: elasticity in constraints. Ecology 75:1050–1062. doi:10.2307/1939429

Prins HHT, Loth PE (1988) Rainfall patterns as background to plant phenology in northern Tanzania. J Biogeogr 15:451–463. doi:10.2307/2845275

Pulliam RH, Caraco T (1984) Living in groups: Is there an optimal group size? In: Krebs CJ, Davies NB (eds) Behavioural ecology, 2nd edn. Blackwell Scientific Publications, Oxford, pp 122–147

Rosenfield GH, Fitzpatrick-Lins K (1986) A coefficient of agreement as a measure of thematic classification accuracy. Photogramm Eng Remote Sensing 52:223–227

Schaller GB (1967) The deer and the tiger: a study of wildlife in India. University of Chicago Press, Chicago

Schaller GB (1972) The Serengeti lion. University of Chicago Press, Chicago

Schmitt CB, Belokurov A, Besancon C, Boisrobert L, Burgess ND, Campbell A, Coad L, Fish L, Gliddon D, Humphries K, Kapos V, Loucks C, Lysenko I, Miles L, Mills C, Minnemeyer S, Pistorius T, Ravilious C, Steininger M, Winkel G (2008) Global ecological forest classification and forest protected area gap analysis. Analyses and recommendations in view of the 10% target for forest protection under the convention on biological diversity (CBD). University of Freiburg, Freiburg

Secretariat of the Convention on Biological Diversity (2008) Protected areas in today's world: their values and benefits for the welfare of the planet. Montreal, Technical Series no. 36, i–vii, p 96

Steinmetz R, Chutipong W, Seuaturien N, Chirngsaard E, Khaengkhetkarn M (2010) Population recovery patterns of Southeast Asian ungulates after poaching. Biol Conserv 143:42–51

Sutherland WJ (2000) The conservation handbook: research, management and policy. Blackwell Scientific, Oxford

Thomas L, Buckland ST, Rexstad EA, Laake JL, Strindberg S, Hedley SL, Bishop JRB, Marques TA, Burnham KP (2010) Distance software: design and analysis of distance sampling surveys for estimating population size. J Appl Ecol 47:5–14. doi:10.1111/j.1365-2664.2009.01737.x

Wild life (Protection) Amendment Act (2006) Act number 39 of 2006, Ministry of Law, Justice and Company, New Delhi, India. www.moef.nic.in/sites/default/files/WildLifeAmedmentAct2006%20.pdf

Yeo J, Peek J (1992) Habitat selection by female Sitka black tailed deer in logged forests of south eastern Alaska. J Wildl Manag 56:253–261

Yumnam B, Jhala YV, Qureshi Q, Maldonado JE, Gopal R, Saini S, Srinivas Y, Fleischer RC (2014) Prioritizing tiger conservation through landscape genetics and habitat linkages. PLoS One 9(11):e111207. doi:10.1371/journal.pone.0111207
Acknowledgments
We thank Chief Wildlife Warden of Madhya Pradesh and management of Kanha Tiger Reserve for permissions and logistics for the study. We thank our field assistants Nirottam and Kanhaiya and the team of forest guards for their help in field data collection. We thank former deputy director Kanha, H.S. Mohanta and Research Officer Rakesh Shukla for logistic support and Swati Saini and Ninad Shastri for GIS inputs. This study was funded by National Tiger Conservation Authority, Ministry of Environment, Forest and Climate change, Government of India. QQ & YVJ conceived the study, NA, UK & AP conducted the field work, JSC, QQ and YVJ provided logistic support and supervised the study, and NA, UK, QQ and YVJ did the data analysis and wrote the paper.
Electronic supplementary material
Below is the link to the electronic supplementary material.
About this article
Cite this article
Awasthi, N., Kumar, U., Qureshi, Q. et al. Effect of human use, season and habitat on ungulate density in Kanha Tiger Reserve, Madhya Pradesh, India. Reg Environ Change 16 (Suppl 1), 31–41 (2016). https://doi.org/10.1007/s10113-016-0953-z
Received:

Accepted:

Published:

Issue Date:

DOI: https://doi.org/10.1007/s10113-016-0953-z
Keywords