Abstract
Ensuring forest protection and the delivery of forest ecosystem services is a central aim of the European Union's biodiversity strategy for 2020. Therefore, accurate modelling and mapping of ecosystem services as well as of biodiversity conservation value is an important asset in support of spatial planning and policy implementation. The objectives of this study were to analyse the provision of the multiple ecosystem services under two forestation scenarios (eucalyptus/pine vs. oak) at the watershed scale and to evaluate their possible trade-offs with the biodiversity conservation value. The Vez watershed, in northwest Portugal, was used as case study area, in which soil and water assessment tool (SWAT) was applied to simulate the provision of hydrological services, biomass and carbon storage services. Biodiversity conservation value was based on nature protection regimes and on expert judgement applied to a land cover map. Results indicated large provision of ecosystem services in the high and low mountain sub-basins. The overall performance for water quantity and timing is better under the shrubland and oak forest scenarios, when compared to the eucalyptus/pine forest scenario, which perform better for flood regulation and erosion control services, especially in the low mountain sub-basin. The current shrubland dominated cover also shows good performance for the control of soil erosion. The oak scenario is the one with less trade-offs between forest services and biodiversity conservation. Results highlight SWAT as an effective tool for modelling and mapping ecosystem services generated at the watershed scale, thereby contributing to improve the options for land management.
This is a preview of subscription content, log in to check access.
Access options
Buy single article
Instant access to the full article PDF.
US$ 39.95
Price includes VAT for USA
Subscribe to journal
Immediate online access to all issues from 2019. Subscription will auto renew annually.
US$ 99
This is the net price. Taxes to be calculated in checkout.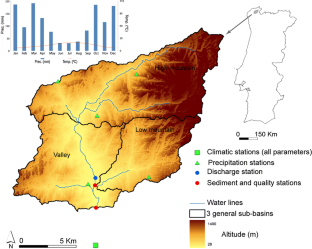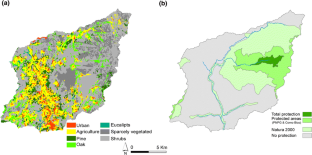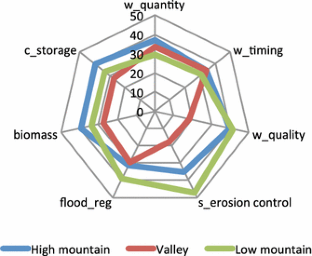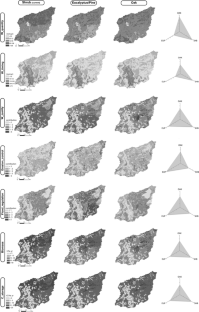 References
Arnold JG, Fohrer N (2005) SWAT2000: current capabilities and research opportunities in applied watershed modelling. Hydrol Process 19:563–572. doi:10.1002/hyp.5611

Arnold JG, Srinivasan R, Muttiah RS, Williams JR (1998) Large area hydrologic modeling and assessment part I: model development. J Am Water Resour Assoc 34:73–89

Bagstad KJ, Semmens DJ, Waage S, Winthrop R (2013) A comparative assessment of decision-support tools for ecosystem services quantification and valuation. Ecosyst Serv 5:27–39. doi:10.1016/j.ecoser.2013.07.004

Barros AM, Pereira JM (2014) Wildfire selectivity for land cover type: does size matter? PLoS ONE 9:e84760. doi:10.1371/journal.pone.0084760.t002

Boithias L, Acuña V, Vergoñós L, Ziv G, Marcé R, Sabater S (2014) Assessment of the water supply:demand ratios in a Mediterranean basin under different global change scenarios and mitigation alternatives. Sci Total Environ 470–471:567–577. doi:10.1016/j.scitotenv.2013.10.003

Bosch JM, Hewlett JD (1982) A review of catchment experiments to determine the effect of vegetation changes on water yield and evapotranspiration. J Hydrol 55:3–23

Brauman KA, Daily GC, Duarte TK, Mooney HA (2007) The nature and value of ecosystem services: an overview highlighting hydrologic services. Annu Rev Environ Resour 32:67–98

Brockerhoff EG, Jactel H, Parrotta JA, Ferraz SF (2013) Role of eucalypt and other planted forests in biodiversity conservation and the provision of biodiversity-related ecosystem services. For Ecol Manage 301:43–50. doi:10.1016/j.foreco.2012.09.018

Brown AE, Zhang L, McMahon TA, Western AW, Vertessy RA (2005) A review of paired catchment studies for determining changes in water yield resulting from alterations in vegetation. J Hydrol 310:28–61. doi:10.1016/j.jhydrol.2004.12.010

Calder IR (2002) Forests and hydrological services: reconciling public and science perceptions. Land Use Water Resour Res 2:1–12

Capelo J, Mesquita S, Costa JC, Ribeiro S, Arsénio P, Neto C, Monteiro-Henriques T, Aguiar C, Honrado J, Espírito-Santo D, Lousã M (2007) A methodological approach to potential vegetation modeling using GIS techniques and phytosociological expert-knowledge: application to mainland Portugal. Phytocoenologia 37:399–415. doi:10.1127/0340-269X/2007/0037-0399

Carvalho-Santos C, Honrado JP, Hein L (2014) Hydrological services and the role of forests: conceptualization and indicator-based analysis with an illustration at a regional scale. Ecol Complex 20:69–80. doi:10.1016/j.ecocom.2014.09.001

Carvalho-Santos C, Nunes JP, Monteiro AT, Hein L, Honrado JP (2015) Assessing the effects of land cover and future climate conditions on the provision of hydrological services in a medium-sized watershed of Portugal. Hydrol Process. doi:10.1002/hyp.10621

Chan KMA, Shaw MR, Cameron DR, Underwood EC, Daily GC (2006) Conservation planning for ecosystem services. PLoS Biol 4:e379. doi:10.1371/journal.pbio.0040379.sd001

Chapin FS, Carpenter SR, Kofinas GP, Folke C, Abel N, Clark WC, Olsson P, Smith DMS, Walker B, Young OR, Berkes F, Biggs R, Grove JM, Naylor RL, Pinkerton E, Steffen W, Swanson FJ (2010) Ecosystem stewardship: sustainability strategies for a rapidly changing planet. Trends Ecol Evol 25:241–249. doi:10.1016/j.tree.2009.10.008

Chisholm RA (2010) Trade-offs between ecosystem services: water and carbon in a biodiversity hotspot. Ecol Econ 69:1973–1987. doi:10.1016/j.ecolecon.2010.05.013

Cook BR, Spray CJ (2012) Ecosystem services and integrated water resource management: different paths to the same end? J Environ Manage 109:93–100. doi:10.1016/j.jenvman.2012.05.016

Costa JC, Aguiar C, Capelo JH, Lousã M, Neto C (1998) Biogeografia de Portugal continental. Quercetea 0:5–56

Crossman ND, Burkhard B, Nedkov S, Willemen L, Petz K, Palomo I, Drakou EG, Martín-López B, McPhearson T, Boyanova K (2013) A blueprint for mapping and modelling ecosystem services. Ecosyst Serv 4:4–14. doi:10.1016/j.ecoser.2013.02.001

Deal RL, Cochran B, LaRocco G (2012) Bundling of ecosystem services to increase forestland value and enhance sustainable forest management. For Policy Econ 17:69–76. doi:10.1016/j.forpol.2011.12.007

EASAC (2009) Ecosystem services and biodiversity in Europe. European Academies Science Advisory Council, pp 1–79

EC (European Commission) (2000) Managing natura 2000 sites. The provisions of Article 6 of the 'Habitats' Directive 92/43/EEC. European Communities, Luxembourg

Egoh B, Reyers B, Rouget M, Richardson DM, Le Maitre DC, van Jaarsveld AS (2008) Mapping ecosystem services for planning and management. Agric Ecosyst Environ 127:135–140. doi:10.1016/j.agee.2008.03.013

Egoh B, Reyers B, Rouget M, Bode M, Richardson DM (2009) Spatial congruence between biodiversity and ecosystem services in South Africa. Biol Conserv 142:553–562. doi:10.1016/j.biocon.2008.11.009

Elmqvist T, Maltby E, Barker T, Mortimer M, Perrings C, Aronson J, Groot RD, Fitter A, Mace G, Norberg J (2009) Biodiversity, ecosystems and ecosystem services (chapter 2). In: Kumar C (ed) (TEEB) The economics of ecosystems and biodiversity: ecological and economic foundations. Earthscan, London, pp 41–111

EU (2011) The EU biodiversity strategy to 2020, pp 1–28. doi: 10.2779/39229

Fernandes PM (2013) Fire-smart management of forest landscapes in the Mediterranean basin under global change. Landsc Urban Plann 110:175–182. doi:10.1016/j.landurbplan.2012.10.014

Figueiredo T, Fonseca F, Martins A (2011) Soil loss and run-off in young forest stands as affected by site preparation technique: a study in NE Portugal. Eur J For Res 131:1747–1760. doi:10.1007/s10342-011-0581-6

Fisher B, Turner RK, Morling P (2009) Defining and classifying ecosystem services for decision making. Ecol Econ 68:643–653. doi:10.1016/j.ecolecon.2008.09.014

García-Ruiz JM, Nadal-Romero E, Lana-Renault N, Beguería S (2013) Erosion in Mediterranean landscapes: changes and future challenges. Geomorphology 198:20–36. doi:10.1016/j.geomorph.2013.05.023

Garmendia E, Mariel P, Tamayo I, Aizpuru I, Zabaleta A (2012) Assessing the effect of alternative land uses in the provision of water resources: evidence and policy implications from southern Europe. Land Use Policy 29:761–770. doi:10.1016/j.landusepol.2011.12.001

Gassman PW, Reyes MR, Green CH, Arnold JG (2007) The soil and water assessment tool: historical development, applications, and future research directions. Trans ASABE 50:1211–1250

Geneletti D (2013) Assessing the impact of alternative land-use zoning policies on future ecosystem services. Environ Impact Assess Rev 40:25–35. doi:10.1016/j.eiar.2012.12.003

Hauck J, Görg C, Varjopuro R, Ratamäki O, Maes J, Wittmer H, Jax K (2013) "Maps have an air of authority": potential benefits and challenges of ecosystem service maps at different levels of decision making. Ecosyst Serv 4:25–32. doi:10.1016/j.ecoser.2012.11.003

Hein L, Miller DC, De Groot R (2013) Payments for ecosystem services and the financing of global biodiversity conservation. Curr Opin Environ Sustain. doi:10.1016/j.cosust.2012.12.004

Honrado J, Vieira C (2009) O Património natural como factor de desenvolvimento e competitividade territoriais no Baixo Tâmega—O Presente e o Futuro do Património Natural dos concelhos de Amarante, Baião e Marco de Canaveses (Natural heritage as a factor of development in Baixo Tamega region), pp 1–390

Ilstedt U, Malmer A, Verbeeten E, Murdiyarso D (2007) The effect of afforestation on water infiltration in the tropics: a systematic review and meta-analysis. For Ecol Manage 251:45–51. doi:10.1016/j.foreco.2007.06.014

Jackson RB (2005) Trading water for carbon with biological carbon sequestration. Science 310:1944–1947. doi:10.1126/science.1119282

Kardell L, Steen E, Fabiao A (1986) Eucalyptus in Portugal. Ambio 15:6–13

Kepner WG, Ramsey MM, Brown ES, Jarchow ME, Dickinson KJM, Mark AF (2012) Hydrologic futures: using scenario analysis to evaluate impacts of forecasted land use change on hydrologic services. Ecosphere 3:art69. doi:10.1890/ES11-00367.1

Lele S (2009) Watershed services of tropical forests: from hydrology to economic valuation to integrated analysis. Curr Opin Environ Sustain 1:148–155. doi:10.1016/j.cosust.2009.10.007

Li P (2004) Effect of vegetation cover types on soil infiltration under simulating rainfall. In: ISCO 2004—13th International Soil Conservation Organisation Conference—Brisbane, July 2004 Conserving Soil and Water for Society: Sharing Solutions, pp 1–4

Logsdon RA, Chaubey I (2013) A quantitative approach to evaluating ecosystem services. Ecol Model 257:57–65. doi:10.1016/j.ecolmodel.2013.02.009

Maestre FT, Quero JL, Gotelli NJ, Escudero A, Ochoa V, Delgado-Baquerizo M, García-Gómez M, Bowker MA, Soliveres S, Escolar C, García-Palacios P, Berdugo M, Valencia E, Gozalo B, Gallardo A, Aguilera L, Arredondo T, Blones J, Boeken B, Bran D, Conceição AA, Cabrera O, Chaieb M, Derak M, Eldridge DJ, Espinosa CI, Florentino A, Gaitán J, Gatica MG, Ghiloufi W, Gómez-González S, Gutiérrez JR, Hernández RM, Huang X, Huber-Sannwald E, Jankju M, Miriti M, Monerris J, Mau RL, Morici E, Naseri K, Ospina A, Polo V, Prina A, Pucheta E, Ramírez-Collantes DA, Romão R, Tighe M, Torres-Díaz C, Val J, Veiga JP, Wang D, Zaady E (2012) Plant species richness and ecosystem multifunctionality in global drylands. Science 335:214–218. doi:10.1126/science.1215442

Malmer A, Murdiyarso D, Bruijnzeel LA, Ilstedt U (2010) Carbon sequestration in tropical forests and water: a critical look at the basis for commonly used generalizations. Global Change Biol 16:599–604. doi:10.1111/j.1365-2486.2009.01984.x

Maritz JS (1995) Distribution-free statistical methods, monographs and statistics and applied probability (Book 17), 2nd edn. Chapman & Hall/CRC, London

Moriasi DN, Arnold JG, Van Liew MW, Bingner RL, Harmel RD, Veith TL (2007) Model evaluation guidelines for systematic quantification of accuracy in watershed simulations. Transactions of the ASABE 50 3: 885–900. ISBN 0001-2351

Neitsch SL, Arnold JG, Kiriny JR, Williams JR (2011) Soil and water assessment tool. Theoretical Documentation. Version 2009:1–647

Nelson E, Mendoza G, Regetz J, Polasky S, Tallis H, Cameron D, Chan KM, Daily GC, Goldstein J, Kareiva PM, Lonsdorf E, Naidoo R, Ricketts TH, Shaw M (2009) Modeling multiple ecosystem services, biodiversity conservation, commodity production, and tradeoffs at landscape scales. Front Ecol Environ 7:4–11. doi:10.1890/080023

Ninan KN, Inoue M (2013) Valuing forest ecosystem services: case study of a forest reserve in Japan. Ecosyst Serv 5:78–87. doi:10.1016/j.ecoser.2013.02.006

Nunes AN, de Almeida AC, Coelho COA (2011) Impacts of land use and cover type on runoff and soil erosion in a marginal area of Portugal. Appl Geography 31:687–699. doi:10.1016/j.apgeog.2010.12.006

Olivera F, Valenzuela M, Srinivasan R, Choi J, Cho H, Koka S, Agrawal A (2006) ARCGIS-SWAT: a geodata model and GIS interface for SWAT. J Am Water Resour Assoc 42:295–309

Olschewski R, Klein AM, Tscharntke T (2010) Economic trade-offs between carbon sequestration, timber production, and crop pollination in tropical forested landscapes. Ecol Complex 7:6. doi:10.1016/j.ecocom.2010.01.002

Onaindia M, de Manuel BF, Madariaga I, Rodríguez-Loinaz G (2013) Co-benefits and trade-offs between biodiversity, carbon storage and water flow regulation. For Ecol Manage 289:1–9. doi:10.1016/j.foreco.2012.10.010

Paladinic E, Vuletic D, Martinic I, Marjanovic H, Indir K, Benko M, Novotny V (2009) Forest biomass and sequestered carbon estimation according to main tree components on the forest stand scale. Periodicum Biologorum 111:459–466

Panagopoulos Y, Makropoulos C, Baltas E, Mimikou M (2011) SWAT parameterization for the identification of critical diffuse pollution source areas under data limitations. Ecol Model 222:3500–3512. doi:10.1016/j.ecolmodel.2011.08.008

Pawson SM, Brin A, Brockerhoff EG, Lamb D, Payn TW, Paquette A, Parrotta JA (2013) Plantation forests, climate change and biodiversity. Biodivers Conserv. doi:10.1007/s10531-013-0458-8

Pereira TC, Seabra T, Maciel H, Torres P (2010) Portuguese national inventory report on greenhouse gases 1990–2008, pp 1–628

Proença V, Pereira HM, Guilherme J, Vicente LI (2010a) Plant and bird diversity in natural forests and in native and exotic plantations in NW Portugal. Acta Oecol 36:219–226. doi:10.1016/j.actao.2010.01.002

Proença V, Pereira HM, Vicente LI (2010b) Resistance to wildfire and early regeneration in natural broadleaved forest and pine plantation. Acta Oecol 36:626–633. doi:10.1016/j.actao.2010.09.008

Quintero M, Wunder S, Estrada RD (2009) For services rendered? Modeling hydrology and livelihoods in Andean payments for environmental services schemes. For Ecol Manage 258:1871–1880. doi:10.1016/j.foreco.2009.04.032

R Core Team (2014) R: a language and environment for statistical computing, version 3.0.0. R Foundation for Statistical Computing, Vienna, Austria. http://www.R-project.org/

Robinson M, Cognard-Plancq AL, Cosandey C, David J, Durand P, Führer HW, Hall R, Hendriques MO, Marc V, McCarthy R, McDonnell M, Martin C, Nisbet T, O'Dea P, Rodgers M, Zollner A (2003) Studies of the impact of forests on peak flows and baseflows: a European perspective. For Ecol Manage 186:85–97. doi:10.1016/S0378-1127(03)00238-X

Rodriguez-Suarez JA, Diaz-Fierros F, Perez R, Soto B (2014) Assessing the influence of afforestation with Eucalyptus globulus on hydrological response from a small catchment in northwestern Spain using the HBV hydrological model. Hydrol Process 28:5561–5572. doi:10.1002/hyp.10061

Rosenqvist L, Hansen K, Vesterdal L, van der Salm C (2010) Water balance in afforestation chronosequences of common oak and Norway spruce on former arable land in Denmark and southern Sweden. Agric For Meteorol 150:196–207. doi:10.1016/j.agrformet.2009.10.004

Rounsevell MDA, Dawson TP, Harrison PA (2010) A conceptual framework to assess the effects of environmental change on ecosystem services. Biodivers Conserv 19:2823–2842. doi:10.1007/s10531-010-9838-5

Savenije H, Van der Zaag P (2008) Integrated water resources management: concepts and issues. Phys Chem Earth 33:290–297. doi:10.1016/j.pce.2008.02.003

Shakesby RA (2011) Post-wildfire soil erosion in the Mediterranean: review and future research directions. Earth Sci Rev 105:71–100. doi:10.1016/j.earscirev.2011.01.001

Shvidenko A, Barber CV, Persson R (2005) Forest and woodland systems. In: Hassan R, Scholes R, Ash N (eds) Ecosystems and human well-being: current state and trends, vol 1. The Millenium Ecosystem Assessment series, Island Press, Washington, EUA, pp 585-621

SIGN II (2008) Infra-estrutura de dados espaciais para o território rural da Galiza e Norte de Portugal (Spatial data infrastructure for the territory of Galicia and Northern Portugal). [in Portuguese and Galician]

Sitzia T, Semenzato P, Trentanovi G (2010) Natural reforestation is changing spatial patterns of rural mountain and hill landscapes: a global overview. For Ecol Manage 259:1354–1362. doi:10.1016/j.foreco.2010.01.048

Sommers WT, Loehman RA, Hardy CC (2014) Wildland fire emissions, carbon, and climate: science overview and knowledge needs. For Ecol Manage 317:1–8. doi:10.1016/j.foreco.2013.12.014

Thompson ID, Okabe K, Tylianakis JM, Kumar P, Brockerhoff EG, Schellhorn NA, Parrotta JA, Nasi R (2011) Forest biodiversity and the delivery of ecosystem goods and services: translating science into policy. Bioscience 61:972–981. doi:10.1525/bio.2011.61.12.7

Vigerstol KL, Aukema JE (2011) A comparison of tools for modelling freshwater ecosystem services. J Environ Manage 92:2403–2409. doi:10.1016/j.jenvman.2011.06.040

Villamagna AM, Angermeier PL, Bennett EM (2013) Capacity, pressure, demand, and flow: a conceptual framework for analyzing ecosystem service provision and delivery. Ecol Complex 15:114–121. doi:10.1016/j.ecocom.2013.07.004

Wang S, Fu B (2013) Trade-offs between forest ecosystem services. For Policy Econ 26:145–146. doi:10.1016/j.forpol.2012.07.014
Acknowledgments
This study was financially supported by FCT (Portuguese Science Foundation) and the European Social Fund through Ph.D. Grants: SFRH/BD/66260/2009 (C. Carvalho-Santos) and SFRH/BD/90112/2012 (J. Gonçalves). J. Honrado and C. Carvalho-Santos received support from FCT through Project Grant PTDC/AAG-MAA/4539/2012 (IND_CHANGE). R. Sousa-Silva was supported by a PhD Grant—FORBIO Climate project, financed by BRAIN.be, Belgian Research Action through Interdisciplinary research.
Electronic supplementary material
Below is the link to the electronic supplementary material.
About this article
Cite this article
Carvalho-Santos, C., Sousa-Silva, R., Gonçalves, J. et al. Ecosystem services and biodiversity conservation under forestation scenarios: options to improve management in the Vez watershed, NW Portugal. Reg Environ Change 16, 1557–1570 (2016). https://doi.org/10.1007/s10113-015-0892-0
Received:

Accepted:

Published:

Issue Date:
Keywords
Biodiversity conservation value

Ecosystem services

Forestation scenarios

SWAT

Vez watershed