Abstract
The purpose of this study was to investigate the climate change impacts, vulnerability and adaptive capacity of the electrical energy sector in Cyprus. Spatial vulnerability of the island was assessed using the degree-day indicator to investigate heating and cooling demands in the near future using daily temperature projections from regional climate models (RCMs). Using daily electrical energy consumption data for the present climate, an impact model linking consumption and temperature was constructed and this relationship was projected to the future climate using the data from the RCMs and assuming the same technology use. Our impact model results showed that for the period between November and April ('cold period'), a decreasing trend in electrical energy consumption is evident due to warmer conditions in the near future, while for the period between May and October ('warm period'), an increasing trend in electricity consumption is evident as warmer conditions dominate by 2050. Regarding the spatial vulnerability assessment, the cooling degree-day indicator testified that major increases in cooling demand, between 100 and 200 degree-days, are expected in inland and southern regions during the summer in the near future. In addition, increases of about 20–50 degree-days are anticipated during autumn. Conversely, energy demand for heating is projected to decrease during spring and winter, especially in the higher elevation parts of the island. More precisely, reductions of about 30–75 degree-days are projected during spring, while greater reductions of about 60–90 degree-days are expected during winter in heating demand, especially for in the near future. The ability of the energy sector to adapt and follow these changes was deemed to be satisfactory reducing the overall vulnerability of the sector to future climate change.
Access options
Buy single article
Instant access to the full article PDF.
USD 39.95
Price excludes VAT (USA)
Tax calculation will be finalised during checkout.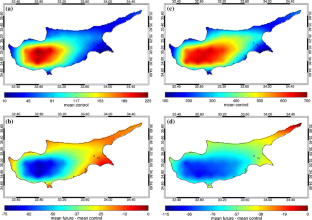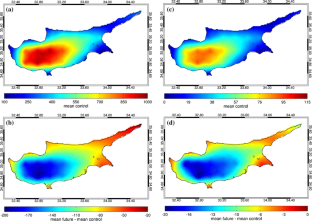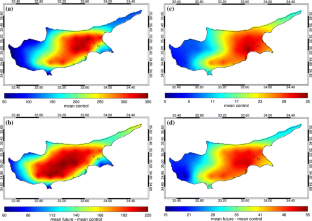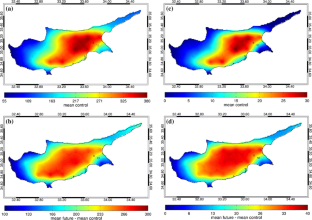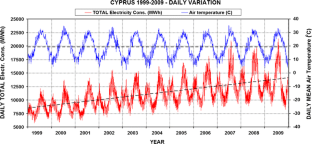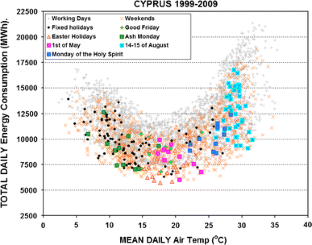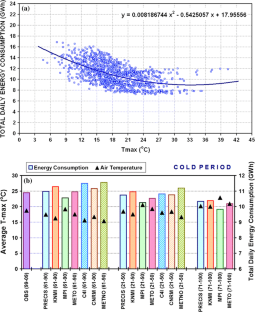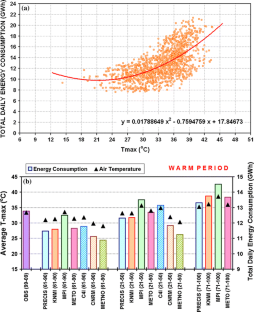 Notes
Reflecting 10 % energy savings comparing to the energy consumption of the reference year.
References
Akil YS, Miyauchi H (2010) Elasticity coefficient of climatic conditions for electricity consumption analysis. Paper presented at Power System Technology (POWERCON), 2010 international conference, Hangzhou. doi:10.1109/POWERCON.2010.5666077

Alcamo J, Moreno JM, Nováky B, Bindi M, Corobov R, Devoy R et al (2007) Europe. In: Parry M, Canziani O, Palutikof J, van der Linden P, Hanson C (eds) Climate change 2007: impacts, adaptation and vulnerability. Contribution of working group II to the fourth assessment report of the intergovernmental panel on climate change. Cambridge University Press, Cambridge, pp 541–580

Apadula F, Bassini A, Elli A, Scapin S (2012) Relationships between meteorological variables and monthly electricity demand. Appl Energy 98:346–356. doi:10.1016/j.apenergy.2012.03.053

Bašta M, Helman K (2013) Scale-specific importance of weather variables for explanation of variations of electricity consumption: the case of Prague, Czech Republic. Energy Econ 40:503–514. doi:10.1016/j.eneco.2013.07.023

Beccali M, Cellura M, Lo Brano V, Marvuglia A (2008) Short-term prediction of household electricity consumption: assessing weather sensitivity in a Mediterranean area. Renew Sustain Energy Rev 12(8):2040–2065. doi:10.1016/j.rser.2007.04.010

Bessec M, Fouquau J (2008) The non-linear link between electricity consumption and temperature in Europe: a threshold panel approach. Energy Econ 30:2705–2721. doi:10.1016/j.eneco.2008.02.003

Blázquez L, Boogen N, Filippini M (2013) Residential electricity demand in Spain: new empirical evidence using aggregate data. Energy Econ 36:648–657. doi:10.1016/j.eneco.2012.11.010

Cancelo JR, Espasa A, Grafe R (2008) Forecasting the electricity load from one day to one week ahead for the Spanish system operator. Int J Forecast 24:588–602. doi:10.1016/j.ijforecast.2008.07.005

Christenson M, Manz H, Gyalistras D (2006) Climate warming impact on degree-days and building energy demand in Switzerland. Energy Convers Manag 47:671–686. doi:10.1016/j.enconman.2005.06.009

CYPADAPT (2014) National adaptation plan of Cyprus to climate change, Deliverable 5.1. LIFE10 ENV/CY/000723 project. http://cypadapt.uest.gr//wp-content/uploads/20141219/deliverable_5.1_english.pdf

Egelioglu F, Mohamad AA, Guven H (2001) Economic variables and electricity consumption in Northern Cyprus. Energy 26:355–362. doi:10.1016/S0360-5442(01)00008-1

Electricity Authority of Cyprus (EAC) (2014) Annual report 2013, Nicosia. http://www.eac.com.cy/EN/EAC/FinancialInformation/Documents/AHK%202013%20ENGLISH.pdf

El-Shaarawi MAI, Al-Marsi N (1996) Weather data and heating-degree days for Saudi Arabia. Energy 21:39–44. doi:10.1016/0360-5442(95)00072-0

Eskeland GS, Mideksa TK (2010) Electricity demand in a changing climate. Mitig Adapt Strateg Glob Change 15(8):877–897. doi:10.1007/s11027-010-9246-x

Giannakopoulos C, Psiloglou B (2006) Trends in energy load consumption for Athens, Greece: weather and non-weather related factors. Clim Res 31:97–108. doi:10.3354/cr031097

Giannakopoulos C, Hadjinicolau P, Zeferos C, Demosthenous G (2009a) Changing energy requirements in the Mediterranean under changing climatic conditions. Energies 2:805–815. doi:10.3390/en20400805

Giannakopoulos C, LeSager P, Bindi M, Moriondo M, Kostopoulou E, Goodess CM (2009b) Climatic changes and associated impacts in the Mediterranean resulting from a 2°C global warming. Glob Planet Change 68:209–224. doi:10.1016/j.gloplacha.2009.06.001

Hernández L, Baladrón C, Aguiar JM, Calavia L, Carro B, Sánchez-Esguevillas A, Cook DJ, Chinarro D, Gómez J (2012) A study of the relationship between weather variables and electric power demand inside a smart grid/smart world framework. Sensors 12(9):11571–11591. doi:10.3390/s120911571

Ihara T, Genchi Y, Sato T, Yamaguchi K, Endo Y (2008) City-block-scale sensitivity of electricity consumption to air temperature and air humidity in business districts of Tokyo, Japan. Energy 33:1634–1645. doi:10.1016/j.energy.2008.06.005

Kadioğlu M, Şen Z (1999) Degree day formulations and application in Turkey. J Appl Meteorol 38:837–846. doi:10.1175/1520-0450(1999)038<0837:DDFAAI>2.0.CO;2

Kadioğlu M, Şen Z, Gültekin L (1999) Spatial heating monthly degree-day features and climatologic patterns in Turkey. Theor Appl Climatol 64:263–269. doi:10.1007/s007040050128

Klein DR, Olonscheck M, Walther C, Kropp JP (2013) Susceptibility of the European electricity sector to climate change. Energy 59:183–193. doi:10.1016/j.energy.2013.06.048

Kolokotroni M, Davies M, Croxford B, Bhuiyan S, Mavrogianni A (2010) A validated methodology for the prediction of heating and cooling energy demand for buildings within the Urban Heat Island: case-study of London. Sol Energy 84:2246–2255. doi:10.1016/j.solener.2010.08.002

Lam JC, Tang HL, Li DHW (2008a) Seasonal variations in residential and commercial sector electricity consumption in Hong Kong. Energy 33:513–523. doi:10.1016/j.energy.2007.10.002

Lam JC, Wan KKW, Cheung KL, Yang L (2008b) Principal component analysis of electricity use in office buildings. Energy Build 40:828–836. doi:10.1016/j.enbuild.2007.06.001

Manera M, Marzullo A (2005) Modelling the load curve of aggregate electricity consumption using principal components. Environ Model Softw 20:1389–1400. doi:10.1016/j.envsoft.2004.09.019

Matzarakis A, Balafoutis C (2004) Heating degree-days over Greece as an index of energy consumption. Int J Climatol 24:1817–1828. doi:10.1002/joc.1107

Mehleri ED, Sarimveis H, Markatos NC, Papageorgiou LG (2013) Optimal design and operation of distributed energy systems: application to Greek residential sector. Renew Energy 51:331–342. doi:10.1016/j.renene.2012.09.009

Miller NL, Hayhoe K, Jin J, Auffhammer M (2008) Climate, extreme heat, and electricity demand in California. J Appl Meteorol Climatol 47:1834–1844. doi:10.1175/2007JAMC1480.1

Ministry of Energy, Commerce, Industry and Tourism (MCIT) (2010) National renewable energy action plan (2010–2020). Republic of Cyprus, Nicosia. http://ec.europa.eu/energy/sites/ener/files/documents/dir_2009_0028_action_plan_cyprus.zip

Ministry of Energy, Commerce, Industry and Tourism (MCIT) (2011) 2nd national energy efficiency action plan of Cyprus, Republic of Cyprus, Nicosia. http://www.buildup.eu/sites/default/files/content/CY%20-%20Energy%20Efficiency%20Action%20Plan%20EN.pdf

Mirasgedis S, Sarafidis Y, Georgopoulou E, Kotroni V, Lagouvardos K, Lalas DP (2007) Modeling framework for estimating impacts of climate change on electricity demand at regional level: case of Greece. Energy Convers Manag 48:1737–1750. doi:10.1016/j.enconman.2006.10.022

Moral-Carcedo J, Vicéns-Otero J (2005) Modeling the non-linear response of Spanish electricity demand to temperature variations. Energy Econ 27:477–494. doi:10.1016/j.eneco.2005.01.003

Moustris KP, Nastos PT, Bartzokas A, Larissi IK, Zacharia PT, Paliatsos AG (2014) Energy consumption based on heating/cooling degree days within the urban environment of Athens, Greece. Theor Appl Climatol. doi:10.1007/s00704-014-1308-7

Mudelsee M, Alkio M (2007) Quantifying effects in two-sample environmental experiments using bootstrap confidence intervals. Environ Model Softw 22:84–96. doi:10.1016/j.envsoft.2005.12.001

Nakićenović N, Swart R (eds) (2000) IPCC special report on emissions scenarios. A special report of working group III of the intergovernmental panel on climate change. Cambridge University Press, Cambridge

Ouedraogo NS (2013) Energy consumption and economic growth: evidence from the economic community of West African States (ECOWAS). Energy Econ 36:637–647. doi:10.1016/j.eneco.2012.11.011

Ozturk HK, Ceylan H (2005) Forecasting total and industrial sector electricity demand based on genetic algorithm approach: Turkey case study. Int J Energy Res 29:829–840. doi:10.1002/er.1092

Papakostas K, Mavromatis T, Kyriakis N (2010) Impact of the ambient temperature rise on the energy consumption for heating and cooling in residential buildings of Greece. Renew Energy 35:1376–1379. doi:10.1002/er.1092

Pardo A, Meneu V, Valor E (2002) Temperature and seasonality influences on Spanish electricity load. Energy Econ 24:55–70. doi:10.1016/S0140-9883(01)00082-2

Psiloglou BE, Giannakopoulos C, Majithia S, Petrakis M (2009) Factors affecting electricity demands in Athens, Greece and London, UK: a comparative assessment. Energy 34:1855–1863. doi:10.1016/j.energy.2009.07.033

Sailor DJ, Muñoz JR (1997) Sensitivity of electricity and natural gas consumption to climate in the USA: methodology and results for eight states. Energy 22:987–998. doi:10.1016/S0360-5442(97)00034-0

Thatcher MJ (2007) Modeling changes to electricity demand load duration curves as a consequence of predicted climate change for Australia. Energy 32:1647–1659. doi:10.1016/j.energy.2006.12.005

Thom HSC (1962) Normal degree days above any base by the universal truncation coefficient. Mon Weather Rev 94:461–465. doi:10.1175/1520-0493(1966)094<0461:NDDAAB>2.3.CO;2

Tselepidaki I, Santamouris M, Asimakopoulos DN, Kontoyiannidis S (1994) On the variability of cooling degreedays in an urban environment: application to Athens, Greece. Energy Build 21:93–99. doi:10.1016/0378-7788(94)90002-7

Valor E, Meneu V, Caselles V (2001) Daily air temperature and electricity load in Spain. J Appl Meteorol 40:1413–1421. doi:10.1175/1520-0450(2001)040<1413:DATAEL>2.0.CO;2

Włodarczyk A, Zawada M (2010) Modeling the impact of weather factors in electricity in Southern Poland. Paper presented at 2010 7th international conference on the European Energy Market (EEM), Madrid. doi:10.1109/EEM.2010.5558738

Xiao N, Zarnikau J, Damien P (2007) Testing functional forms in energy modeling: an application of the Bayesian approach to the US electricity demand. Energy Econ 29:158–166. doi:10.1016/j.eneco.2006.02.005

Zachariadis T, Pashourtidou N (2007) An empirical analysis of electricity consumption in Cyprus. Energy Econ 29:183–198. doi:10.1016/j.eneco.2006.05.002
Acknowledgments
The authors acknowledge the European financial instrument for the Environment, LIFE+, for part financing this work in the framework of the CYPADAPT Project LIFE10 ENV/CY/000723.
About this article
Cite this article
Giannakopoulos, C., Psiloglou, B., Lemesios, G. et al. Climate change impacts, vulnerability and adaptive capacity of the electrical energy sector in Cyprus. Reg Environ Change 16, 1891–1904 (2016). https://doi.org/10.1007/s10113-015-0885-z
Received:

Accepted:

Published:

Issue Date:

DOI: https://doi.org/10.1007/s10113-015-0885-z
Keywords
Climate change

Electrical energy demand

Degree-days

Impacts

Adaptive capacity

Vulnerability

Cyprus