Abstract
River-based cage aquaculture in Northern Thailand involves dealing with a number of climate- and weather-related risks. The purpose of this study was to improve understanding of how farmers make investment decisions in their fish farms when faced with risks from floods that are imperfectly known, and which may be changing. A role-playing simulation game was created to capture some of the key features of the decision-making context and explored with farmers in the field. In-depth interviews were conducted post-game to reflect on strategies used in the game as compared to in practice. As hypothesized, more frequent or larger impact floods reduced cumulative profits. Farmers reduced their stocking densities when playing in games with high likelihood of floods, but did not do so in games with large impacts when a flood occurred. Contrary to initial expectations, farmers were less likely to learn from experience—choose the optimal density and thus improve score within a game—when floods were common or had large impacts. Farmers learnt most when risks were decreasing and least when they were increasing. Providing information about likelihoods prior to a game had no impact on performance or decisions. The methods and findings of this study underline the importance of understanding decision-making behaviour around risks for climate risk management. The novel combination of experimental, role-playing, and qualitative methods revealed limitations in common assumptions about the ease of learning about risks from previous experiences. The findings also suggest that decision-support systems for aquaculture need to take into account how recent experiences, understanding of information, and other factors influence risk perceptions and decisions.
This is a preview of subscription content, log in to check access.
Access options
Buy single article
Instant access to the full article PDF.
US$ 39.95
Price includes VAT for USA
Subscribe to journal
Immediate online access to all issues from 2019. Subscription will auto renew annually.
US$ 99
This is the net price. Taxes to be calculated in checkout.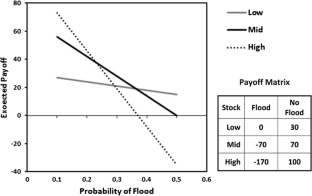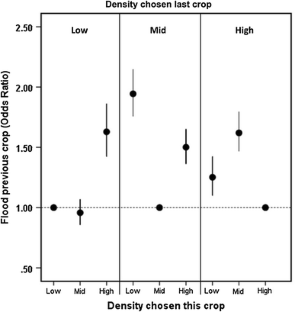 References
Ahsan D, Roth E (2010) Farmers' perceived risks and risk management strategies in an emerging mussel aquaculture industry in Denmark. Mar Resour Econ 25(3):309–323. doi:10.5950/0738-1360-25.3.309

Alpizar F, Carlsson F, Naranjo MA (2011) The effect of ambiguous risk, and coordination on farmers' adaptation to climate change—a framed field experiment. Ecol Econ 70(12):2317–2326. doi:10.1016/j.ecolecon.2011.07.004

Ancker JS, Weber EU, Kukafka R (2011) Effects of game-like interactive graphics on risk perceptions and decisions. Med Decis Mak 31(1):130–142. doi:10.1177/0272989x10364847

Aven T, Renn O (2009) On risk defined as an event where the outcome is uncertain. J Risk Res 12(1):1–11. doi:10.1080/13669870802488883

Barnaud C, Promburom T, Trébuil G, Bousquet F (2007) An evolving simulation/gaming process to facilitate adaptive watershed management in northern mountainous Thailand. Simul Gaming 38(3):398–420. doi:10.1177/1046878107300670

Belton B, Little D, Grady K (2009) Is responsible aquaculture sustainable aquaculture? wwf and the eco-certification of tilapia. Soc Nat Resour 22(9):840–855. doi:10.1080/08941920802506257

Bergfjord OJ (2009) Risk perception and risk management in Norwegian aquaculture. J Risk Res 12(1):91–104. doi:10.1080/13669870802488941

Breakwell GM (2010) Models of risk construction: some applications to climate change. Wiley Interdiscip Rev Clim Change 1(6):857–870. doi:10.1002/wcc.74

Chinh NC, Clarke Y, Manh NH, Lebel L, Boontaveeyuwat S, Sophat S, Sinh BT, Khiem N (2014) Communicating water-related climate change risks: lessons from a multi-tool and multi-country study in the Mekong Region. In: Lebel L, Hoanh C, Krittasuthacheewa C, Daniel R (eds) Climate risks, regional integration and sustainability in the Mekong Region. Strategic Information and Research Development Centre and Stockholm Environment Institute, Petaling Jaya, pp 185–202

Cleland D, Dray A, Perez P, Cruz-Trinidad A, Geronimo R (2012) Simulating the dynamics of subsistence fishing communities: REEFGAME as a learning and data-gathering computer-assisted role-play game. Simul Gaming 43(1):102–117. doi:10.1177/1046878110380890

Crane TA, Roncoli C, Paz J, Breuer N, Broad K, Ingram KT, Hoogenboom G (2010) Forecast skill and farmers' skills: seasonal climate forecasts and agricultural risk management in the southeastern United States. Weather Clim Soc 2(1):44–59. doi:10.1175/2009WCAS1006.1

Dionnet M, Kuper M, Hammani A, Garin P (2008) Combining role-playing games and policy simulation exercises: an experience with Moroccan smallholder farmers. Simul Gaming 39(4):498–514. doi:10.1177/1046878107311958

Dutt V, Gonzalez C (2012a) Decisions from experience reduce misconceptions about climate change. J Environ Psychol 32(1):19–29. doi:10.1016/j.jenvp.2011.10.003

Dutt V, Gonzalez C (2012b) The role of inertia in modeling decisions from experience with instance-based learning. Frontiers in Psychology. doi:10.3389/fpsyg.2012.00177

Engle-Warnick JC, Escobal J, Laszlo SC (2011) Ambiguity aversion and portfolio choice in small-scale Peruvian farming. BE J Econ Anal Policy. doi:10.2202/1935-1682.2331

Erev I, Ert E, Roth AE, Haruvy E, Herzog SM, Hau R, Hertwig R, Stewart T, West R, Lebiere C (2010) A choice prediction competition: choices from experience and from description. J Behav Decis Mak 23(1):15–47. doi:10.1002/bdm.683

Figner B, Weber EU (2011) Who takes risks when and why? Determinants of risk taking. Curr Dir Psychol Sci 20(4):211–216. doi:10.1177/0963721411415790

Hanson TR, Shaik S, Coble KH, Edwards S, Miller JC (2008) Identifying risk factors affecting weather- and disease-related losses in the U.S. farm-raised catfish industry. Agric Resour Econ Rev 37(1):27–40

Higginbotham N, Connor LH, Baker F (2014) Subregional differences in Australian climate risk perceptions: coastal versus agricultural areas of the Hunter Valley, NSW. Reg Environ Change 14(2):699–712. doi:10.1007/s10113-013-0529-0

Hochman Z, Carberry P (2011) Emerging consensus on desirable characteristics of tools to support farmers' management of climate risk in Australia. Agric Syst 104:441–450. doi:10.1016/j.agsy.2011.03.001

Jakobsen K (2013) Livelihood asset maps: a multidimensional approach to measuring risk-management capacity and adaptation policy targeting—a case study in Bhutan. Reg Environ Change 13(2):219–233. doi:10.1007/s10113-012-0320-7

James G, Koehler D (2011) Banking on a bad bet: probability matching in risky choice is linked to expectation generation. Psychol Sci 22(6):707–711. doi:10.1177/0956797611407933

Kasperson JX, Kasperson RE, Pidgeon N, Slovic P (2003) The social amplification of risk: assessing fifteen years of research and theory. In: Pidgeon N, Kasperson RE, Slovic P (eds) The social amplification of risk. Cambridge University Press, Cambridge, pp 13–46

Le TC, Cheong F (2010) Perceptions of risk and risk management in Vietnamese catfish farming: an empirical study. Aquac Econ Manag 14(4):282–314. doi:10.1080/13657305.2010.526019

Le TC, Cheong F, Cheong C (2012) Developing a risk management DSS for supporting sustainable Vietnamese catfish farming. 4In: 5th Hawaii international conference on system sciences. IEEE computer society. doi:10.1109/HICSS.2012.209

Lebel P, Whangchai N, Chitmanat C, Promya J, Chaibu P, Sriyasak P, Lebel L (2013) River-based cage aquaculture of Tilapia in northern Thailand: sustainability of rearing and business practices. Nat Resour 4(5):410–421. doi:10.4236/nr.2013.45051

Lebel P, Whangchai N, Chitmanat C, Promya J, Lebel L (2015a) Climate risk management in river-based Tilapia cage culture in northern Thailand. Int J Clim Change Strateg Manag 7(4)

Lebel P, Whangchai N, Chitmanat C, Promya J, Lebel L (2015a) Perceptions of climate-related risks and awareness of climate change of fish cage farmers in northern Thailand. Risk Manag 17:1–22. doi:10.1057/rm.2015.4

Lebel P, Whangchai N, Chitmanat C, Promya J, Lebel L (2015c) Risk of impacts from extreme weather and climate in river-based Tilapia cage culture in northern Thailand. International Journal of Global Warming 9 (1) (in press)

Lejarraga T, Dutt V, Gonzales C (2010) Instance-based learning: a general model of repeated binary choice. J Behav Decis Mak 23:1–11. doi:10.1108/dlo.2012.08126daa.003

Lim H, Boochabun K, Ziegler AD (2012) Modifiers and amplifiers of high and low flows on the Ping River in Northern Thailand (1921-2009): the roles of climatic events and anthropogenic activity. Water Resour Manage 26:4203–4224. doi:10.1007/s11269-012-0140-z

Manandhar S, Vogt DS, Perret SR, Kazama F (2011) Adapting cropping systems to climate change in Nepal: a cross-regional study of farmers' perception and practices. Reg Environ Change 11(2):335–348. doi:10.1007/s10113-010-0137-1

Menapace L, Colson G, Raffaelli R (2013) Risk aversion, subjective beliefs, and farmer risk management strategies. Am J Agric Econ 95(2):384–389. doi:10.1093/ajae/aas107

Moser SC (2010) Communicating climate change: history, challenges, process and future directions. WIREs Clim Change 1(1):31–53. doi:10.1002/wcc.11

Ogurtsov VA, Van Asseldonk MPAM, Huirne RBM (2008) Assessing and modelling catastrophic risk perceptions and attitudes in agriculture: a review. NJAS Wagening J Life Sci 56(1–2):39–58. doi:10.1016/S1573-5214(08)80016-4

Otto-Banaszak I, Matczak P, Wesseler J, Wechsung F (2011) Different perceptions of adaptation to climate change: a mental model approach applied to the evidence from expert interviews. Reg Environ Change 11(2):217–228. doi:10.1007/s10113-010-0144-2

Reyna V, Brainerd C (2008) Numeracy, ratio bias, and denominator neglect in judgments of risk and probability. Learn Individ Differ 18:89–107. doi:10.1016/j.lindif.2007.03.011

Runhaar H, Mees H, Wardekker A, Sluijs J, Driessen PJ (2012) Adaptation to climate change-related risks in Dutch urban areas: stimuli and barriers. Reg Environ Change 12(4):777–790. doi:10.1007/s10113-012-0292-7

Sjöberg L (2007) Emotions and risk perception. Risk Manag 9:223–237. doi:10.1057/palgrave.rm.8250038

Slovic P, Finucane ML, Peters E, MacGregor DG (2004) Risk as analysis and risk as feelings: some thoughts about affect, reason, risk, and rationality. Risk Anal 24(2):311–322. doi:10.1111/j.0272-4332.2004.00433.x

Souchère V, Millair L, Echeverria J, Bousquet F, Le Page C, Etienne M (2010) Co-constructing with stakeholders a role-playing game to initiate collective management of erosive runoff risks at the watershed scale. Environ Model Softw 25(11):1359–1370. doi:10.1016/j.envsoft.2009.03.002

Van Pelt SC, Haasnoot M, Arts B, Ludwig F, Swart R, Biesbroek R (2015) Communicating climate (change) uncertainties: simulation games as boundary objects. Environ Sci Policy 45:41–52

Vieira Pak M, Castillo Brieva D (2010) Designing and implementing a role-playing game: a tool to explain factors, decision making and landscape transformation. Environ Model Softw 25(11):1322–1333. doi:10.1016/j.envsoft.2010.03.015

Villanueva RR, Araneda ME, Vela M, Seijo JC (2013) Selecting stocking density in different climatic seasons: a decision theory approach to intensive aquaculture. Aquaculture 384–387:25–34. doi:10.1016/j.aquaculture.2012.12.014

Weber EU (2010) What shapes perceptions of climate change? WIREs Clim Change 1:332–342. doi:10.1002/wcc.41

Weber EU, Johnson EJ (2009) Mindful judgement and decision making. Annu Rev Psychol 60:53–85. doi:10.1146/annurev.psych.60.110707.163633

Wood SA, Jina AS, Jain M, Kristjanson P, DeFries RS (2014) Smallholder farmer cropping decisions related to climate variability across multiple regions. Glob Environ Change 25:163–172. doi:10.1016/j.gloenvcha.2013.12.011

Worrapimphong K, Gajaseni N, Le Page C, Bousquet F (2010) A companion modeling approach applied to fishery management. Environ Model Softw 25(11):1334–1344. doi:10.1016/j.envsoft.2010.03.012
Acknowledgments
The work was carried out with the aid of a grant from the International Development Research Centre, Ottawa, Canada, as a contribution to the AQUADAPT project. Thanks for Dr. Chanagun Chitmanat and Boripat Lebel for editorial inputs. Thanks to the field assistants, students, officials and farmers who helped with the field experiments and surveys.
Electronic supplementary material
Below is the link to the electronic supplementary material.
About this article
Cite this article
Lebel, P., Sriyasak, P., Kallayanamitra, C. et al. Learning about climate-related risks: decisions of Northern Thailand fish farmers in a role-playing simulation game. Reg Environ Change 16, 1481–1494 (2016). https://doi.org/10.1007/s10113-015-0880-4
Received:

Accepted:

Published:

Issue Date:
Keywords
Risk management

Decisions

Role-playing games

Aquaculture

Perception

Floods