Abstract
Large connected landscapes are paramount to maintain top predator populations. Across their range, tiger (Panthera tigris) populations occur in small fragmented patches of habitat, often isolated by large distances in human-dominated landscapes. We assessed connectivity between 16 protected areas (PAs) in central India, a global priority landscape for tiger conservation, using data on land use and land cover, human population density, and transportation infrastructure. We identified and prioritized movement routes using a combination of least-cost corridor modeling and circuit theory. Our analyses suggest that there are several opportunities to maintain connectivity in this landscape. We mapped a total of thirty-five linkages in the region and calculated metrics to estimate their quality and importance. The highest quality linkages as measured by the ratio of cost-weighted distance to Euclidean distance are Kanha–Phen/Bandhavgarh–SanjayGhasidas/Melghat–Satpura, and cost-weighted distance to least-cost path length are Nawegaon–Tadoba/Achanakmar–SanjayGhasidas/Kanha–Phen. We used current flow centrality to evaluate the contribution of each PA and linkage toward facilitating animal movement. Values are highest for Kanha and Pench tiger reserves, and the linkages between Kanha–Phen, Kanha–Pench, and Pench–Satpura, suggesting that these PAs and linkages play a critical role in maintaining connectivity in central India. In addition, smaller areas such as Bor, Nawegaon, and Phen have high centrality scores relative to their areas and thus may act as important stepping stones. We mapped pinch points, which are sections of the linkages where tiger movement is restricted due to unfavorable habitat, transportation networks, human habitation, or a combination of factors. Currently, very limited data exist on tiger movement outside of PAs to validate model results. Regional-scale connectivity mapping efforts can assist managers and policy makers to develop strategic plans for balancing wildlife conservation and other land uses in the landscape.
Access options
Buy single article
Instant access to the full article PDF.
USD 39.95
Price excludes VAT (USA)
Tax calculation will be finalised during checkout.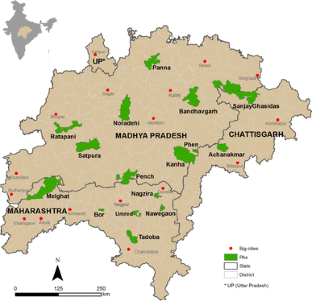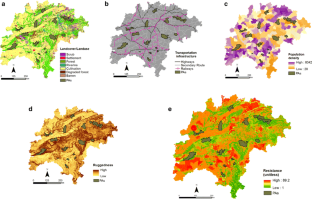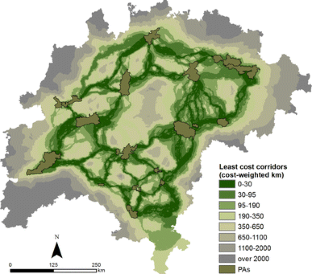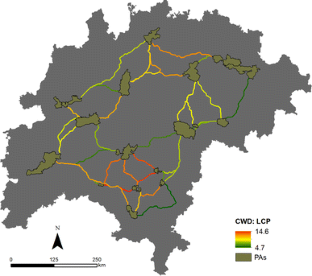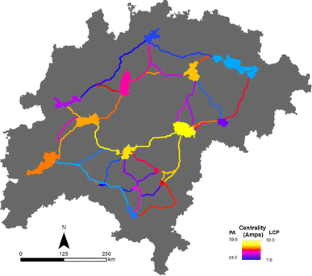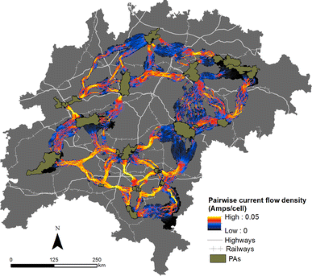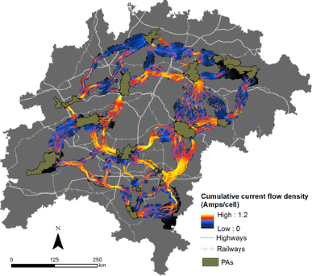 References
Adriaensen F, Chardon JP, De Blust G, Swinnen E, Villalba S, Gulinck H, Matthysen E (2003) The application of "least-cost" modelling as a functional landscape model. Landsc Urban Plan 64:233–247. doi:10.1016/S0169-2046(02)00242-6

Areendran G, Raj M, Raj K, Mazumdar S, Forest J, Munsi M, Wikramanayake E (2012) Modeling impact of economic development projects on tiger conservation landscape—a case study from Nilgiris, India. Asian J Geoinform 12:1

Athreya V, Navya R, Punjabi GA, Linnell JD, Odden M, Khetarpal S, Karanth KU (2014) Movement and activity pattern of a collared tigress in a human-dominated landscape in central India. Conserv Sci 7:75–86

Barber-Meyer SM, Jnawali SR, Karki JB, Khanal P, Lohani S, Long B, MacKenzie DI, Pandav B, Pradhan NMB, Shrestha R, Subedi N, Thapa G, Thapa K, Wikramanayake E (2013) Influence of prey depletion and human disturbance on tiger occupancy in Nepal. J Zool 289:10–18. doi:10.1111/j.1469-7998.2012.00956.x

Carroll C, McRae B, Brookes A (2012) Use of linkage mapping and centrality analysis across habitat gradients to conserve connectivity of gray wolf populations in western North America. Conserv Biol 26:78–87. doi:10.1111/j.1523-1739.2011.01753.x

Census of India (2001) http://censusindia.gov.in/2001-common/censusdataonline.html Accessed on 7 May 2014

Champion SH, Seth SK (1968) A revised survey of the forest types of India. Government of India Press, New Delhi

Crooks KR, Burdett CL, Theobald DM, Rondinini C, Boitani L (2011) Global patterns of fragmentation and connectivity of mammalian carnivore habitat. Philos Trans R Soc B Biol Sci 366:2642–2651. doi:10.1098/rstb.2011.0120

DeFries R, Hansen A, Newton AC, Hansen MC (2005) Increasing isolation of protected areas in tropical forests over the past twenty years. Ecol Appl 15:19–26. doi:10.1890/03-5258

Deshpande V (2015) T6 migrates, experts hopeful of tigress mating with another "migrant." Indian Express. http://indianexpress.com/article/india/india-others/t6-migrates-experts hopeful-of-tigress-mating-with-another-migrant/. Accessed 14 Apr 2015

Dickson BG, Roemer GW, McRae BH, Rundall JM (2013) Models of regional habitat quality and connectivity for Pumas (Puma concolor) in the Southwestern United States. PLoS ONE 8:e81898. doi:10.1371/journal.pone.0081898

Dinerstein E, Loucks C, Wikramanayake E, Ginsberg J, Sanderson E, Seidensticker J, Forrest J, Bryja G, Heydlauff A, Klenzendorf S, Leimgruber P, Mills J, O'Brien TJ, Shrestha M, Simons R, Songer M (2007) The fate of wild tigers. Bioscience 57:508–514. doi:10.1641/B570608

Dutta T, Sharma S, Maldonado JE, Wood TC, Panwar HS, Seidensticker J (2013a) Gene flow and demographic history of leopards (Panthera pardus) in the central Indian highlands. Evol Appl 6:949–959. doi:10.1111/eva.12078/full

Dutta T, Sharma S, Maldonado JE, Wood TC, Panwar HS, Seidensticker J (2013b) Fine-scale population genetic structure in a wide-ranging carnivore, the leopard (Panthera pardus fusca) in central India. Divers Distrib 19:760–771. doi:10.1111/ddi.12024

Dutta T, Sharma S, Maldonado JE, Panwar HS, Seidensticker J (2015) Genetic variation, structure, and gene flow in a sloth bear (Melursus ursinus) meta-population in the Satpura-Maikal landscape of central India. PLoS ONE 10:e0123384. doi:10.1371/journal.pone.0123384

FAO (2006) Rapid growth of selected Asian economies: lessons and implications for agriculture and food security. Synthesis report. Regional Office for Asia and the Pacific. Food and Agriculture Organization of the United Nations, Bangkok

Fernandes A (2012) How coal mining is trashing tigerland. Greenpeace, Bangalore. http://www.greenpeace.org/india/Global/india/report/How-Coal-mining-is-Trashing-Tigerland.pdf. Accessed 23 Sept 2014

Global Tiger Initiative (2010) Global tiger recovery program 2010-2022. World Bank, Washington, DC. http://globaltigerinitiative.org/publication/global-tiger-recovery-program-2010-2022/. Accessed 20 Sept 2014

Harihar A, Pandav B (2012) Influence of connectivity, wild prey and disturbance on occupancy of tigers in the human-dominated western Terai Arc Landscape. PLoS ONE 7(7):e40105. doi:10.1371/journal.pone.0040105

Harsh S, Jena J, Dave C (2015) Connecting habitat corridors for tigers in Panna landscape. WWF, India, New Delhi. http://www.wwfindia.org/?13721/Connecting-habitat-corridors-for-tigers-in-Panna-Landscape. Accessed 25 Apr 2015

ISCGM 2014. International Steering Committee for Global Mapping. https://www.iscgm.org/gmd/. Accessed 5 Sept 2014

Jena J, Borah J, Dave C, Vattakaven J (2011) Lifeline for tigers: status and conservation of the Kanha-Pench corridor. WWF, India, New Delhi. http://www.wwfindia.org/?10903/Lifeline-for-Tigers-Status-and-Conservation-of-the-Kanha-Pench-Corridor. Accessed 20 Apr 2014

Jha S, Sethi N (2014) Ken-Betwa river link to hit Panna tiger reserve. Business Standard India. http://www.business-standard.com/article/economy-policy/ken-betwa-river-link-to-hit589panna-tiger-reserve-114082300811_1.html. Accessed 2 Apr 2015

Jhala YV, Qureshi Q, Gopal R, Sinha PR (2011) Status of tigers, co-predators and prey in India. National Tiger Conservation Authority, Govt. of India, New Delhi, and Wildlife Institute of India, Dehra Dun. TR 2011/003 pp-302. http://projecttiger.nic.in/WriteReadData/PublicationFile/Tiger_Status_oct_2010.pdf. Accessed 15 Aug 2011

Joshi A, Vaidyanathan S, Mondol S, Edgaonkar A, Ramakrishnan U (2013) Connectivity of tiger (Panthera tigris) populations in the human-influenced forest mosaic of central India. PLoS ONE 8:e77980. doi:10.1371/journal.pone.0077980

Karanth KK, Naughton-Treves L, DeFries R, Gopalaswamy AM (2013) Living with wildlife and mitigating conflicts around three Indian protected areas. Environ Manag 52:1320–1332. doi:10.1007/s00267-013-0162-1

Kerley LL, Goodrich JM, Miquelle DG, Smirnov EN, Quigley HB, Hornocker MG (2002) Effects of roads and human disturbance on Amur tigers. Conserv Biol 16:97–108. doi:10.1046/j.1523-1739.2002.99290.x

Margules CR, Pressey RL (2000) Systematic conservation planning. Nature 405:243–253. doi:10.1038/35012251

McRae B (2012a) Centrality Mapper connectivity analysis software. The Nature Conservancy, Fort Collins

McRae B (2012b) Pinchpoint Mapper connectivity analysis software. The Nature Conservancy, Fort Collins

McRae BH, Shah VB (2009) Circuitscape users' guide online. The University of California, Santa Barbara. Available: http://www.circuitscape.org. Accessed 10 Oct 2014

McRae B, Kavanagh DM (2011) Linkage Mapper connectivity analysis software. The Nature Conservancy, Fort Collins

McRae BH, Shirk A, Platt J (2013) Gnarly landscape utilities: resistance and habitat calculator user guide. The Nature Conservancy, Fort Collins

Miller JRB, Jhala Y V, Jena J (2015) Livestock losses and hotspots of attack from tigers and leopards in Kanha Tiger Reserve, central India. Reg Environ Change. doi:10.1007/s10113-015-0871-5

Odden M, Athreya V, Rattan S, Linnell JDC (2014) Adaptable neighbours: movement patterns of GPS-collared leopards in human dominated landscapes in India. PLoS ONE 9:e112044. doi:10.1371/journal.pone.0112044

Pinjarkar V (2014) Tigress Kaani travels 70 km, New Nagzira to Nawegaon. Times India. http://timesofindia.indiatimes.com/city/nagpur/Tigress-Kaani-travels-70km-New-Nagzira-to-Nawegaon/articleshow/45682108.cms. Accessed 15 Apr 2015

Qureshi Q, Saini S, Basu P, Gopal R, Raza R, Jhala YV (2014) Connecting tiger populations for long-term conservation. National Tiger Conservation Authority, Govt. of India, New Delhi, and Wildlife Institute of India, Dehradun. TR2014-02

Rabinowitz A, Zeller KA (2010) A range-wide model of landscape connectivity and conservation for the jaguar (Panthera onca). Biol Conserv 143:939–945. doi:10.1016/j.biocon.2010.01.002

Rathore CS, Dubey Y, Shrivastava A, Pathak P, Patil V (2012) Opportunities of habitat connectivity for tiger (Panthera tigris) between Kanha and Pench national parks in Madhya Pradesh, India. PloS ONE 7:e39996. doi:10.1371/journal.pone.0039996

Reddy SC, Sreelekshmi S, Jha CS, Dadhwal VK (2013) National assessment of forest fragmentation in India: landscape indices as measures of the effects of fragmentation and forest cover change. Ecol Eng 60:453–464

Richards JF, Flint EP (1994) Historic land use and carbon estimates for South and Southeast Asia 1880–1980. Oak Ridge National Laboratory, Oak Ridge

Rodgers W, Panwar S (1988) Biogeographical classification of India. New Forest, Dehra Dun

Roy PS, Behera MD, Murthy MSR, Roy A, Singh S, Kushwaha SPS, Jha CS, Sudhakar S, Joshi PK, Reddy CS, Gupta S, Pujar G, Dutt CBS, Srivastava VK, Porwal MC, Tripathi P, Singh JS, Chitale V, Skidmore AK, Rajshekhar G, Kushwaha D, Karnataka H, Saran S, Giriraj A, Padalia H, Kale M, Nandy S, Jeganathan C, Singh CP, Chandrashekhar MB, Pattanaik C, Singh DK, Devagiri GM, Talukdar G, Panigrahy RK, Singh H, Sharma JR, Haridasan K, Trivedi S, Singh KP, Kannan L, Daniel M, Misra MK, Niphadkar M, Nagbhatla N, Prasad N, Tripathi OP, Prasad PRC, Dash P, Qureshi Q, Tripathi SK, Ramesh BR, Gowda B, Tomar S, Romshoo S, Giriraj S, Ravan SA, Behera SK, Paul S, Das AK, Ranganath BK, Singh TP, Sahu TR, Shankar U, Menon ARR, Srivastava G, Neeti Sharma S, Mohapatra UB, Peddi A, Rashid H, Salroo I, Krishna PH, Hajra PK, Vergheese AO, Matin S, Chaudhary SA, Ghosh S, Lakshmi U, Rawat D, Ambastha K, Kalpana P, Devi BSS, Gowda B, Sharma KC, Mukharjee P, Sharma A, Davidar P, Raju RRV, Ketewa SS, Kant S, Raju VS, Uniyal BP, Debnath B, Rout DK, Thapa R, Joseph S, Chhetri P, Ramchandran R (2015) New vegetation type map of India prepared using satellite remote sensing: comparison with global vegetation maps and utilities. Int J Appl Earth Obs Geoinf 39:142–159. doi:10.1016/j.jag.2015.03.003

Sanderson E, Forrest J, Loucks C, Ginsberg J, Dinerstein E, Seidensticker J, Leimgruber P, Songer M, Heydlauff A, O'Brien T, Bryja G, Klenzendorf S, Wikramanayake ED (2010) Setting priorities for conservation and recovery of wild tigers: 2005–2015. In: Tilson R, Nyhus PJ (eds) Tigers of the world: the science, politics and conservation of Panthera tigris. Academic Press, London, pp 143–161

Seidensticker J (2010) Saving wild tigers: a case study in biodiversity loss and challenges to be met for recovery beyond 2010. Integr Zool 5:285–299. doi:10.1111/j.1749-4877.2010.00214.x

Seidensticker J, Jackson P, Christie S (1999) Riding the tiger: tiger conservation in human-dominated landscapes. Cambridge University Press, Cambridge

Sethuraman S (2014) Enter the tiger: how Panna got its stripes back. Hindustan Times. http://www.hindustantimes.com/brunch-stories/enter-the-tiger-how-panna-got-its-stripesback/article1-1184252.aspx. Accessed 22 Mar 2015

Sharma S, Dutta T, Maldonado JE, Wood TC, Panwar HS, Seidensticker J (2013a) Spatial genetic analysis reveals high connectivity of tiger (Panthera tigris) populations in the Satpura-Maikal landscape of Central India. Ecol Evol 3:48–60. doi:10.1002/ece3.432

Sharma S, Dutta T, Maldonado JE, Wood TC, Panwar HS, Seidensticker J (2013b) Forest corridors maintain historical gene flow in a tiger metapopulation in the highlands of central India. Proc R Soc B Biol Sci 280:20131506. doi:10.1098/rspb.2013.1506

Shastri L (2015) T3-the real hero of Panna tiger reserve. In: Newsroom24x7. http://newsroom24x7.com/2015/01/04/t3-the-real-hero-of-panna-tiger-reserve/. Accessed 2 Apr 2015

Singleton PH, Gaines WL, Lehmkuhl JF (2002) Landscape permeability for large carnivores in Washington: a geographic information system weighted-distance and least-cost corridor assessment. Department of Agriculture, Forest Service, Pacific Northwest, Portland

Smith JLD (1993) The role of dispersal in structuring the Chitwan tiger population. Behaviour 124:165–195

Taylor PD, Fahrig L, Henein K, Merriam G (1993) Connectivity is a vital element of landscape structure. Oikos 68:571–573

Thomas CD (2000) Dispersal and extinction in fragmented landscapes. Proc R Soc B Biol Sci 267:139–145. doi:10.1098/rspb.2000.0978

Tian H, Banger K, Bo T, Dadhwal VK (2014) History of land use in India during 1880–2010: large-scale land transformations reconstructed from satellite data and historical archives. Glob Planet Change 121:78–88. doi:10.1016/j.gloplacha.2014.07.005

Washington Habitat Connectivity Work Group (WHCWG) (2010) Connected landscapes project. WHCWG. http://waconnected.org/. Accessed 3 Nov 2014

Wikramanayake E, McKnight M, Dinerstein E, Joshi A, Gurung B, Smith D (2004) Designing a conservation landscape for tigers in human-dominated environments. Conserv Biol 18:839–844. doi:10.1111/j.1523-1739.2004.00145.x

Yumnam B, Jhala YV, Qureshi Q, Maldonado JE, Gopal R, Saini S, Srinivas Y, Fleischer RC (2014) Prioritizing tiger conservation through landscape genetics and habitat linkages. PLoS ONE 9:e111207. doi:10.1371/journal.pone.0111207
Acknowledgments
Trishna Dutta is a NatureNet Post-Doctoral fellow with The Nature Conservancy (TNC), and she would like to thank TNC for supporting her research. This manuscript benefited from a TNC-funded writing workshop held in Santa Barbara in Jan 2015. We are thankful to Prasanth Meiyappan for sharing the shape files of the sub-district level population data, India Census 2001. Trishna would also like to thank Pinki Mondal and Meghna Agarwala who answered many questions during this work.
Electronic supplementary material
Below is the link to the electronic supplementary material.
About this article
Cite this article
Dutta, T., Sharma, S., McRae, B.H. et al. Connecting the dots: mapping habitat connectivity for tigers in central India. Reg Environ Change 16 (Suppl 1), 53–67 (2016). https://doi.org/10.1007/s10113-015-0877-z
Received:

Accepted:

Published:

Issue Date:

DOI: https://doi.org/10.1007/s10113-015-0877-z
Keywords
Tiger

Central India

Connectivity

Habitat linkages

Landscape conservation

Pinch points

Panthera tigris