Abstract
Forest administrators play a crucial role in translating conservation and development policies into action, yet policy reformers and scholars rarely examine how these administrators make decisions about the implementation of conservation and development policy in India. In this paper, I address this gap. I begin by developing a framework that draws on Western policy implementation studies and Ostrom's Institutional Analysis and Development framework and then apply this framework to a review of published studies that examine the role of forest officials in implementing public policies in India. The framework differentiates between formal and informal institutions and between institutions which are developed within an agency and those that are directed from outside the agency. I find that forester behavior varies significantly across space and time and has an important influence on the outcome of forestry programs. Innovations and excellent program implementation appear related to foresters' desire to demonstrate professional efficacy. On the other hand, many failings can be traced either to external direction or to foresters developing internal institutions that are poorly suited to the problems they are tasked with solving. Existing research is limited in its geographic and temporal scope and leaves many questions unanswered, and thus, the review concludes with a brief outline of future research needs.
This is a preview of subscription content, log in to check access.
Access options
Buy single article
Instant access to the full article PDF.
US$ 39.95
Price includes VAT for USA
Subscribe to journal
Immediate online access to all issues from 2019. Subscription will auto renew annually.
US$ 99
This is the net price. Taxes to be calculated in checkout.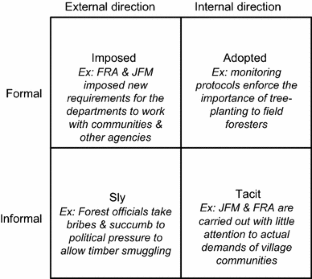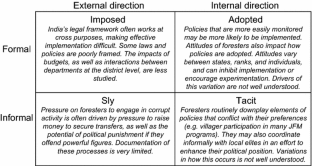 Notes
1.

I use the male pronoun here because the vast majority of officers are men. In recent years, there has been increasing recruitment of women into the forest department at all ranks, yet they remain a small minority.
References
Arnold G, Fleischman FD (2013) The influence of organizations and institutions on wetland policy stability: the Rapanos case. Policy Stud J 41(2):343–364. doi:10.1111/psj.12020

Bandi M (2009) Governance and institutional challenges: a study of Andhra Pradesh community forest management. Dr. B. R. Ambedkar Open University, Hyderabad

Barnes C, Van Laerhoven F (2013) Helping to self-help? External interventions to stimulate local collective action in joint forest management, Maharashtra, India. Int For Rev 15(1):1–17. doi:10.1505/146554813805927246

Barnes C, van Laerhoven F (in press) Making it last? Analysing the role of NGO interventions in the development of institutions for durable collective action in Indian community forestry. Environ Sci Policy (0). doi:http://dx.doi.org/10.1016/j.envsci.2014.06.008

Baviskar A (1995) In the belly of the river : tribal conflicts over development in the Narmada Valley. Studies in social ecology and environmental history. Oxford University Press, Delhi, New York

Bekke AJGM, Perry JL, Toonen TAJ (1996) Civil service systems in comparative perspective. Indiana University Press, Bloomington

Bertrand M, Djankov S, Hanna R, Mullainathan S (2007) Obtaining a driver's license in India: an experimental approach to studying corruption. Quart J Econ 122(4):1639–1676

Bose I (2010) How did the Indian forest rights Act, 2006, emerge? Research programme consortium for improving institutions for pro-poor growth: Discussion Paper Series 39

Brehm J, Gates S (1997) Working, shirking, and sabotage : bureaucratic response to a democratic public. Michigan studies in political analysis. University of Michigan Press, Ann Arbor

Chaturvedi R (2012) Forest Federalism: Centre-States Negotiations and the Politics of Environment and Development in India. Cambridge University, Cambridge

Cook CN, Hockings M, Carter RW (2009) Conservation in the dark? The information used to support management decisions. Front Ecol Environ 8(4):181–186. doi:10.1890/090020

Corbridge S, Kumar S (2002) Community, corruption, landscape: tales from the free trade. Polit Geogr 21(6):765–788

Corbridge S, Srivastava M (2013) Mapping the social order by fund flows: the political geography of employment assurance schemes in India. Econ Soc 42(3):455–479. doi:10.1080/03085147.2013.772758

Daftary D (2014) Development in an era of economic reform in India. Dev Change 45(4):710–731. doi:10.1111/dech.12101

Fleischman FD (2012) Public servant behavior and forest policy implementation in Central India. 3527562, Indiana University, Indiana

Fleischman FD (2014) Why do foresters plant trees? Testing theories of bureaucratic decision-making in central India. World Dev 62:62–74. doi:10.1016/j.worlddev.2014.05.008

Forest Research Institute Dehra Dun (1961) 100 years of Indian forestry: issued on the occasion of the celebration of Indian forest centenary. Government of India Press, New Delhi

Gadgil M, Guha R (1992) This fissured land: an ecological history of India. Oxford University Press, New Delhi

Gadgil M, Guha R (1995) Ecology and equity. United Nations Research Institute for Social Development, New York

Gibson CC, Andersson K, Ostrom E, Shivakumar S (2005) The Samaritan's dilemma: the political economy of development aid. Oxford University Press, Oxford

Government of Andhra Pradesh (2001) Public Services—Forest Department—Counseling system for transfers and Postings—Performance Oriented Transfers and Postings—Revised Orders Issued. G.O. Ms. No. 34, 26-04-2001. Hyderabad

Goyal AK (2004a) Course contents for forest range officers course. Vol 3–17/99-RT (II), 21st June 2004. Ministry of environment and forests, Government of India, Dehra Dun

Goyal AK (2004b) Entrance and training rules (Revised) 2004, for forest range officers. Vol F. NO. 3–17/99-RT (II), 21st June 2004. Published in Part II, Section 3, Sub-Section (i) of the Extraordinary Gazette of India Vide GSR No. 466(E) Dated 22-07-2004, Dehra Dun

Goyal AK (2004c) The entrance and training rules (Revised), 2004 for the state forest service officers. vol F. NO. 3–17/99-RT (I) 21st June 2004. Published in Part II, Section 3, Sub-Section (i) of the Extraordinary Gazette of India Vide GSR No. 465(E) Dated 22-07-2004, Dehra Dun

Goyal AK (2004d) Guidelines for the training of foresters and forest guards being organised by the state governments. vol No. 3–17/99-RT dated July 1, 2004. Government of India, Ministry of Environment and Forests, Dehra Dun

Guha R (1983) Forestry in British and Post-British India: a historical analysis. Econ Polit Wkly 18 (44, 45):1882–1896, 1940-1887

Gundimeda H, Shyamsundar P (2012) Forests, sustainability and poverty in India. Environ Dev Econ 17(03):373–378

Gupta A (1995) Blurred boundaries: the discourse of corruption, the culture of politics, and the imagined state. Am Ethnol 22(2):375–402

Gupta A (2012) Red tape : bureaucracy, structural violence, and poverty in India. Duke University Press, Durham

Hannam K (1999) Environmental management in India: recent challenges to the Indian forest service. J Environ Plan Manag 42:221–233

Hannam K (2000) Educating an environmental elite: the training of the Indian forest service. Int Res Geogr Environ Educ 9(4):285–295

Hasnain Z, Manning N, Pierskalla JH (2014) The promise of performance pay? Reasons for caution in policy prescriptions in the core civil service. The World Bank Research Observer. doi:10.1093/wbro/lku001

Hill M, Hupe P (2009) Implementing public policy : governance in theory and practice, 2nd edn. Sage politics texts, London

Hupe P (2014) What happens on the ground: persistent issues in implementation research. Public Policy Adm 29(2):164–182. doi:10.1177/0952076713518339

Iyer L, Mani A (2011) Traveling agents: political change and bureaucratic turnover in India. Rev Econ Stat 94(3):723–739. doi:10.1162/REST_a_00183

Jeffrey C (2002) Caste, class, and clientelism: a political economy of everyday corruption in rural North India. Econ Geogr 78(1):21–41

Joshi A (1999) Progressive bureaucracy: an oxymoron? The case of joint forest management in India. Rural development forestry network, overseas development institute (RDFN Network Paper No. 24a), London

Joshi A (2000) Roots of change: front line workers and forest policy reform in West Bengal. Ph.D., Massachusetts Institute of Technology, Massachusetts

Kanth DR (2014) On a wild goose chase for black money in Switzerland. Econ Polit Wkly XLIX 47:16–18

Kashwan P (2011) Democracy in the woods: the politics of institutional change in India's forest areas. Indiana University, Bloomington

Kashwan P (2013) The politics of rights-based approaches in conservation. Land Use Policy 31:613–626. doi:10.1016/j.landusepol.2012.09.009

Kashwan P (2015) Integrating power in institutional analysis: a micro-foundation perspective. J Theor Polit. doi:10.1177/0951629815586877

Kerwin CM (2003) Rulemaking: how government agencies write law and make policy. CQ Press, Washington, DC

Kohli A, Singh P (2012) Routledge handbook of Indian politics. Routledge, Milton Park, Abingdon, Oxon, New York

Kumar PJD (2014) Climate change, forest carbon sequestration and REDD-Plus. Econ Political Wkly 49(21):22–25

Kumar S, Kant S (2005) Bureaucracy and new management paradigms: modeling foresters' perceptions regarding community-based forest management in India. For Policy Econ 7(4):651–669

Kumar S, Kant S (2006) Organizational resistance to participatory approaches in public agencies: an analysis of Forest Department's resistance to community-based forest management. Int Public Manag J 9(2):141

Kumar K, Kerr JM (2012) Democratic assertions: the making of India's recognition of forest rights act. Dev Change 43(3):751–771. doi:10.1111/j.1467-7660.2012.01777.x

Kumar S, Kant S, Amburgey TL (2007) Public agencies and collaborative management approaches: examining resistance among administrative professionals. Adm Soc 39:569–610. doi:10.1177/0095399707303635

Lélé SM (2005) Beyond state-community polarisations and bogus "joint"ness: crafting institutional solutions for resource management. In: Spoor M (ed) Globalisation, poverty and conflict. Kluwer Academic Publishers, Dordrecht, London, pp 283–303

Lele S, Menon A (2014) Democratizing forest governance in India. Oxford University Press, Oxford

Lewis ML (2002) Scientists or spies? Ecology in a climate of cold war suspicion. Econ Polit Wkly 37(24):2323–2332. doi:10.2307/4412243

Lewis ML (2003) Cattle and conservation at Bharatpur: a Case study in science and advocacy. Conserv Soc 1(1):1–21

Lewis ML (2004) Inventing global ecology : tracking the biodiversity ideal in India, 1947–1997. Ohio University Press, Athens

Lewis ML (2005) Indian science for Indian tigers?: conservation biology and the question of cultural values. J Hist Biol 38(2):185–207. doi:10.1007/s10739-004-1486-8

Madhusudan M, Shanker K, Kumar A, Mishra C, Sinha A, Arthur R, Datta A, Rangarajan M, Chellam R, Shahabuddin G (2006) Science in the wilderness: the predicament of scientific research in India's wildlife reserves. Curr Sci 91(8):1015–1019

Maharashtra General Administration Department (2006) Maharashtra government servants regulation of transfers and prevention of delay in discharge of official duties Act, 2005

Matland RE (1995) Synthesizing the implementation literature: the ambiguity-conflict model of policy implementation. J Public Adm Res Theor 5(2):145–174

Matta JR (2003) Transition to participatory forest management in India: problems and prospects from the perspectives of foresters. Michigan State University, Lansing

Matta JR, Kerr J (2007) Barriers beyond the partners: bureaucratic and political constraints to implementing joint forest management in Tamil Nadu, India. Environ Dev Sustain 9(4):465–479

Matta JR, Alavalapati J, Kerr J, Mercer E (2005a) Agency perspectives on transition to participatory forest management: a case study from Tamil Nadu, India. Soc Nat Resour 18(10):859–870

Matta JR, Kerr J, Chung K (2005b) From forest regulation to participatory facilitation: forest employee perspectives on organizational change and transformation in India. J Environ Plan Manag 48(4):475–490

McGinnis MD (2011) An introduction to IAD and the language of the Ostrom workshop: a simple guide to a complex framework. Policy Stud J 39(1):169–183. doi:10.1111/j.1541-0072.2010.00401.x

Meier KJ (1999) Are we sure Lasswell did it this way? Lester. Goggin Implement Res. Policy Curr 9(1):5–8

Meier KJ, O'Toole LJ (2013) Subjective organizational performance and measurement error: common source bias and spurious relationships. J Public Adm Res Theor 23(2):429–456. doi:10.1093/jopart/mus057

Milne G, Verardo B, Gupta R (2005) India: unlocking opportunities for forest-dependent people in India. The World Bank Agriculture and Rural Development Sector Unit, South Asia Region, New Delhi

Ministry of Environment and Forests (1988) National forest policy resolution, 1988. Ministry of Environment and Forests, Government of India, New Delhi

Ministry of Environment and Forests (2014) National working plan code-2014 (for sustainable management of forests and biodiversity in India). Dehradun, India

Moe TM (1990) Political Institutions: the neglected side of the story. J Law Econ Organ 6:213–253

Oldenburg P (1987) Middlemen in third-world corruption: implications of an Indian Case. World Polit 39(04):508–535. doi:10.2307/2010290

Ostrom E (1990) Governing the commons: the evolution of institutions for collective action. The political economy of institutions and decisions. Cambridge University Press, Cambridge

Ostrom E (1992) Crafting institutions for self-governing irrigation systems. ICS Press; Distributed to the trade by National Book Network, San Francisco, Calif.; Lanham, Md

Ostrom E (2005) Understanding institutional diversity. Princeton University Press, Princeton

Ostrom E, Schroeder L, Wynne S (1993) Institutional incentives and sustainable development: infrastructure policies in perspective. Theoretical lenses on public policy. Westview Press, Boulder

O'Toole LJ (2000) Research on policy implementation: assessment and prospects. J Public Adm Res Theory 10(2):263–288

Panwar HS (1982) What to do when you've succeeded: project tiger ten years later. Ambio 11(6):330–337

Parry J (2000) The 'crisis of corruption' and 'the idea of India': a worm's eye view. In: Pardo I (ed) Morals of legitimacy : between agency and system. Berghahn Books, New York, pp 27–55

Pathak A (1994) Contested domains: the state, peasants, and forests in contemporary India. Sage Publications, New Delhi

Perry J, Engbers T, Jun S (2009) Back to the future? Performance-related pay, empirical research, and the perils of persistence. Public Adm Rev 69(1):39

Perry JL, Hondeghem A, Wise LR (2010) Revisiting the motivational bases of public service: twenty years of research and an agenda for the future. Public Adm Rev 70(5):681–690. doi:10.1111/j.1540-6210.2010.02196.x

Persson A, Rothstein B, Teorell J (2013) Why anticorruption reforms fail—systemic corruption as a collective action problem. Governance 26(3):449–471. doi:10.1111/j.1468-0491.2012.01604.x

Potter DC (1964) Government in rural India : an introduction to contemporary district administration. School of Economics and Political Science, London

Potter DC (1987) IAS mobility patterns. Indian J Public Adm 33(4):845–856

Potter DC (1988) Mobility patterns in state government departments in India'. Indian J Public Adm 34(3):907–932

Pressman JL, Wildavsky A (1973) Implementation: how great expectations in Washington are dashed in Oakland; or, why it's amazing that federal programs work at all, this being a saga of the economic development administration as told by two sympathetic observers who seek to build morals on a foundation of ruined hopes. University of California Press, Berkeley

Raj SCMI (2011) Public Service—Forest Department—Transfer and Postings of the sub-ordinate staff through Counseling system during 2011—Instructions Issued—Reg. Ref. No. 17500/2011/A2, Dated 81.05.2011. Hyderabad

Rastogi A, Hickey G, Badola R, Hussain S (2014) Understanding the local socio-political processes affecting conservation management outcomes in corbett tiger reserve, India. Environ Manage 53(5):913–929. doi:10.1007/s00267-014-0248-4

Reddy VR, Reddy MG, Bandi M, Kumar VMR, Reddy MS, Springate-Baginski O (2007) Participatory forest management in Andhra Pradesh: implementation, outcomes and livelihood impacts. In: Springate-Baginski O, Blaikie P (eds) Forests, people, and power: the political ecology of reform in South Asia. Earthscan, London, pp 302–336

Robbins P (2000a) The practical politics of knowing: state environmental knowledge and local political economy. Econ Geogr 76(2):126–144

Robbins P (2000b) The rotten institution: corruption in natural resource management. Polit Geogr 19(4):423–443. doi:10.1016/s0962-6298(99)00087-6

Robbins P, McSweeney K, Chhangani A, Rice J (2009) Conservation as it is: illicit resource use in a wildlife reserve in India. Human Ecol 37(5):559–575

Sabatier PA (1986) Top-down and bottom-up approaches to implementation research: a critical analysis and suggested synthesis. J Public Policy 6(1):21–48

Saigal S (2011) Life and afterlife of a development project: origin, evolution, and outcomes of the tree growers' cooperatives project. Cambridge University, Cambridge

Saxena NC (1994) India's eucalyptus craze: the God that failed. Sage, New Delhi

Saxena NC, Ballabh V (eds) (1995) Farm Forestry in South Asia. Sage, New Delhi

Saxena NC, Pandey D, Samanta A, Jha AK, Srivastava AK, Singh B, Saikia A, Kothari A, Sreedharan CK, Ete J, Sethi KS, Gupta R, Singh AM, Markam ML, Meena RL, Sharma RS, Chellam R, Rebbapragada R, Roma, Lele S, Kiro V, Khare VR, Dogra RK (2010) Manthan: Report: National Committee on Forest Rights. New Delhi

Schug DM (2000) The Bureaucratisation of forest management in India. Environ History 6(2):229–242. doi:10.2307/20723134

Sharma GB (2008) Professionalising public administration education in India. Indian J Public Adm 54(2):236–254

Singh NJ, Bagchi S (2013) Applied ecology in India: scope of science and policy to meet contemporary environmental and socio-ecological challenges. J Appl Ecol 50(1):4–14. doi:10.1111/1365-2664.12020

Sivaramakrishnan K (2009) Forests and the environmental history of modern India. J Peasant Stud 36(2):299–324

Sixth Central Pay Commission (2008) Report of the sixth central pay commission. Government of India, New Delhi

Springate-Baginski O, Blaikie PM (2007) Forests, people and power : the political ecology of reform in South Asia. Earthscan forestry library, Earthscan, London, Sterling

Sukhtankar S, Vaishnav M (2014) Corruption in India: bridging academic evidence and policy options. Paper presented at the India Policy Forum, New Delhi

Sundar N, Jeffrey R, Thin N (2001) Branching out: joint forest management in India. Oxford University Press, Oxford

Sundström A (2013) Corruption in the commons: why bribery hampers enforcement of environmental regulations in South African fisheries. Int J Commons 7(2):454–472

Sundström A (2015a) Covenants with broken swords: corruption and law enforcement in governance of the commons. Glob Environ Change 31:253–262. doi:10.1016/j.gloenvcha.2015.02.002

Sundström A (2015b) Violence and the costs of honesty. QOG: the quality of government institute, department of political science. University of Gothenburg, Gothenburg

Suykens B (2009) The tribal-forest nexus in law and society in India—conflicting narratives. Crit Asian Stud 41(3):381–402

Tendler J (1997) Good government in the tropics. The Johns Hopkins studies in development. Johns Hopkins University Press, Baltimore

Vasan S (2002) Ethnography of the forest guard: contrasting discourses, conflicting roles and policy implementation. Econ Polit Wkly 37(40):4125–4133

Verma D (2004) Bureaucracy, forests and participation: a case study of the implementation of joint forest management in Madhya Pradesh, India. The University of Wales, Swansea

Vira B (1997) Implementing JFM in the field: towards an understanding of the community-bureaucracy interface. Paper presented at the Workshop on the Social Construction of Community Participation in Joint Forest Management, New Delhi

Wade R (1982a) Corruption: where does the money go? Econ Polit Wkly 17(40):1606

Wade R (1982b) The system of administrative and political corruption: canal irrigation in South India. J Dev Stud 18(3):287

Wade R (1985) The market for public office: why the Indian state is not better at development. World Dev 13(4):467–497

Wade R (1988) Politics and graft: recruitment, appointment and promotions to public office in India. In: Ward P (ed) Corruption, development and inequality: soft touch or hard graft. Routledge, New York

Zwart Fd (1994) The bureaucratic merry-go-round : manipulating the transfer of Indian civil servants. Amsterdam University Press, Amsterdam
Acknowledgments
Funding for the research that led to this review was provided by a National Science Foundation Graduate Research Fellowship (#2007054263), the Workshop in Political Theory & Policy Analysis at Indiana University, and Texas A&M University's Department of Ecosystem Science & Management and Agrilife Research. I received helpful comments on this paper from Marcus Wangel, Meghna Agarwala, Claudia Rodriguez Solorzano, and the editors and reviewers of this journal. This paper would never have been written if not for the generosity of numerous foresters and forest stakeholders in India who have taken time over the years to discuss Indian forestry with me.
About this article
Cite this article
Fleischman, F. Understanding India's forest bureaucracy: a review. Reg Environ Change 16, 153–165 (2016). https://doi.org/10.1007/s10113-015-0844-8
Received:

Accepted:

Published:

Issue Date:
Keywords
Forest policy

India

Policy implementation

Public administration

Institutional analysis and development