Abstract
Adaptation strategies to reduce smallholder farmers' vulnerability to climate variability and seasonality are needed given the frequency of extreme weather events predicted to increase during the next decades in sub-Saharan Africa, particularly in West Africa. We explored the linkages between selected agricultural adaptation strategies (crop diversity, soil and water conservation, trees on farm, small ruminants, improved crop varieties, fertilizers), food security, farm household characteristics and farm productivity in three contrasting agro-ecological sites in West Africa (Burkina Faso, Ghana and Senegal). Differences in land area per capita and land productivity largely explained the variation in food security across sites. Based on land size and market orientation, four household types were distinguished (subsistence, diversified, extensive, intensified), with contrasting levels of food security and agricultural adaptation strategies. Income increased steadily with land size, and both income and land productivity increased with degree of market orientation. The adoption of agricultural adaptation strategies was widespread, although the intensity of practice varied across household types. Adaptation strategies improve the food security status of some households, but not all. Some strategies had a significant positive impact on land productivity, while others reduced vulnerability resulting in a more stable cash flow throughout the year. Our results show that for different household types, different adaptation strategies may be 'climate-smart'. The typology developed in this study gives a good entry point to analyse which practices should be targeted to which type of smallholder farmers, and quantifies the effect of adaptation options on household food security. Subsequently, it will be crucial to empower farmers to access, test and modify these adaptation options, if they were to achieve higher levels of food security.
Access options
Buy single article
Instant access to the full article PDF.
US$ 39.95
Tax calculation will be finalised during checkout.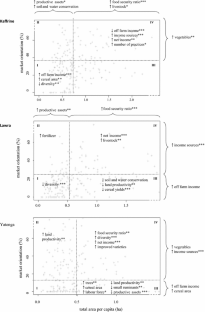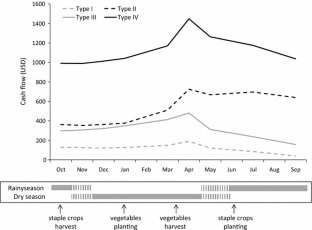 References
Abdulai A, CroleRees A (2001) Determinants of income diversification amongst rural households in southern Mali. Food Policy 26:437–452. doi:10.1016/s0306-9192(01)00013-6

Adger WN, Vincent K (2005) Uncertainty in adaptive capacity. C R Geosci 337:399–410. doi:10.1016/jcrte.2004.11.004

Adger WN, Huq S, Brown K, Conway D, Hulme M (2003) Adaptation to climate change in the developing world. Prog Dev Stud 3:179–195. doi:10.1191/1464993403ps060oa

Akinnifesi F, Chirwa P, Ajayi O, Sileshi G, Matakala P, Kwesiga F, Harawa H, Makumba W (2008) Contributions of agroforestry research to livelihood of smallholder farmers in southern Africa: 1. Taking stock of the adaptation, adoption and impact of fertilizer tree options. Agric J 3:58–75

Anderson MJ (2004) CAP: a FORTRAN computer program for canonical analysis of principal coordinates. Department of Statistics, University of Auckland, Auckland

Barbier B, Yacouba H, Karambiri H, Zorome M, Some B (2009) Human vulnerability to climate variability in the sahel: farmers' adaptation strategies in northern Burkina Faso. Environ Manage 43:790–803. doi:10.1007/s00267-008-9237-9

Barrett CB, Reardon T, Webb P (2001) Nonfarm income diversification and household livelihood strategies in rural Africa: concepts, dynamics, and policy implications. Food Policy 26:315–331. doi:10.1016/s0306-9192(01)00014-8

Battisti DS, Naylor RL (2009) Historical warnings of future food insecurity with unprecedented seasonal heat. Science 323:240–244. doi:10.1126/science.1164363

Beddington J, Asaduzzaman M, Clark M, Fernández A, Guillou M, Jahn M, Erda L, Mamo T, Van Bo N, Nobre CA, Scholes R, Sharma R, Wakhungu J (2012) Achieving food security in the face of climate change: final report from the commission on sustainable agriculture and climate change. CGIAR Research Program on Climate Change, Agriculture and Food Security (CCAFS), Copenhagen

Brown ME, Funk CC (2008) Food security under climate change. Science 319:580–581. doi:10.1126/science.1154102

Brown LR, Webb P, Haddad L (1994) The role of labour in household food security: implications of AIDS in Africa. Food Policy 19:568–573. doi:10.1016/0306-9192(94)90048-5

Bryan E, Deressa TT, Gbetibouo GA, Ringler C (2009) Adaptation to climate change in Ethiopia and South Africa: options and constraints. Environ Sci Policy 12:413–426. doi:10.1016/j.envsci.2008.11.002

Bryan E, Ringler C, Okoba B, Roncoli C, Silvestri S, Herrero M (2013) Adapting agriculture to climate change in Kenya: household strategies and determinants. J Environ Manage 114:26–35. doi:10.1016/j.jenvman.2012.10.036

Carter MR, Barrett CB (2006) The economics of poverty traps and persistent poverty: an asset-based approach. J Dev Stud 42:178–199. doi:10.1080/00220380500405261

Challinor A, Wheeler T, Garforth C, Craufurd P, Kassam A (2007) Assessing the vulnerability of food crop systems in Africa to climate change. Clim Change 83:381–399. doi:10.1007/s10584-007-9249-0

Conway D (2011) Adapting climate research for development in Africa. Wiley Interdiscip Rev Clim Change 2:428–450. doi:10.1002/wcc.115

Cooper PJM, Dimes J, Rao KPC, Shapiro B, Shiferaw B, Twomlow S (2008) Coping better with current climatic variability in the rain-fed farming systems of sub-Saharan Africa: an essential first step in adapting to future climate change? Agr Ecosyst Environ 126:24–35. doi:10.1016/j.agee.2008.01.007

Deressa TT, Hassan RM, Ringler C, Alemu T, Yesuf M (2009) Determinants of farmers' choice of adaptation methods to climate change in the Nile Basin of Ethiopia. Global Environ Change 19:248–255. doi:10.1016/j.gloenvcha.2009.01.002

Douxchamps S, Ayantunde A, Barron J (2012) Evolution of agricultural water management in rainfed crop–livestock systems of the Volta Basin. CPWF R4D working paper series 04. CGIAR Challenge Program for Water and Food (CPWF), Colombo, p 74

Downing T, Ringius L, Hulme M, Waughray D (1997) Adapting to climate change in Africa. Mitig Adapt Strateg Glob Change 2:19–44. doi:10.1007/bf02437055

Dugué P, Roose E, Rodriguez L (1993) L'aménagement de terroirs villageois et l'amélioration de la production agricole au Yatenga (Burkina Faso)—une expérience de recherche-développement. Cah ORSTOM sér Pédol 28:385–402

Ellis F (2000) Rural livelihoods and diversity in developing countries. Oxford University Press, Oxford

Ellis F, Freeman HA (2004) Rural livelihoods and poverty reduction strategies in four african countries. J Dev Stud 40:1–30. doi:10.1080/00220380410001673175

Ericksen PJ, Thornton PK, Notenbaert AM, Cramer L, Jones P, Herrero M (2011) Mapping hotspots of climate change and food insecurity in the global tropics. CCFAS report no. 5. CGIAR Research Program on Climate Change, Agriculture and Food Security (CCAFS), Copenhagen

FAO (1996) Rome declaration on world food security and world Food summit plan of action. Food and Agriculture Organization, Rome. http://www.fao.org/docrep/003/w3613e/w3613e00.HTM

FAO (2004) Human energy requirements: report of a joint FAO/WHO/UNU expert consultation. FAO food and nutrition technical report series no. 1. FAO, Rome

Förch W, Kristjanson P, Thornton PK, Kiplimo J (2011) Initial sites in the CCAFS regions: eastern Africa, West Africa and Indo-Gangetic Plains, version 2. CGIAR Research Program on Climate Change, Agriculture and Food Security (CCAFS), Copenhagen

García de Jalón S, Silvestri S, Granados A, Iglesias A (2014) Behavioural barriers in response to climate change in agricultural communities: an example from Kenya. Reg Environ Change. doi:10.1007/s10113-014-0676-y

Giller KE, Tittonell P, Rufino MC, van Wijk MT, Zingore S, Mapfumo P, Adjei-Nsiah S, Herrero M, Chikowo R, Corbeels M, Rowe EC, Baijukya F, Mwijage A, Smith J, Yeboah E, van der Burg WJ, Sanogo OM, Misiko M, de Ridder N, Karanja S, Kaizzi C, K'Ungu J, Mwale M, Nwaga D, Pacini C, Vanlauwe B (2011) Communicating complexity: integrated assessment of trade-offs concerning soil fertility management within African farming systems to support innovation and development. Agric Syst 104:191–203. doi:10.1016/j.agsy.2010.07.002

IFAD (2014) Market orientation and household food security. Rome, Italy. http://www.ifad.org/hfs/thematic/rural/rural_4.htm#market

Jarvis A, Lau C, Cook S, Wollenberg E, Hansen J, Bonilla O, Challinor A (2011) An integrated adaptation and mitigation framework for developing agricultural research: synergies and trade-offs. Exp Agric 47:185–203. doi:10.1017/s0014479711000123

Kamanga BCG, Waddington SR, Robertson MJ, Giller KE (2010) Risk analysis of maize-legume crop combinations with smallholder farmers varying in resource endowment in central Malawi. Exp Agric 46:1–21. doi:10.1017/s0014479709990469

Kassie M, Ndiritu SW, Stage J (2014) Gender inequalities and food security in Kenya: application of switching regression. World Dev 56:153–171. doi:10.1016/j.worlddev.2013.10.025

Kates RW, Travis WR, Wilbanks TJ (2012) Transformational adaptation when incremental adaptations to climate change are insufficient. Proc Natl Acad Sci USA 109:7156–7161. doi:10.1073/pnas.1115521109

Lasco RD, Delfino RJP, Catacutan DC, Simelton ES, Wilson DM (2014) Climate risk adaptation by smallholder farmers: the roles of trees and agroforestry. Curr Opin Environ Sustain 6:83–88. doi:10.1016/j.cosust.2013.11.013

Lobell DB, Burke MB, Tebaldi C, Mastrandrea MD, Falcon WP, Naylor RL (2008) Prioritizing climate change adaptation needs for food security in 2030. Science 319:607–610. doi:10.1126/science.1152339

McDermott J, Staal S, Freeman HA, Herrero M, Van de Steeg J (2010) Sustaining intensification of smallholder livestock systems in the tropics. Livest Sci 130:95–109. doi:10.1016/j.livsci.2010.02.014

Mortimore MJ, Adams WM (2001) Farmer adaptation, change and 'crisis' in the Sahel. Glob Environ Change 11:49–57. doi:10.1016/s0959-3780(00)00044-3

Njuki J, Poole J, Johnson N, Baltenweck I, Pali P, Lokman Z, Mburu S (2011) Gender, livestock and livelihood indicators. International Livestock Research Institute, Nairobi

R Development Core Team (2007) R: a language and environment for statistical computing. R Foundation for Statistical Computing, Vienna

Reardon T, Delgado C, Matlon P (1992) Determinants and effects of income diversification amongst farm households in Burkina Faso. J Dev Stud 28:264–296. doi:10.1080/00220389208422232

Rickards L, Howden SM (2012) Transformational adaptation: agriculture and climate change. Crop Pasture Sci 63:240–250. doi:10.1071/cp11172

Rockström J, Barron J, Fox P (2002) Rainwater management for increased productivity among small-holder farmers in drought prone environments. Phys Chem Earth 27:949–959. doi:10.1016/S1474-7065(02)00098-0

Rufino MC, Quiros C, Boureima M, Desta S, Douxchamps S, Herrero M, Kiplimo J, Lamissa D, Joash M, Moussa AS, Naab J, NdourY Sayula G, Silvestri S, Singh D, Teufel N, Wanyama I (2012) Developing generic tools for characterizing agricultural systems for climate and global change studies (IMPACTlite-phase 2). CGIAR Research Program on Climate Change, Agriculture and Food Security (CCAFS), Copenhagen

Rufino MC, Thornton PK, Ng'ang'a SK, Mutie I, Jones PG, van Wijk MT, Herrero M (2013) Transitions in agro-pastoralist systems of East Africa: impacts on food security and poverty. Agr Ecosyst Environ 179:215–230. doi:10.1016/j.agee.2013.08.019

Sijmons K, Kiplimo J, Förch W, Thornton PK, Moussa AS, Zougmoré R (2013a) CCAFS site atlas—kaffrine. CCAFS site atlas series. The CGIAR Research Program on Climate Change, Agriculture and Food Security (CCAFS), Copenhagen

Sijmons K, Kiplimo J, Förch W, Thornton PK, Moussa AS, Zougmoré R (2013b) CCAFS site atlas—Lawra—Jirapa/Lawra. CCAFS site atlas series. The CGIAR Research Program on Climate Change, Agriculture and Food Security (CCAFS), Copenhagen

Sijmons K, Kiplimo J, Förch W, Thornton PK, Moussa AS, Zougmoré R (2013c) CCAFS site atlas—Yatenga/Tougou. CCAFS site atlas series. The CGIAR Research Program on Climate Change, Agriculture and Food Security (CCAFS), Copenhagen

Silvestri S, Bryan E, Ringler C, Herrero M, Okoba B (2012) Climate change perception and adaptation of agro-pastoral communities in Kenya. Reg Environ Change 12:791–802. doi:10.1007/s10113-012-0293-6

Silvestri S, Rufino MC, Quiros C, Douxchamps S, Teufel N, Singh D, Mutie I, Ndiwa N, Ndungu A, Kiplimo J, Van Wijk MT, Herrero M (2014) ImpactLite surveys. CCAFS, Harvard Dataverse Network, Cambridge

Sissoko K, Van Keulen H, Verhagen J, Tekken V, Battaglini A (2011) Agriculture, livelihoods and climate change in the West African Sahel. Reg Environ Change 11:S119–S125. doi:10.1007/s10113-010-0164-y

Thornton PK, Herrero M (2014) Climate change adaptation in mixed crop-livestock systems in developing countries. Glob Food Secur 3:99–107. doi:10.1016/j.gfs.2014.02.002

Thornton PK, Vermeulen S, Zougmore R, Kinyangi J, Kristjanson P (2012) Climate change, agriculture and food security (CCAFS): linking research and action in East and West Africa. CLIVAR Exch No 60:17

Tittonell P, Muriuki A, Shepherd KD, Mugendi D, Kaizzi KC, Okeyo J, Verchot L, Coe R, Vanlauwe B (2010) The diversity of rural livelihoods and their influence on soil fertility in agricultural systems of East Africa—a typology of smallholder farms. Agric Syst 103:83–97. doi:10.1016/j.agsy.2009.10.001

van de Giesen N, Liebe J, Jung G (2010) Adapting to climate change in the Volta Basin, West Africa. Curr Sci 98:1033–1037

Van Noordwijk M, Van Andel J (1988) Reduction of risk by diversity: a theoretical basis for age-old farming systems. ILEA Newsl 4:8–9

Vermeulen SJ, Aggarwal PK, Ainslie A, Angelone C, Campbell BM, Challinor AJ, Hansen JW, Ingram JSI, Jarvis A, Kristjanson P, Lau C, Nelson GC, Thornton PK, Wollenberg E (2012) Options for support to agriculture and food security under climate change. Environ Sci Policy 15:136–144. doi:10.1016/j.envsci.2011.09.003

Vermeulen SJ, Challinor AJ, Thornton PK, Campbell BM, Eriyagama N, Vervoort JM, Kinyangi J, Jarvis A, Laderach P, Ramirez-Villegas J, Nicklin KJ, Hawkins E, Smith DR (2013) Addressing uncertainty in adaptation planning for agriculture. Proc Natl Acad Sci USA 110:8357–8362. doi:10.1073/pnas.1219441110

Waithaka MM, Thornton PK, Herrero M, Shepherd KD (2006) Bio-economic evaluation of farmers' perceptions of viable farms in western Kenya. Agric Syst 90:243–271. doi:10.1016/j.agsy.2005.12.007

Wood SA, Jina AS, Jain M, Kristjanson P, DeFries RS (2014) Smallholder farmer cropping decisions related to climate variability across multiple regions. Glob Environ Change 25:163–172. doi:10.1016/j.gloenvcha.2013.12.011

Wouterse F, Taylor JE (2008) Migration and income diversification: evidence from Burkina Faso. World Dev 36:625–640. doi:10.1016/j.worlddev.2007.03.009
Acknowledgments
We warmly thank the 600 survey participants for their time and responses during the long hours of the interviews, and the 20 enumerators and data entry clerks who conducted the household survey in the three countries. We gratefully acknowledge the assistance in cleaning the data base by four students. CCAFS is funded by the CGIAR Fund, AusAid, Danish International Development Agency, Environment Canada, Instituto de Investigação Científica Tropical, Irish Aid, Netherlands Ministry of Foreign Affairs, Swiss Agency for Development and Cooperation, UK Aid, and the European Union, with technical support from the International Fund for Agricultural Development.
Electronic supplementary material
Below is the link to the electronic supplementary material.
About this article
Cite this article
Douxchamps, S., Van Wijk, M.T., Silvestri, S. et al. Linking agricultural adaptation strategies, food security and vulnerability: evidence from West Africa. Reg Environ Change 16, 1305–1317 (2016). https://doi.org/10.1007/s10113-015-0838-6
Received:

Accepted:

Published:

Issue Date:
Keywords
Adaptation strategies

Climate variability and change

Income

Land productivity

Market orientation

Typology