Abstract
We investigate household-level food security in the face of climatic change in coastal wetland-situated households in Trinidad and Tobago. These communities rely heavily, but not solely, on natural resources and agriculture for their livelihoods. Household data were collected for a representative sample of 138 households in the Nariva and Caroni communities. This included data on household adaptive capacity including socio-demographics, livelihood strategies, and social networks; exposure to climate change and climate-induced extreme weather events, such as floods and droughts; and sensitivity factors related to local access to services and infrastructure. Using ordinary least-squares regression analyses, we investigate influences of adaptive capacity to climate change on household food security in these 'at-risk' communities. The results suggest that household socio-demographics and livelihood strategies are strongly related to food security and that the level of food security provided by those two factors is reduced in the face of climate variability and disaster. Social network capacity of households does not have a statistically significant influence in the context studied. This is a valuable insight for community and national planners and policy makers both in this and in similar country circumstances that must consider food security in light of climate variability and related weather-induced impacts.
Access options
Buy single article
Instant access to the full article PDF.
USD 39.95
Price excludes VAT (USA)
Tax calculation will be finalised during checkout.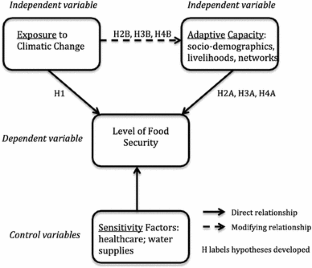 References
Adger WN (1999) Social vulnerability to climate change and extremes in coastal Vietnam. World Dev 27:249–269. doi:10.1016/S0305-750X(98)00136-3

Adger WN (2000) Social and ecological resilience: are they related? Prog Hum Geogr 24(3):347–364. doi:10.1191/030913200701540465

Adger WN, Hughes TP, Folke C, Carpenter SR, Rockström J (2005) Social-ecological resilience to coastal disasters. Science 309(5737):1036–1039. doi:10.1126/science.1112122

Agrawal A, Perrin N (2009) Climate adaptation, local institutions and rural livelihoods. In: Adapting to climate change: thresholds, values, governance, pp 350–367

Alliance Of Small Island States (AOSIS) (2009) Declaration on climate change. http://aosis.org/wp-content/uploads/2012/10/2012-AOSIS-Leaders-Declaration.pdf

Baptiste AK, Nordenstam BJ (2009) Impact of oil and gas drilling in Trinidad: factors influencing environmental attitudes and behaviors within three rural wetland communities. Environ Conserv 36(1):14–21. doi:10.1017/S0376892909005268

Barker T, Bashmakov I, Bernstein L, Bogner J, Bosch P, Dave R, Davidson O (2007) Technical summary. Clim Change 10(2007):2007

Barnes J, Dove M, Lahsen M, Mathews A, McElwee P, McIntosh R, Moore F, O'Reilly J, Orlove B, Puri R, Weiss H, Yager K (2013) Contribution of anthropology to the study of climate change. Nat Clim Change 3(6):541–544. doi:10.1038/nclimate1775

Below TB, Mutabazi KD, Kirschke D, Franke C, Sieber S, Siebert R, Tscherning K (2012) Can farmers' adaptation to climate change be explained by socio-economic household-level variables? Glob Environ Change 22(1):223–235. doi:10.1016/j.gloenvcha.2011.11.012

Belsley DA, Kuh E, Welsch RE (1980) Regression diagnostics. Wiley, New York

Brown O, Crawford A (2009) Climate change and security in Africa. IISD, Manitoba, p 8

Butt TA, McCarl BA, Angerer J, Dyke PT, Stuth JW (2005) The economic and food security implications of climate change in Mali. Clim Change 68(3):355–378. doi:10.1007/s10584-005-6014-0

Carbonell M, Alleng G, Browne D, Massey B (2007) Nariva swamp restoration initiative, Trinidad and Tobago. Ducks Unlimited Inc, Memphis, TN

Chambers R, Conway G (1992) Sustainable rural livelihoods: practical concepts for the 21st century. Institute of Development Studies (UK)

Chen H, Wang J, Huang J (2014) Policy support, social capital, and farmers' adaptation to drought in China. Glob Environ Change 24:193–202. doi:10.1016/j.gloenvcha.2013.11.010

de Sherbinin A, VanWey LK, McSweeney K, Aggarwal R, Barbieri A, Henry S, Walker R (2008) Rural household demographics, livelihoods and the environment. Glob Environ Change 18(1):38–53. doi:10.1016/j.gloenvcha.2007.05.005

Demetriades J, Esplen E (2008) The gender dimensions of poverty and climate change adaptation. IDS Bull 39(4):24–31. doi:10.1111/j.1759-5436.2008.tb00473.x

Deressa TT, Hassan RM, Ringler C, Alemu T, Yesuf M (2009) Determinants of farmers' choice of adaptation methods to climate change in the Nile Basin of Ethiopia. Glob Environ Change 19(2):248–255. doi:10.1016/j.gloenvcha.2009.01.002

Dolan AH, Walker IJ (2006) Understanding vulnerability of coastal communities to climate change related risks. J Coastal Res 39:1316–1323

Dulal HB, Shah KU (2014) 'Climate-smart' social protection: can it be achieved without a targeted household approach? Environ Dev 10:16–35

FAO (1996) Rome declaration on world food security and world food summit plan of action. Food and Agriculture Organization of the United Nations, World Food Summit 13–17 November 1996, Rome

Few R, Tran PG (2010) Climatic hazards, health risk and response in Vietnam: case studies on social dimensions of vulnerability. Glob Environ Change 20(3):529–538. doi:10.1016/j.gloenvcha.2010.02.004

Fischer G, Shah M, Tubiello FN, van Veldhuizen H (2005) Socio-economic and climate change impacts on agriculture: an integrated assessment, 1990–2080. Philos Trans Biol Sci 360(1463):2067–2083

Ford JD (2009) Vulnerability of Inuit food systems to food insecurity as a consequence of climate change: a case study from Igloolik, Nunavut. Reg Environ Change 9(2):83–100. doi:10.1007/s10113-008-0060-x

Frumkin H, Hess J, Luber G, Malilay J, McGeehin M (2008) Climate change: the public health response. Am J Public Health 98(3):435

Graham S, Schandl H, Williams L, Foran T (2013) The effects of climate and socio-demographics on direct household carbon dioxide emissions in Australia. Geogr Res 51(4):424–438. doi:10.1111/1745-5871.12012

Gregory PJ, Ingram JS, Brklacich M (2005) Climate change and food security. Philos Trans R Soc B Biol Sci 360(1463):2139–2148

Hahn MB, Riederer A, Foster S (2009) The Livelihood Vulnerability Index: a pragmatic approach to assessing risks from climate variability and change—a case study in Mozambique. Glob Environ Change 19(1):74–88

Haque MA, Yamamoto S, Malik AA, Sauerborn R (2012) Households' perception of climate change and human health risks: a community perspective. Environ Health 11:1. doi:10.1186/1476-069X-11-1

IPCC (2001) Climate Change 2001: the scientific basis. In: Houghton JT, Ding Y, Griggs DJ, Noguer M, Van der Linden PJ, Dai X, Maskell K, Johnson CA (eds) Contribution of Working Group I to the Third Assessment Report of the Intergovernmental Panel on Climate Change. Cambridge University Press, Cambridge, 881 pp

IPCC (2007) Climate Change 2007: impacts, adaptation and vulnerability. In: Parry ML (ed) Contribution of Working Group II to the fourth assessment report of the Intergovernmental Panel on Climate Change, vol 4. Cambridge University Press

IPCC (2014) Climate Change 2014: impacts, adaptation, and vulnerability. Part A: Global and Sectoral Aspects. In: Field CB, Barros VR, Dokken DJ, Mach KJ, Mastrandrea MD, Bilir TE, Chatterjee M, Ebi KL, Estrada YO, Genova RC, Girma B, Kissel ES, Levy AN, MacCracken S, Mastrandrea PR, White LL (eds) Contribution of Working Group II to the Fifth Assessment Report of the Intergovernmental Panel on Climate Change. Cambridge University Press, Cambridge, 1132 pp

Jones S, Carswell G (eds) (2004) Earthscan reader in environment, development and rural livelihoods. Earthscan, London

Kacal SA (1999) Social assessment and community action plan of Nariva Managed Resource Area. Ministry of Agriculture, Land and Marine Resources, Port of Spain, Trinidad and Tobago

Kartiki K (2011) Climate change and migration: a case study from rural Bangladesh. Gender Dev 19(1):23–38. doi:10.1080/13552074.2011.554017

Kelly P, Adger W (2000) Theory and practice in assessing vulnerability to climate change and facilitating adaptation. Clim Change 47(4):325–352. doi:10.1023/A:1005627828199

Melgar-Quinonez H, Zubieta A, MkNelly B, Nteziyaremye A, Gerardo M, Dunford C (2006) Household food insecurity and food expenditure in Bolivia, Burkina Faso, and the Philippines. J Nutr 136(5):1431S–1437S

Ministry of Finance (2011) Public Sector Investment Programme 2011. Government of Trinidad and Tobago, Port-of-Spain, 162 p

Mortimore MJ, Adams WM (2001) Farmer adaptation, change and crisis in the Sahel. Glob Environ Change 11:49–57. doi:10.1016/S0959-3780(00)00044-3

Murphy BL (2007) Locating social capital in resilient community-level emergency management. Nat Hazards 41(2):297–315. doi:10.1007/s11069-006-9037-6

Nelson DR, Adger WN, Brown K (2007) Adaptation to environmental change: contributions of a resilience framework. Annu Rev Environ Resour 32:395–419

Nunnally JC, Bernstein IH (1994) Psychometric theory, 3rd ed. McGraw-Hill, New York

Osbahr H, Twyman C, Adger NW, Thomas DS (2008) Effective livelihood adaptation to climate change disturbance: scale dimensions of practice in Mozambique. Geoforum 39(6):1951–1964

Oxfam (2015) Promise and potential report. Oxfam America, Washington DC, 44p

Parry M, Palutikof J, Hanson C, Lowe J (2008) Squaring up to reality. Nat Rep Clim Change 68–71. doi:10.1038/climate.2008.50

Potter RB (1999) The Geography of Relative Affluence and Poverty in Barbados. Caribbean Geography 10(2):79–88

Preston BL, Yuen EJ, Westaway RM (2011) Putting vulnerability to climate change on the map: a review of approaches, benefits and risks. Sustain Sci 6:177–202. doi:10.1007/S11625-011-0129-1

Prowse M, Scott L (2008) Assets and adaptation: an emerging debate. IDS Bull 39(4):42–52

Schmidhuber J, Tubiello FN (2007) Global food security under climate change. Proc Natl Acad Sci 104(50):19703–19708. doi:10.1073/pnas.0701976104

Séguin J, Berry P, Bouchet V, Clarke KL, Furgal C, Environmental I, MacIver D (2008) Human health in a changing climate: a Canadian assessment of vulnerabilities and adaptive capacity. Human Health Chang Clim 1–524

Shah KU (2011) Organizational drivers of corporate environmental responsibility in the Caribbean tourism industry. Policy Sci 44(4):321–344

Shah KU, Dulal HB, Johnson C, Baptiste A (2013) Understanding livelihood vulnerability to climate change: applying the livelihood vulnerability index in Trinidad and Tobago. Geoforum 47:125–137. doi:10.1016/j.geoforum.2013.04.004

Skoufias E, Vinha K (2013) The impacts of climate variability on household welfare in rural Mexico. Popul Environ 34(3):370–399

Smit B, Wandel J (2006) Adaptation, adaptive capacity and vulnerability. Glob Environ Change 16(3):282–292. doi:10.1016/j.gloenvcha.2006.03.008

Sookhoo R (1987) The impact of human activity on the Caroni River, Trinidad, WI: chemical and microbial studies

Titus B, Adetokunbo G (2007) An analysis of food security situation among Nigerian urban households: evidence from Lagos State, Nigeria. J Central Euro Agric 8(3):397–406

Van de Ven AH, Ferry DL (1980) Measuring and assessing organizations. Wiley, New York

Wolf J, Adger NW, Lorenzoni I, Abrahamson V, Raine R (2010) Social capital, individual responses to heat waves and climate change adaptation: an empirical study of two UK cities. Glob Environ Change 20(1):44–52. doi:10.1016/j.gloenvcha.2009.09.004

Woolford I (2012) Renu village: an ethnography of North Indian Fiction. Doctoral Dissertation, University of Texas, 482 p

Zezza A, Tasciotti L (2010) Urban agriculture, poverty, and food security: empirical evidence from a sample of developing countries. Food Policy 35(4):265–273
Electronic supplementary material
Below is the link to the electronic supplementary material.
About this article
Cite this article
Shah, K.U., Dulal, H.B. Household capacity to adapt to climate change and implications for food security in Trinidad and Tobago. Reg Environ Change 15, 1379–1391 (2015). https://doi.org/10.1007/s10113-015-0830-1
Received:

Accepted:

Published:

Issue Date:

DOI: https://doi.org/10.1007/s10113-015-0830-1
Keywords