Abstract
This paper assesses the relative importance of socioeconomic factors linked to fire occurrence through the simulation of future land use/land cover (LULC) change scenarios in the Madrid region (Spain). This region is a clear example of the socioeconomic changes that have been occurring over recent decades in the European Mediterranean as well as their impact on LULC and fire occurrence. Using the LULC changes observed between 1990 and 2006 as a reference, future scenarios were run up to 2025 with the conversion of land use and its effects model. Simultaneously, the relationship between LULC arrangement (interfaces) and historical fire occurrence was calculated using logistic regression analysis and used to quantify changes in future fire occurrence due to projected changes in LULC interfaces. The results revealed that it is possible to explain the probability of fire occurrence using only variables obtained from LULC maps, although the explanatory power of the model is low. In this context, border areas between some LULC types are of particular interest (i.e., urban/forest, grassland/forest and agricultural/forest interfaces). Results indicated that expected LULC changes in Euro-Mediterranean regions, particularly given the foreseeable increase in the wildland–urban interface, will substantially increase fire occurrence (up to 155 %). This underlines the importance of future LULC scenarios when planning fire prevention measures.
This is a preview of subscription content, log in to check access.
Access options
Buy single article
Instant access to the full article PDF.
US$ 39.95
Price includes VAT for USA
Subscribe to journal
Immediate online access to all issues from 2019. Subscription will auto renew annually.
US$ 99
This is the net price. Taxes to be calculated in checkout.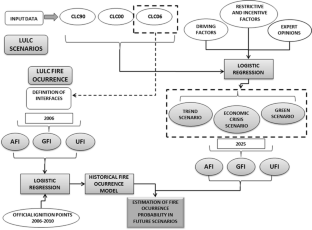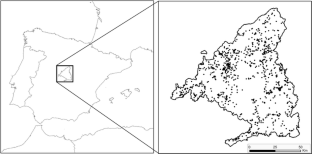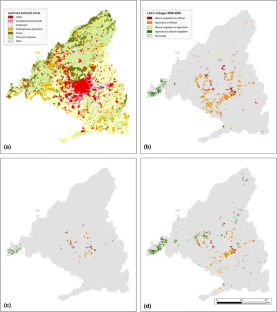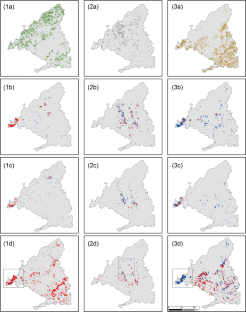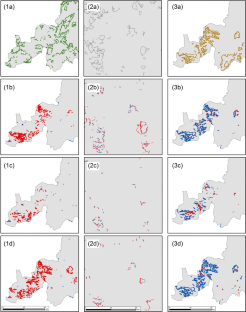 References
Aguilera F, Ruiz Matarán A, Campaña Pérez R, Montes Valenzuela LM (2008) Simulating greenhouse growth in urban zoning on the coast of Granada (Spain). In: Paegelow M, Camacho Olmedo MT (eds) Modelling environmental dynamics. advances in geomatic solutions. Springer, Heidelberg, pp 269–295. doi:10.1007/978-3-540-68498-5_10

Barreira P, González V, Bosque J (2012) Detección de errores temáticos en el corine land cover a través del estudio de cambios: comunidad de madrid (2000–2006). Estud Geogr 272:7–34. doi:10.3989/estgeogr.201201

Bengtsson L, Nilsson SG, Franc A, Menozzi P (2000) Biodiversity, disturbances, ecosystem function and management of European forests. For Ecol Manag 132:39–50. doi:10.1016/S0378-1127(00)00378-9

Bryant BP, Westerling AL (2014) Scenarios for future wildfire risk in California: links between changing demography, land use, climate, and wildfire. Environmetrics. doi:10.1002/env.2280

Castellnou M, Serch MB, Velimelis LR (2002) Rethinking fire fighting for the XXI century: a new firefighter model, fires of design, and fire ecology. In: Viegas DX (ed) Forest fire research and wildland fire safety. Millpress, Rotterdam/Luso, p 7

Chuvieco E, Aguado I, Yebra M, Nieto H, Salas J, Martín P, Vilar L, Martínez J, Martín S, Ibarra P, de la Riva J, Baeza J, Rodríguez F, Molina JR, Herrera MA and Zamora R (2010) Development of a framework for fire risk assessment using remote sensing and geographic information system technologies. Ecol Model 221:46–58 ISBN 90-77017-72-0

Fawcett T (2006) An introduction to ROC analysis. Pattern Recognit Lett 27:861–874. doi:10.1016/j.patrec.2005.10.010

Gallardo M (2013) Cambios de usos del suelo y simulación de escenarios en la Comunidad de Madrid. Universidad Complutense Madrid, 455 pp. http://eprints.ucm.es/25253/. Accessed Sep 2014

Hagen A (2003) Fuzzy set approach to assessing similarity of categorical maps. Int J Geogr Inf Sci 17(3):235–249. doi:10.1080/13658810210157822

Hewitt R, Hernandez-Jimenez V (2010) Developed regions, fragmented landscapes: the struggle for a sustainability in Madrid. Sustainability 2:1252–1281. doi:10.3390/su2051252

Lambin EF, Turner BLI, Geist HJ, Agbola SB, Angelsen A, Bruce JW, Coomes OT, Dirzo R, Fischer G, Folke C, George PS, Homewood K, Imbernon J, Leemans R, Li X, Moran EF, Mortimore M, Ramakrishnan PS, Richards JF, Skånes H, Steffen W, Stone GD, Svedin U, Veldkamp TA, Vogel C, Xu J (2001) The causes of land-use and land-cover change: moving beyond the myths. Glob Environ Change 11:261–269. doi:10.1016/S0959-3780(01)00007-3

Lampin-Maillet C, Jappiot M, Long M, Bouillon C, Morge D, Ferrier JP (2010) Mapping wildland–urban interfaces at large scales integrating housing density and vegetation aggregation for fire prevention in the South of France. J Environ Manag 91:732–741. doi:10.1016/j.jenvman.2009.10.001

Leone V, Lovreglio R, Martín MP, Martínez J, Vilar L (2009) Human factors of fire occurrence in the mediterranean. In: Chuvieco E (ed) Earth observation of wildland fires in mediterranean ecosystems. Springer, Berlin, pp 149–170. doi:10.1007/978-3-642-01754-4_11

Liu Z, Yang J, Chang Y, Weisberg PJ, He HS (2012) Spatial patterns and drivers of fire occurrence and its future trend under climate change in a boreal forest of Northeast China. Glob Change Biol 18(6):2041–2056. doi:10.1111/j.1365-2486.2012.02649.x

Loibl W, Tötzer T, Köstl M, Steinnocher K (2007) Simulation of polycentric urban growth dynamics through agents. Model concept, application, results and validation. In: Kommen E, Stillwell J, Bakema A, Scholten HJ (eds) Modelling land-use change. Progress and applications. Springer, Heidelberg, pp 219–236. doi:10.1007/978-1-4020-5648-2_13

Martínez J, Vega-García C, Chuvieco E (2009) Human-caused wildfire risk rating for prevention planning in Spain. J Environ Manag 90:1241–1252. doi:10.1016/j.jenvman.2008.07.005

Martínez J, Chuvieco E, Koutsias N (2013) Modelling long-term fire occurrence factors in Spain by accounting for local variations with geographically weighted regression. Nat Hazards Earth Syst Sci 13:311–327. doi:10.5194/nhess-13-311-2013

Martínez-Vega J, Romero-Calcerrada R (2012) Evaluación de la ocupación del suelo con un sistema experto de evaluación de tierras y un SIG en la Zona de Especial Protección para las Aves "Encinares de los ríos Alberche y Cofio", Madrid. Estudios Geográficos 273:551–580 ISBN: 978-84-96971-53-0

Menard S (2002) Applied logistic regression analysis, 2nd edn., Quantitative applications in the social sciences. v. 106Sage publications, International Educational and Professional Publisher, Thousand Oaks

Millington JDA, Wainwright J, Perry GLW, Romero-Calcerrada R, Malamud B (2009) Modelling Mediterranean landscape succession-disturbance dynamics: a landscape fire-succession model. Environ Model Softw 24(10):1196–1208. doi:10.1016/j.envsoft.2009.03.013

Modugno S, Serra P, Badia A (2008) Dinámica del riesgo de ignición en un área de interfase urbano-forestal. In: Hernández L, Parreño JM (eds) Tecnologías de la Información Geográfica para el Desarrollo Territorial. Servicio de Publicaciones y Difusión Científica de la ULPGC, Las Palmas de Gran Canaria, pp 650–659

Monzón-Alvarado C, Cortina-Villar S, Schmook B, Flamenco-Sandoval A, Christman Z, Arriola L (2012) Land-use decision-making after large-scale forest fires: analyzing fires as a driver of deforestation in Laguna del Tigre National Park, Guatemala. Appl Geogr 35:43–52 ISBN 978-84-96971-53-0

Muller BH, Yin L (2010) Regional governance and hazard information: the role of co-ordinated risk assessment and regional spatial accounting in wildfire hazard mitigation. J Environ Plan Manag 53(1):1–21. doi:10.1080/09640560903414639

Pausas JG, Fernández-Muñoz S (2012) Fire regime changes in the Western Mediterranean Basin: from fuel-limited to drought-driven fire regime. Clim Change 110(1–2):215–226. doi:10.1007/s10584-011-0060-6

Pausas JG, Llovet J, Rodrigo A, Vallejo R (2008) Are wildfires a disaster in the Mediterranean basin?—A review. Int J Wildland Fire 17:713–723. doi:10.1071/WF07151

Paveglio T, Prato T, Hardy M (2013) Simulating effects of land use policies on extent of the wildland urban interface and wildfire risk in flathead county, Montana. J Environ Manag 130:20–31. doi:10.1016/j.jenvman.2013.08.036

Plata Rocha W, Gómez Delgado M, Bosque Sendra J (2009) Cambios de usos del suelo y expansión urbana en la Comunidad de Madrid 1990–2000. Scripta Nova 13 (293) http://www.ub.es/geocrit/sn/sn-293.htm. Accessed Sep 2014

Pontius RG (2000) Quantification error versus location error in comparison of categorical maps. Photogramm Eng Remote Sens 66(8):1011–1016

Preisler HK, Brillinger DR, Burgan RE, Benoit JW (2004) Probability based models for estimation of wildfire risk. Int J Wildland Fire 13:133–142. doi:10.1071/WF02061

Prévosto B, Vallejo VR (2014) Integrating pre and post-fire management to reduce fire risk: a comprehensive approach for fire management. In: Moreno JM (ed) Forest fires under climate, social and economic changes in Europe, the Mediterranean and other fire-affected areas of the world. Lessons learned and outlook. Topic 20: 44–45. ISBN 978-84-695-9759-0

R Development Core Team (2011) R: A language and environment for statistical computing. R Foundation for statistical computing, Vienna, Austria. ISBN 3-900051-07-0 http://www.R-project.org/

Rey JM, Martins A, Nicolau JM, Schulz JJ (2007) Abandonment of agricultural land: an overview of drivers and consequences. CAB Rev 2(057). doi:10.1079/PAVSNNR20072057

Rodrigues M, de la Riva J, Fotheringham S (2014) Modeling the spatial variation of the explanatory factors of human-caused wildfires in Spain using geographically weighted logistic regression. Appl Geogr 48:52–63. doi:10.1016/j.apgeog.2014.01.011

Román MV, Azqueta D, Rodrígues M (2013) Methodological approach to assess the socioeconomic vulnerability to wildfires in Spain. Forest Ecol Manag 294:158–165. doi:10.1016/j.foreco.2012.07.001

Romero-Calcerrada R, Perry GLW (2004) The role of land abandonment in landscape dynamics in the SPA 'Encinares del rio Alberche y Cofio, Central Spain, 1984–1999. Landsc Urban Plan 66:217–232. doi:10.1016/S0169-2046(03)00112-9

Ruiz Benito P, Cuevas JA, Bravo de la Parra R, Prieto F, García del Barrio JM, Zavala MA (2010) Land use change in a Mediterranean metropolitan region and its periphery: assessment of conservation policies through CORINE land cover data and Markov models. For Syst 13(3):315–328 www.inia.es/forestsystems. Accessed Sep 2014

Sangermano F, Toledano J, Eastman JR (2012) Land cover change in the Bolivian Amazon and its implications for REDD + and endemic biodiversity. Landsc Ecol 27:571–584. doi:10.1007/s10980-012-9710-y

Schmuck G, San-Miguel-Ayanz J, Camia A, Durrant T, Boca R, Whitmore C, Libertà G, Corti P, Schulte E (2012) Forest fires in Europe, Middle East and North Africa 2011 EUR 25483 EN. Publications Office of the European Union 2012, JRC74152 ISBN 9789279323690

SPSS (2006) SPSS for Windows. Version 15. Copyright _ SPSS Inc, 1989–2008

Syphard AD, Clarke KC, Franklin J (2007) Simulating fire frequency and urban growth in southern California coastal shrublands. Landsc Ecol 22:431–445. doi:10.1007/s10980-006-9025-y

Syphard AD, Bar Massada A, Butsic V, Keeley JE (2013) Land use planning and wildfire: development policies influence future probability of housing loss. PLoS ONE. doi:10.1371/journal.pone.0071708

Van Vliet J, Bregt AK, Hagen-Zanker A (2011) Revisiting Kappa to account for change in the accuracy assessment of land-use change models. Ecol Model 222:1367–1375. doi:10.1016/j.ecolmodel.2011.01.017

Vasconcelos MJ, Silva S, Tomé M, Alvim M, Pereira JM (2001) Spatial prediction of Fire Ignition Probabilities: comparing logistic regression and neural networks. Photogr Eng Remote Sens 67:73–81

Veldkamp A, Fresco LO (1996) CLUE: a conceptual model to study the conversion of land use and its effects. Ecol Model 85:253–270. doi:10.1016/0304-3800(94)00151-0

Veldkamp A, Lambin EF (2001) Predicting land-use change. Agric Ecosyst Environ 85:1–6. doi:10.1016/S0167-8809(01)00199-2

Vélez R (2004) Europe: development and fire. In: González-Cabán A (ed) Proceedings of the second international symposium on fire economics, planning, and policy: a global view. Córdoba, Spain, pp 213–219

Verburg PH, Overmars KP (2007) Dynamic simulation of land-use change trajectories with the CLUE-s model. In: Koomen E, Stillwell J, Bakema A, Scholten HJ (eds) Modelling land-use change. Progress and applications. Springer, Heidelberg, pp 321–335. doi:10.1007/978-1-4020-5648-2_18

Verburg PH, Koning GHJ, Kok K, Veldkamp A, Bouma J (1999) A spatial explicit allocation procedure for modelling the pattern of land use change based upon actual land use. Ecol Model 116:45–61. doi:10.1016/S0304-3800(98)00156-2

Verburg PH, Soepboer W, Veldkamp A, Limpiada R, Espaldon V, Sharifah Mastura SA (2002) Modeling the spatial dynamics of regional land use: the CLUE-S model. Environ Manag 30:391–405. doi:10.1007/s00267-002-2630-x

Verburg PH, Overmars KP, Witte N (2004) Accesibility and land-use patterns at the forest fringe in the northeastern part of the Philippines. Geogr J 170:238–255. doi:10.1111/j.0016-7398.2004.00123.x

Viedma O, Moreno JM, Rieiro I (2006) Interactions between land use/land cover change, forest fires and landscape structure in Sierra de Gredos (central Spain). Environ Conserv 33:212–222. doi:10.1017/S0376892906003122

Vilar L, Woolford DG, Martell DL, Martín MP (2010) A model for predicting human caused wildfire occurrence in the region of Madrid, Spain. Int J Wildland Fire 19:325–337. doi:10.1071/WF09030

Vilar L, Martín MP, Martínez FJ (2011) Logistic regression models for human-caused wildfire risk estimation: analysing the effect of the spatial accuracy in fire occurrence data. Eur J For Res 130:983–996. doi:10.1007/s10342-011-0488-2

Westerling AL, Bryant BP (2008) Climate change and wildfire in California. Clim Change 87(Suppl 1):231–249. doi:10.1007/s10584-007-9363-z

Westerling AL, Bryant BP, Preisler HK, Holmes TP, Hidalgo HG, Das T, Shrestha SR (2011) Climate change and growth scenarios for California wildfire. Clim Change 109(Suppl 1):445–463. doi:10.1007/s10584-011-0329-9

Yin L (2010) Modeling cumulative effects of wildfire hazard policy and exurban household location choices: an application of agent-based simulations. Plan Theor Pract 11(3):375–396. doi:10.1080/14649357.2010.503090
Acknowledgments
This research received funding from the European Union's Seventh Framework Programme (FP7/2007-2013) under Grant agreement 243888 (FUME Project). Marta Gallardo was sponsored by a JAE-Predoc Grant from the Spanish National Research Council (CSIC). We specially thank Dr. David Riaño (CSIC-UC Davis) for editing this manuscript in its final stage and Pilar Echavarria (CSIC) for her assistance in re-designing cartographic figures.
Electronic supplementary material
Below is the link to the electronic supplementary material.
About this article
Cite this article
Gallardo, M., Gómez, I., Vilar, L. et al. Impacts of future land use/land cover on wildfire occurrence in the Madrid region (Spain). Reg Environ Change 16, 1047–1061 (2016). https://doi.org/10.1007/s10113-015-0819-9
Received:

Accepted:

Published:

Issue Date:
Keywords
Land use/land cover

Scenarios

Interfaces

Wildfire occurrence

Regional scale