Abstract
Flood risk management and policy in Europe are changing, so the role of local and catchment-wide flood risk management plans is now key contemporary issues in flood policy. A new policy agenda is to enhance inter-local solutions instead of local flood alleviation schemes. This paper analyses the new role of those local authorities and stakeholders in flood risk management as well as how the nature of the partnerships is established and operated, focusing especially on the main barriers and challenges. This paper examines catchment-based flood risk management in Austria. Catchment-based flood risk management was analysed in three different Austrian regions (Aist in Upper Austria, Triesting-Tal in Lower Austria and Ill-Walgau in Vorarlberg). The current functions of a partnership approach in flood risk prevention lie within the selection of sites for conservation of regionally important retention areas, harmonising spatial planning instruments and awareness-raising for protective measures on an inter-local level. The empirical results are currently characterised by a lack of sufficient co-operation between the members as well as with the regional authorities. The three case studies show different backgrounds and developments. The results show that the inter-local co-operation process is in no cases fully achieved. Some of the case studies show a higher integration in one field than others.
This is a preview of subscription content, log in to check access.
Access options
Buy single article
Instant access to the full article PDF.
US$ 39.95
Price includes VAT for USA
Subscribe to journal
Immediate online access to all issues from 2019. Subscription will auto renew annually.
US$ 99
This is the net price. Taxes to be calculated in checkout.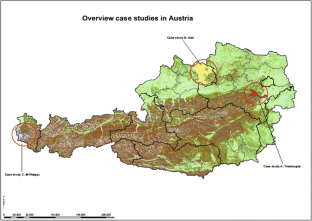 References
Adger WN, Quinn T, Lorenzoni I, Murphy C, Sweeney J (2013) Changing social contracts in climate-change adaptation. Nat Clim Change 3(4):330–333. doi:10.1038/nclimate1751

Albrechts L (2013) Reframing strategic spatial planning by using a coproduction perspective. Plan Theory 12(1):46–62. doi:10.1177/1473095212452722

Amdam J (2001) Structure and strategy for regional learning and innovation. In: Voigt A, Walchhofer HP (eds) Interkommunale Planung. Institut für Örtliche Raumplanung, University of Technology, Vienna, pp 5–22

Austrian Government (1975) Forstgesetz 1975. Bundesgesetzblatt, Vienna, p 440

Austrian Government (1985) Wasserbautenförderungsgesetzes. Bundesgesetzblatt, Vienna, p 148

Balland PA (2012) Proximity and the evolution of collaboration networks: evidence from research and development projects within the global navigation satellite system (GNESS) industry. Reg Stud 46(6):741–756. doi:10.1080/00343404.2010.529121

Berkes F (2010) Devolution of environment and resources governance: trends and future. Environ Conserv 37(4):489–500. doi:10.1017/S037689291000072X

Birkmann J, Cardona OM, Carreño ML, Barbat AH, Pelling M, Schneiderbauer S, Kienberger S, Keiler M, Alexander D, Zeil P, Welle T (2013) Framing vulnerability, risk and societal responses: the MOVE framework. Nat Hazards 67(2):193–211. doi:10.1007/s11069-013-0558-5

Boschma RA (2005) Proximity and innovation: a critical assessment. Reg Stud 39(1):61–74. doi:10.1080/0034340052000320887

Bourdieu P (1986) The forms of capital. In: Richardson J (ed) Handbook of theory and research for the sociology of education. Greenwood, New York, pp 241–258

Burby R (2006) Hurricane Katrina and the paradoxes of government disaster policy: bringing about wise governmental decisions for hazardous areas. Ann Am Acad Polit Soc Sci 604(1):171–191. doi:10.1177/0002716205284676

Cammerer H, Thieken AH, Verburg PH (2013) Spatio-temporal dynamics in the flood exposure due to land use changes in the Alpine Lech Valley in Tyrol (Austria). Nat Hazards 68(3):1243–1270. doi:10.1007/s11069-012-0280-8

Castells M (1977) The urban question: a Marxist approach. Edward Arnold, London

Coleman J (1990) Foundations of social theory. Harvard University Press, Cambridge

Driessen PPJ, Behagel JH, Hegger DLT, Mees HLP, Almesjo L, Andresen S, Eboli F, Helgenberger S, Hollaender K, Jacobsen L, Jaervelae M, Laessoe J, Oberthuer S, Avelar D, Brand U, Brunnengraeber A, Bulkeley H, Compagnon D, Davoudi S, Hackmann H, Knieling J, Larrue C, Linner B-O, Martin O, O'Brien K, O'Neill S, van Rijswick HFMW, Siebenhuener B, Termeer K, Verbruggen A (2013) Societal transformations in the face of climate change; research priorities for the next decade. JPI Climate, Brussels

European Commission (2000) Directive 2000/60/EC of the European Parliament and of the Council of 23 October 2000 establishing a framework for community action in the field of water policy. European Commission and Parliament, Brussels

European Commission (2007) Directive 2007/60/EC of the European Parliament and of the Council of 23 October 2000 on the assessment and management of flood risks. European Commission and Parliament, Brussels

Fuchs S (2009) Susceptibility versus resilience to mountain hazards in Austria—paradigms of vulnerability revisited. Nat Hazards Earth Syst Sci 9(2):337–352. doi:10.5194/nhess-9-337-2009

Fuchs S, Kuhlicke C, Meyer V (2011) Editorial for the special issue: vulnerability to natural hazards—the challenge of integration. Nat Hazards 58(2):609–619. doi:10.1007/s11069-011-9825-5

Fuchs S, Keiler M, Sokratov SA, Shnyparkov A (2013) Spatiotemporal dynamics: the need for an innovative approach in mountain hazard risk management. Nat Hazards 68(3):1217–1241. doi:10.1007/s11069-012-0508-7

Fürst D (2003) Steuerung auf regionaler ebene versus regional governance. Inf Raumentwickl 8(9):441–450

Grabhar G (2001) Ecologies of creativity: the village, the group, and the heterarchic organisation of the British advertising industry. Environ Plann A 33(2):351–374. doi:10.1068/a3314

Green C, Penning-Rowsell E (2010) Stakeholder engagement in flood risk management. In: Pender G, Faulkner H (eds) Flood risk science and management. West Sussex, Wiley, pp 372–385

Greiving S, Blotevogel HH, Pietschmann H, Winkel R (2008) Kooperation zentraler Orte in schrumpfenden Regionen Praxiserfahrungen. Werkstatt, Berlin

Habermas J (1981) The theory of communication. Beacon Press, Boston

Hagspiel E (2001) Interkommunale Planung im regionalen Kontext—Merkmale und Eigenschaften. In: Voigt A, Walchhofer HP (eds) Interkommunale Planung. Institut für Örtliche Raumplanung, TU Wien, Vienna, pp 63–72

Hansson K, Danielson M, Ekenberg L (2008) A framework for evaluation of flood management strategies. J Environ Manag 86(3):465–480. doi:10.1016/j.jenvman.2006.12.037

Hartmann T (2011). Clumsy floodplains. Response land policy for extreme floods. Ashgate, Farnham Surrey

Haupter B, Heiland P, Neumüller J (2005) Interregional and transnational co-operation in river basins—chances to improve flood risk management? Nat Hazards 36(1–2):5–24. doi:10.1007/978-1-4020-4200-3_26

Hodgson GM (2006) What are institutions? J Econ Issues 40(1):1–25

Holub M, Fuchs S (2009) Mitigating mountain hazards in Austria—legislation, risk transfer, and awareness building. Nat Hazards Earth Syst Sci 9(2):523–537. doi:10.5194/nhess-9-523-2009

Holub M, Suda J, Fuchs S (2012) Mountain hazards: reducing vulnerability by adapted building design. Environ Earth Sci 66(7):1853–1870. doi:10.1007/s12665-011-1410-4

Höppner C, Bründl M, Buchecker M (2010). Risk communication and natural hazards. CapHaz-Net work package 5 report. Swiss Federal Research Institute, Birmensdorf

Huber F (2012) On the role and interrelationship of spatial, social and cognitive proximity: personal knowledge relationships of R&D workers in the Cambridge Information Technology cluster. Reg Stud 46(9):1169–1182. doi:10.1080/00343404.2011.569539

Hutter G (2007) Strategic planning for long-term flood risk management: some suggestions for learning how to make strategy at regional and local level. Int Plan Stud 12(3):273–289. doi:10.1080/13563470701640168

IPCC (2012) Managing the risks of extreme events and disasters to advance climate change adaptation. In: Field CB, Barros V, Stocker TF, Qin D, Dokken DJ, Ebi KL, Mastrandrea MD, Mach KJ, Plattner G-K, Allen SK, Tignor M, Midgley PM (eds) A special report of working groups I and II of the Intergovernmental Panel on Climate Change. Cambridge University Press, Cambridge

Kanonier A (2006) Raumplanungsrechtliche Regelungen als Teil des Naturgefahrenmanagements. In: Fuchs S, Khakzadeh L, Weber K (eds) Recht in Naturgefahrenmanagement. Studienverlag, Innsbruck, pp 123–153

Keiler M, Knight J, Harrison S (2010) Climate change and geomorphological hazards in the eastern European Alps. Philos Trans R Soc A 368(1919):2461–2479. doi:10.1098/rsta.2010.0047

Kramer JP, Revilla Diez J (2012) Catching the local buzz by embedding? Empirical insights on the regional embeddedness of multinational enterprises in Germany and the UK. Reg Stud 46(10):1303–1317. doi:10.1080/00343404.2011.571240

Kubal C, Haase D, Meyer V, Scheuer S (2009) Integrated urban flood risk assessment—adapting a multicriteria approach to a city. Nat Hazards Earth Syst Sci 9(6):1881–1895. doi:10.5194/nhess-9-1881-2009

Lundquist KJ, Trippl M (2013) Distance, proximity and types of cross-border innovation systems. A conceptual analysis. Reg Stud 47(3):450–460. doi:10.1080/00343404.2011.560933

Margerum RD (2008) A typology of collaboration efforts in environmental management. Environ Manag 41(4):487–500. doi:10.1007/s00267-008-9067-9

McCarthy SS, Tunstall S, Faulkner H (2008). Risk communication: inter-professional flood risk management. Project report—work package 7.3. Flood Hazard Research Centre, Middlesex University, London

Mees HLP, Driessen PPJ, Runhaar HAC (2014) Legitimate adaptive flood risk governance beyond the dikes: the case of Hamburg, Helsinki and Rotterdam. Reg Environ Change 14(2):671–682. doi:10.1007/s10113-013-0527-2

Meijerink S, Dicke W (2008) Shifts in the public-private divide in flood management. Int J Water Resour Dev 24(4):499–512. doi:10.1080/07900620801921363

Moodysson J, Jonsson O (2007) Knowledge collaboration and proximity: the spatial organization of biotech innovation projects. Eur Urban Reg Stud 14(2):115–131. doi:10.1177/096977640707555

Niederösterreich L (2013) Aktuelle Abgeordnete, Ausschüsse & Politiker. http://www.landtag-noe.at/personen-ausschuesse/aktuelle-abgeordnete-ausschuesse. [28/05/2013]

North D (1990) Institutions, institutional change and economic performance. Cambridge University Press, Cambridge

Oberösterreich L (2013) Die Abgeordneten des Landes Oberösterreich. Landtags. http://www.land-oberoesterreich.gv.at/cps/rde/xchg/ooe/hs.xsl/12748_DEU_HTML.htm. [28/05/2013]

Pardoe J, Penning-Rowsell E, Tunstall S (2011) Floodplain conflicts: regulation and negotiation. Nat Hazards Earth Syst Sci 11(10):2889–2902. doi:10.5194/nhess-11-2889-2011

Pearce G, Ayres S (2012) Back to the local? Recalibrating the regional tier of governance in England. Reg Fed Stud 22(1):1–24. doi:10.1080/13597566.2012.652418

Perkmann M (2007) Construction of new territorial scales: a framework and case study of the EUREGIO cross-border region. Reg Stud 41(2):253–266. doi:10.1080/00343400600990517

Porter J, Demeritt D (2012) Flood risk management, mapping and planning: the institutional politics of decision-support in England. Environ Plann A 44(10):2359–2378. doi:10.1068/a44660

Posthumus H, Hewett CJM, Morris J, Quinn PF (2008) Agricultural land use and flood risk management: engaging with stakeholders in North Yorkshire. Agric Water Manag 95(7):787–798. doi:10.1016/j.agwat.2008.02.001

Puchinger F, Henle A (2007) Regionalplanungen—ein Instrument zur Umsetzung nachhaltiger Schutzkonzepte. Wildbach- und Lawinenverbau 71(156):90–99

Raschky PA (2008) Institutions and the losses from natural disasters. Nat Hazards Earth Syst Sci 8(4):627–634. doi:10.5194/nhess-8-627-2008

Reed MS, Graves A, Dandy N, Posthumus H, Hubacek K, Morris J, Prell C, Quinn CH, Stringer LC (2009) Who's in and why? A typology of stakeholder analysis methods for natural resource management. J Environ Manag 90(5):1933–1949. doi:10.1016/j.jenvman.2009.01.001

Schmid AA (2004) Conflicts and cooperation: institutional and behavioural Economics. Oxford University Press, Oxford

Somerville P, Haines N (2008) Prospects for local co-governance. Local Gov Stud 34(1):61–79. doi:10.1080/03003930701770488

Strauss A, Corbin JM (1998) Basics of qualitative research: techniques and procedures for developing grounded theory. Sage, Thousand Oaks

Tempels B, Hartmann T (2014) A co-evolving frontier between land and water: dilemmas of flexibility versus robustness in flood risk management. Water Int 39(6):872–883. doi:10.1080/02508060.2014.958797

Thaler T (2014) Developing partnership approaches for flood risk management: implementation of inter-local co-operations in Austria. Water Int 39(7):1018–1029. doi:10.1080/02508060.2014.992720

Thaler T, Priest S (2014) Partnership funding in flood risk management: new localism debate and policy in England. Area 46(4):418–425. doi:10.1111/area.12135

Torre A, Gilly JP (2000) On the analytical dimension of proximity dynamics. Reg Stud 34(2):169–180

Torre A, Rallet A (2005) Proximity and localization. Reg Stud 39(1):47–59. doi:10.1080/0034340052000320842

Tseng CP, Penning-Rowsell E (2012) Micro-political and related barriers to stakeholder engagement in flood risk management. Geogr J 178(3):253–269. doi:10.1111/j.1475-4959.2012.00464.x

Walker R (1985) An introduction to applied qualitative research. In: Walker R (ed) applied qualitative research. Gower Pub Co, Aldershot, pp 2–26

Weichhart P (2006) Interkommunale Kooperation: Zwischen Notwendigkeit und Verweigerung. In: Biwald P, Hack H, Wirth K (eds) Interkommunale Kooperation. Zwischen Tradition und Aufbruch. NWV Publisher, Vienna, pp 151–166

White I, Howe J (2004) The mismanagement of surface water. App Geogr 24(4):261–280. doi:10.1016/j.apgeog.2004.07.004

Wildavsky A (1969) Rescuing policy analysis from planning-programming budgeting systems. Public Adm Rev 29(2):189–202

Wirth K, Biwald P (2006) Gemeindekooperationen in Österreich—Zwischen Tradition und Aufbruch. In: Biwald P, Hack H, Wirth K (eds) Interkommunale Kooperation. Zwischen Tradition und Aufbruch. NWV Publisher, Vienna, pp 19–34

Zeller C (2004) North Atlantic innovative relations of Swiss pharmaceuticals and the proximities with regional biotech arenas. Econ Geogr 80(1):83–111
Acknowledgments
The research leading to these results has received funding from the JPI-Climate project TRANS-ADAPT funded by the Austrian Federal Ministry of Science, Research and Economy (BMWFW), the French National Research Agency (ANR), the Ireland Environmental Protection Agency (EPA) and the Netherlands Organisation for Scientific Research (NWO) and Middlesex University, London. Furthermore, the authors would like to thank the two anonymous reviewers for their valuable comments and suggestions to an earlier version of this paper.
About this article
Cite this article
Thaler, T.A., Priest, S.J. & Fuchs, S. Evolving inter-regional co-operation in flood risk management: distances and types of partnership approaches in Austria. Reg Environ Change 16, 841–853 (2016). https://doi.org/10.1007/s10113-015-0796-z
Received:

Accepted:

Published:

Issue Date:
Keywords
Partnership

Flood risk management

Governance

Institutional arrangements

Decision-making

Responsibility sharing