Abstract
Facing the challenges of global and regional changes, society urgently needs applicable and broadly accepted tools to effectively manage and protect ecosystem services (ES). This requires knowing which ES are perceived as important. We asked decision-makers from different thematic backgrounds to rank 25 ES on the basis of their importance for society. To test whether perceptions are varying across regions, we surveyed three Alpine regions in Austria and Italy. The ranking of importance showed a high variability amongst experts but was not influenced by region or thematic background. ES that satisfy physiological needs ('fresh water', 'food', 'air quality regulation') were indicated as most important. ES that relate to safety and security needs were ranked in the middle field, whereas cultural ES were perceived as less important. We used principal component analysis (PCA) to identify ES bundles based on perception of importance. In order to investigate whether research intensity follows the perceived importance, we related the interviews with a comprehensive literature review. 'Global climate regulation', 'food', 'biodiversity', 'fresh water' and 'water quality' were studied most often. Although 'habitat', 'energy', 'primary production', 'tourism', 'water cycle', and 'local climate regulation' were ranked as important by decision-makers, they did not receive corresponding research attention. We conclude that more interaction between research and stakeholders is needed to promote a broader application and understanding of the ES concept in practice. The use of ES bundles could help to manage its inherent complexity and facilitate its application.
Access options
Buy single article
Instant access to the full article PDF.
US$ 39.95
Tax calculation will be finalised during checkout.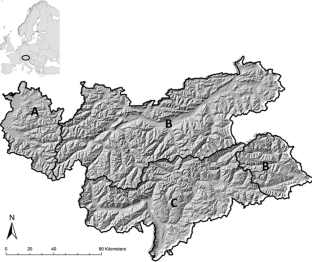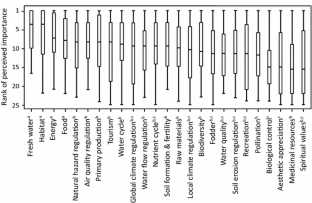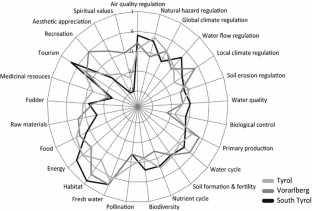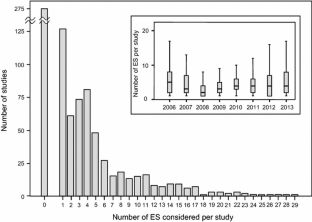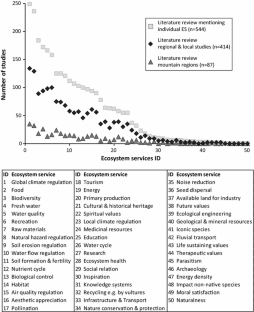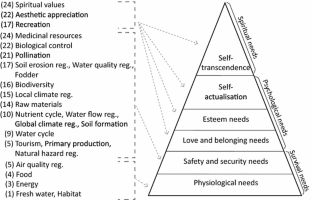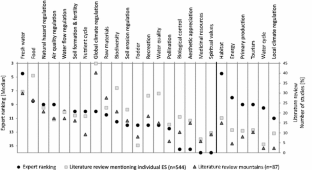 References
Agbenyega O, Burgess PJ, Cook M, Morris J (2009) Application of an ecosystem function framework to perceptions of community woodlands. Land Use Pol 26(3):551–557. doi:10.1016/j.landusepol.2008.08.011

Alderfer CP (1972) Existence, relatedness, and growth: human needs in organizational settings. Free Press, New York

Allardt E (1993) Having, loving, being. An alternative to the swedish model of welfare research. In: Nussbaum MC, Sen A (eds) The quality of life. Clarendon Press, Oxford, pp 88–94

Alwin DF, Krosnick JA (1985) The measurement of values in surveys. A comparison of ratings and rakings. Public Opin Quart 49(4):535–552

Anton C, Young J, Harrison PA, Musche M, Bela G, Feld CK, Harrington R, Haslett JR, Pataki G, Rounsevell MDA, Skourtos M, Sousa JP, Sykes MT, Tinch R, Vandewalle M, Watt A, Settele J (2010) Research needs for incorporating the ecosystem service approach into EU biodiversity conservation policy. Biodivers Conserv 19(10):2979–2994. doi:10.1007/s10531-010-9853-6

Assessment Millennium Ecosystem (ed) (2005) Ecosystems and human well-being. Current states and trends. Island Press, Washington

Autonome Provinz Bozen-Südtirol Landesinstitut für Statistik (ASTAT) (2012) Südtiroler Energiebilanz 2009, Bozen

Autonome Provinz Bozen-Südtirol Landesinstitut für Statistik (ASTAT) (2013) astatinfo. Tourismus in einigen Alpengebieten 2011, Bozen

Berbés-Blázquez M (2012) A participatory assessment of ecosystem services and human wellbeing in rural Costa Rica using photo-voice. Environ Manage 49(4):862–875. doi:10.1007/s00267-012-9822-9

Boyd JW, Banzhaf S (2007) What are ecosystem services? The need for standardized environmental accounting units. Ecol Econ 63(2–3):616–626. doi:10.1016/j.ecolecon.2007.01.002

Bryan BA, Grandgirard A, Ward JR (2010) Quantifying and exploring strategic regional priorities for managing natural capital and ecosystem services given multiple stakeholder perspectives. Ecosystems 13(4):539–555. doi:10.1007/s10021-010-9339-0

Castro A, Martín-López B, García-Llorente M, Aguilera P, López E, Cabello J (2011) Social preferences regarding the delivery of ecosystem services in a semiarid Mediterranean region. J Arid Environ 75(11):1201–1208. doi:10.1016/j.jaridenv.2011.05.013

Cowling RM, Egoh B, Knight A, O'Farrell PJ, Reyers B, Rouget M, Roux DJ, Welz A, Wilhelm-Rechman A (2008) An operational model for mainstreaming ecosystem services for implementation. Proc Natl Acad Sci 105(28):9483–9488

Crossman ND, Burkhard B, Nedkov S, Willemen L, Petz K, Palomo I, Drakou EG, Martín-López B, McPhearson T, Boyanova K, Alkemade R, Egoh B, Dunbar MB, Maes J (2013) A blueprint for mapping and modelling ecosystem services. Ecosyst Serv 4:4–14. doi:10.1016/j.ecoser.2013.02.001

Daniel TC, Muhar A, Arnberger A, Aznar O, Boyd JW, Chan KMA, Costanza R, Elmqvist T, Flint CG, Gobster PH, Grêt-Regamey A, Lave R, Muhar S, Penker M, Ribe RG, Schauppenlehner T, Sikor T, Soloviy I, Spierenburg M, Taczanowska K, Tam J, von der Dunk A (2012) Contributions of cultural services to the ecosystem services agenda. Proc Natl Acad Sci 109(23):8812–8819. doi:10.1073/pnas.1114773109

Diamont Database (2008). http://www.diamont-database.eu. Accessed 23 Oct 2013

de Sherbinin A, Curran S (2004) Completing the picture. The challenges of bringing "consumption" into the population-environment equation. Popul Environ 26(2):107–131

Dominati E, Patterson M, Mackay A (2010) A framework for classifying and quantifying the natural capital and ecosystem services of soils. Ecol Econ 69(9):1858–1868. doi:10.1016/j.ecolecon.2010.05.002

Elkin C, Gutiérrez AG, Leuzinger S, Manusch C, Temperli C, Rasche L, Bugmann H (2013) A 2 & #xB0;C warmer world is not safe for ecosystem services in the European Alps. Glob Chang Biol 19(6):1827–1840. doi:10.1111/gcb.12156

European Environmental Agency (2010) Corine land cover. http://www.eea.europa.eu/data-and-maps/data/clc-2006-vector-data-version. Accessed 11 May 2012

Fliri F (1975) Das Klima der Alpen im Raume von Tirol. Monographien zur Landeskunde Tirols 1, vol 1. Wagner, München

Fontana V, Radtke A, Bossi Fedrigotti V, Tappeiner U, Tasser E, Zerbe S, Buchholz T (2013) Comparing land-use alternatives. Using the ecosystem services concept to define a multi-criteria decision analysis. Ecol Econ 93:128–136. doi:10.1016/j.ecolecon.2013.05.007

Forsius M, Anttila S, Arvola L, Bergstrom I, Hakola H, Heikkinen HI, Helenius J, Hyvarinen M, Jylha K, Karjalainen J, Keskinen T, Laine K, Nikinmaa E, Peltonen-Sainio P, Rankinen K, Reinikainen M, Setala H, Vuorenmaa J (2013) Impacts and adaptation options of climate change on ecosystem services in Finland: a model based study. Curr Opin Environ Sustain 5(1):26–40. doi:10.1016/j.cosust.2013.01.001

Frank S, Fürst C, Koschke L, Witt A, Makeschin F (2013) Assessment of landscape aesthetics. Validation of a landscape metrics-based assessment by visual estimation of the scenic beauty. Ecol Ind 32:222–231. doi:10.1016/j.ecolind.2013.03.026

Grêt-Regamey A, Walz A, Bebi P (2008) Valuing ecosystem services for sustainable landscape planning in alpine regions. Mt Res Dev 28(2):156–165. doi:10.1659/mrd.0951

Grêt-Regamey A, Brunner SH, Kienast F (2012) Mountain ecosystem services. Who Cares? Mt Res Dev 32(S1):S23–S34. doi:10.1659/MRD-JOURNAL-D-10-00115.S1

Grunewald K, Bastian O (eds) (2012) Ökosystemdienstleistungen. Konzepte, Methoden und Fallbeispiele, 1, 2013. Spektrum Akademischer Verlag, Heidelberg, Neckar

Haines-Young R, Potschin M (2011) Common International Classification of Ecosystem Services (CICES). Update 2011. EEA Framework contract no EEA/BSS/07/007, November 2011

Haines-Young R, Potschin M (2013) Common International Classification of Ecosystem Services (CICES 4). Consultation on CICES Version 4, August–December 2012. EEA Framework Contract No EEA/IEA/09/003

Hair JF, Black WC, Babin BJ, Anderson RE (2006) Multivariate data analysis, 6th edn. Prentice Hall, New Jersey

Harrison PA, Vandewalle M, Sykes MT, Berry PM, Bugter R, Bello F, Feld CK, Grandin U, Harrington R, Haslett JR, Jongman RHG, Luck GW, Silva PM, Moora M, Settele J, Sousa JP, Zobel M (2010) Identifying and prioritising services in European terrestrial and freshwater ecosystems. Biodivers Conserv 19(10):2791–2821. doi:10.1007/s10531-010-9789-x

Hartter J (2010) Resource use and ecosystem services in a forest park landscape. Soc Nat Resour 23(3):207–223. doi:10.1080/08941920903360372

Hein L, van Koppen K, de Groot RS, van Ierland E (2006) Spatial scales, stakeholders and the valuation of ecosystem services. Ecol Econ 57(2):209–228. doi:10.1016/j.ecolecon.2005.04.005

Hou Y, Burkhard B, Müller F (2013) Uncertainties in landscape analysis and ecosystem service assessment. J Environ Manage 127:117–131. doi:10.1016/j.jenvman.2012.12.002

Iftekhar MS, Takama T (2008) Perceptions of biodiversity, environmental services, and conservation of planted mangroves: a case study on Nijhum Dwip Island, Bangladesh. Wetl Ecol Manage 16(2):119–137. doi:10.1007/s11273-007-9060-8

Instituto nazionale di statistica (ISTAT) (2012) Compendio statistico italiano: Italian Statistical Abstract 2011

Jordan SJ, Hayes SE, Yoskowitz D, Smith LM, Summers JK, Russell M, Benson WH (2010) Accounting for natural resources and environmental sustainability. Linking ecosystem services to human well-being. Environ Sci Technol 44(5):1530–1536. doi:10.1021/es902597u

Keller L (2009) Lebensqualität im Alpenraum. Innsbrucker Geographische Studien, vol 36. Geographie Innsbruck, Selbstverlag, Innsbruck

Koellner T (2009) Supply and demand for ecosystem services in mountainous regions. In: Jandl R, Borsdorf A, van Miegroet H, Lackner R, Psenner R (eds) Global change and sustainable development in mountain regions. Proceedings of the COST Strategic Workshop, 1st ed. Innsbruck University Press, Innsbruck, pp 61–70

Körner C (2009) Mountain vegetation and environment under change. In: Jandl R, Borsdorf A, van Miegroet H, Lackner R, Psenner R (eds) Global change and sustainable development in mountain regions. Proceedings of the COST Strategic Workshop, 1st ed. Innsbruck University Press, Innsbruck, pp 25–30

Körner C, Ohsawa M (2005) Mountain Systems. In: Millennium Ecosystem Assessment (ed) Ecosystems and human well-being. Current states and trends. Island Press, Washington, DC, pp 681–716

Krosnick JA (1999) Survey research. Annu Rev Psychol 50:537–567

Lamarque P, Tappeiner U, Turner C, Steinbacher M, Bardgette R, Szukics U, Schermer M, Lavorel S (2011) Stakeholder perception of grassland ecosystem services in relation to knowledge on soil fertility and biodiversity. Reg Environ Chang 11:791–804. doi:10.1111/j.1365-2664.2010.01925.x

Lele S, Springate-Baginski O, Lakerveld R, Deb D, Dash P (2013) Ecosystem Services: origins, contributions, pitfalls, and alternatives. Conserv Soc 11(4):343. doi:10.4103/0972-4923.125752

Likert R (1932) A technique for the measurement of attitudes. Arch Psychol 140:1–55

Lugnot M, Martin G (2013) Biodiversity provides ecosystem services: scientific results versus stakeholders' knowledge. Reg Environ Chang 13(6):1145–1155. doi:10.1007/s10113-013-0426-6

Mace GM, Norris K, Fitter A (2012) Biodiversity and ecosystem services. A multilayered relationship. Trends Ecol Evol 27(1):19–26. doi:10.1016/j.tree.2011.08.006

Malone EL, Dooley JJ, Bradbury JA (2010) Moving from misinformation derived from public attitude surveys on carbon dioxide capture and storage towards realistic stakeholder involvement. Int J Greenh Gas Control 4(2):419–425. doi:10.1016/j.ijggc.2009.09.004

Martín-López B, Iniesta-Arandia I, García-Llorente M, Palomo I, Casado-Arzuaga I, Amo DGD, Gómez-Baggethun E, Oteros-Rozas E, Palacios-Agundez I, Willaarts B, González JA, Santos-Martín F, Onaindia M, López-Santiago CA, Montes C, Bawa K (2012) Uncovering ecosystem service bundles through social preferences. PLoS One 7(6):e38970. doi:10.1371/journal.pone.0038970

Maslow AH (1943) A theory of human motivation. Psychol Rev 50:370–396

Maslow AH (1993) The farther reaches of human nature, 4th edn. Arkana, New York

Notter B, Hurni H, Wiesmann U, Abbaspour KC (2012) Modelling water provision as an ecosystem service in a large East African river basin. Hydrol Earth Syst Sci 16(1):69–86. doi:10.5194/hess-16-69-2012

Nussbaum MC (2006) Frontiers of justice Disability, nationality, species membership. The Belknap Press/Harvard University Press, Cambridge

Nussbaum MC, Sen A (eds) (1993) The quality of life. Clarendon Press, Oxford

Orenstein DE, Groner E (2014) In the eye of the stakeholder: changes in perceptions of ecosystem services across an international border. Ecosyst Serv 8:185–196. doi:10.1016/j.ecoser.2014.04.004

Petticrew M, Roberts H (2009) Systematic reviews in the social sciences. A practical guide, 8. [Dr.]. Blackwell, Malden

Plieninger T, Dijks S, Oteros-Rozas E, Bieling C (2013) Assessing, mapping, and quantifying cultural ecosystem services at community level. Land Use Pol 33:118–129. doi:10.1016/j.landusepol.2012.12.013

Raudsepp-Hearne C, Peterson G, Bennett E (2010) Ecosystem service bundles for analyzing tradeoffs in diverse landscapes. Proc Natl Acad Sci 107(11):5242–5247. doi:10.1073/pnas.0907284107

Reid WV, Berkes F, Wilbanks T, Capistrano D (eds) (2006) Bridging scales and knowledge systems. Concepts and applications in ecosystem assessment. Island Press, Washington

Reyers B, O'Farrell PJ, Cowling RM, Egoh B, Le Maitre DC, Vlok JHJ (2009) Ecosystem services, land-cover change, and stakeholders: finding a sustainable foothold for a semiarid biodiversity hotspot. E&S 14:38

Rönnbäck P, Crona B, Ingwall L (2007) The return of ecosystem goods and services in replanted mangrove forests: perspectives from local communities in Kenya. Envi Conserv. doi:10.1017/S0376892907004225

Rüdisser J, Tasser E, Tappeiner U (2012) Distance to nature. A new biodiversity relevant environmental indicator set at the landscape level. Ecol Ind 15(1):208–216. doi:10.1016/j.ecolind.2011.09.027

Satz D, Gould RK, Chan KMA, Guerry A, Norton B, Satterfield T, Halpern BS, Levin J, Woodside U, Hannahs N, Basurto X, Klain S (2013) The challenges of incorporating cultural ecosystem services into environmental assessment. Ambio 42:675–684. doi:10.1007/s13280-013-0386-6

Schirpke U, Hölzler S, Leitinger G, Bacher M, Tappeiner U, Tasser E (2013) Can we model the scenic beauty of an alpine landscape? Sustainability 5(3):1080–1094. doi:10.3390/su5031080

Schröter D, Cramer W, Leemans R, Prentice IC, Aroujo M, Arnell N, Bondeau A, Bugmann H, Carter T, Gracia J, de La Vega-Leiner A, Erhard M, Ewert F, Glendining M, House J, Kankaanpää S, Klein R, Lavorel S, Lindner M, Metzger MJ, Meyer J, Mitchell T, Reginster I, Rounsevell M, Sabaté S, Sitch S, Smith B, Smith J, Smith P, Sykes MT, Thonicke KTW, Tuck G, Zaehle S, Zierl B (2005) Ecosystem service supply and vulnerability to global change in Europe. Science 310(5752):1333–1337. doi:10.1126/science.1115233

Schröter M, van der Zanden EH, Van Oudenhoven AP, Remme RP, Serna-Chavez HM, de Groot RS, Opdam P (2014) Ecosystem services as a contested concept: a synthesis of critique and counter-arguments. Conserv Lett. doi:10.1111/conl.12091

Scolozzi R, Morri E, Santolini R (2012) Delphi-based change assessment in ecosystem service values to support strategic spatial planning in Italian landscapes. Ecol Ind 21:134–144. doi:10.1016/j.ecolind.2011.07.019

Seppelt R, Dormann CF, Eppink FV, Lautenbach S, Schmidt S (2011) A quantitative review of ecosystem service studies. Approaches, shortcomings and the road ahead. J Appl Ecol 48(3):630–636. doi:10.1111/j.1365-2664.2010.01952.x

Statistik Austria (2013). http://www.statistik.at/web_de/statistiken/index.html. Accessed 23 Oct 2013

Summers JK, Smith LM, Case JL, Linthurst RA (2012) A review of the elements of human well-being with an emphasis on the contribution of ecosystem services. Ambio 41(4):327–340. doi:10.1007/s13280-012-0256-7

Tappeiner U, Borsdorf A, Tasser E (eds) (2008) Alpenatlas. Mapping the Alps. Society, economy, environment. Spektrum Akademischer Verlag, Heidelberg

Tasser E, Schermer M, Siegl G, Tappeiner U (eds) (2012) Wir Landschaftmacher. Vom Sein und Werden der Kulturlandschaft in Nord-, Ost- und Südtirol. Athesia, Bozen

TEEB (2010) The economics of ecosystems and biodiversity. Ecological and economic foundation, London

Veit H (2002) Die Alpen. Geoökologie und Landschaftsentwicklung. UTB Geowissenschaften, Ökologie, Biologie, vol 2327. Ulmer, Stuttgart (Hohenheim)

Vihervaara P, Rönkä M, Walls M (2010) Trends in ecosystem service research. Early steps and current drivers. Ambio 39(4):314–324. doi:10.1007/s13280-010-0048-x

Vilardy S, González JA, Martín-López B, Montes C (2011) Relationships between hydrological regime and ecosystem services supply in a Caribbean coastal wetland. A social-ecological approach. Hydrol Sci J 56(8):1423–1435

Wahba MA, Bridwell LG (1976) Maslow reconsidered: a review of research on the need hierarchy theory. Organ Behav Hum Perform 15(2):212–240. doi:10.1016/0030-5073(76)90038-6

Walz A, Lardelli C, Behrendt H, Grêt-Regamey A, Lundström C, Kytzia S, Bebi P (2007) Participatory scenario analysis for integrated regional modelling. Landsc Urban Plan 81(1–2):114–131. doi:10.1016/j.landurbplan.2006.11.001

Wang S, Fu B, Wei Y, Lyle C (2013) Ecosystem services management. An integrated approach. Curr Opin Environ Sustain 5(1):11–15. doi:10.1016/j.cosust.2013.01.003

Welp M, La Vega-Leinert A, de Stoll-Kleemann S, Jaeger CC (2006) Science-based stakeholder dialogues: theories and tools. Glob Environ Chang 16(2):170–181. doi:10.1016/j.gloenvcha.2005.12.002
Acknowledgments
We would like to thank all interviewees for their input to this study. Our special thanks go to Christian Georges and Gottfried Tappeiner for their useful advice and discussions, to Andrew Greenbank for his thorough proofreading and to the anonymous reviewers for their valuable input. This study was part of the project 'SHIFT' funded by the COMET programme, the Austrian Climate Research Funds project 'CAFEE—Climate change in agriculture and forestry: an integrated assessment of mitigation and adaptation measures in Austria', and the bi-national project 'Ecology of the Alpine region'. Ulrike Tappeiner is a member of the research area 'Alpine Space—Man and Environment' at the University of Innsbruck.
Additional information
Christin Haida and Johannes Rüdisser have contributed equally.
About this article
Cite this article
Haida, C., Rüdisser, J. & Tappeiner, U. Ecosystem services in mountain regions: experts' perceptions and research intensity. Reg Environ Change 16, 1989–2004 (2016). https://doi.org/10.1007/s10113-015-0759-4
Received:

Accepted:

Published:

Issue Date:
Keywords
Alps

Perception of importance

Expert interviews

Quantitative literature review

Ecosystem service bundles (ESB)

Maslow's hierarchy of needs