Abstract
In many regions of Europe, large-scale socio-economic changes have led to the abandonment of rural activities and a gradual takeover of natural vegetation. It is important to assess the relative positive and negative effects of land abandonment on particular areas where the low-intensity farming is no longer socially or economically viable in order to quantify the potential conservation costs and benefits of a rewilding as a land-use management policy. During the period 2000–2010, we studied the land-use/land-cover changes in an abandoned mountain landscape (Galicia, NW Spain) and evaluated the effects on breeding bird occurrence and distribution. For this purpose, we analysed remotely sensed data-derived maps in combination with data obtained from bird censuses carried out in 2000 and 2010 at both landscape and census plot scale. The results revealed a gradient of change from bare ground and open shrubland to closed shrubland and woodland. Thirteen shrubland and forest bird species showed a significant increase (including species of conservation concern such as Turtle Dove, Dartford Warbler and Western Bonelli's Warbler), while four ecotone and open-habitat species (e.g. Red-backed Shrike) showed a significant negative trend. In conclusion, rewilding appears to have overall positive effects on biodiversity and should be considered by policy makers as alternative land-use strategy in marginal mountain areas, particularly if they have been historically affected by wildfires. Fire management aimed at favouring the creation of small burned areas in progressively closed landscapes derived from rewilding may be a complementary alternative to maintain open habitats in these areas.
Access options
Buy single article
Instant access to the full article PDF.
USD 39.95
Price excludes VAT (USA)
Tax calculation will be finalised during checkout.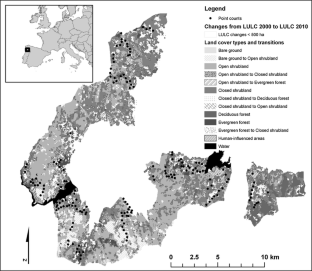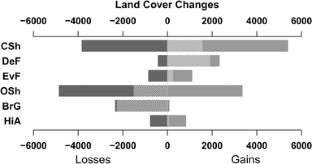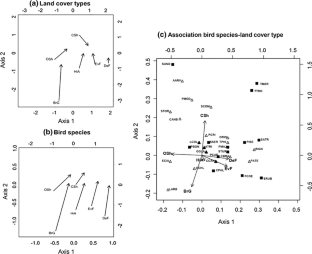 Notes
Gillson et al. (2011) defined rewilding as the passive management of ecological succession with the goal of reducing human control and restoring natural ecosystem processes.
References
Bibby C, Burgess N, Hil D (1992) Bird census techniques. Cambridge University Press, Cambridge

Birdlife International (2004) Birds in the European Union: a status assessment. BirdLife International, Wageningen

Bolker BM, Brooks ME, Clark CJ, Geange SW, Poulsen JR, Stevens MH, White JSS (2009) Generalized linear mixed models: a practical guide for ecology and evolution. Trends Ecol Evol 24:127–135. doi:10.1016/j.tree.2008.10.008

Borcard D, Gillet F, Legendre P (2011) Numerical ecology with R., Use R! seriesSpringer Science, New York

Brambilla M, Casale F, Bergero V, Bogliani G, Crovetto GM, Falco R, Roati M, Negri I (2010) Glorious past, uncertain present, bad future? Assessing effects of land-use changes on habitat suitability for a threatened farmland bird species. Biol Conserv 143:2770–2778. doi:10.1016/j.biocon.2010.07.025

Brotons L, Pons P, Herrando S (2005) Colonization of dynamic Mediterranean landscapes: where do birds come from after fire? J Biogeogr 32:789–798. doi:10.1111/j.1365-2699.2004.01195.x

Brotons L, Aquilué N, de Cáceres M, Fortin M-J, Fall A (2013) How fire history, fire suppression practices and climate change affect wildfire regimes in Mediterranean landscapes. PLoS ONE 8:e62392. doi:10.1371/journal.pone.0062392

Butler SJ, Boccaccio L, Gregory RD, Vorisek P, Norris K (2010) Quantifying the impact of land-use change to European farmland bird populations. Agric Ecosyst Environ 137:348–357. doi:10.1016/j.agee.2010.03.005

Calvo-Iglesias MS, Fra-Paleo U, Crecente-Maseda R, Díaz-Varela RA (2006) Directions of change in land cover and landscape patterns from 1957 to 2000 in agricultural landscapes in NW Spain. Environ Manag 38:921–933. doi:10.1007/s00267-005-0276-1

Calvo-Iglesias MS, Fra-Paleo U, Diaz-Varela RA (2009) Changes in farming system and population as drivers of land cover and landscape dynamics: the case of enclosed and semi-openfield systems in Northern Galicia (Spain). Landsc Urban Plan 90:168–177. doi:10.1016/j.landurbplan.2008.10.025

Chas-Amil ML, Touza J, Prestemon JP (2010) Spatial distribution of human-caused forest fires in Galicia (NW Spain). In: Perona G, Brebbia CA (eds) Second international conference on modelling, monitoring and management of forest fires. WIT Press, Ashurst, pp 247–258

Corbelle E, Crecente R (2008) Estudio da evolución da superficie agrícola na comarca da Terra Chá a partir de fotografía aérea histórica e mapas de usos, 1956–2004. Recur Rurais 1:57–65

Core Team R (2013) A language and environment for statistical computing. R Foundation for Statistical Computing, Vienna

Cramp S (1998) The complete birds of the western Palearctic. Oxford University Press, Oxford

Cubo JE, Enríquez E, Gallar JJ, Jemes V, López M, Mateo ML, Muñoz A, Parra PJ (2012) Los incendios forestales en España Decenio 2001–2010. Ministerio de Agricultura, Alimentación y Medio Ambiente, Madrid

Dax T (2005) The redefinition of Europe's less favoured areas. In: 3rd annual conference 'Rural Development in Europe'—funding European rural development in 2007–2013. MPRA paper no. 711

De Cáceres M, Brotons L, Aquilué N, Fortin M-J (2013) The combined effects of land-use legacies and novel fire regimes on bird distributions in the Mediterranean. J Biogeogr 40:1535–1547. doi:10.1111/jbi.12111

Debussche M, Lepart J, Dervieux A (1999) Mediterranean landscape changes: evidence from old postcards. Glob Ecol Biogeogr 8:3–15

Dolédec S, Chessel D (1994) Co-inertia analysis: an alternative method for studying species-environment relationships. Freshw Biol 31:277–295

Domínguez J, Arenas M, Tapia L (2005) Guía de las Aves del Parque Natural Baixa Limia-Serra do Xurés y Lic Baixa Limia. Consellería de Medio Ambiente, Xunta de Galicia, Santiago de Compostela

Domínguez J, Lamosa A, Pardavila X, Martínez-Freiría F, Regos A, Gil A, Vidal M (2012) Atlas de los vertebrados terrestres reproductores en el Parque Natural Baixa Limia-Serra do Xurés y ZEPVN-LIC Baixa Limia, 423

Drapeau P, Leduc A, Giroux J, Savard J-PL, Vickery WL (2000) Landscape-scale disturbances and changes in bird communities of boreal mixed-wood forests. Ecol Monogr 70:423–444

Dray S, Dufour A (2007) The ade4 package: implementing the duality diagram for ecologists. J Stat Softw 22:1–20

Dray S, Chessel D, Thioulouse J (2003) Co-inertia analysis and the linking of ecological data tables. Ecology 84:3078–3089

Eastman JR (2012) IDRISI Selva. Clark Labs, Clark University, Worcester

Falcucci A, Maiorano L, Boitani L (2006) Changes in land-use/land-cover patterns in Italy and their implications for biodiversity conservation. Landsc Ecol 22:617–631. doi:10.1007/s10980-006-9056-4

Fenton NJ, Imbeau L, Work T, Jacobs J (2013) Lessons learned from 12 years of ecological research on partial cuts in black spruce forests of northwestern Québec. For Chron 89:259–350

Figueiredo J, Pereira HM (2011) Regime shifts in a socio-ecological model of farmland abandonment. Landsc Ecol 26:737–749. doi:10.1007/s10980-011-9605-3

Fuentes-Santos I, Marey-Pérez MF, González-Manteiga W (2013) Forest fire spatial pattern analysis in Galicia (NW Spain). J Environ Manage 128:30–42. doi:10.1016/j.jenvman.2013.04.020

Gillson L, Ladle R, Araujo MB (2011) Baselines, patterns and process. In: Ladle RJ, Whittaker RJ (eds) Conservation biogeography. Wiley-Blackwell, Oxford, pp 31–44

Gil-Tena A, Brotons L, Saura S (2009) Mediterranean forest dynamics and forest bird distribution changes in the late 20th century. Glob Chang Biol 15:474–485. doi:10.1111/j.1365-2486.2008.01730.x

Gracia M, Meghelli N, Comas L, Retana J (2010) Land-cover changes in and around a National Park in a mountain landscape in the Pyrenees. Reg Environ Chang 11:349–358. doi:10.1007/s10113-010-0138-0

Guilherme JL, Pereira HM (2013) Adaptation of bird communities to farmland abandonment in a mountain landscape. PLoS ONE 8:e73619. doi:10.1371/journal.pone.0073619

Herrando S, Amo R, Brotons L, Llacuna S (2001) Factors influencing post-fire dynamics of Sardinian and Dartford Warblers in Mediterranean shrublands. Ornis Fenn 78:168–174

Hobbs RJ, Arico S, Aronson J, Baron JS, Cramer VA, Epstein PR, Ewel JJ, Klink CA, Lugo AE, Norton D, Ojima D, Richardson DM (2006) Novel ecosystems: theoretical and management aspects of the new ecological world order. Glob Ecol Biogeogr 15:1–7. doi:10.1111/j.1466-822x.2006.00212.x

Hurlbert AH (2004) Species-energy relationships and habitat complexity in bird communities. Ecol Lett 7:714–720. doi:10.1111/j.1461-0248.2004.00630.x

Keeley J, Bond W, Bradstock R, Pausas JG, Rundel PW (2012) Fire in Mediterranean ecosystems. Cambridge University Press, New York

Kelly LT, Bennett AF, Clarke MF, McCarthy MA (2014) Optimal fire histories for biodiversity conservation. Conserv Biol 00:1–9. doi:10.1111/cobi.12384

King DI, Schlossberg S, Brooks RT, Akresh ME (2011) Effects of fuel reduction on birds in pitch pine–scrub oak barrens of the United States. For Ecol Manag 261:10–18. doi:10.1016/j.foreco.2010.08.039

Laiolo P, Dondero F, Ciliento E, Rolando A (2004) Consequences of pastoral abandonment for the structure and diversity of the alpine avifauna. J Appl Ecol 41:294–304

Le Viol I, Jiguet F, Brotons L, Herrando S, Lindström A, Pearce-Higgins JW, Reif J, Van Turnhout C, Devictor V (2012) More and more generalists: two decades of changes in the European avifauna. Biol Lett 8:780–782. doi:10.1098/rsbl.2012.0496

Loepfe L, Martinez-Vilalta J, Oliveres J, Piñol J, Lloret F (2010) Feedbacks between fuel reduction and landscape homogenisation determine fire regimes in three Mediterranean areas. For Ecol Manag 259:2366–2374. doi:10.1016/j.foreco.2010.03.009

Macedo A, Tavares A, Fontes A, Pinto C, Rodrigues C, Machado C, Figueiredo D, Silva D, Carvalho H, Regalo H, Osório M, Santarém M, Gonzalez R, Formoso JC, Gonzalez FJ, Fernández MA, Gil A, Veloso N (2009) Propuesta para la creación de la Reserva de la Biosfera Transfronteriza Gerês/Xurés. Xunta de Galicia, Comissão de Coordenação e Desenvolvimento Regional do Norte, Instituto de Conservação da Natureza e da Biodiversidade, 281

Martí R, Del Moral JC (eds) (2003) Atlas de las Aves Reproductoras de España. Dirección General de Conservación de la Naturaleza-Sociedad Española de Ornitología, Madrid

Martínez-Cortizas A, Pérez-Alberti A (1999) Atlas Bioclimático de Galicia. Xunta de Galicia, Santiago de Compostela

Monkkonen M, Forsman JT, Bokma F (2006) Energy availability, abundance, energy-use and species richness in forest bird communities: a test of the species-energy theory. Glob Ecol Biogeogr 15:290–302. doi:10.1111/j.1466-822X.2006.00224.x

Moreira F, Ferreira PG, Rego FC, Bunting S (2001) Landscape changes and breeding bird assemblages in northwestern Portugal: the role of fire. Landsc Ecol 16:175–187

Moreira F, Viedma O, Arianoutsou M, Curt T, Koutsias N, Rigolot E, Barbati A, Corona P, Vaz P, Xanthopoulos G, Mouillot F, Bilgili E (2011) Landscape–wildfire interactions in southern Europe: implications for landscape management. J Environ Manag 92:2389–2402. doi:10.1016/j.jenvman.2011.06.028

Moritz MA (2003) Spatiotemporal analysis of controls on shrubland fire regimes: age dependency and fire hazard. Ecology 84:351–361

Navarro LM, Pereira HM (2012) Rewilding abandoned landscapes in Europe. Ecosystems 15:900–912. doi:10.1007/s10021-012-9558-7

Ninyerola M, Roure JM (2007) Objective air temperature mapping for the Iberian Peninsula using spatial interpolation and GIS. Int J Climatol 1242:1231–1242. doi:10.1002/joc

Ninyerola M, Pons X, Roure JM (2006) Monthly precipitation mapping of the Iberian Peninsula using spatial interpolation tools implemented in a Geographic Information System. Theor Appl Climatol 89:195–209. doi:10.1007/s00704-006-0264-2

Pausas JG, Fernández-Muñoz S (2011) Fire regime changes in the Western Mediterranean Basin: from fuel-limited to drought-driven fire regime. Clim Change 110:215–226. doi:10.1007/s10584-011-0060-6

Pereira E, Queiroz C, Pereira HM, Vicente L (2005) Ecosystem services and human well-being: a participatory study in a mountain community in Portugal. Ecol Soc 10(2):14. http://www.ecologyandsociety.org/vol10/iss2/art14/

Pimenta M, Santarém M (1996) Atlas das Aves do Parque Nacional da Peneda-Gerês. Instituto da Conservação da Natureza, Parque Nacional da Peneda-Gerês

Piñol J, Terradas J, Lloret F (1998) Climate warming, wildfire hazard, and wildfire occurrence in coastal eastern Spain. Clim Change 38:345–357

Pôças I, Cunha M, Marcal ARS, Pereira LS (2011) An evaluation of changes in a mountainous rural landscape of Northeast Portugal using remotely sensed data. Landsc Urban Plan 101:253–261. doi:10.1016/j.landurbplan.2011.02.030

Pons X (2010) Geographic information system and remote sensing software. Centre de Recerca Ecològica i Aplicacions Forestals, CREAF. http://www.creaf.uab.es/miramon

Pons P, Clavero M, Bas JM, Prodon R (2012) Time-window of occurrence and vegetation cover preferences of Dartford and Sardinian Warblers after fire. J Ornithol 153:921–930. doi:10.1007/s10336-012-0822-6

Preiss E, Martin J, Debussche M (1997) Rural depopulation and recent landscape changes in a Mediterranean region: consequences to the breeding avifauna. Landsc Ecol 12:51–61

Queiroz C (2013) Managing for biodiversity and ecosystem services in a context of farmland abandonment. Doctoral Thesis in Sustainability Science, Stockholm Resilience Centre, Stockholm University, Sweden. ISBN 978-91-7447-700-9

Queiroz C, Beilin R, Folke C, Lindborg R (2014) Farmland abandonment: threat or opportunity for biodiversity conservation? A global review. Front Ecol Environ 12:288–296. doi:10.1890/120348

Regos A, Ninyerola M, Pons X, Moré G (2012) Evaluación de las dinámicas temporales de las cubiertas y usos del suelo mediante comparación post-clasificación e índices de área relativa. XV Congreso Nacional de Tecnologías de la Información Geográfica, Madrid, AGE-CSIC, pp 195–204

Regos A, Aquilué N, Retana J, De Cáceres M, Brotons L (2014a) Using unplanned fires to help suppressing future large fires in Mediterranean forests. PLoS ONE 9:e94906. doi:10.1371/journal.pone.0094906

Regos A, Ninyerola M, Moré G, Pons X (2014b) Linking land cover dynamics with driving forces in mountain landscape of the Northwestern Iberian Peninsula. Int J Appl Earth Observ Geoinf. doi:10.1016/j.jag.2014.11.010

Romero-Calcerrada R, Perry GLW (2004) The role of land abandonment in landscape dynamics in the SPA 'Encinares del río Alberche y Cofio, Central Spain, 1984–1999. Landsc Urban Plan 66:217–232. doi:10.1016/S0169-2046(03)00112-9

Rounsevell MDA, Reginster I, Araújo MB, Carter TR, Dendoncker N, Ewert F, House JI, Kankaanpää S, Leemans R, Metzger MJ, Schmit C, Smith P, Tuck G (2006) A coherent set of future land use change scenarios for Europe. Agric Ecosyst Environ 114:57–68. doi:10.1016/j.agee.2005.11.027

Roura-Pascual N, Pons P, Etienne M, Lambert B (2005) Transformation of a rural landscape in the Eastern Pyrenees between 1953 and 2000. Mt Res Dev 25:252–261. doi:10.1659/0276-4741(2005)025[0252:TOARLI]2.0.CO;2

Sarris D, Christopoulou A, Angelonidi E, Koutsias N, Fulé PZ, Arianoutsou M (2013) Increasing extremes of heat and drought associated with recent severe wildfires in southern Greece. Reg Environ Chang 14:1257–1268. doi:10.1007/s10113-013-0568-6

Scozzafava S, De Sanctis A (2006) Exploring the effects of land abandonment on habitat structures and on habitat suitability for three passerine species in a highland area of Central Italy. Landsc Urban Plan 75:23–33. doi:10.1016/j.landurbanplan.2004.10.006

SEO/BirdLife (2010) Estado de conservación de las aves en España. SEO/BirdLife, Madrid

Seoane J, Carrascal LM (2008) Interspecific differences in population trends of Spanish birds are related to habitat and climatic preferences. Glob Ecol Biogeogr 17:111–121. doi:10.1111/j.1466-8238.2007.00351.x

Sirami C, Brotons L, Martin J-L (2007) Vegetation and songbird response to land abandonment: from landscape to census plot. Divers Distrib 13:42–45. doi:10.1111/j.1472-4642.2006.00297.x

Sirami C, Brotons L, Burfield I, Fonderflick J, Martin J-L (2008) Is land abandonment having an impact on biodiversity? A meta-analytical approach to bird distribution changes in the north-western Mediterranean. Biol Conserv 141:450–459. doi:10.1016/j.biocon.2007.10.015

Srivastava DS, Lawton JH (1998) Why more productive sites have more species: an experimental test of theory using tree-hole communities. Am Nat 152:510–529

Stellmes M, Röder A, Udelhoven T, Hill J (2013) Mapping syndromes of land change in Spain with remote sensing time series, demographic and climatic data. Land Use Policy 30:685–702. doi:10.1016/j.landusepol.2012.05.007

Stephens SL (1998) Evaluation of the effects of silvicultural and fuels treatments on potential fire behaviour in Sierra Nevada mixed-conifer forests. For Ecol Manag 105:21–35. doi:10.1016/S0378-1127(97)00293-4

Stoate C, Báldi A, Beja P, Boatman ND, Herzon I, Van Doorn A, De Snoo GR, Rakosy L, Ramwell C (2009) Ecological impacts of early 21st century agricultural change in Europe—a review. J Environ Manag 91:22–46. doi:10.1016/j.jenvman.2009.07.005

Suarez-Seoane S, Osborne PE, Baudry J (2002) Responses of birds of different biogeographic origins and habitat requirements to agricultural land abandonment in northern Spain. Biol Conserv 105:333–344

Tryjanowski P, Hartel T, Báldi A, Szymański P, Tobolka M, Herzon I, Goławski A, Konvička M, Hromada M, Jerzak L, Kujawa K, Lenda M, Orłowski G, Panek M, Skórka P, Sparks TH, Tworek S, Wuczyński A, Żmihorski M (2011) Conservation of farmland birds faces different challenges in Western and Central-Eastern Europe. Acta Ornithol 46:1–12. doi:10.3161/000164511X589857

Vallecillo S, Brotons L, Herrando S (2007) Assessing the response of open-habitat bird species to landscape changes in Mediterranean mosaics. Biodivers Conserv 17:103–119. doi:10.1007/s10531-007-9233-z

Vega-García C, Chuvieco E (2006) Applying local measures of spatial heterogeneity to Landsat-TM images for predicting wildfire occurrence in Mediterranean landscapes. Landsc Ecol 21:595–605. doi:10.1007/s10980-005-4119-4

Vitousek PM, Mooney HA, Lubchenco J, Melillo JM (1997) Human domination of Earth's ecosystems. Science 277:494–499. doi:10.1126/science.277.5325.494

Whelan CJ, Wenny DG, Marquis RJ (2008) Ecosystem services provided by birds. Ann N Y Acad Sci 1134:25–60. doi:10.1196/annals.1439.003

Zozaya EL, Brotons L, Saura S (2011) Recent fire history and connectivity patterns determine bird species distribution dynamics in landscapes dominated by land abandonment. Landsc Ecol 27:171–184. doi:10.1007/s10980-011-9695-y
Acknowledgments
The surveys carried out during spring 2000 were funded by Xunta de Galicia, and those carried out in spring of 2010 were associated with the project INTERREG-POCTEC ("NATURA Xurés-Gerês"). Adrián Regos was financially supported by research projects BIONOVEL (CGL2011-29539/BOS) and MONTES (CSD2008-00040) funded by the Spanish Ministry of Education and Science. This study was also supported by the research project DinaCliVe (CGL2012-33927) funded by the Spanish Ministry of Economy and Competitiveness. We also wish to thank the Catalan Government Grant SGR 2009-1511. A. Gil-Tena was funded by the Ministerio de Educación (Programa Nacional de Movilidad de RRHH, Plan Nacional de I+D+i 2008–2011 and Subprograma Juan de la Cierva (JDC) 2012, Spain). Xavier Pons is recipient of an ICREA Acadèmia excellence in Research Grant (2011–2015).
Electronic supplementary material
Below is the link to the electronic supplementary material.
About this article
Cite this article
Regos, A., Domínguez, J., Gil-Tena, A. et al. Rural abandoned landscapes and bird assemblages: winners and losers in the rewilding of a marginal mountain area (NW Spain). Reg Environ Change 16, 199–211 (2016). https://doi.org/10.1007/s10113-014-0740-7
Received:

Accepted:

Published:

Issue Date:

DOI: https://doi.org/10.1007/s10113-014-0740-7
Keywords
Land abandonment

Wildfire

Species of European Conservation Concern

Landsat imagery

Co-inertia analysis

Land-use policy