Abstract
Possible changes in the intensity of heavy precipitation events at the end of the twenty-first century over the Euro-Mediterranean region are investigated, using a subset of numerical climate simulations taking part to the fifth phase of the Coupled Model Intercomparison Project (CMIP5). As a measure of the intensity associated with heavy precipitation events, we use the difference between the 99th and the 90th percentiles. Despite a slight tendency to underestimate the observed heavy precipitation intensity during summer and to overestimate it during winter, the considered CMIP5 models well represent the observed patterns of the defined 99th–90th percentile metric during both seasons for the 1997–2005 period over the Euro-Mediterranean region. Over the investigated domain, an increase of the width of the right tail of the precipitation distribution is projected in a warmer climate, even over regions where nearly the entire precipitation distribution becomes dryer. This is the case of the European domain within the 45N–55N belt.
Access options
Buy single article
Instant access to the full article PDF.
USD 39.95
Price includes VAT (USA)
Tax calculation will be finalised during checkout.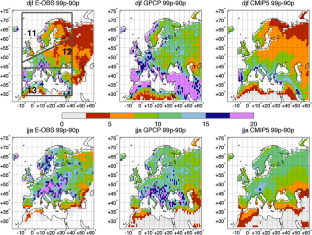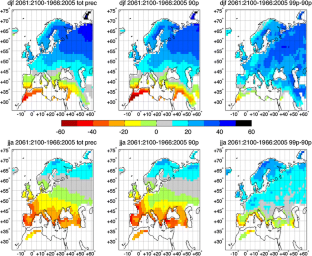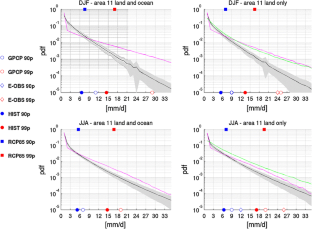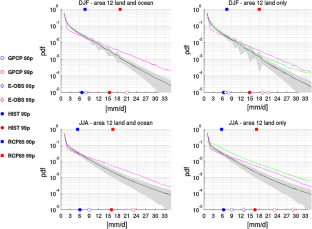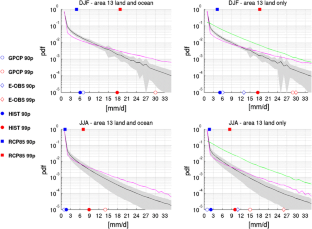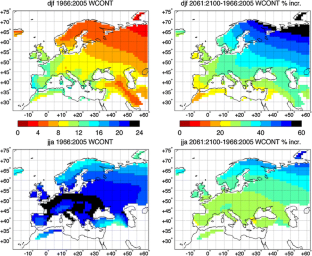 References
Allan RP, Soden BJ (2008) Atmospheric warming and the amplification of precipitation extremes. Science 321:1481–1484. doi:10.1126/science.1160787

Bolvin DT, Adler RF, Huffman GJ, Nelkin EJ, Poutiainen JP (2009) Comparison of GPCP monthly and daily precipitation estimates with high-latitude gauge observations. J Appl Meteorol Climatol 48:1843–1857. doi:10.1175/2009JAMC2147.1

Chou C, Neelin JD, Chen C, Tu J (2009) Evaluating the 'rich-get-richer' mechanism in tropical precipitation change under global warming. J Clim 22:1982–2005. doi:10.1175/2008JCLI2471.1

Christensen JH, Christensen OB (2003) Severe summertime flooding in Europe. Nature 421:805–806. doi:10.1038/421805a

Gao XJ, Pal JS, Giorgi F (2006) Projected changes in mean and extreme precipitation over the Mediterranean region from a high resolution double nested RCM simulation. Geophys Res Lett 33:L03706. doi:10.1029/2005GL024954

Giorgi F, Bi X (2009) Time of emergence (TOE) of GHG-forced precipitation change hot-spots. Geophys Res Lett 36:L06709. doi:10.1029/2009GL037593

Giorgi F, Im ES, Coppola E, Diffenbaugh NS, Gao XJ, Mariotti L, Shi Y (2011) Higher hydroclimatic intensity with global warming. J Clim 24:5309–5324. doi:10.1175/2011JCLI3979.1

Gualdi S, Somot S, Li L, Artale V, Adani M, Bellucci A, Navarra A (2013) The CIRCE simulations: regional climate change projections with realistic representation of the Mediterranean Sea. Bull Am Meteorol Soc 94:65–81. doi:10.1175/BAMS-D-11-00136.1

Haylock MR, Hofstra N, Klein Tank AMG, Klok EJ, Jones PD, New M (2008) A European daily high-resolution gridded dataset of surface temperature and precipitation. J Geophys Res (Atmos) 113:D20119. doi:10.1029/2008JD10201

Hertig E, Seubert S, Paxian A, Vogt G, Paeth H, Jacobeit J (2013) Changes of total versus extreme precipitation and dry periods until the end of the twenty-first century: statistical assessments for the Mediterranean area. Theor Appl Climatol 111(1–2):1–20. doi:10.1007/s00704-012-0639-5

Kunkel KE, Pielke RJr, Changnon SA (1999) Temporal fluctuations in weather and climate extremes that cause economic and human health impacts: a review. Bull Am Meteorol Soc 80:1077–1098. doi:10.1175/1520-0477(1999)080<1077:TFIWAC>2.0.CO;2

IPCC (2012) Managing the risks of extreme events and disasters to advance climate change adaptation. In: Field CB, Barros B, Stocker TF, Qin D, Dokken DJ, Ebi KL, Mastrandrea MD, Mach KJ, Plattner GK, Allen SK, Tignor M, Midgley PM (eds) A special report of working groups I and II of the intergovernmental panel on climate change. Cambridge University Press, Cambridge, p 582

Meehl GA, Bony S (2012) Introduction to CMIP5. WCRP coupled model intercomparison project-phase 5: special issue of the CLIVAR exchanges newsletter no. 56, vol 15(2)

Meehl GA, Arblaster JM, Tebaldi C (2005) Understanding future patterns of increased precipitation intensity in climate model simulations. Geophys Res Lett 32:18719. doi:10.1029/2005GL023680

O'Gorman PA, Schneider T (2009) The physical basis for increases in precipitation extremes in simulations of 21st-century climate change. Proc Natl Acad Sci 106:14773–14777. doi:10.1073/pnas.0907610106

Pall P, Allen MR, Stone DA (2007) Testing the Clausius-Clapeyron constraint on changes in extreme precipitation under CO2 warming. Clim Dyn 28:351–363. doi:10.1007/s00382-006-0180-2

Parry ML, Canziani OF, Palutikof JP, van der Linden PJ, Hanson CE (2007) Climate change 2007. In: Solomon S et al (eds) Impacts, adaptation and vulnerability. Cambridge University Press, Cambridge

Peterson TC et al (2008) Weather and climate extremes in a changing climate. Regions of focus: North America, Hawaii, Caribbean, and U.S. Pacific Islands. In: Karl TR et al (eds) Synthesis and assessment product 3.3. US Climate Change Science Program, Washington, DC, pp 11–34

Rajczak J, Pall P, Schaer C (2013) Projections of extreme precipitation events in regional climate simulations for Europe and the Alpine region. J Geophys Res Atmos 118(9):3610–3626. doi:10.1002/jgrd.50297

Riahi K, Rao S, Krey V, Cho C, Chirkov V, Fischer G, Kindermann G, Nakicenovic N, Rafaj P (2011) RCP 8.5—a scenario of comparatively high greenhouse gas emissions. Clim Chang 109:33–57. doi:10.1007/s10584-011-0149-y

Scoccimarro E, Gualdi S, Bellucci A, Zampieri M, Navarra A (2013) Heavy precipitation events in a warmer climate: results from CMIP5 models. J Clim. doi:10.1175/JCLI-D-12-00850.1

Taylor KE, Stouffer RJ, Meehl GA (2012) An overview of CMIP5 and the experiment design. Bull Am Meteorol Soc 93:485–498. doi:10.1175/BAMS-D-11-00094.1

Tebaldi C, Hayhoe K, ARBLASTER MJ, Meehl GA (2006) Going to the extremes. An intercomparison of model-simulated historical and future changes in extreme events. Clim Chang 79:185–211. doi:10.1007/s10584-006-9051-4

Trenberth KE, Dai A, Rasmussen R, Parsons D (2003) The changing character of precipitation. Bull Am Meteorol Soc 84:1205–1217. doi:10.1175/BAMS-84-9-1205

Zwiers FW, Kharin VV (1998) Changes in the extremes of the climate simulated by CCC GCM2 under CO2 doubling. J Clim 11:2200–2222. doi:10.1175/1520-0442(1998)011<2200:CITEOT>2.0.CO;2
Acknowledgments
The research leading to these results has received funding from the Italian Ministry of Education, University and Research and the Italian Ministry of Environment, Land and Sea under the GEMINA project, by the Project of strategic Interest NextData of the Italian Ministry of Education, University and Research (http://www.nextdataproject.it) and by the European Union Seventh Framework Programme (FP7/2007–2013) under Grant Agreement 243888 (FUME Project-Forest fires under climate, social and economic changes in Europe, the Mediterranean and other fire-affected areas of the world). We also acknowledge the World Climate Research Programme's Working Group on Coupled Modelling, which is responsible for CMIP, and we thank the climate modelling groups for producing and making available their model output. For CMIP, the US Department of Energy's Programme for Climate Model Diagnosis and Intercomparison provided coordinating support and led development of software infrastructure in partnership with the Global Organization for Earth System Science Portals.
About this article
Cite this article
Scoccimarro, E., Gualdi, S., Bellucci, A. et al. Heavy precipitation events over the Euro-Mediterranean region in a warmer climate: results from CMIP5 models. Reg Environ Change 16, 595–602 (2016). https://doi.org/10.1007/s10113-014-0712-y
Received:

Accepted:

Published:

Issue Date:
Keywords
Climate change

Precipitation

Extreme events

Europe