Abstract
A conceptual system dynamic model of the impact of future climate change on fire risk in the Nova Scotian Acadian Forest Region (NS AFR) was developed, clarifying the influence of positive and negative drivers of future fire risk. Weights of relative importance for seven wildfire risk drivers identified in the conceptual model were elicited through an analytical hierarchy process. Expert participants identified precipitation, temperature, and local tree species composition as the most important determinants of future fire risk. Fire weather variables collectively received a weight of relative importance of ~0.7/1. Downscaled projected climate normals of the IPCC 2.6, 4.5, and 8.5 relative concentration pathways (RCPs) were used to model daily fire weather indices of the Canadian Forest Fire Weather Index System during the fire season in the NS AFR. Daily temperature during the modelled fire season increased significantly over time, as represented by climate normals periods. No significant increase or decrease in precipitation levels was identified. Indices of fuel moisture, fire behaviour, and potential fire intensity showed significant positive trends of drying and escalation of potential severity and intensity over time under all three RCPs (p < 0.05). Though significant, increases in potential fire weather intensity were moderate overall. Given the relative importance of fire weather as a driver of fire risk, and projected increasing potential for ignition and intensity of fire, we identify a moderate potential increase in fire risk in the NS AFR under climate change.
Access options
Buy single article
Instant access to the full article PDF.
USD 39.95
Price includes VAT (USA)
Tax calculation will be finalised during checkout.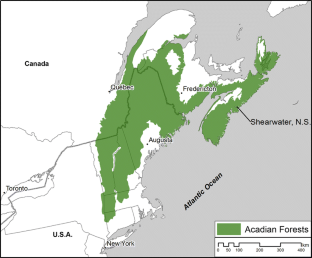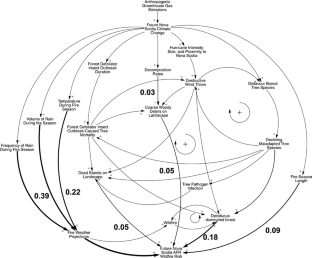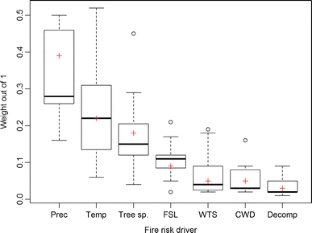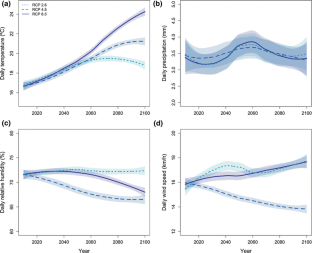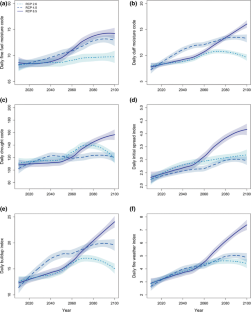 References
Anderson J (1991) The effects of climate change on decomposition processes in grassland and coniferous forests. Ecol Appl 1(3):326–347

Aull-Hyde R, Erdogan S, Duke JM (2006) An experiment on the consistency of aggregated comparison matrices in AHP. Eur J Oper Res 171(1):290–295

Bentz B, Régnière J, Fettig C, Hansen M, Hayes J, Hicke J, Kelsey R, Negrón J, Seybold S (2010) Climate change and bark beetles of the western united states and canada: direct and indirect effects. BioScience 60(8):602–613. doi:10.1525/bio.2010.60.8.6

Bessie W, Johnson E (1995) The relative importance of fuels and weather on fire behaviour in subalpine forests. Ecology 76(3):747–762

Boulanger Y, Gauthier S, Gray DR, Le Goff H, Lefort P, Morissette J (2013) Fire regime zonation under current and future climate over eastern Canada. Ecol Appl 23(4):904–923

Bourque C, Hassan Q, Swift D (2010) Modelled potential species distribution for current and projected future climates for the Acadian forest region of Nova Scotia, Canada. Halifax, Nova Scotia, pp 1–46

British Columbia Forest Service (2000) A short-term strategy for coarse woody debirs management in british Columbia's forests. Retrieved 16 June 2014 from http://www.for.gov.bc.ca/hre/deadwood/DTgui3.htm

Brown J, Reinhardt E, Kramer K (2003) Coarse woody debris: managing benefits and fire hazard in the recovering forest. Fort Collins, Colorado: USDA Forest Service, pp 1–16

Byram G (1959) Combustion of forest fuels. In: Davis K (ed) Forest fire: control and use. McGraw-Hill, New York

Canadian Forest Service (2013) BioSIM. Canadian Forest Service, Québec

Chambers J, Higuchi N, Schimel J, Ferreira L, Melack J (2000) Decomposition and carbon cycling of dead trees in tropical forests of the central Amazon. Oecologia 122(3):380–388. doi:10.1007/s004420050044

Collins M, Knutti R, Arblaster J, Dufresne J-L, Fichefet T, Friedlingstein P, Gao X, Gutowski WJ, Johns T, Krinner G, Shongwe M, Tedbaldi C, Weaver AJ, Wehner M (2013) Long-term climate change: Projections, Commitments and Irreversibility. In: Stocker TF, Qin D, Plattner G-K, Tignor M, Allen SK, Boschung J, Nauels A, Xia Y, Bex V & Midgley PM (eds) Climate Change 2013: The physical science basis. Contribution of working group I to the fifth assessment report of the intergovernmental panel on climate change. Cambridge University Press, Cambridge, UK & New York, NY, pp 1029–1136

Duke JM, Aull-Hyde R (2002) Identifying public preferences for land preservation using the analytic hierarchy process. Ecol Econ 42:131–145

Dukes J, Pontius J, Orwig D, Garnas J, Rodgers V, Brazee N, Cooke B, Theoharides K, Stange E, Harrington R, Ehrenfeld J, Gurevitch J, Lerdau M, Stinson K, Wick R, Ayres M (2009) Responses of insect pests, pathogens, and invasive plant species to climate change in the forests of northeastern North America: what can we predict? Can J For Res 39(2):231–248. doi:10.1139/X08-171

Flannigan M, Harrington J (1988) A study of the relation of meteorological variables to monthly provincial area burned by wildfire in Canada (1953–80). J Appl Meteorol 27:441–452

Flannigan M, Campbell I, Wotton M, Carcaillet C, Richard P, Bergeron Y (2001) Future fire in Canada's boreal forest: paleoecology results and general circulation model—regional climate model simulations. Can J For Res 31:854–864

Flannigan M, Amiro B, Logan K, Stocks B, Wotton B (2005a) Forest fires and climate change in the 21st century. Mitig Adapt Strategies Glob Chang 11:847–859. doi:10.1007/s11027-005-9020-7

Flannigan M, Logan K, Amiero D, Skinner W, Stocks J (2005b) Future area burned in Canada. Clim Chang 72:1–16

Flannigan M, Stocks B, Turetsky M, Wotton M (2009) Impacts of climate change on fire activity and fire management in the circumboreal forest. Glob Chang Biol 15(3):549–560. doi:10.1111/j.1365-2486.2008.01660.x

Fleming R, Candau J, Mcalpine R (2002) Landscape-scale analysis of interactions between insect defoliation and forest fire in central Canada. Clim Chang 55:251–272

Forman E, Peniwati K (1998) Aggregating individual judgements and priorities with the analytic hierarchy process. Eur J Oper Res 108:165–169

Foster D (1988a) Disturbance history, community organization and vegetation dynamics of the old-growth Pisgah forest, south-western New Hampshire, USA. J Ecol 76(1):105–134

Foster D (1988b) Species and stand response to catastrophic wind in central New England, U.S.A. J Ecol 76:135–151

Gillett N, Weaver A, Flannigan M (2004) Detecting the effect of climate change on Canadian forest fires. Geophys Res Lett 31:L18211. doi:10.1029/2004GL020876

Gray D (2007) The relationship between climate and outbreak characteristics of the spruce budworm in eastern Canada. Clim Chang 87(3–4):361–383. doi:10.1007/s10584-007-9317-5

Halifax Regional Municipality (2012) Halifax regional municipality urban forest master plan. Halifax Regional Municipality, Halifax, NS, pp i–451

Hardy C (2005) Wildland fire hazard and risk: problems, definitions, and context. For Ecol Manag 211(1–2):73–82. doi:10.1016/j.foreco.2005.01.029

Harrington JB, Flannigan MD, Van Wagner CE (1983) A study of the relation of components of the fire weather index to monthly provincial area burned by wildfire in Canada 1953–1980. Can For Serv. Petawawa Natl For Inst Inf Rep PI-X-25

Hély C, Bergeron Y, Flannigan M (2000) Effects of stand composition on fire hazard in mixed-wood Canadian boreal forest. J Veg Sci 11:813–824

Iverson L, McKenzie D (2013) Tree-species range shifts in a changing climate: detecting, modeling, assisting. Landsc Ecol 28:879–889. doi:10.1007/s10980-013-9885-x

Iverson L, Prasad A, Matthews S, Peters M (2008) Estimating potential habitat for 134 eastern US tree species under six climate scenarios. For Ecol Manag 254(3):390–406. doi:10.1016/j.foreco.2007.07.023

Jiang J, Perrie W (2007) The impacts of climate change on autumn north atlantic midlatitude cyclones. J Clim 20(7):1174–1187. doi:10.1175/JCLI4058.1

Johnson E (1992) Fire and vegetation dynamics: studies from the North American boreal forest. Cambridge University Press, Cambridge, pp 1–129

Johnston M, Campagna M, Gray P, Kope H, Loo J, Ogden A, O'Neill G, Price D, Williamson T (2009) Vulnerability of Canada's tree species to climate change and management options for adaptation: an overview for policy makers and practitioners. Canadian Council of Forest Ministers, Ottawa

Knapp E, Keeley J, Ballenger E, Brennan T (2005) Fuel reduction and coarse woody debris dynamics with early season and late season prescribed fire in a Sierra Nevada mixed conifer forest. For Ecol Manag 208:383–379

Krawchuk M, Mortiz M (2011) Constraints on global fire activity vary across a resource gradient. Ecology 92(1):121–132

Kurt M, Scott L (2007) Fire climbing in the forest: a semiqualitative, semiquantitative approach to assessing ladder fuel hazards. West J Appl For 22(2):88–93

Lauzon E, Bergeron Y, Gauthier S, Kneeshaw D (2006) Fire cycles and forest management: An alternative approach for management of the Canadian boreal forest. Sustainable Forest Management Network, Edmonton, pp 1–16

Le Goff H, Flannigan M, Bergeron Y (2009) Potential changes in monthly fire risk in the eastern Canadian boreal forest under future climate change. Can J For Res 39:2369–2380

Liu K, Lu H, Shen C (2008) A 1200-year proxy record of hurricanes and fires from the Gulf of Mexico coast: testing the hypothesis of hurricane–fire interactions. Quat Res 69(1):29–41. doi:10.1016/j.yqres.2007.10.011

Lupo A, Oglesby R, Mokhov I (1997) Climatological features of blocking anticyclones: a study of Northern Hemisphere CCM1 model blocking events in present-day and double CO2 concentration atmospheres. Clim Dynam 13:181–195

Maness H, Kushner P, Fung I (2012) Summertime climate response to mountain pine beetle disturbance in British Columbia. Nat Geosci 1–6:65–70. doi:10.1038/NGEO1642

Maraun D, Wetterhall F, Ireson A, Chandler R, Kendon E, Widmann M, Brienen S, Rust H, Sauter T, Theme M, Venema V, Chun K, Goodess C, Jones R, Onof C, Vrac M, Thiele-Eich I (2010) Precipitation downscaling under climate change: Recent developments to bridge the gap between dynamical models and the end user. Rev Geophys 48(3): RG3003

McKenney D, Pedlar J, Lawrence K, Campbell K, Michael F (2007) Potential impacts of climate change on the distribution of north american trees. BioScience 57(11):939–948. doi:10.1641/B571106

Miller C, Ager A (2013) A review of recent advances in risk analysis for wildfire management. Int J Wildland Fire 22:1–14. doi:10.1071/WF11114

Mosseler A, Lynds JA, Major JA (2003) Old-growth forests of the Acadian forest region. Environ Rev 11(1):14–19

Nova Scotia Department of Natural Resources (2013) A media guide to forest fires. Shubenacadie, Nova Scotia. http://novascotia.ca/natr/forestprotection/wildfire/media-guide/

Nova Scotia Museum of Natural History (1994) Natural history of nova scotia, vol 1. Nova Scotia Museum of Natural History, Halifax NS

Nyerges T, Jankowski P (2010) Regional and urban GIS: A decision support approach. The Guildford Press, New York, pp 1–299

ObjectPlanet (2012) Opinio. ObjectPlanet, Oslo

Olson D, Dinerstein E, Wikramanayake E, Burgess N, Powell G, Underwood E, D'Amico J, Itoua I, Strand H, Morrison J, Loucks C, Allnutt T, Ricketts T, Kura Y, Lamoreux J, Wettengel W, Hedao P, Kassem K (2001) Terrestrial ecoregions of the world: a new map of life on Earth. Bioscience 51(11):933–938

R Core Team (2013). R: A language and environment for statistical computing. R Foundation for Statistical Computing, Vienna, Austria. http://www.R-project.org/

Régnière J, St-Amant R (2007) Stochastic simulation of daily air temperature and precipitation from monthly normals in North America north of Mexico. Int J Biom 51(5):415–430

Régnière J, St-Amant R, Béchard A (2014) BioSIM 10 User's Manual. Canadian Forest Service. Sainte-Foy, QC, Canada LAU-X-137E

Richards W, Daigle R (2011) Scenarios and guidance for adaptation to climate change and sea-level rise - NS and PEI municipalities, vol 1. Nova Scotia Environment & Atlantic Canada Adaptations Solutions Association, Halifax

Rostami M (2011). Tree species selection for the Halifax urban forest under a changing climate. Dalhousie University

Sandink D (2011). Insurance issues in Atlantic Canada. Atlantic climate adaptation solutions association. pp 1–23

Simpson J (2008) Restoring the Acadian forest: A guide to forest stewardship for woodlot owners in the maritimes. A Hughes (ed). Res Telluris

Steenberg J, Duinker P, Bush P (2011) Exploring adaptation to climate change in the forests of central Nova Scotia, Canada. For Ecol Manag 262(12):2316–2327. doi:10.1016/j.foreco.2011.08.027

Steenberg J, Duinker P, Bush P (2013) Modelling the effects of climate change and timber harvest on the forests of central Nova Scotia, Canada. Ann For Sci 70(1):61–73

Taylor S, MacLean D (2009) Legacy of insect defoliators: increased wind-related mortality two decades after a spruce budworm outbreak. For Sci 55(3):256–267

Terrier A, Girardin M, Périé C, Legendre P, Bergeron Y (2013) Potential changes in forest composition could reduce impacts of climate change on boreal wildfires. Ecol Appl 23(1): 21–35. http://www.ncbi.nlm.nih.gov/pubmed/23495633

Turner J, Lawson B (1978) Weather in the Canadian forest fire danger rating system. A user guide to national standards and practices. Environment Canada. Victoria, BC, Canada. BC-X-177

Van Wagner C (1987) The development and structure of the Canadian forest fire weather index system. Canadian Forest Service. Ottawa, ON, Canada. For Tech Rep 35

Wein R, Moore J (1977) Fire history and rotation in the New Brunswick Acadian forest. Can J For Res 7:285–294

Wein R, Moore J (1979) Fire history and recent fire rotation periods for the Nova Scotia Acadian forest. Can J For Res 9:166–178

Whitman E, Rapaport E, Sherren K (2013) Modeling fire susceptibility to delineate wildland-urban interface for municipal-scale risk management. Environ Manag 53:1427–1439. doi:10.1007/s00267-0159-9

Wotton B, Flannigan M (1993) Length of the fire season in a changing climate. For Chron 69(2):187–192

Wotton B, Nock C, Flannigan M (2010) Forest fire occurrence and climate change in Canada. Int J Wildland Fire 19:253–271
Acknowledgments
The authors would like to acknowledge the HRM, the Federation of Canadian Municipalities, and the Dalhousie University School for Resource and Environmental Studies for their funding of this project. Thanks to Richard MacLellan from the HRM Energy and Environment Office for his support of this research. James Steenberg, Peter Duinker, and Peter Bush supplied valued peer review, and John Ross and Dustin Oikle from the Nova Scotia Department of Natural Resources provided technical support. Thanks also to the anonymous reviewers who provided helpful critique of this piece and to Martin Girardin, Marc-André Parisien, and Daniel Thompson from the Canadian Forest Service for their involvement in and support of this study. Final thanks to all of our AHP weighting exercise participants.
Electronic supplementary material
Below is the link to the electronic supplementary material.
About this article
Cite this article
Whitman, E., Sherren, K. & Rapaport, E. Increasing daily wildfire risk in the Acadian Forest Region of Nova Scotia, Canada, under future climate change. Reg Environ Change 15, 1447–1459 (2015). https://doi.org/10.1007/s10113-014-0698-5
Received:

Accepted:

Published:

Issue Date:
Keywords
Acadian Forest Region

Analytical hierarchy process

Climate change

Fire weather

Systems modelling

Wildfire